Photo quality
In terms of image quality, the Samsung Galaxy K zoom camera is good by smartphone standards but not perfect. The noise levels are kept in check though photos aren't as sharp as you would get out of the Galaxy S5. That said, the colors are more accurate (the S5 has a tendency to overexpose) and the white balance is spot on.
The lens has impressive zoom prowess for sure, but that comes at a price. There's noticeable corner softness and barrel distortion at the wide end of the zoom lens .





Samsung Galaxy K zoom camera samples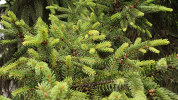 The Samsung Galaxy K zoom allows for some nice shallow depth of field effects
Zooming in slightly reduces some of the corner softness and the optical distortion, so you shouldn't be afraid to use the best feature of the Galaxy K zoom camera.
The optical image stabilization is great, it can soak up the vibrations of even very shaky hands and keep the image rock steady at even 10x zoom (20x too if you enable digital zoom).
Digital zoom gets you a step closer to your subject at the cost of dropping image quality. With 20.7MP there's enough detail to spare and unless you're going to view photos at 100% you can use the digital zoom for those times when the optical zoom doesn't get you close enough.





Magnification demo: 20x digital zoom • 10x optical zoom • 5x optical zoom • No zoom
Enabling HDR mode noticeably brightens up the shadows without a noticeable drop in image quality, but the highlights tend to get slightly washed out.
The stitching on sweep panoramas proved very accurate though the final resolution was a bit disappointing. Depending on how you hold the Samsung Galaxy K zoom (horizontally or vertically) you get either 1000px or 2000px resolution in the vertical direction. That's enough to fill an HDTV, but we got used to the whopping 60MP panoramas produced by the Galaxy S5.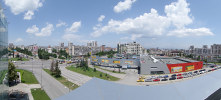 Samsung Galaxy K zoom panorama
Photo quality comparison
We shot the three charts with a slight zoom as all cameras distort the image at the wide end. Phones have a fixed focal length but the Galaxy K zoom is more flexible in this regard..