Web browser
Samsung offers a heavily modified Android browser as well as Chrome out of the box. The TouchWiz browser has the same basics as Chrome - Incognito tabs, desktop view and even bookmark and open tabs syncing (this goes through your Samsung account rather than Google's).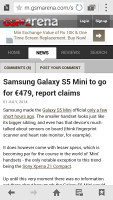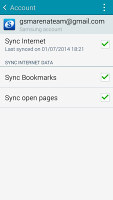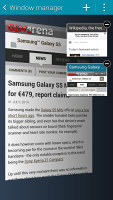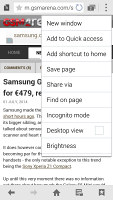 The customized browser • syncing tabs and bookmarks • tabs and more options
It also packs a number of proprietary additions. An R icon to the left of the URL field enables Reader mode, which strips the page of all distractions, leaving only the relevant text and images. You can adjust text size and go into Night mode.
Another option is saving pages for offline reading. If you do this from Reader mode then that's how the page will be saved, but you can't enable reader mode on a Saved page after the fact.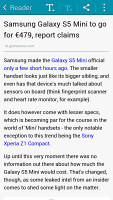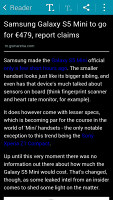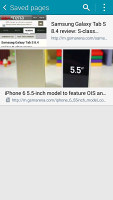 Reader mode • night mode • saved pages for offline viewing
Other apps
The Samsung Galaxy K zoom comes with Kingsoft Office out of the box. It can edit Word, Excel and PowerPoint docs and view PDFs too. One of the best things about Kingsoft's app is its great cloud integration - it can open files on Google Drive, Dropbox, Box and even from FTP servers. Shareplay lets you do presentations over the internet (the other participants will need the app too).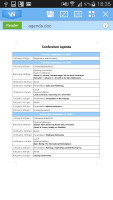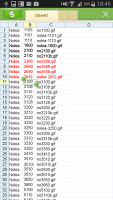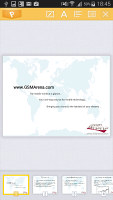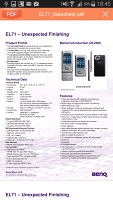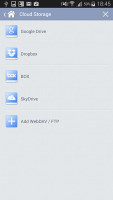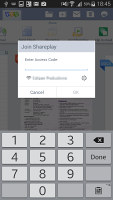 The Kingsoft Office editor hands Word, Excel and PowerPoint documents
Polaris Office 5 is available as a free download from Samsung Apps.
The Android calendar has been replaced by S Planner. It has the standard calendar views but the most useful one combines month view with the agenda view - the days of the month are displayed in the top half of the screen, the events on the currently selected day are below.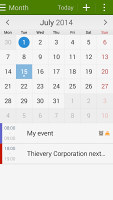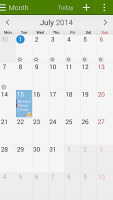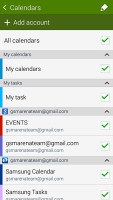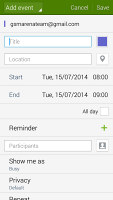 Month and Agenda view • Month view • syncing with multiple calendars • creating an event
Note that Samsung Kies does not sync with the Google Calendar. The Galaxy K zoom itself has no issues handling multiple online calendars though. S Planner can use AccuWeather to display the forecast for the next few days so you can plan accordingly (this only shows up in Month view though, not Month and agenda).
Android Device Manager can help recover your device but Samsung has a bespoke solution called Find my mobile. It has remote controls so you can reset and lock the device if you lose it and check its location on a map. Once reset, you can prevent the phone from being reactivated. The phone can send out a (very) short message the moment a new SIM card is inserted.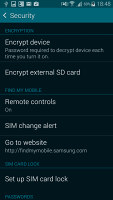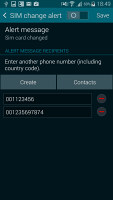 Find my mobile can remote-wipe your device and alert you when the SIM card is changed
There's also a backup function that keeps your phone logs, messages, wallpaper and several other settings backed up in the cloud. You can the scheduling to always have a recent backup. If you like, you can link the Samsung Cloud with your Dropbox account for easier access from other devices.
The My Files app is a capable file browser that has Dropbox integration so you can manage cloud-stored files as easily as you do local ones. You can mass move or delete files and folders and even ZIP multiple folders so they are easier to send. You can even connect to FTP servers.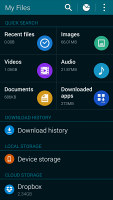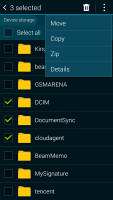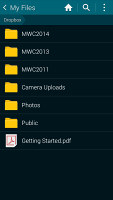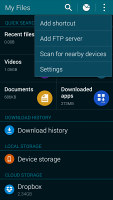 My Files can has Dropbox and FTP integration
The Galaxy Essentials pack in the Samsung Apps store provides an app to transfer content from an iPhone, including iCloud content (photos, calendar, memos, call logs, alarms and Wi-Fi settings). You can also sync content from an old Galaxy, including messages, the call log, photos, music, S Notes and others.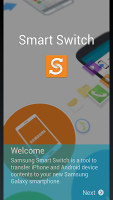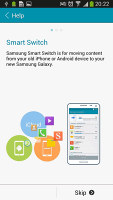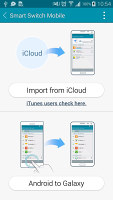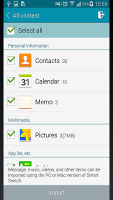 The Smart Switch app will pull most data from an iPhone or an old Galaxy
The Alarm app is quite advanced too. Each alarm has its own tone, snooze and repeat settings. It also features Smart alarm, which rings quietly, slowly turning the volume up for a less stressful wakeup. The app also features a world clock, stopwatch and a timer.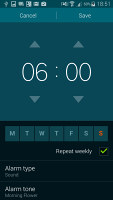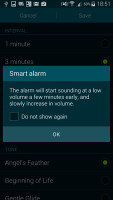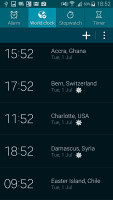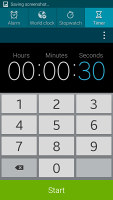 The Alarm clock can wake you up gently • world clock • timer
S Voice is one of the earliest digital assistants and is available on the Galaxy K zoom. You activate it by double tapping the home key and you can place calls, dictate messages or memos with it, set alarms, open apps and control phone functionality (e.g. "Turn on Wi-Fi"). S Voice can also answer questions about the weather, read you the news and answer general questions.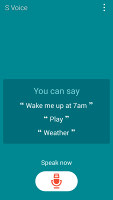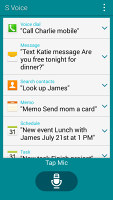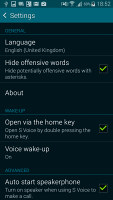 S Voice is a chattier alternative to Google Now
Google Now is available too of course and it can do a lot of the same things, except it displays its answers on the screen instead of speaking them back to you as S Voice does.
The Voice recorder is one of the more advanced we've seen. It has multiple modes including Interview and Conversation, plus it can automatically tag files with location. You can enable noise reduction and control audio quality.
The Samsung Galaxy K zoom comes with Google Maps and Navigation. It offers voice-guided navigation for cars (including in offline mode thanks to map caching), traffic alerts, pedestrian and bike navigation, public transport too.
What's great about Maps is the full Google integration - if you searched an address it will show up on your phone and while traveling Google Now will display a card with an estimated time for the drive back home or to work, with warnings of traffic jams. Tap that and Maps is ready with the instructions.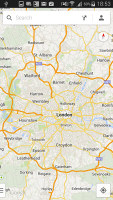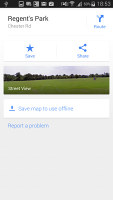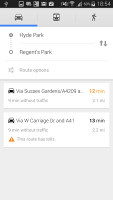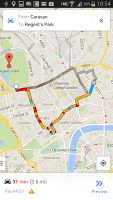 Google Maps with advanced routing options
The Google Play Store hardly needs an introduction, but it features an extensive catalog of apps that can augment the native camera app. Unfortunately not all such apps can't make use of the zooming features of the Galaxy K zoom. It works in Snapchat via pinch zoom (but it's annoyingly slow) but not in Instagram or Vine.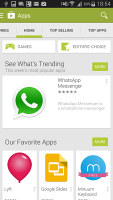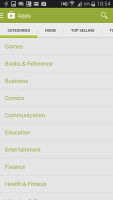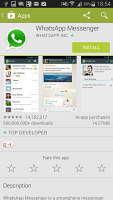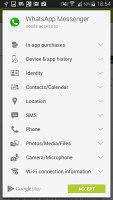 The Google Play Store will give you access to hundreds of thousands of apps
Samsung has naturally made its own Apps store available. It features fewer apps than the Play Store, but the good news is Samsung uses this repository to distribute some exclusive titles and some promotional offers, available only to its customers.