Introduction
The Galaxy K zoom speeds down right onto our review track, ready to take on any cameraphone contender. This speedster is equipped with a 10x optical zoom and OIS and if you were to see only its back, you would hardly recognize you are staring at an Android smartphone with a 4.8-inch Super AMOLED screen on the other side.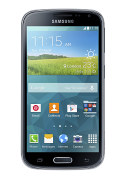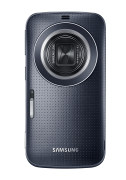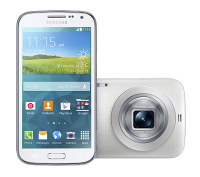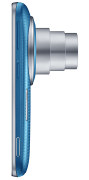 Samsung Galaxy K zoom official images
The original Galaxy Camera didn't have phone functionality and was way too big for comfort. The Galaxy S4 zoom's specs were too low-end to deserve the "Galaxy S" badge. The Galaxy K zoom is reasonably sized (about as big as a Galaxy S4, except thicker and heavier) and offers solid midrange specs.
Key features
20.7MP camera - 1/2.3" sensor, 10x optical zoom (24-240mm), optical image stabilization, xenon flash
1080p video camera, 30fps and 60fps modes
2MP / 1080p front-facing camera
4.8" Super AMOLED, 720 x 1,280px, 306ppi; Gorilla Glass 3 with ambient light sensor
Android OS v4.4.2 KitKat
Exynos 5260 chipset with dual-core 1.7GHz Cortex-A15 and quad-core 1.3GHz quad-core Cortex-A7 CPU; 2GB RAM; Mali-T624 GPU
8GB of built-in storage, expandable via the microSD card slot
Active noise cancellation with a secondary mic
2,430mAh battery
Main disadvantages
Thicker and heavier than a regular smartphone
No 2160p video capture
Manual camera controls are hard to use
The days of taking several photos and handing over the roll at the local shop to be developed are long gone, these days a photo must be seen - and shared - the moment it has been snapped. There's more than a few social networks and services that change so often that even so-called "smart cameras" can't keep up.
This is half of the reason smartphones have displaced traditional cameras - posting on Instagram / Snapchat / Vine is a lot more common than collecting photos in a family album. The other half is just not having to deal with two devices - did you take the camera? Did you charge the battery, did you offload the photos?





Samsung Galaxy K zoom stretching its lens at the office
Just using the "good enough" camera on your smartphone solves those issues but you lose the zoom and OIS even a cheap a point-and-shoot offers and the flash is usually a weakling LED.
The Samsung Galaxy K zoom offers the best of both worlds - it's an Android smartphone and it's a camera. The cost you'd pay is the increased thickness and weight but it still takes less space than a stand-alone camera and a phone.
T
these types of phones were insane. Technology companies were so innovative those years.
D
When the new version of galaxy k zoom is coming out??????