Dialer with Blocking mode
The Samsung Galaxy K zoom strong reception and in-call quality was clear and loud (even too loud perhaps at high volumes). The dialer is the familiar TouchWiz app and features all the basics - smart dial, quick dial and even a video call button.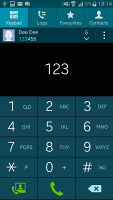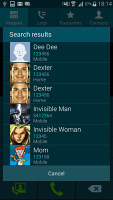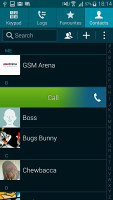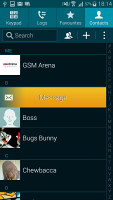 Smart dial is available • swiping shortcut for call or text
The dialer is part of a tabbed app that also houses the Logs. Those are very detailed and show not only calls, but messages too and you can filter by various types of events (missed call, received message, etc.). There's even a search feature if you need to look up calls from just one number or contact.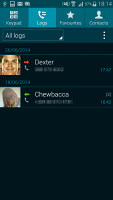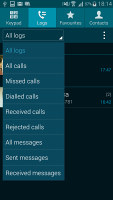 The Logs tab with advanced filtering
The Galaxy K zoom features auto call rejection, which can reject all calls, only calls from specific numbers or calls unknown numbers.
Blocking mode is even more restrictive - it blocks incoming calls and silences notifications and alarms. Only contacts on the priority list will be able to get a call or a message through. Blocking mode can be set to turn on and off automatically during a certain time period (e.g. at night).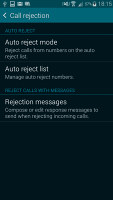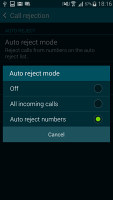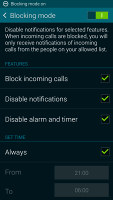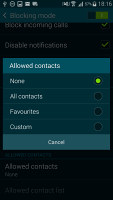 Automatic call blocking • Blocking mode
We were worried that the water-proofing will have detrimental effects to the loudspeaker. While it is indeed quieter than the Galaxy S4, it's not by much and both phones make it to the Good category.
The Samsung Galaxy K zoom's extra heft doesn't mean the loudspeaker is stronger. With an Average score it's not the best but you shoul'd hear all notifications. The Galaxy S4 zoom fared better here, as do some of the other famous shooters like the Nokia Lumia 1020. The Sony Xperia Z2 also got an Average mark but it can point to its water-proofing as the cause.
Learn more about the loudspeaker text here.
| | | | | |
| --- | --- | --- | --- | --- |
| Speakerphone test | Voice, dB | Pink noise/ Music, dB | Ringing phone, dB | Overal score |
| LG Nexus 5 | 65.0 | 64.8 | 65.8 | Below Average |
| Sony Xperia Z2 | 66.7 | 64.6 | 75.7 | Average |
| Samsung Galaxy K zoom | 70.1 | 64.6 | 69.0 | Average |
| Apple iPhone 5s | 68.7 | 66.3 | 69.2 | Average |
| Nokia Lumia 1020 | 69.8 | 66.6 | 72.5 | Good |
| Samsung Galaxy S5 | 66.9 | 66.6 | 75.7 | Good |
| LG G3 | 70.2 | 66.6 | 80.2 | Good |
| Samsung Galaxy S4 zoom | 73.8 | 66.6 | 75.7 | Good |
| Oppo Find 7a | 71.3 | 72.5 | 75.7 | Very Good |
| Oppo N1 | 73.7 | 67.7 | 78.7 | Very Good |
| LG Optimus G | 74.6 | 71.3 | 82.7 | Excellent |
TouchWiz phonebook
The list of contacts is displayed alphabetically and there's an alphabet scroll and a search field. Your contacts automatically get synced with your Google account and your social networks.
Contacts are listed by either first or last name, depending on preference. They can be filtered based on where they come from - SIM, phone, specific online accounts or any combination of those.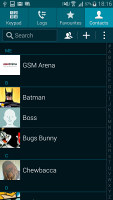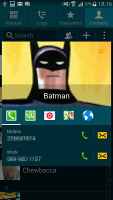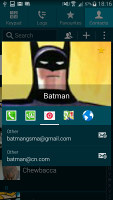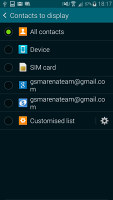 The Galaxy K zoom contact manager • filtering contacts by origin
The advanced menu offers a few more options: edit contact, import/export, join contacts, send or print contact cards, get friends via social services, etc. You can edit contacts and assign custom ring and message tones and even custom vibrations.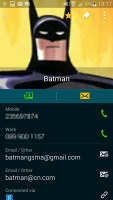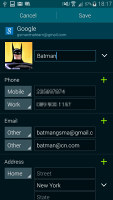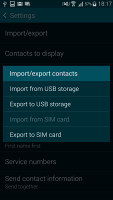 Editing a contact • Importing/exporting contacts
Messaging and text input
The Messages app has a row of shortcuts for priority contacts and below that is the list of all conversation threads. Threads feels like a standard IM app and you can customize font size, the shape of the bubbles and the background.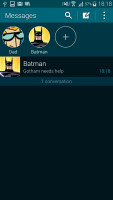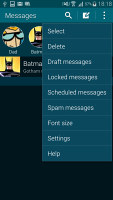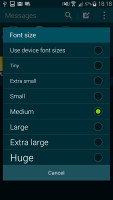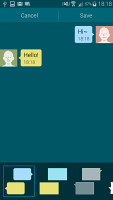 Favorite contact shortcuts • options • font and bubble customization options
The Messages app has some cool features too - you can delay dispatch by 3 seconds (or up to 30), so you can cancel a message before it goes out. You can also schedule messages to be sent automatically (say, congratulations for a birthday).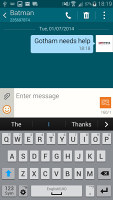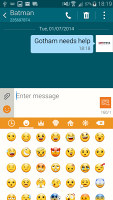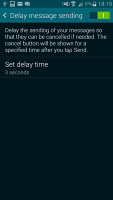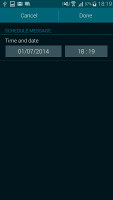 Writing a message • inserting a smiley • delay message before sending • schedule a message
The app also features spam protection - messages from specific numbers or containing specific phrases can be blocked. Safe mode will disable the feature that automatically makes links clickable and will scan them for potential threats.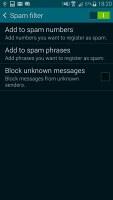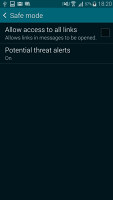 Fighting spam • cancelling messages • being extra careful with links
The Galaxy K zoom comes with two familiar email applications out of the box - one for your Gmail and a generic app to use with any POP3/IMAP account.
The generic app supports multiple accounts and a combined inbox. The priority senders option displays only messages from important contacts and has a row of contact shortcuts just like the Messages app. You can delete a message by swiping it away (an Undo button appears in its place if you mis-swipe).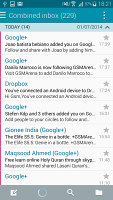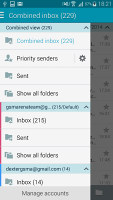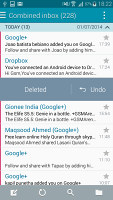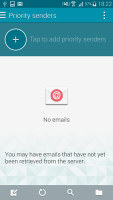 The default email client • delete gesture with undo • priority senders inbox
The Galaxy K zoom uses one of the simpler Samsung keyboards. It's a four row keyboard with no numbers row. Digits are available through a long press the top row, same goes for alternative symbols. There's an option to adjust the delay before the alternatives show up.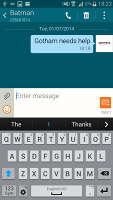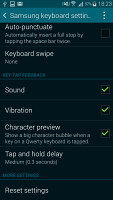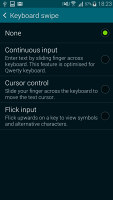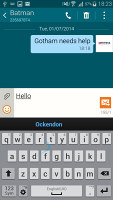 The default on-screen keyboard • keyboard options • continuous input
Swipes can do one of three things - continuous input (think Swype), control the cursor key or serve as an alternative to the long press (handy for those languages that use an extended Latin alphabet).
You can also switch to Voice input and the Clipboard view, but the small, floating keyboard from the Galaxy S5 is gone.