Smart gallery
For a smartphone / camera hybrid, the Gallery is one of the most important apps. The Galaxy K zoom gallery supports cloud album integration (Facebook, Dropbox and Picasa) plus DLNA so you can easily view content from outside the device.
Unfortunately, some of the cool sorting options we saw on the Galaxy S5 are gone. On the K zoom you can only view photos and videos sorted by album or by the time they were taken, There isn't even a Location option.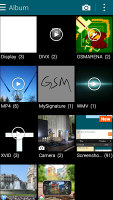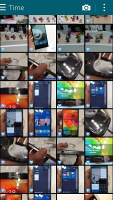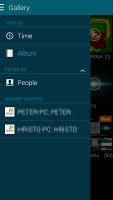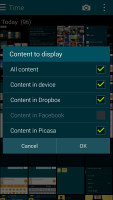 The gallery in Album and Time views • cloud integration
The Galaxy K zoom does add some tags to images though - you can enable Tag buddy to recognize faces in photos (and link them to your contacts), while Location tags display a map showing where the photo was taken.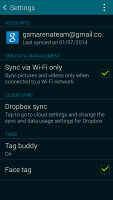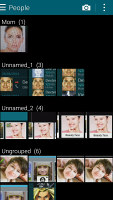 Enabling Tag buddy and Face tag • photos sorted by the faces in them
Pinch zoom will change the size of the thumbnails and can also open and close individual photos. Batch operations are supported and that includes not just copy/delete but also image rotation.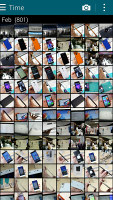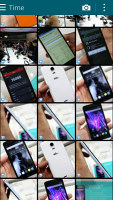 Pinch zoom controls the thumbnail size
Viewing a single image offers additional options. The Details screen is quite extensive, it features a histogram, the basic photo options from EXIF displayed with easy to read icons.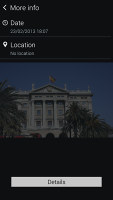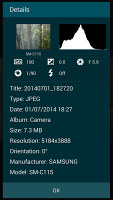 Info for individual photos is quite extensive
You can also "sign" a photo - we put that in quotes since you can scrawl your signature but you can also add text and image watermarks. You can have multiple "signatures" of any type and you can freely move them around and rotate them.
The new Studio option is quite powerful and can do anything from basic editing and photo collages to creating and trimming videos. It also handles the post-processing of Shot & more photos.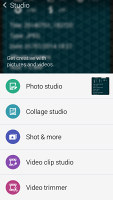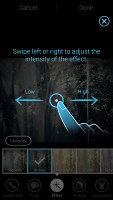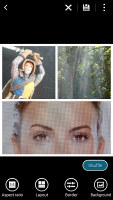 Editing a photo • adjusting the strength of effects • creating a collage
The Gallery also supports highly customizable slideshows.
Feature rich, user-friendly music player
The TouchWiz music player on the Samsung Galaxy K zoom is as rich as the Galaxy S5 player. It supports Folder view and DLNA, plus it can build automatic playlists with the Music square based mood (calm/exciting, passionate/joyful). The horizontal axis of Music square can be switched to Age, which makes it easy to automatically create a playlist of classics or contemporary hits.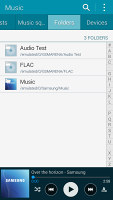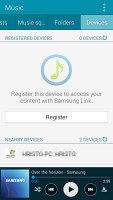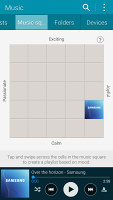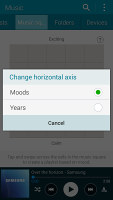 Browsing the music library by folder • DLNA devices • Samsung Music square • creating a period playlist
The Now playing screen gives you the usual options: timescroll, playback controls, an AllShare shortcut. A coverflow-like list of album art lets you know what the next song will be and is an easy way to skip right to it. The music player will also try to find the lyrics for the song you're listening to.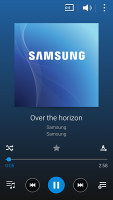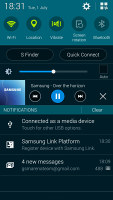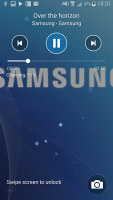 Now playing • Notification area and lockscreen controls
Samsung has enabled several audio-enhancement features. The SoundAlive equalizer presets are cleverly organized into a square similar to the Music Square. The presets balance between Treble and Bass, Vocals and Instrumental. You can also just tap the Auto toggle or enable a Tube amp effect, 7.1 channel virtualization, along with Studio, Club and Concert Hall effects.
The advanced equalizer view gives you a proper seven band equalizer you can tune manually and enable additional effects like 3D, Bass and Clarity.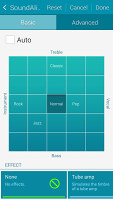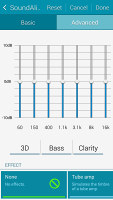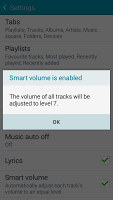 SoundAlive feature • Smart volume
The list of audio features doesn't end there. Smart volume will keep the sound level consistent across tracks, while Adapt sound tests the performance of your headphones and tunes the equalizer based on that.
Video player lacks support for some key decoders
The video player on the Samsung Galaxy K zoom has a dedicated app that shows files from the device or from DLNA-compatible devices. Each video thumbnail is animated, giving you a quick glimpse into the video.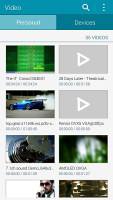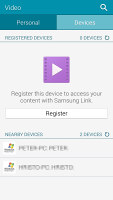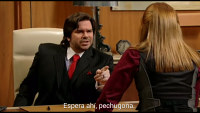 Browsing the video collection • browsing DLNA devices • watching a video
1080p videos are usually no problem, though the codec support is not great. DivX videos won't play and files with multi-channel audio (AC3, DTS) will not play sound. MKV files encoded with h.264 and AVIs with XviD work fine.
The same SoundAlive audio-enhancing technology from the music player is available here too. You can also send the audio over Bluetooth to wireless speakers.
If subtitles are available in the video folder, the video player will automatically find and load them. You can also manually load subtitles if the video and subtitle file names don't match. Subtitle text is fully customizable (font, size, color, transparency).
During playback you can pinch zoom on a part of the video or use the Pop up play to watch the video in a floating window while using other apps. Chapter preview shows animated thumbnails from various segments of the video, making it easy to jump ahead.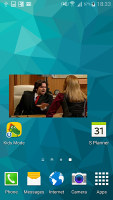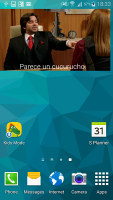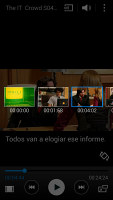 Pop Up Window • chapter preview
Great audio output
The Samsung Galaxy K zoom did very well in our audio quality test, putting up a performance that we wouldn't mind seeing from a flagship smartphone.
The hybrid device had flawless output when connected to an active external amplifier, producing excellent scores all over the field. Its volume levels are higher than on the Galaxy S4 zoom, fixing the only issue its predecessor had on that occasion.
Impressively enough, there's very little degradation when you plug in a pair of headphones. Save for the relatively minor hike in stereo crosstalk, the output remains perfect. The volume remained strong, making up for a solid showing overall.
And here go the results so you can see for yourselves.
| | | | | | | |
| --- | --- | --- | --- | --- | --- | --- |
| Test | Frequency response | Noise level | Dynamic range | THD | IMD + Noise | Stereo crosstalk |
| Samsung Galaxy K zoom | +0.01, -0.03 | -96.0 | 92.4 | 0.0068 | 0.011 | -85.6 |
| Samsung Galaxy K zoom (headphones attached) | +0.02, -0.03 | -96.1 | 92.4 | 0.0087 | 0.033 | -65.7 |
| Samsung Galaxy S4 zoom | +0.03, -0.05 | -91.5 | 91.4 | 0.010 | 0.015 | -90.5 |
| Samsung Galaxy S4 zoom (headphones attached) | +0.08, -0.03 | -91.8 | 91.5 | 0.0081 | 0.046 | -65.4 |
| Sony Xperia Z2 | +0.02, -0.08 | -88.2 | 90.1 | 0.0063 | 0.013 | -88.9 |
| Sony Xperia Z2 (headphones attached) | +0.08, -0.04 | -84.7 | 87.6 | 0.120 | 0.066 | -60.2 |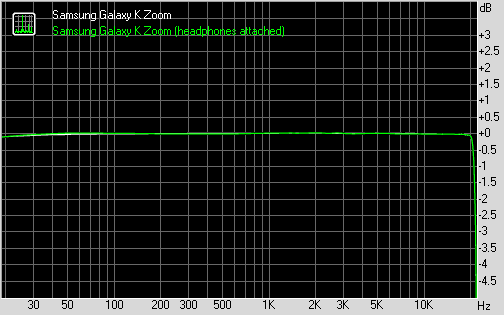 Samsung Galaxy K zoom frequency response
You can learn more about the whole testing process here.