Unboxing the Samsung Galaxy K zoom
The retail box of the Samsung Galaxy K zoom does not give away its special nature. The box itself is small, no bigger than that of a regular Galaxy phone and it contains the same peripherals too. There's a charger, a separate microUSB cable and a one-piece headset with extra rubber tips.



Unassuming retail box • standard phone accessories
There are no camera-specific accessories, not that there's much you can add to the Galaxy K zoom (unlike the Galaxy S4 zoom, there's no tripod mount on the side of this one).
Samsung Galaxy K zoom 360-degree spin
The Samsung Galaxy K zoom measures 137.5 x 70.8 x 16.6mm and weighs 200g. The last two numbers are the problem - a Galaxy S III, which had the same screen, measures 136.6 x 70.6 x 8.6mm and weighs 133g. So the 10x optical zoom camera nearly doubles the thickness and adds 70g.
Hardware and handling
The phone half of the Samsung Galaxy K zoom looks like just that, a phone, a spitting image of a Galaxy S5. The only change Samsung made is the inclusion of a prominent two-stage shutter key on the right side of the device.




Regular Galaxy looks, except for the shutter key
The camera half looks phone-like too with a rounded back covered with faux perforated leather. It's not everyone's favorite finish but it's some of the best Samsung has worked with recently and, on a more practical note, it's grippy and doesn't collect fingerprints.
The Galaxy S4 zoom was officially 15.4mm thick, but that didn't include the protruding grip on one end and the large camera module on the other. That module had an active rotating ring to control the camera functions, but the Galaxy K zoom relies on just the shutter key and volume rocker to aid the touchscreen.




Faux perforated leather on the back • prominent camera module
Speaking of, the shutter key is long and quite big making it very comfortable to use. The S4 zoom had a flush, round shutter key, which wasn't all that great. The volume rocker serves as a zoom lever in the absence of the active ring (there are on-screen controls too).
Samsung also abandoned the DSLR-inspired ring UI on the camera and use the same clean interface found on the Galaxy S5. This makes manual controls finicky and hard to use, we guess Samsung decided that the target audience for the Galaxy K zoom is unlikely to fiddle with shutter speed and ISO.
Instead the company distilled the knowledge of a photographer into the Pro suggest mode - the camera will automatically suggest several presets that are appropriate for the scene and let you chose the best one. All these modes are available for manual selection too and are descriptive enough to help you pick the right one.
The shutter key and the volume rocker/zoom lever are conveniently positioned for the usual camera grip, easily reachable with your index fingers. The on-screen buttons positioned on the left and right columns of the screen are equally easy to reach with your thumbs.
At 200g of weight the Galaxy K zoom is well above the average weight for a smartphone, but the volume of the device is such that it doesn't feel heavy. The weight balance is shifted slightly to the left, towards the camera module, but not enough to affect handling.




Samsung Galaxy K zoom is thicker than a regular smartphone, but it's weight is well distributed
The material on the back is grippy and the panel itself is actually thicker than it could have been, the extra thickness forms the curve of the back. This evens out the difference between the camera module and the rest of the phone, which makes holding it vertically - as a phone - more comfortable (the Galaxy S4 zoom was rather unpleasant in this regard).
Display
The Samsung Galaxy K zoom borrows the 4.8" screen of the Galaxy S III. It's a Super AMOLED display of 720p resolution and 306ppi pixel density. The Gorilla Glass protecting the display has been upped to version 3 for extra durability.


A 4.8" Super AMOLED with 720p resolution, guarded by Gorilla Glass 3
The screen has a PenTile matrix and if you look closely you'll notice the characteristic crosshatch pattern. It takes a trained eye to spot it though and it's most visible in high-contrast areas (e.g. black and white text), it's practically impossible to spot in photos.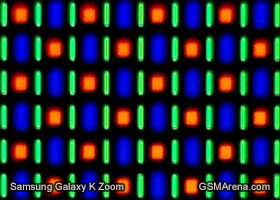 Super AMOLEDs are great for camera screens - the spectacular contrast and vivid colors are a boon for sure, but Samsung screens usually boast great sunlight legibility too and the Galaxy K zoom screen is no exception. Since your screen is your viewfinder framing the shot can be hard with a common LCD that appears washed out at an angle.
Sunlight contrast ratio
Nokia 808 PureView
4.698
Apple iPhone 5
3.997
Samsung Galaxy Note 3
3.997
Samsung Galaxy K zoom
3.67
Samsung Galaxy S5
3.549
Samsung I9300 Galaxy S III
3.419
Nokia Lumia 925
3.402
Samsung I9505 Galaxy S4
3.352
Samsung Omnia W
3.301
Samsung Galaxy S
3.155
Samsung Galaxy S4 mini
3.127
Samsung Galaxy S4 zoom
3.118
Nokia N9
3.069
Samsung Galaxy Note
2.970
Sony Xperia Z1
2.950
HTC One S
2.901
BlackBerry Q10
2.856
Samsung Galaxy S II
2.832
Samsung Galaxy S II Plus
2.801
BlackBerry Z30
2.790
Huawei Ascend P1
2.655
Sony Xperia ZR
2.672
Nokia Lumia 900
2.562
HTC One Max
2.537
Nokia Lumia 720
2.512
HTC One
2.504
Sony Xperia Z
2.462
Samsung Galaxy S III mini
2.422
HTC One (M8)
2.371
Motorola RAZR i
2.366
Samsung Galaxy Note II
2.307
Oppo Find 7a
2.279
Apple iPhone 4S
2.269
HTC Desire 600 dual sim
2.262
LG Nexus 5
2.228
HTC One X
2.158
Nokia N8
2.144
Oppo Find 5
2.088
BlackBerry Z10
2.051
Apple iPhone 4
2.016
HTC One mini
2.003
LG G2
1.976
Sony Ericsson Xperia ray
1.955
Sony Xperia Z2
1.944
Samsung Galaxy Camera
1.938
LG G Pro 2
1.922
HTC Butterfly
1.873
Huawei Ascend P6
1.865
LG G3
1.820
Sony Xperia V
1.792
Sony Xperia U
1.758
Meizu MX3
1.754
Sony Xperia T2 Ultra
1.740
Oppo Find 7
1.691
LG Optimus 4X HD
1.691
HTC One V
1.685
BlackBerry Q5
1.682
LG Optimus Vu
1.680
LG Optimus GJ
1.666
HTC Desire V
1.646
Samsung Galaxy Ace 3
1.622
Sony Xperia Z Ultra
1.578
Samsung Galaxy Core
1.563
LG Optimus G Pro
1.552
LG Optimus 3D
1.542
Samsung Galaxy Core LTE
1.542
Nokia Asha 302
1.537
Sony Xperia M
1.473
Nokia Lumia 610
1.432
Samsung Galaxy Grand Neo
1.393
Gigabyte GSmart G1355
1.361
Samsung Galaxy Grand
1.321
HTC Desire C
1.300
Nokia Asha 501
1.270
LG Optimus L7
1.269
LG Optimus L9
1.227
Meizu MX
1.221
Sony Xperia E dual
1.203
Samsung Galaxy Pocket
1.180
Sony Xperia tipo
1.166
Samsung Galaxy mini 2
1.114
That said, the screen is a bit behind the times and doesn't offer the most accurate colors (like the Galaxy S5 screen does). As we saw in the previous chapter, Samsung is targeting the K zoom at a more casual crowd that can't be bothered with a true to sRGB screen.
Display test
50% brightness
100% brightness
Black, cd/m2
White, cd/m2
Contrast ratio
Black, cd/m2
White, cd/m2
Contrast ratio
Samsung Galaxy K zoom
0
226
∞
0
425
∞
Samsung Galaxy S4 zoom
0
191
∞
0
384
∞
Samsung Galaxy S5
0
274
∞
0
529
∞
Samsung Galaxy S III
0
174
∞
0
330
∞
Sony Xperia Z2
-
-
-
0.4
488
1195
Nokia Lumia 1020
0
172
∞
0
398
∞
Nokia 808 PureView
0
112
∞
0
247
∞
LG G3
0.14
109
763
0.72
570
789
Viewing angles are great and so are the colors if you don't mind the slight oversaturation. Samsung could have included the Screen mode option to let you adjust color saturation but they didn't.