Competition
The Poco F5 offers a couple of neat upgrades over its predecessor, some less obvious than others, such as the camera performance. It also shapes up to be a pretty solid all-rounder, albeit being a bit on the pricey side. It's currently selling for €379 as early bird promotion, but the regular pricing sits at €429. Still, the device covers all the basics, excels in some aspects and leaves almost nothing to be desired. But how does it compare to the competition?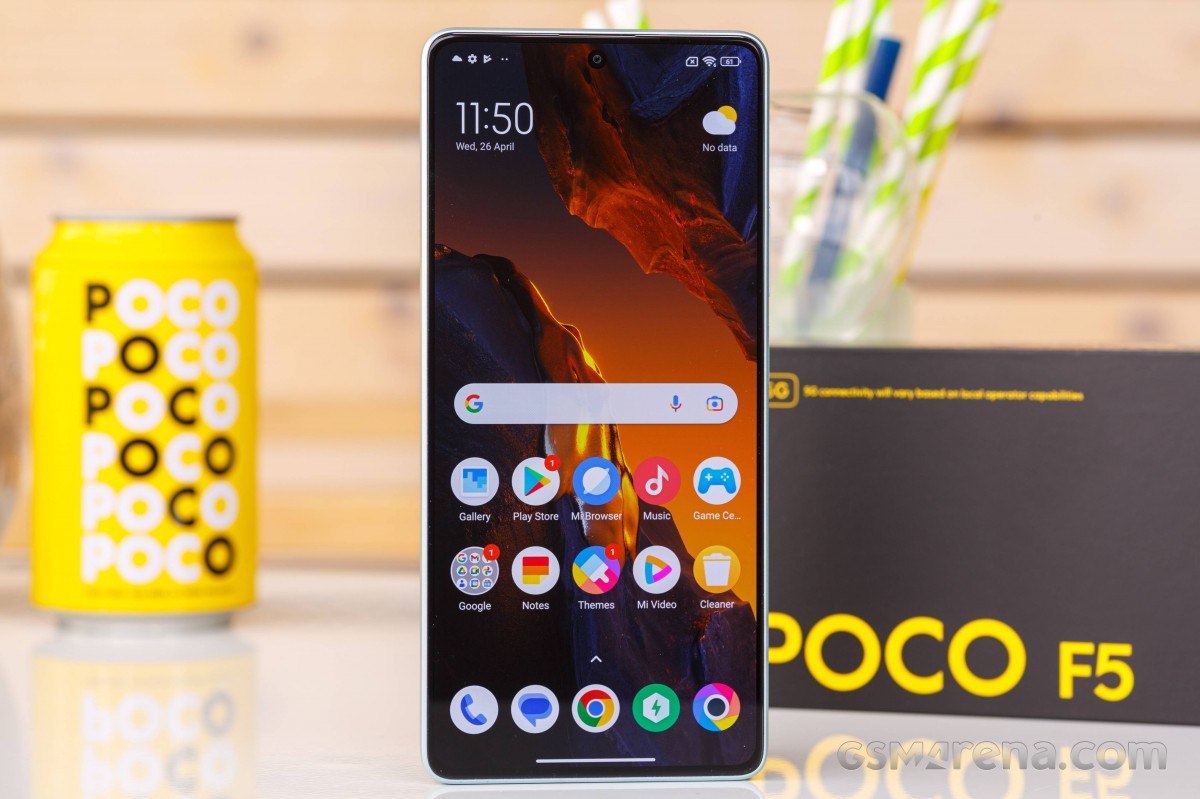 One of the more popular competitors to the Poco F5 this year would be the Samsung Galaxy A34. The latter has the upper hand when it comes to pricing. Selling for around €300, it matches the Poco F5's display quality, delivers better endurance, has a microSD card slot and has comparable camera quality. Still, the Poco F5 edges out in the latter department, has faster charging and packs a more advanced and powerful chipset.
Alternatively, you can opt for the similarly-priced Galaxy A54, which has a competitive set of features and hardware. It doesn't match the Poco F5's performance, storage and charging speed, but it gives Xiaomi's competitor a run for its money in other key aspects. Those would be display, camera and battery life. It also has expandable storage and some users may prefer Samsung's One UI over Xiaomi's MIUI. That boils down to personal preference. Either way, it's a tough choice between the F5 and the A54, as they are both solid midrangers with few drawbacks.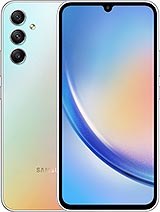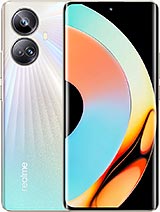 Samsung Galaxy A34 • Samsung Galaxy A54 • Realme 10 Pro+
And for Indian users, the Realme 10 Pro+ may be a pretty good alternative. It's sitting at around INR 25,000, while the Poco F5's early bird price is INR 27,000 and INR 30,000 afterward. The handset is just as good at taking photos, has a similar display, considerably longer battery life and matches the fast charging solution, but it drags behind the Snapdragon 7+ Gen 2 SoC.
The recently released vivo V27 sits a bit higher than the Poco F5 in India at INR 33,000 and it can do pretty much everything the Poco can even better in some cases. For instance, battery life is longer and the main camera offers a bigger sensor. However, it skips the stereo speakers and it runs on an inferior Dimensity 7200 chip.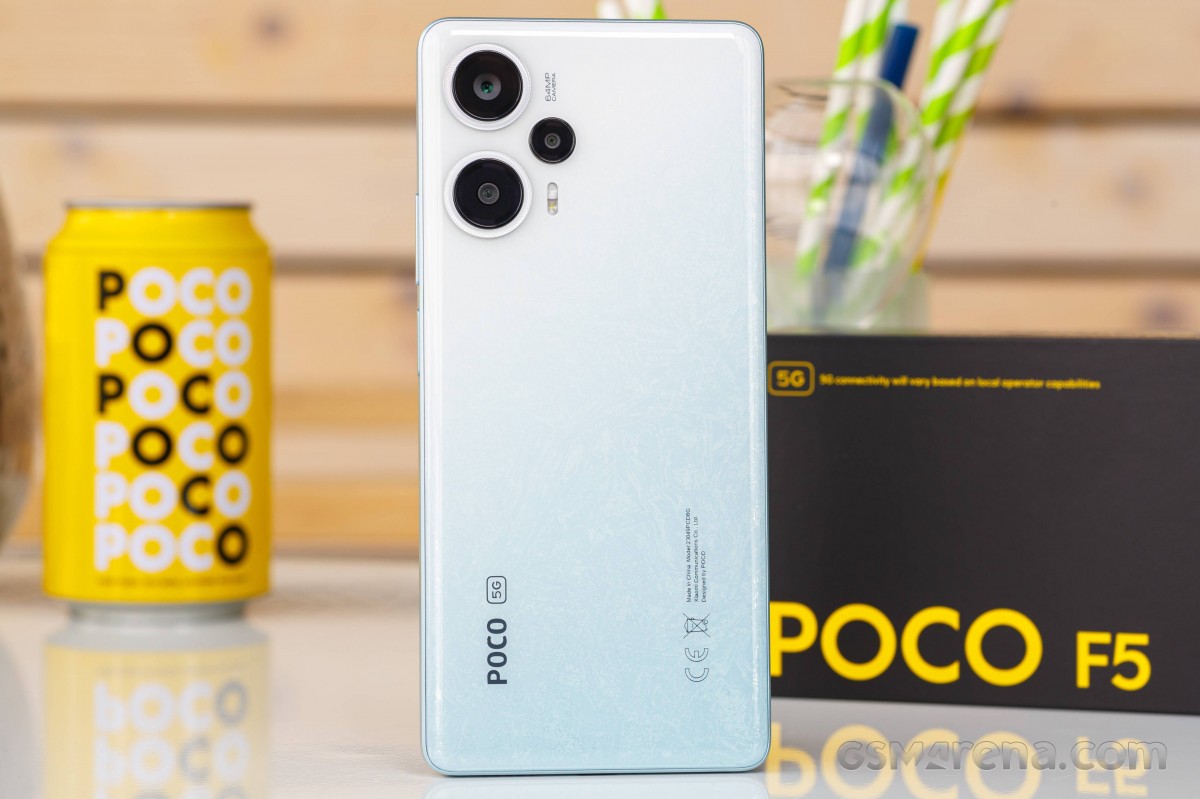 Lastly, European consumers may fancy the exotic Nothing Phone (1) as it delivers a vanilla-like Android experience, unorthodox looks, better ultrawide camera with AF, a bigger main sensor, wireless charging and similar display quality. Battery life is shorter, though, and the chipset is a bit outdated in 2023. To be fair, this is a 2022 phone, but it's being sold for around €400, so the Poco F5 seems like the better deal overall.
Verdict
The current Poco F5 pricing, although a bit high, seems to be adequate enough to spark some interest. It's sitting comfortably between the cheap midrangers and the more expensive ones with premium features, without many 2023 competitors around.
More importantly, the phone excels in more than one area. The screen is great with all the HDR certifications, battery life is solid, charging speed is competitive, camera quality is surprisingly good (except for the Night mode and the selfies), performance is unrivaled even by more expensive phones thanks to the brand new SD 7+ Gen 2, loudspeakers are decent enough, and design and ergonomics are excellent. Bonus points for being IP53-rated, offering flagship-level haptics and having an OIS on the main camera. It makes the shooting experience a tad better.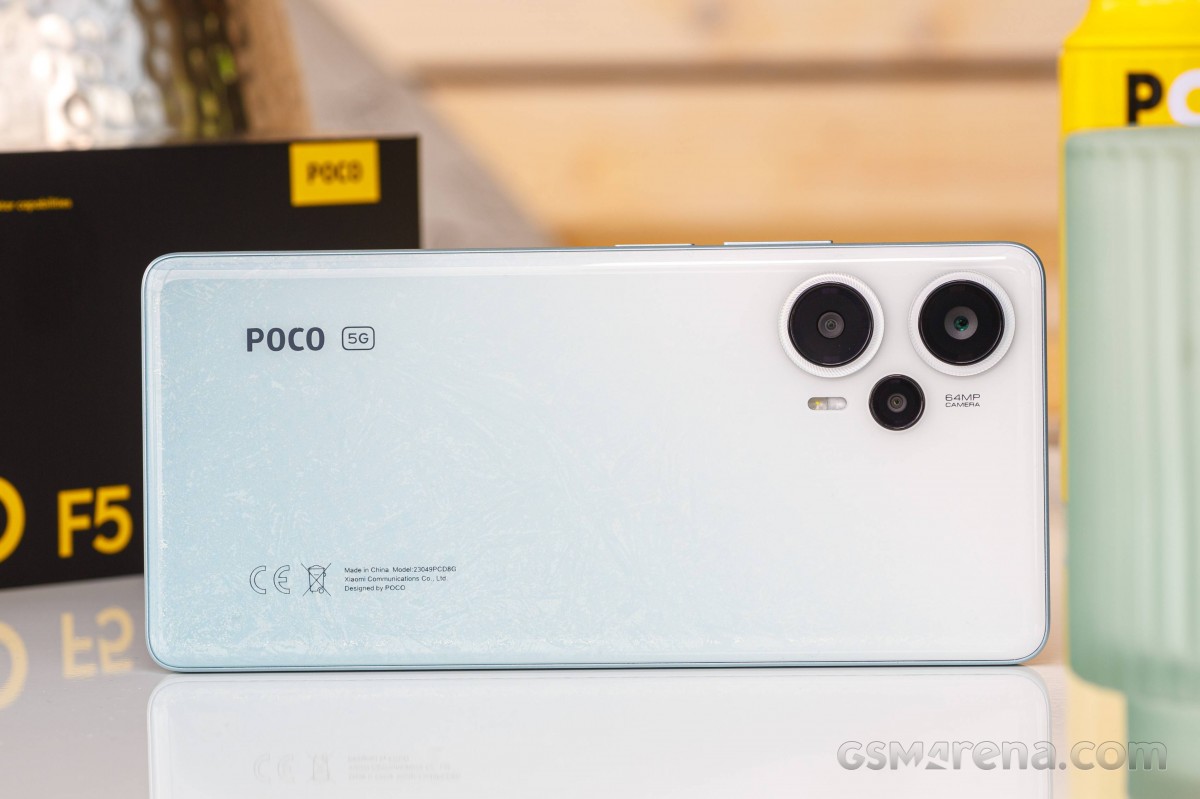 If we need to get nit-picky, we'd complain about the side-mounted fingerprint reader. The under-display one is more versatile, and it just doesn't sit well in 2023. The handset uses an OLED panel too, so there's no reason to opt for the side-mounted fingerprint reader. Also, the sustained performance is underwhelming, and we hope Xiaomi addresses the weird Night mode rendition in the future.
At the end of the day, even if you miss the early bird price, we believe that the Poco F5 is worth every penny. It has a compelling feature set to be considered over the sub-€400 phones and it punches above its weight class to make you think twice before climbing the price ladder in the €500 bracket.
Pros
Awesome, lightweight build.
Excellent AMOLED, 120Hz refresh, Dolby Vision, HDR10+.
Unrivaled performance thanks to the SD 7+ Gen 2.
Solid battery life with competitive fast charging solution.
Great camera experience all-around (except selfies).
Decent-sounding, loud speakers.
3.5mm audio jack, IR blaster, IP53-certified, premium haptics, 256GB base storage.
Feature-rich MIUI 14 on top of Android 13.
Cons
Side-mounted fingerprint reader instead of UD scanner.
Night mode needs more work, selfies are meh.
Pricing

These are the best offers from our affiliate partners. We may get a commission from qualifying sales.

256GB 8GB RAM
$ 366.11
£ 395.63
256GB 12GB RAM
$ 357.00
$ 399.50
Show all prices