MIUI 14 for Poco on top of Android 13
The Poco F5 runs on the latest MIUI 14 based on Android 13. Technically, the overlay skin is dubbed "MUI 14 for Poco", but in reality, there's little to no difference between the standard MIUI 14 and this one. The only immediate difference is in the default icon style. It looks as if it's more in line with the stock circular Android icons.
MIUI for Poco also allows you to lock the screen with a double tap on a blank space on the Home screen, while the regular MIUI doesn't. It lacks the "large icons" feature, too, for what it's worth. We are still unsure how Xiaomi decides which features go to the global MIUI ROM, which ones remain exclusive to the Chinese version and what Poco gets in the end. It's all really convoluted.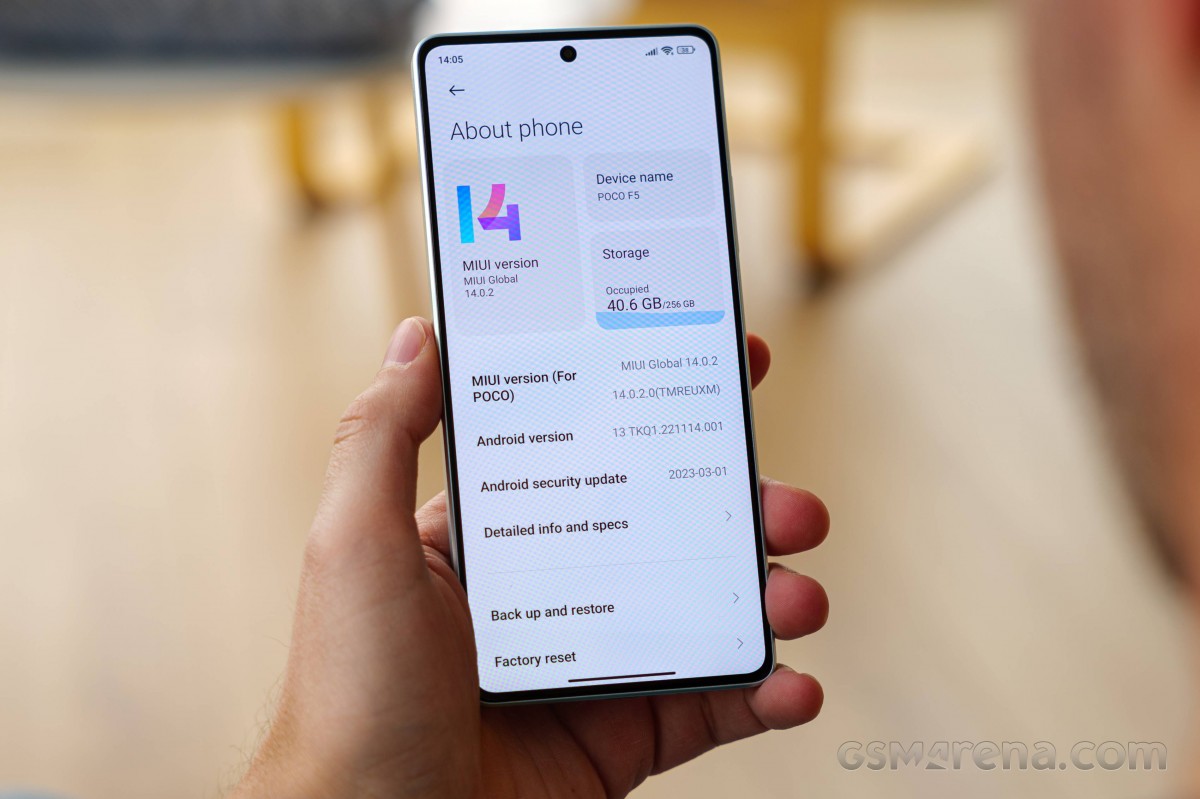 With that being said, let's take a deeper dive into MIUI 14.
Supposedly, MIUi 14 is built almost from scratch as engineers have reworked the core architecture of the MIUI ROM down on Android's Kernel level. That includes new CPU, GPU and memory scheduling, smaller firmware size and decreased memory usage overall. As a result, Xiaomi claims 60% smoother experience and considerably optimized processes. Automatic compression for apps that are not actively used is also on the menu. Unfortunately, though, those are features that we are able to reliably test and confirm that are adopted in Xiaomi 13 Lite. They may remain exclusive to Android 13-powered handsets.
Feature-wise, we found some of the advertised functionalities of MIUI 14. The Gallery app gains native text recognition in addition to the Google Lens integration.
Other features such as Smart Devices toggle for easier management of Xiaomi smart devices, new widgets and a toggle for turning off permanent notifications are nowhere to be found.
The rest is business as usual, and we will try to focus on features that are somewhat unique to MIUI or are standout functionalities in a way.
The split between a notification shade and Control Center is enabled by default, and that's probably a good thing. We found it to be quite convenient, and it's a way to educate users about MIUI's unique approach to the UI. And in case you are not a fan, you can always revert back to the standard notification shade with quick toggles in one place.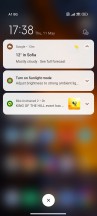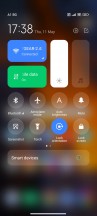 Control centre and notification panel
The home screen, recent apps and general settings remain unchanged. The app drawer is also enabled by default and cannot be disabled on Poco phones. We like the search bar at the bottom of the screen for easier reach. There are custom and preset app categories for faster navigation.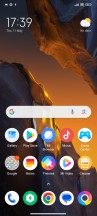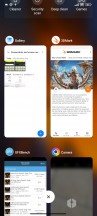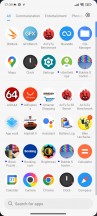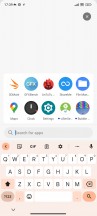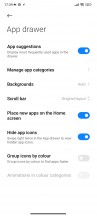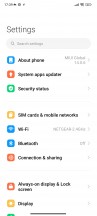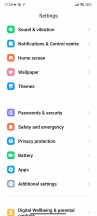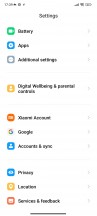 Home screen, recent apps, settings menu, app drawer
Unlike the standard recent apps menu, MIUI's one lists the apps in a vertical arrangement (you can switch to the standard horizontal alignment) and provides several useful shortcuts. That's where you can open up apps in floating windows. However, you can keep up to two apps open at a time. In case you want a faster shortcut to apps that support free-form windows, just enable the Sidebar.
The sidebar becomes Video Toolbox in video player apps such as YouTube. It essentially contains the whole Sidebar functionality, but besides options for floating windows, it contains shortcuts for Screenshot, Record screen, Cast, and Play Video with the screen off, which works on YouTube, no Premium subscription needed. But, as we mentioned, you need to whitelist the apps in advance where you want the feature enabled.
Themes have always been a huge part of MIUI, and they are available on MIUI 14, too. You can download new ones from the Themes store, and they can change wallpapers, ringtones, system icons, and even the always-on display style.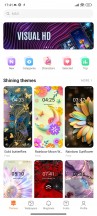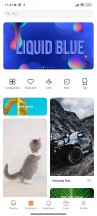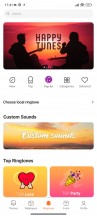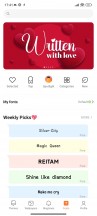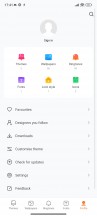 Themes and other customization options
Of course, Always-on display customizations are also available in addition to the presets. To our surprise, there's no true Always-on display functionality, as it can only be shown for 10 seconds after tapping on the locked screen. It's not "always on".
The Notification effect lights up the edges of the display when new notifications come in, but there's little in the way of customization other than a couple of different colors and a 'Starlight' option. This effect can work with or without the AoD. Disappointing.
Moving on to privacy and security, MIUI has come with a pre-installed system Security app. Aside from the additional malware protection layer it provides, the app holds many of the app settings and privacy features in one place. It can manage your blacklist, manage or restrict your data usage, configure battery behavior, and free up some RAM. It can also manage the permissions of your installed apps, define the battery behavior of selected apps, and apply restrictions only to certain apps.
All in all, MIUI 14 has changed little over the 13th iteration in terms of overall user experience, and that's not bad. It's just as snappy and customizable as ever. Xiaomi has paid special attention to the haptics on this unit as well - we found the motor to be crisp, strong, accurate and responsive. It reacts to many actions across the system and when navigating. There's even a haptic feedback intensity if you find it obtrusive or not strong enough.
Benchmark performance
The Poco F5 runs on a brand new Snapdragon 7+ Gen 2 chipset based on TSMC's advanced 4nm N4 manufacturing process. As usual, the SoC employs an octa-core CPU but into completely different core clusters compared to the older chipsets in the Snapdragon 700 series. It's also different from the Snapdragon 7 Gen 1, which we deem a simple rebrand of the Snapdragon 778G. The good news is that the new SD 7+ Gen 2 is a completely different chip.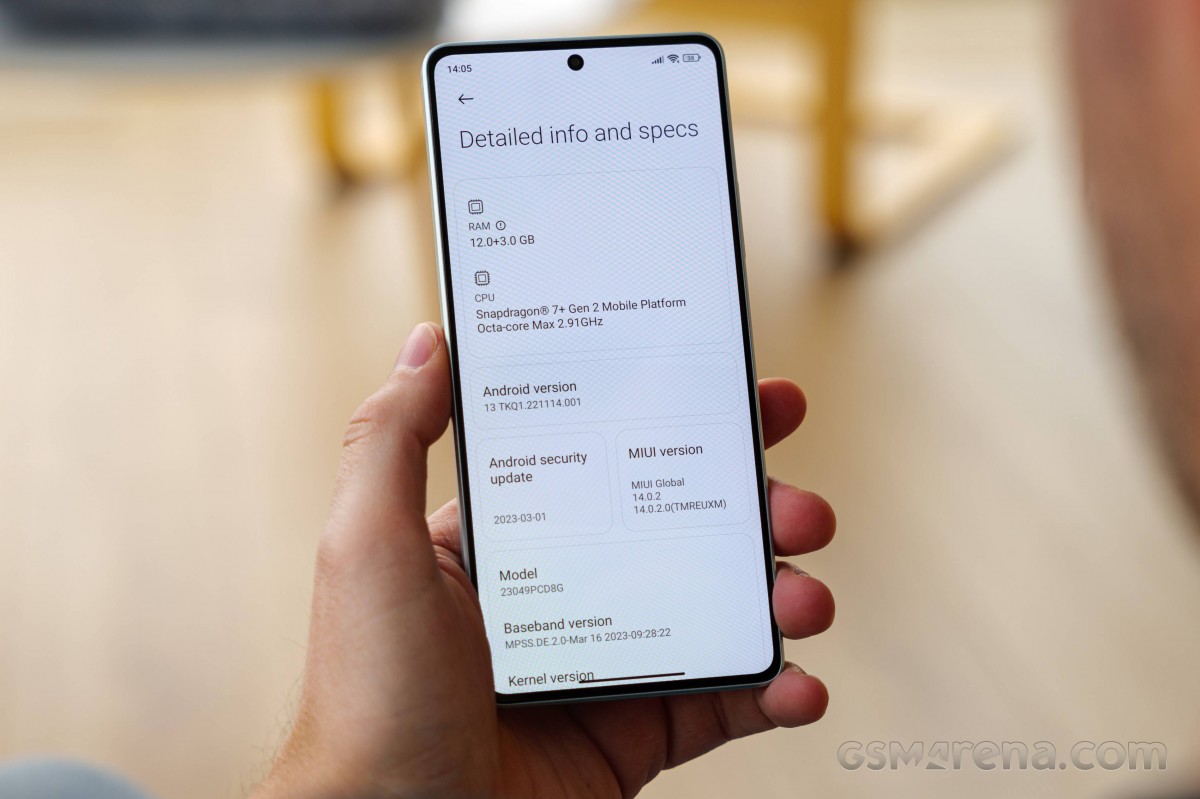 The main high-performance core is the Cortex-X2 clocked at 2.91 GHz, joined by 3x Cortex-A710 cores ticking at 2.49 GHz along with energy-efficient Cortex-A510 cores running at 1.8 GHz. The Adreno 725 clocked at 580 MHz takes care of the graphically-intensive tasks.
The device ships in two memory variants - 8GB/256GB and 12GB/256GB. That's pretty generous in our books, and having 256GB of storage by default kind of mitigates the need for a microSD card. This is a mid-range phone, after all.
GeekBench 5 (multi-core)
Higher is better
Poco F5
3939
Poco X4 GT
3719
Poco F4 GT
3637
Poco F4
3190
Nothing Phone (1)
3024
Xiaomi 13 Lite
2936
vivo V27
2400
Realme 10 Pro+
2371
Galaxy A34
2316
GeekBench 5 (single-core)
Higher is better
Poco F4 GT
1244
Poco F5
1216
Poco F4
975
Poco X4 GT
917
vivo V27
887
Realme 10 Pro+
842
Nothing Phone (1)
820
Xiaomi 13 Lite
795
Galaxy A34
781
AnTuTu 9
Higher is better
Poco F4 GT
952124
Poco F5
931174
Poco X4 GT
747871
Poco F4
698586
vivo V27
613641
Nothing Phone (1)
592789
Xiaomi 13 Lite
534143
Realme 10 Pro+
522376
Galaxy A34
472126
GFX Aztek ES 3.1 High (onscreen)
Higher is better
Poco F5
48
Poco X4 GT
38
vivo V27
30
Nothing Phone (1)
23
Xiaomi 13 Lite
23
Galaxy A34
17
Realme 10 Pro+
16
GFX Aztek ES 3.1 High (offscreen 1440p)
Higher is better
Poco F5
33
Poco X4 GT
26
vivo V27
20
Nothing Phone (1)
15
Xiaomi 13 Lite
15
Galaxy A34
11
Realme 10 Pro+
11
GFX Aztek Vulkan High (onscreen)
Higher is better
Poco F5
48
Poco X4 GT
38
vivo V27
33
Nothing Phone (1)
23
Xiaomi 13 Lite
23
Galaxy A34
16
Realme 10 Pro+
15
GFX Aztek Vulkan High (offscreen 1440p)
Higher is better
Poco F5
36
Poco X4 GT
24
vivo V27
21
Xiaomi 13 Lite
17
Nothing Phone (1)
16
Galaxy A34
10
Realme 10 Pro+
10
GFX Car Chase ES 3.1 (onscreen)
Higher is better
Poco F5
66
Poco F4
49
Poco X4 GT
46
vivo V27
34
Nothing Phone (1)
33
Xiaomi 13 Lite
33
Galaxy A34
23
Realme 10 Pro+
21
GFX Car Chase ES 3.1 (offscreen 1080p)
Higher is better
Poco F5
77
Poco F4
59
Poco X4 GT
52
vivo V27
40
Xiaomi 13 Lite
39
Nothing Phone (1)
37
Realme 10 Pro+
27
Galaxy A34
26
We are delighted to see such impressive performance by the new Snapdragon 7+ Gen 2 chipset. As you can see, there's no chipset in the same price bracket that can match its performance. The Poco F5 rolls over the competition with ease, only to give away the first place to the Poco F4 GT from last year, which has a Snapdragon 8 Gen 1 SoC on board. And only in the single-core Geekbench 5 scenario. Still, the difference is negligible and it's surprising to see the SD7+ Gen 2 outperforming the SD8 Gen 1.
Sustained performance
Even though the Poco F5 boasts some advanced vapor chamber passive cooling, which Xiaomi calls LiquidCool Technology 2.0, the sustained performance is quite underwhelming. Take a look at the graph below showing inconsistent performance even in the first 10 minutes of the test, and performance drops below 80% of the theoretical one. Ideally, this graph should be smoothed out, even if the retained performance is below 80%.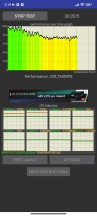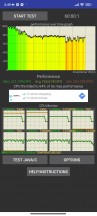 CPU stress test: 30 min • 60 min
After a while, 10 minutes before the end of the 60-minute long stress test, the CPU dipped many times below 70%, which definitely isn't ideal, especially for a mid-range device with a not-so-demanding chipset. The silver lining is that the phone didn't feel hot at all, so you can rest assured that it will be comfortable to hold even after long gaming sessions.