Bright 6.67-inch OLED
The new Poco F5 uses the same 6.67-inch OLED panel as its predecessor, and that's actually good news. The display features 1080 x 2400px resolution, 12-bit color depth, 120Hz refresh rate and 240Hz touch sampling rate for more responsive operation during gameplay. The panel is also marketed as eye-friendly as it uses high-frequency 1920Hz PWM for less eye strain and is SGS Low Blue Light-certified. But more importantly, the panel supports HDR10+ and Dolby Vision content, so you can enjoy your Netflix, Amazon Prime and YouTube shows and videos in the highest possible quality.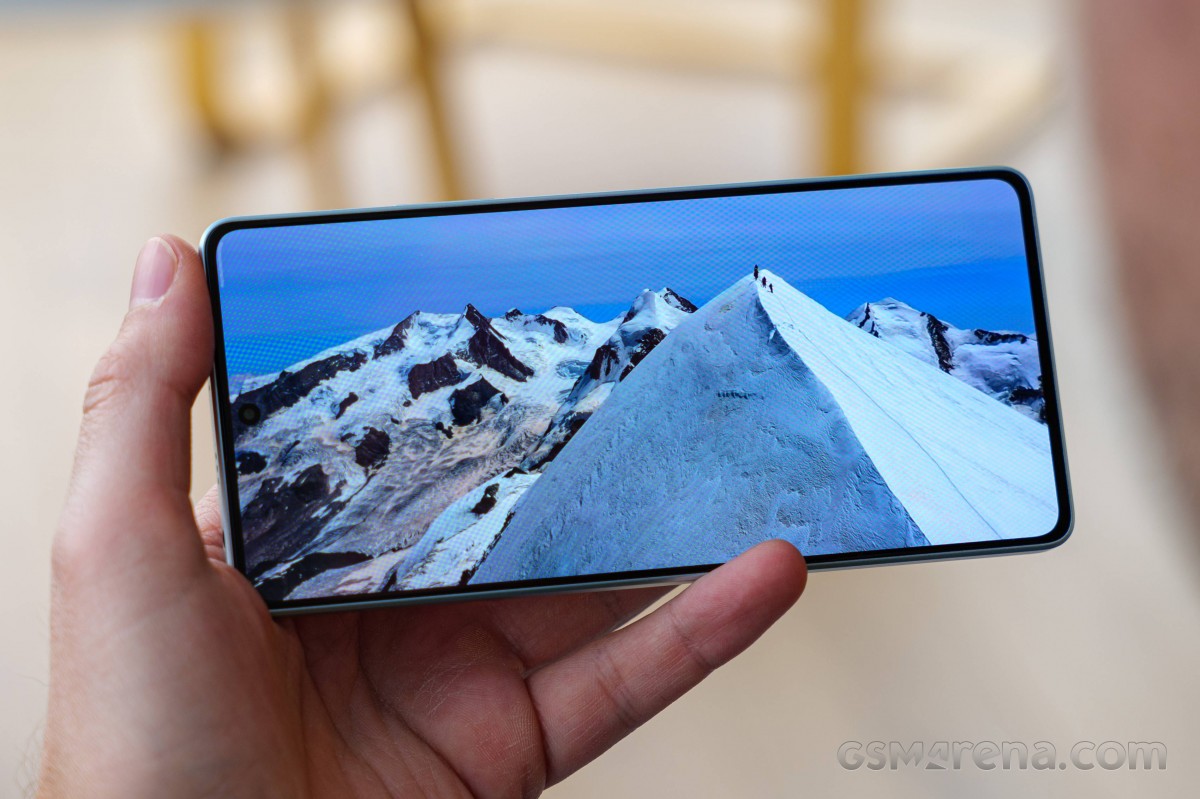 The display scored excellently in all of our tests too. In manual mode, the panel peaked at 470 nits, while in auto mode, it was able to reach 963 nits. Those values are pretty close to the advertised 500 and 1,000 nits, respectively. Interestingly, they are slightly lower than last year's Poco F4, but the difference is rather negligible.
Max display brightness test
White test pattern, 75% fill (nits)
Sort by
Manual mode
Auto mode
vivo V27

1055

497

Galaxy A34

1009

476

Poco F4

1003

530

Redmi Note 12 Pro+

990

535

Poco F5

963

470

Realme 10 Pro+

809

484

Poco F4 GT

761

468

Nothing phone (1)

663

466
Color accuracy is also great with just 1.1 average dE2000, but in the so-called "Standard" color preset. In the default color mode, the display reproduces blue-ish whites and grays pushing the average dE2000 above 4.0.
HRR control
MIUI 14 offers three refresh rate modes - 60Hz, 120Hz and Default, which is automatic. The latter dials down to 60Hz when necessary - when the screen is idle or when watching videos/movies in the Gallery app, YouTube, Netflix, etc. In all other cases, the panel would switch back to 120Hz for smoother operation. The HRR control is nothing too fancy, and it gets the job done to save some precious battery. And if you are having any compatibility issues with apps, you can always try to force 120 or 60Hz refresh rate as the system allows you to adjust that on per app basis.
Battery life
The Poco F5 now packs a bigger 5,000 mAh battery compared to its predecessor with a 4,500 mAh-rated cell and supposedly more energy-efficient chipset.
In our Active use test, the Poco F5 posted solid numbers for web and gaming use, and above average time for video streaming. The vivo V29 Pro and the Xiaomi 13T Pro are roughly on par.
Expand to reveal our legacy battery test (Endurance rating). How we test now.
The Poco F5 managed to hit 118h overall battery score with excellent screen-on runtimes and standby. The video playback endurance, however, is particularly impressive.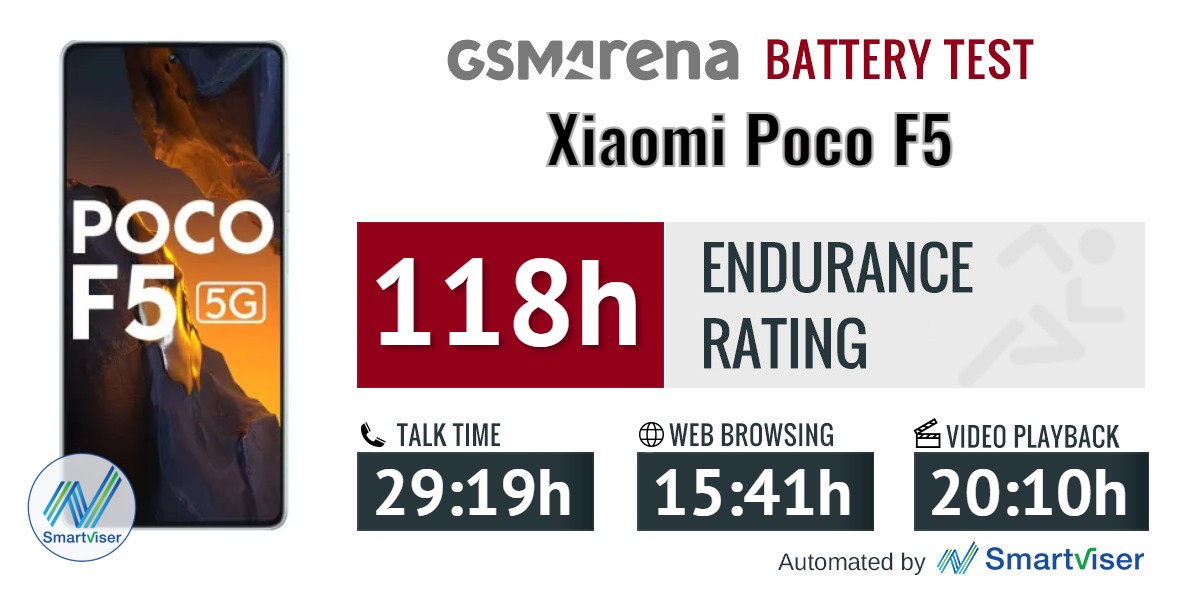 Our battery tests were automated thanks to SmartViser, using its viSerDevice app. The endurance rating denotes how long the battery charge will last you if you use the device for an hour of telephony, web browsing, and video playback daily. More details can be found here.
In all honesty, the F5 isn't that impressive when you put its results in context. The Ralme 10 Pro+, the vivo V27 and the Samsung Galaxy A34 all boast longer battery life, even if marginally in some cases.
Video test carried out in 60Hz refresh rate mode. Web browsing test is done at the display's highest refresh rate whenever possible. Refer to the respective reviews for specifics. To adjust the endurance rating formula to match your own usage patterns, check out our all-time battery test results chart, where you can also find all phones we've tested.
Charging speed
The Poco F5 draws power from a 67W-rated Xiaomi charger - the same as before. However, due to the bigger battery capacity, the F5 charges a tad slower. It's still no slouch, though, as in the first 15 minutes, the device got up to 48%. After 15 more minutes, the battery indicator showed 83% and a full charge took only 47 minutes.
Compared to other brands, the Poco F5 is definitely competitive. In fact, it's one of the faster ones.
30min charging test (from 0%)
Higher is better
| | |
| --- | --- |
| Poco F4 GT | 100% |
| Redmi Note 12 Pro+ | 100% |
| Poco F4 | 92% |
| Realme 10 Pro+ | 86% |
| Poco F5 | 83% |
| vivo V27 | 82% |
| Galaxy A34 | 51% |
| Nothing phone (1) | 48% |
* Tap/hover over the device names for more info
Time to full charge (from 0%)
Lower is better
| | |
| --- | --- |
| Poco F4 GT | 0:17h |
| Redmi Note 12 Pro+ | 0:23h |
| Poco F4 | 0:38h |
| Realme 10 Pro+ | 0:41h |
| Poco F5 | 0:47h |
| vivo V27 | 0:53h |
| Galaxy A34 | 1:24h |
| Nothing phone (1) | 1:31h |
* Tap/hover over the device names for more info
Speakers
The Poco F5 features stereo speakers with the right channel (usually holding it with the USB-C port facing right) having the usual down-facing grille, while the left one has two openings - one for the earpiece and one on top of the frame. Sound seems to come out from both grilles.
And even if Poco didn't claim any loudspeaker improvements, we've recorded above-average loudness for the price bracket, achieving an "Very good" score with -24.3 LUFS. Sound quality, on the other hand, is a mixed bag. The highs and vocals sound clean even at higher volume levels with minimal distortion, but bass seems to be lacking. All tracks sound somewhat flat.
Use the Playback controls to listen to the phone sample recordings (best use headphones). We measure the average loudness of the speakers in LUFS. A lower absolute value means a louder sound. A look at the frequency response chart will tell you how far off the ideal "0db" flat line is the reproduction of the bass, treble, and mid frequencies. You can add more phones to compare how they differ. The scores and ratings are not comparable with our older loudspeaker test. Learn more about how we test here.