Oppo Realme 1 360-degree spin
If there's one feature that instantly stands out about the Realme 1, it has to be the back panel design. The somewhat unique and stylish geometric pattern is kind of reminiscent of the one on the Oppo R1x - a handset from way back in 2015. It's a unique its for sure and one that is even more impressive when observed from different angles. Oppo claims the coating consists of 12-layers of "Nanotech," whatever that might mean. Regardless of how it's made, you can expect some gazes form passers-by while you talk.
If you are bold enough to forgo a case, that is. Oppo doesn't mention the specific materials used for the Realme 1, but we are pretty sure the back panel is made of smooth plastic, instead of Glass (Gorilla or otherwise). That would make it pretty prone to scratching in the long run. Plus, it's a real fingerprint magnet, which is still a daily nuisance, even if you manage to avoid scratches and nicks.
While still on the subject of materials, some sources claim the frame is metal, but from our experience this is doubtful.
We do get that Oppo is really trying to stretch budget limits here but we miss the fingerprint reader.
The fingerprint scanner is probably a sore omission for many, but we can only assume Oppo thought it's not that important to the phone's target group.
Speaking of which, Oppo is really playing the localized card hard on the Realme 1. Not only is the phone an Amazon India exclusive and targeted directly at Indian users, as per the PR materials, it is also "Designed for India", which means the UI theme is specially made for the local market. The phone's assembly process is also carried out locally.
Hardware overview
Despite being a budget handset, the Realme 1 feels really solid and well put-together. Despite its modest price tag, it still packs a trendy 18:9 IPS panel. It's fairly sizeable, too, at 6.0-inches in diagonal. Plus, it even has FullHD resolution, which works out to 402ppi.
The left and right bezels, around the panel are surprisingly slim for a budget device. The top and bottom chins, on the other hand, aren't exactly thin. But asking anything more would just be nitpicking. Instead, we will appreciate the lack of a notch on the panel.
Around back, the geometric pattern really does make a great first impression. It's made up of what Oppo describes as 15 tangent planes, which make for an impressive light show under the right light. We already mentioned our durability concerns for the surface, so no more dwelling on that part.
Instead, we will note that even though the "Realme" logo sits front and center, the Oppo one is still present near the bottom of the phone. It seems the Chinese OEM decided to keep its new sub-brand pretty close to home. At least so far, that is. If various other branching branding projects, scattered around the industry are any indication, this is definitely subject to change.
Control-wise, the Realme 1 utilizes a very standard layout. On the left, a pair of volume rockers. Nice and clicky. Positioned at a convenient hight. Nothing to complain about.
On the right - the same can be said about the volume button. Right above it, a triple card tray, housing two nano SIMs and an independent microSD. There really is added value for the user by this approach.
On the bottom - a single speaker, followed by a dated, but still perfectly functional microUSB 2.0 port. There is no USB Host support, though. At least not out of the box, that is. The main microphone is also housed on the bottom frame and so is a convenient 3.5mm audio jack.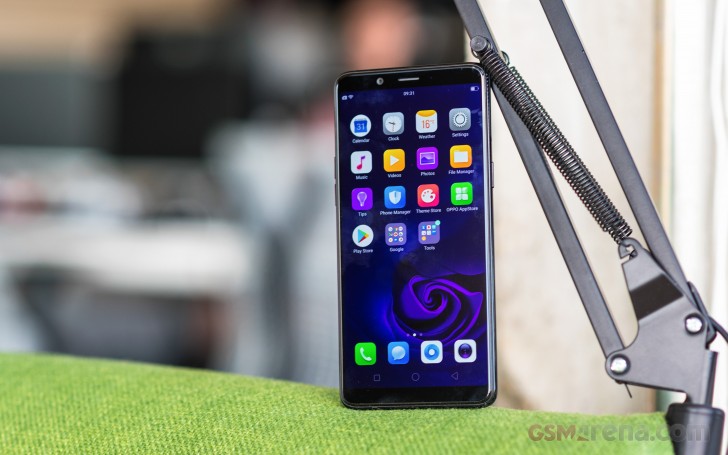 Overall, nothing too spectacular and nothing really missing. Well, besides a fingerprint reader, that is. We've definitely seen more premium bodywork from other manufacturers, like Xiaomi's Redmi line. Even so, the Realme 1 comes in a solid package, complete with a trendy 2018 look.