Heavily-modified Oreo
If you're a fan of the vanilla Android user experience, we can tell you the Realme 1 is probably not for you. Just like Oppo's other recent devices, like the F7 or the R15, the Realme 1 runs on a heavily-modified Android 8.1 Oreo core, with Color OS 5 on top. The Chinese OEM hasn't really extended any effort to customize the UI to differentiate the Realme sub-brand. Instead, Oppo fans will find a familiar sight and should feel right at home.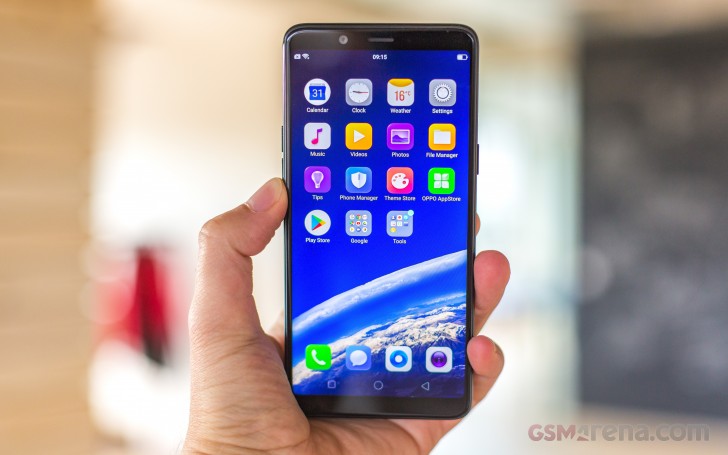 The new v5.0 launcher introduces an enhanced AI engine with real-time translation, faster Face Unlock, new navigation gestures, better gallery, split-screen multi-tasking. There are also new app shortcuts (long tap), redesigned icons and themes, improved call history, new security features including safe, and better gaming mode with WeChat integration.
Overall, it's got more added features than ever. ColorOS customizations run deep, making it far off from the standard Google-developed mobile experience. Units sold outside of China still come with the full Google suite, which has resulted in having a few apps with similar functionality - one by Oppo, and another one by Google.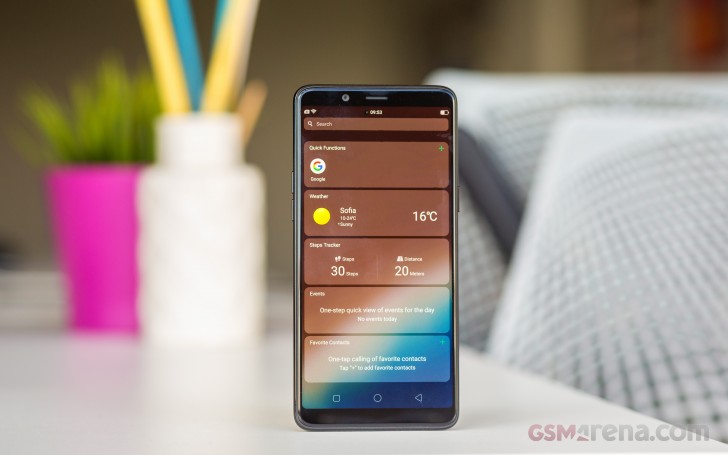 As for the new-found AI part, it builds on-device user behavior models for faster app startups and better resource management. It also uses this behavior to show relevant information on the left-most homescreen pane - calendar appointments, quick shortcuts, weather, world clock, package tracking, flight info, among others. You can configure those, or just leave them to the "AI".
The user interface is very familiar. There's no app drawer on the default launcher. Instead, every app you install gets dumped onto the homescreen.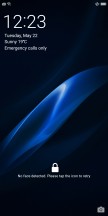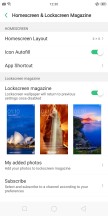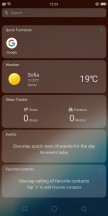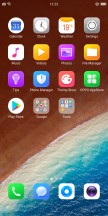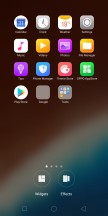 Lock screen *Lockscreen Magazine • Home screens
The Lockscreen features a continually changing slideshow of images - the Lockscreen Magazine. You can subscribe to several different channels (e.g., photos of nature or cars or others) and automatically download images or provide your own.
One rather obvious omission from the Realme 1 is a fingerprint reader. While many will likely miss the particular biometric authentication, there is also a case to be made for the Face Recognition, Oppo offers as an alternative.
Facial Recognition works surprisingly well. Like, really, really, surprisingly well. Especially at this price point.
It's very accurate and blazing fast. And while it's hard to properly validate Oppo's claims of 0.1s unlock times, we can safely say that we had a seamless experience with the system. While trying to trick it, we discovered it has a slight tolerance for looking at a slight angle - just enough to make it functional in most cases, when you are lying or looking down at the phone.
However, it would also work with your eyes closed, so Oppo is apparently not paying too much attention to that particular security aspect of the face unlocking. Which could be part of the reason glasses don't throw it off at all. Fortunately, it's not that easy to fool it with a picture of your face.
Color OS 5 has extensive theme support. The Theme Store features whole themes and just wallpapers, sorted into categories (including free and paid ones). Themes change the icon pack, the lockscreen wallpaper, and even the system font.
The notification shade features notifications, quick toggles, and a brightness scrubber. Oppo is still sticking to a non-standard dismiss procedure for notifications. Simply swiping them away does not work. Instead, you have to swipe to the left to reveal a delete button. An extra step we doubt anybody really appreciates.
While on the subject of notifications, ColorOS has a really in-depth management system set in place. Not only can you manage notifications per app and per app notification channel, there are also a few different notification areas and types the UI differentiates between and can control independently. IT might take some tinkering, but you can definitely set up everything just the way you like it.
The recent apps interface is a pretty familiar ColorOS affair. You just get a horizontal list, complete with pinning and split-screen options. Speaking of which, this is just one of the few ways you can trigger the split-screen feature on the phone, including a three-finger swipe up.
Speaking of gestures, one of the most notable additions to Oppo's custom ROM has to be the Full-Screen Gesture model. Bigger display and diminishing bezels and chins tend to pose some ergonomic concerns beyond a certain point.
Oppo's implementation is actually one of the more robust and flexible ones we have seen to date. Not only does it offer a fallback to regular controls, but there are also quite a few gesture navigation themes to choose from. Hiding the navigation buttons/bar is also a readily available toggle.
And that's far from the only options ColorOS has for navigation or general gesture input. There is also an "Assistive Ball" for floating controls iOS-style. Not to mention a whole platform for defining and tweaking screen off gestures.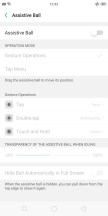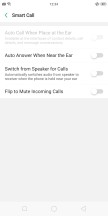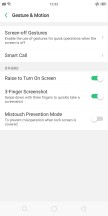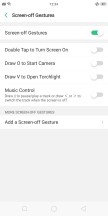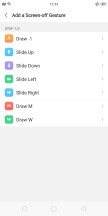 Assistive Ball • Call gestures • Other gestures
Frankly, the amount of extra options and the way they are spread throughout the ColorOs UI is a bit confusing and overwhelming. There is even an entire dedicated entry in the settings menu for handling Security. Everything from permissions to fraud protection.
The same is true for battery management. It gets an entire menu structure of its own, where you can easily lose hours. Detailed per-app statistics and timelines are great, but will likely fly over most users' heads. Not ideal, since this is where you need to dig in order to disable the default background management options for certain apps that won't function properly otherwise.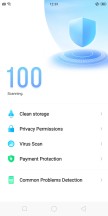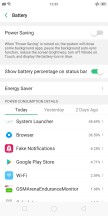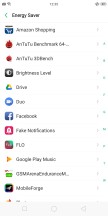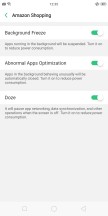 Phone Manager • Battery settings
All the while, there is a centralized Phone Manager app on one of the home-screens as well. It looks a lot more user-friendly, but doesn't really give access to all the options ColorOS is hiding away behind the scenes.
And the added feature and organizational confusion does not stop there. Oppo has also sprinkled in extra features, like Clone Apps and Game Acceleration. Both great, but also surely confusing for many remedial users.
Then there is the fact that Oppo still insists on keeping certain default app settings in the Settings menu, rather than within the apps themselves. Something pretty unorthodox within the Android ecosystem. This way, unless you know where to look for It, you might not be able to toggle location tags or watermarks for the camera as well as many other options.
What we are trying to drive across here is that ColorOS is clearly a pro user environment. What long-term fans might see as a great selection of extra features, a newcomer will likely perceive as an offputting chaos.
Also, there is the small matter of app over-saturation. We don't want to necessarily call it bloat, since Oppo doesn't really pre-load many actual third-party apps. What it does do, however, is leave you with a full set of Google apps, as well as its own alternatives on international models. The existence of a second app store and its insistence to start installing a "curated" selection of apps at first launch can get particularly annoying and confusing, if you don't know what you're doing.
Other than that, we can't say anything bad about the core Oppo apps. All the basics, like a phone app, messenger, calculator and the sort are well covered. These also comply to theme colors and styles, so they always remain in-tune with the rest of a skinned UI.
The Gallery and Video apps are functional, even if not necessarily feature-rich. At least not to the level of the rest of ColorOS. We do enjoy the simplicity of operation, though.
The Music app seems particularly empty, since we are now so accustomed to getting advanced features with our multimedia, like online libraries, lyrics, fancy visualizations and the likes. There is a custom equalizer, though, but like many other options, it's not accessible through the Music app, but rather has its own entry in the phone's settings menu.
The browser and file manager are particularly nifty. The former has some really advanced features, like a built-in ad blocker. The same can be said about the latter, as well. It comes bundled with a small FTP server, for really easy wireless access to your files.
Benchmarks and performance
If you thought finding suitable 18:9 budget competitors to pit against the Realme 1 was hard in itself, adding performance criteria to the mix makes in nearly impossible. Despite the handset's budget market standing, Oppo fitted it with a MediaTek MT6771 Helio P60 chipset - a distinctly mid-range chip.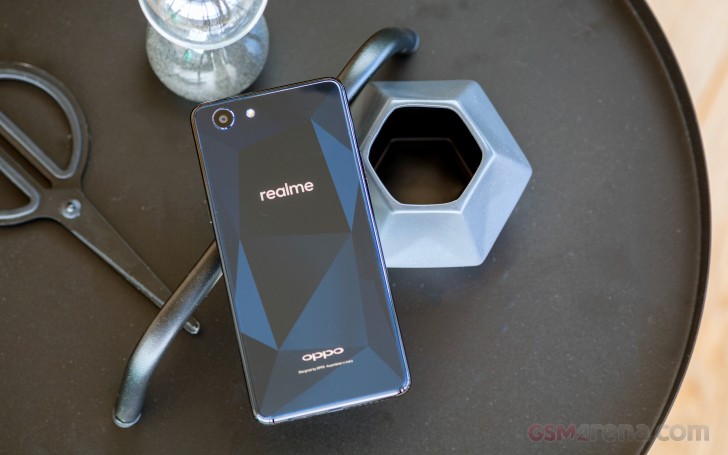 But it's a pretty decent one at that. Not only does it utilize TSMC's efficient 12nm fabrication process, but it also has a cluster of four high-performance Cortex-A73 chips, coupled with another four Cortex-A53 ones, all clocked at 2.0 GHz. Pretty much every other competitor in this price segment is stuck only using the less powerful Cortex-A53 cores.
In fact, even the Xiaomi Redmi 5 Plus - the closest, really viable rival we could find to the Realme 1, only has a Snadpragon 625 chipset at its disposal. While still a good performer and quite battery efficient, it's starting to show its age and clearly lacks behind the Helio P60 in most every respect.
Just to spice things up and to provide a better basis for comparison, we threw some over-budget devices into the charts as well. Most of these are considered very affordable, but still cost as much as twice the asking price of the Realme 1 and often offer less potent internals. We even threw in the older and rapidly depreciating in value HTC 10 Evo, just to see how the ex-flagship Snapdragon 810 fits into a modern ultra-budget crowd.
It is worth noting that our review unit is the top of the line 6GB RAM, plus 128GB storage variant of the Realme 1. The extra memory and potentially faster flash chip could contribute a few points towards some compound benchmark scores. But, overall, the effect shouldn't be that major and you can expect roughly the same levels of performance even in the 3GB, plus 32GB variant.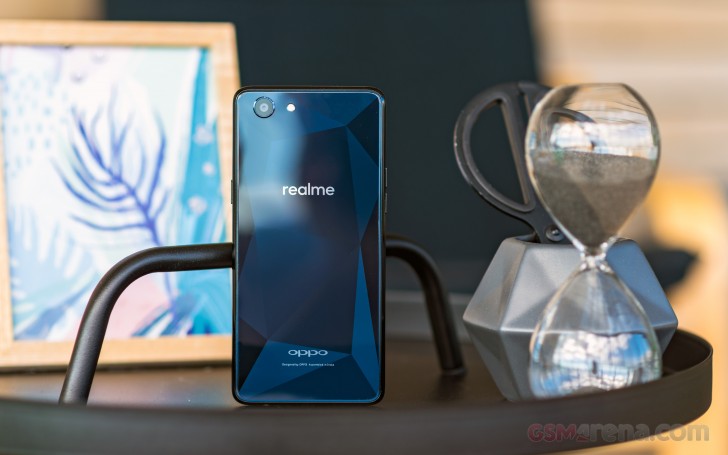 Starting with GeekBench and a straight CPU performance test, the Helio P60, inside the Realme 1 clearly crushes the competition. Not only does it have the benefit of a pretty high 2.0GHz clock speed, but the Cortex-A73 cores clearly offer an edge as well.
GeekBench 4.1 (single-core)
Higher is better
Oppo Realme 1
1511
Xiaomi Redmi Note 5 Pro
1327
Xiaomi Mi A1
877
Xiaomi Redmi 5 Plus
874
Xiaomi Redmi 5
766
Samsung Galaxy J5 (2017)
731
Motorola Moto G6 Play
639
Multi-core loads, as well as the general computational test tell the very same story.
GeekBench 4.1 (multi-core)
Higher is better
Oppo Realme 1
5741
Xiaomi Redmi Note 5 Pro
4696
Xiaomi Redmi 5 Plus
4309
Xiaomi Mi A1
4292
Xiaomi Redmi 5
4018
Samsung Galaxy J5 (2017)
3667
Motorola Moto G6 Play
2328
GeekBench results aren't really that much different. On the surface, it might appear that Xiaomi is gaining back some ground, but it should be noted that the Redmi Note 5 Pro, breathing down the neck of the Realme 1 is actually a Snapdragon 636 device that costs about as twice as the new budget Oppo. The more comparable Redmi 5 Plus is still left in the dust.
AnTuTu 6
Higher is better
Oppo Realme 1
92775
Xiaomi Redmi Note 5 Pro
90642
HTC 10 Evo
82841
Xiaomi Redmi 5 Plus
63019
Xiaomi Mi A1
61762
Huawei Honor 6X
57012
Xiaomi Redmi 5
56136
Samsung Galaxy J5 (2017)
46400
Motorola Moto G6 Play
40735
Before you ask, we ran AnTuTu 7 as well (AnTuTu 5 also, for that matter), but there just weren't enough really low-end budget devices in out AnTuTu 7 database to compare the Realme 1 with. Still, the overall results are consistent - the Realme 1 easily crushes devices twice its current market price.
BaseMark OS 2.0 appears to be a bit more favourable towards Xiaomi's devices. But again, we only see the Realme 1 lose out to the much more expensive Redmi Note 5 Pro. The Redmi 5 Plus is still left in the dust.
Basemark OS 2.0
Higher is better
Xiaomi Redmi Note 5 Pro
2030
Oppo Realme 1
1940
HTC 10 Evo
1913
Huawei Honor 6X
1309
Xiaomi Mi A1
1262
Xiaomi Redmi 5 Plus
1226
Xiaomi Redmi 5
1222
Samsung Galaxy J5 (2017)
1038
Motorola Moto G6 Play
922
Earlier, we mentioned the HTC 10 Evo, with its Snapdragon 810 chip. Looking at the charts so far, offers a really interesting practical perspective on just how much mobile silicon performance has improved in just a few months.
So, it's pretty obvious the Helio P60 is a strong performer in the CPU department, but what about graphics? That spacious 6-inch display looks like a perfect match for gaming. Luckily, the Mali-G72 MP3 delivers is this department as well. Well, relative to the competition, that is.
GFX 3.0 Manhattan (onscreen)
Higher is better
Oppo Realme 1
20
Xiaomi Redmi 5
18
HTC 10 Evo
16
Motorola Moto G6 Play
13
Samsung Galaxy J5 (2017)
10
Xiaomi Mi A1
9.7
Xiaomi Redmi 5 Plus
9.4
Huawei Honor 6X
7.9
GFX 3.1 Manhattan (1080p offscreen)
Higher is better
HTC 10 Evo
20
Oppo Realme 1
12
Xiaomi Redmi 5 Plus
6.5
Xiaomi Mi A1
6.4
Xiaomi Redmi 5
6.1
Huawei Honor 6X
4.8
Motorola Moto G6 Play
4.6
Samsung Galaxy J5 (2017)
3.3
Compared to something like the HTC 10 Evo, we already touched upon, briefly, the Realme 1 has the benefit of FullHD+ resolution. That is to say, the GPU has less work to do while pushing pixels in on-screen tests. In contrast, the playing field is pretty level with the Redmi 5 Plus, which also has the same resolution to work with. Then there are devices like the regular Redmi 5, the Moto G6 Play or the Samsung Galaxy J5 (2017), which have native HD+ panels.
GFX 3.1 Manhattan (onscreen)
Higher is better
Xiaomi Redmi 5
13
Oppo Realme 1
12
HTC 10 Evo
11
Motorola Moto G6 Play
10
Samsung Galaxy J5 (2017)
7.4
Xiaomi Mi A1
6.3
Xiaomi Redmi 5 Plus
6.2
Huawei Honor 6X
4.6
GFX 3.1 Car scene (1080p offscreen)
Higher is better
HTC 10 Evo
12
Oppo Realme 1
7.5
Huawei Honor 6X
4.6
Xiaomi Redmi 5 Plus
3.5
Xiaomi Mi A1
3.5
Xiaomi Redmi 5
3.4
Motorola Moto G6 Play
2.6
Samsung Galaxy J5 (2017)
1.9
That's clearly the reason behind the comparable on-screen frame rates between the Realme 1 and the Redmi 5. Naturally, once we get to OpenGL ES 3.1 synthetic loads and test, the observable frame rates drop way beyond playable levels on practically every device on the list.
Like we've said on numerous occasions, this does not correlate directly to the fluidity of real-world gaming experiences. Modern titles tend to scale back graphics quite gracefully and efficiently. We had no issue gaming on the Realme 1 and neither will you, unless you are trying to reign supreme in serious competitive mobile moba or battle royal games.
Basemark X
Higher is better
HTC 10 Evo
28736
Xiaomi Redmi Note 5 Pro
14897
Oppo Realme 1
10880
Xiaomi Redmi 5 Plus
10484
Xiaomi Mi A1
10472
Xiaomi Redmi 5
9953
Huawei Honor 6X
8458
Motorola Moto G6 Play
7620
Samsung Galaxy J5 (2017)
5258
Basemark X provides a pretty concise overall picture of how the Oppo Realme 1 performs in graphics tasks, compared to its closest rivals. Clearly, the Helio P60 punches way above its weight, or in this case, price class.
If you are after the highest level of raw performance for the least amount of money, at current price levels it seems nearly impossible to beat the Oppo Realme 1 in this respect.
Xiaomi's Redmi 5 Plus comes close, but still clearly looses out. The latter still has a few benefits of its own to offer, however, like a metal build and a fingerprint reader. So, there is still plenty of room for personal preference to weigh in on the purchasing decision. That being said, we have to give credit where credit is due and crown the Realme 1 the current budget performance champion.