Telephony
The phone app is simple but functional. The dialer supports smart dial, or you can go into the Contacts tab for a more extensive search. You can block numbers from calling you, a handy way to screen unwanted calls. You need to head to the Settings menu for more options.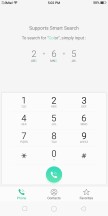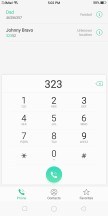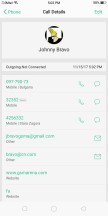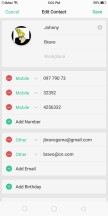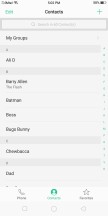 Dialer • Smart dial • Contacts
Like we mentioned earlier, the Oppo F5 comes with advanced dual SIM functionality and VoLTE support on both SIM slots.
Messaging
Oppo's messaging app is equally simplistic and straight-forward to use. Conversations are separated out into threads and there is MMS and rich multimedia attachment support. The usual affair.
Text input is handled by TouchPal - a custom version, specifically tailored for Oppo. It is still the free version though, so premium benefits are going to cost you extra.
Even so, there is hardly anything missing from the app. You can customize pretty much every visual aspect for the keyboard. There are nifty themes. Predictive input and multi-language support.
Loudspeaker
The Oppo F5 only has a single bottom-firing speaker. It is not particularly loud and only scored an "Average" mark in our tests.
| | | | | |
| --- | --- | --- | --- | --- |
| Speakerphone test | Voice, dB | Pink noise/ Music, dB | Ringing phone, dB | Overall score |
| Xiaomi Mi Max | 67.1 | 66.2 | 68.1 | Average |
| Oppo F3 Plus | 62.3 | 69.8 | 70.0 | Average |
| Oppo F3 | 63.1 | 68.7 | 70.4 | Average |
| Oppo R11 | 66.4 | 71.5 | 65.0 | Average |
| Oppo F5 | 63.5 | 70.8 | 71.5 | Average |
| Xiaomi Redmi Note 4 | 64.2 | 67.2 | 76.9 | Good |
| Nokia 6 (Global version) | 63.1 | 70.9 | 82.5 | Good |
| Xiaomi Redmi Note 4 (S625) | 67.3 | 70.3 | 81.5 | Very Good |
| Samsung Galaxy J7 Pro | 68.0 | 69.9 | 82.3 | Very Good |
| Xiaomi Mi Max 2 | 78.4 | 71.7 | 79.2 | Excellent |
| Xiaomi Mi A1 | 74.0 | 73.9 | 90.4 | Excellent |
Output quality is about average as well. Distortion creeps in quite rapidly as you ramp up the volume.
App package
The Oppo R11 has the complete Google package, but it brings its own alternatives to many of them. We already saw several, like the Theme Store, Phone and Messages. It's time to meet the others.
The Weather app seems similarly borrowed from Apple. It pulls data from AccuWeather and manages to fit plenty of information on a single screen.
The clock app follows the same while color scheme as well.
Interestingly enough, however, the sound recorder, compass and calculator are all colored in black, grey, with red and orange tints. It is stylish, but not exactly in keeping with the rest off the UI.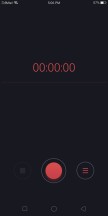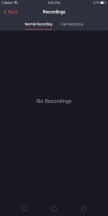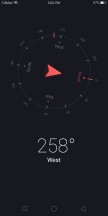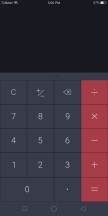 Recorder • Recorder *Compass • Calculator
Oppo has pre-installed the free version of WPS Office. It can create Word, Excel, and PowerPoint files and it offers a nice selection of templates to give you a flying start. Note that some templates are paid, and you'll occasionally see banners for the premium version of the app.
The Files app is pretty self-explanatory, although it does come with a few nifty advanced features. The File safe option allows you to lock certain files with a fingerprint/pattern for safe keeping. There is also native ZIP support.
There's an option to move files without a cable - the phone creates a Wi-Fi hotspot, and you connect to it over FTP. That's a techy solution that can be cool, but it may turn some people off - cloud storage integration would have been simpler.
The Backup and Restore app has an extra feature that's not found in its name - it can clone phones, simplifying the transfer from your old device. For backups, it will make a copy of System data, Applications, and Personal data.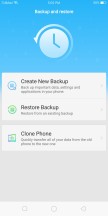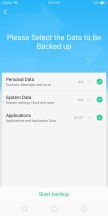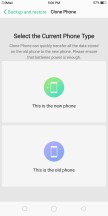 The Backup and Restore app can also move your data to a new phone