Display
We already praised the Oppo F5 for its slim front bezels. The company's choice of a FullHD ultra-wide panel, over a cheaper 720p one is also appreciated. Granted, the F5 is far from the only option out there to ship with the trendy new aspect and 1080p resolution in the sub EUR 350 price group. There is the Huawei Mate 10 Lite, also the Honor 7X and the LG Q6.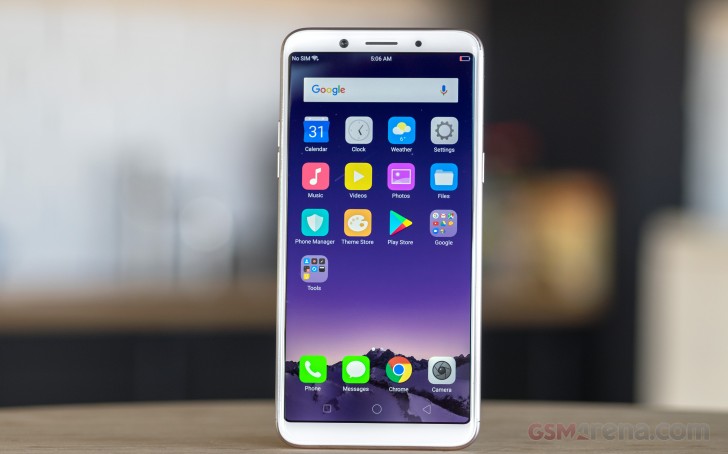 So, there is no real exclusivity to Oppo's 6-inch, LTPS IPS LCD display. It is still a solid panel, though. With 402 ppi density, it looks perfectly sharp. On a pixel level, we find a standard RGB arrangement.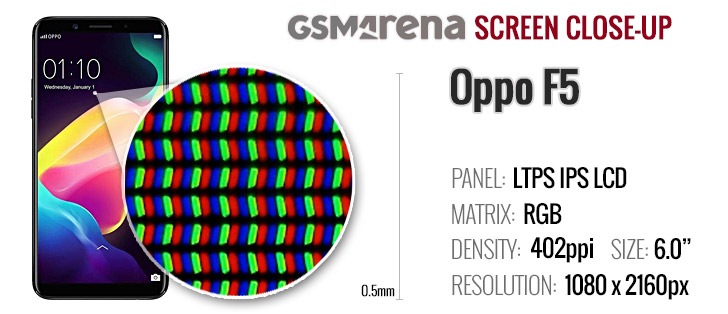 Performance-wise, it has excellent contrast, thanks to really deep backs and trumping most everything else in its price bracket, shy of the Super AMOLED Samsung Galaxy J7 Pro. It scores top marks in brightness as well.
Display test
100% brightness
Black, cd/m2
White, cd/m2
Contrast ratio
Xiaomi Mi A1
0.351
551
1570
Samsung Galaxy J7 Pro (Max Auto)
0
539
∞
Xiaomi Mi Max 2
0.401
519
1294
vivo V7+
0.289
515
1782
Oppo F3 Plus
0.343
509
1485
Nokia 6 (Global version)
0.364
484
1330
Xiaomi Redmi Note 4 (S625)
0.322
484
1503
Oppo F5 (Max Auto)
0.214
462
2159
Oppo F3
0.364
449
1234
Xiaomi Redmi Note 4 (X20)
0.38
439
1158
Xiaomi Mi Max
0.46
424
922
Oppo F5
0.192
422
2198
Samsung Galaxy J7 Pro
0
350
∞
The Oppo F5 also has a max auto mode. In bright direct sunlight, its brightness can climb a bit higher still.
Sunlight legibility is also good. Nothing to phone home about, though.
Sunlight contrast ratio
Apple iPhone X
5.013
OnePlus 5T
4.789
Samsung Galaxy S8
4.768
Samsung Galaxy S8+
4.658
Samsung Galaxy S6 edge+
4.615
Motorola Moto Z2 Play
4.459
Oppo R11
4.454
Samsung Galaxy S7 edge
4.439
OnePlus 3
4.424
Samsung Galaxy S7
4.376
HTC One A9
4.274
Samsung Galaxy Note7
4.247
Samsung Galaxy A3
4.241
Nokia 8
4.239
Google Pixel 2 XL (pre-update)
4.234
OnePlus 3T
4.232
Google Pixel XL
4.164
ZTE Axon 7
4.154
Samsung Galaxy Note8
4.148
Meizu Pro 7 Plus
4.147
Samsung Galaxy S6 edge
4.124
Samsung Galaxy A7 (2017)
4.124
Huawei Mate 10 Pro (normal)
4.096
Samsung Galaxy Note5
4.09
Google Pixel 2 (pre-update)
4.023
LG V30
4.022
Huawei Nexus 6P
4.019
Samsung Galaxy J7 Pro
3.998
OnePlus X
3.983
Vivo Xplay5 Elite
3.983
Oppo R7s
3.964
Apple iPhone 7
3.964
Apple iPhone 8 (True Tone)
3.957
Huawei P9 Plus
3.956
Meizu Pro 6 Plus
3.935
Lenovo Moto Z
3.931
Samsung Galaxy A7 (2016)
3.918
OnePlus 5
3.914
Samsung Galaxy C5
3.911
Samsung Galaxy C7
3.896
Samsung Galaxy A5
3.895
Samsung Galaxy J7 outdoor
3.879
Samsung Galaxy J2 outdoor
3.873
Samsung Galaxy A8
3.859
Sony Xperia XZs
3.818
Samsung Galaxy A9 (2016)
3.817
Motorola Moto X (2014)
3.816
Samsung Galaxy J7 (2017)
3.812
Samsung Galaxy A5 (2017)
3.804
Samsung Galaxy J7 (2016) outdoor mode
3.802
Xiaomi Redmi Pro
3.798
LG V20 Max auto
3.798
Sony Xperia XZ
3.795
Samsung Galaxy A5 (2016)
3.789
Apple iPhone 6s
3.783
Meizu Pro 5
3.781
Microsoft Lumia 650
3.772
Xiaomi Mi 6
3.767
Sony Xperia XZ1
3.765
Samsung Galaxy J7 (2016)
3.756
Sony Xperia XZ1 Compact
3.729
Apple iPhone 8 Plus (True Tone)
3.725
Oppo F1 Plus
3.709
Vivo X5Pro
3.706
Sony Xperia X Compact
3.694
Samsung Galaxy A3 (2017)
3.688
Apple iPhone SE
3.681
Huawei Mate 9
3.68
Samsung Galaxy A7
3.679
Meizu PRO 6
3.659
BlackBerry Priv
3.645
Sony Xperia XA1 Ultra
3.597
Apple iPhone 7 Plus
3.588
LG G6
3.556
Apple iPhone 6s Plus
3.53
Motorola Moto Z Play
3.526
Samsung Galaxy J3 (2016)
3.523
Samsung Galaxy J3 (2016) outdoor mode
3.523
Acer Jade Primo
3.521
Microsoft Lumia 950
3.512
Oppo R7 Plus
3.499
nubia Z11
3.466
Huawei P10 Plus
3.456
HTC U Ultra
3.453
Samsung Galaxy J7
3.422
Meizu MX5
3.416
LG V20
3.402
Huawei P10
3.379
Samsung Galaxy J5 (2016)
3.378
Oppo R9s
3.352
Honor 8 Pro
3.341
Oppo R7
3.32
Lenovo P2
3.316
Honor 9
3.289
Xiaomi Mi 5s
3.276
Nokia 5
3.261
Nokia 6 (Chinese version)
3.244
Nokia 6 (Global version)
3.238
Samsung Galaxy J2
3.235
Sony Xperia X Performance
3.234
Xiaomi Mi Note 2
3.228
Motorola Moto X Play
3.222
Oppo F3 Plus
3.218
Huawei Mate 9 Pro
3.206
Huawei P9
3.195
Xiaomi Mi Mix 2
3.19
ZTE Nubia Z17
3.159
Lenovo Vibe Shot
3.113
Motorola Moto X Force
3.105
LG Nexus 5X
3.092
HTC U11
3.089
Huawei Mate S
3.073
Microsoft Lumia 640 XL
3.065
Sony Xperia XA1
3.012
Sony Xperia L1
2.994
Sony Xperia X
2.989
Huawei P10 Lite
2.974
Samsung Galaxy Note
2.97
Sony Xperia Z1
2.95
Huawei Mate 8
2.949
Xiaomi Redmi 4
2.92
Xiaomi Redmi 3S
2.913
Sony Xperia XA Ultra
2.906
LG G5
2.905
HTC One S
2.901
Xiaomi Redmi 3s Prime
2.893
Xiaomi Mi 5s Plus
2.884
Sony Xperia XZ Premium (sRGB)
2.877
Sony Xperia XZ Premium
2.877
Sony Xperia Z5
2.876
Nokia 3
2.871
Microsoft Lumia 550
2.851
Lenovo Moto M
2.813
Xiaomi Redmi 3 Pro
2.803
Sony Xperia Z5 compact
2.784
Meizu MX6
2.751
LG V10
2.744
Huawei Mate 10 (normal)
2.742
Xiaomi Redmi 3
2.735
Xiaomi Redmi Note 4 (S625)
2.714
Meizu M5
2.71
Sony Xperia M5
2.69
Xiaomi Mi A1
2.689
Huawei P9 Lite
2.679
Xiaomi Redmi 4 Prime
2.679
vivo V7+
2.671
Vivo V3Max
2.659
Xiaomi Mi Mix
2.658
Oppo F5
2.653
Doogee Mix
2.642
Xiaomi Mi 4i
2.641
Xiaomi Redmi 4a
2.635
Xiaomi Mi 5X (Standard)
2.616
Sony Xperia XA
2.609
Motorola Moto G4 Plus
2.582
Motorola Moto G4 Plus (max auto)
2.582
Meizu M5s
2.58
Xiaomi Mi 4c
2.574
LeEco Le Max 2
2.567
Microsoft Lumia 640
2.563
Asus Zenfone 3 ZE552KL
2.563
Xiaomi Mi Max 2
2.561
Motorola Moto G 4G
2.546
Lenovo Moto G4
2.544
Lenovo K6 Note
2.544
Oppo F1
2.528
Sony Xperia Z5 Premium
2.525
Huawei Honor 7 Lite / Honor 5c
2.506
Sony Xperia M4 Aqua
2.503
Oppo F1s
2.481
Motorola Moto G
2.477
Lenovo Vibe K5 Plus
2.473
Huawei G8
2.471
Huawei nova
2.467
Lenovo Vibe K5
2.459
Meizu m3 max
2.447
Xiaomi Mi 5X (Auto)
2.417
HTC 10 evo
2.407
Huawei Honor 7
2.406
Sony Xperia E5
2.386
ZUK Z1 by Lenovo
2.382
HTC 10
2.378
Oppo F3
2.376
vivo V5 Plus
2.371
Meizu m1 note
2.362
Huawei nova plus
2.329
Razer Phone
2.328
HTC One E9+
2.305
Alcatel One Touch Hero
2.272
Apple iPhone 4S
2.269
Lenovo Vibe K4 Note
2.254
Sony Xperia C5 Ultra
2.253
Xiaomi Redmi Note 3 (MediaTek)
2.249
Sony Xperia C4 Dual
2.235
Xiaomi Mi Note
2.234
Motorola Moto G (2014)
2.233
LG Nexus 5
2.228
Huawei P8
2.196
Meizu M5 Note
2.189
Huawei Honor 6
2.169
Xiaomi Redmi Note 2
2.166
OnePlus Two
2.165
HTC One X
2.158
LG Aka
2.145
Xiaomi Redmi Note 4 (X20)
2.145
Archos 50 Diamond
2.134
Xiaomi Redmi Note
2.119
Xiaomi Mi 4S
2.095
Acer Liquid X2
2.084
Huawei P8lite
2.078
vivo V5
2.059
Moto G 3rd gen max manual
2.026
Xiaomi Mi 3
2.001
Xiaomi Mi Max
1.996
Sony Xperia E4g
1.972
OnePlus One
1.961
Meizu m3 note
1.923
BlackBerry Leap
1.892
Meizu m2 note
1.892
HTC Butterfly
1.873
Sony Xperia Z1 Compact
1.772
ZTE Nubia Z9 mini
1.759
Sony Xperia U
1.758
Asus Zenfone Selfie
1.68
Motorola Moto E (2nd Gen)
1.675
ZTE Nubia Z9
1.659
Jolla Jolla
1.605
Motorola Moto E
1.545
Sony Xperia M
1.473
Sony Xperia L
1.351
HTC Desire C
1.3
Sony Xperia C
1.283
Meizu MX
1.221
Sony Xperia E
1.215
Good color accuracy readings put the final touches, in what is shaping up to be a really solid phone display. While we have definitely seen better, an average deltaE of 5 and a maximum of 9.4 are still very good scores.
The F5's color pallet is actually pretty balanced overall. The biggest variance seems to come from the whites, which all have a distinct blue tint to them. Unfortunately, due to the lack of any color modes of white point tuning options, you are pretty much stuck with these colder tones on the F5.
Battery Life
The Oppo F5 packs a decently sized 3,200 mAh battery, just like its F3 predecessor. It is not a battery beast, by any means, but to reiterate a previous point, the new plastic body has allowed Oppo to keep weight down at 152 grams, even with the same battery capacity and a larger display.
Also, we went into the battery test segment with high hopes for any potential endurance improvements by the new MediaTek Helio P23 chip. Still, we can't realistically expect an amazing difference over the Helio P20, since both are based on the same 16nm TSMC fabrication process.
As expected, the numbers show the new Helio P23 is just as frugal as its older sibling when it comes to battery life. It scored a great endurance rating of 91 hours, with good scores across the board. Well, video playback could use use some extra optimization. But other than that, a very good score.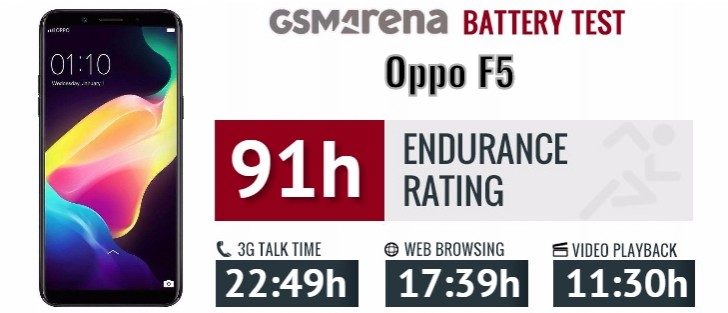 Also, one that falls in line well with expectation. For instance, the Sony Xperia XA1 Plus leveraged its Helio P20 chipset and 3,420 mAh nattery well enough to score a 102 hour endurance rating. The slight bump in battery capacity mostly went towards improving standby performance. All the on-screen tests, as well as the call one come really close to what we measured on the Oppo, so a nice consistent and impressive showing from MediaTek's 16nm mid-range chips overall.
Charging on the F5 is limited to a simple 5V@2A current. Just like with the F3, VOOC was apparently way out of budget. It is definitely missed, though, since Oppo's fast charging solution remains one of the best on the market.
With its bundled 5V@2A charger, the Oppo F5 goes from 0% to 49% in half an hour. Not bad.
Connectivity
While the new Helio P23 comes really close to the older P20 in CPU terms, it does offer a few notable improvements in the connectivity department. With it, MediaTek wants to somewhat bridge the gap between its higher-end solutions, lithe the Helio X30 and the mid-range, by providing some meaningful network improvements.
The Helio P23 supports Dual 4G LTE and DSDS (Dual SIM, Dual standby) on both its slots, but also Dual VoLTE/ViLTE. That means both SIM cards can take advantage of high bandwidth data transfer and crisp audio calls. Given the proper PR and exposure, this could serve as a major selling point for the Oppo F5, especially in markets with a 4G-only infrastructure.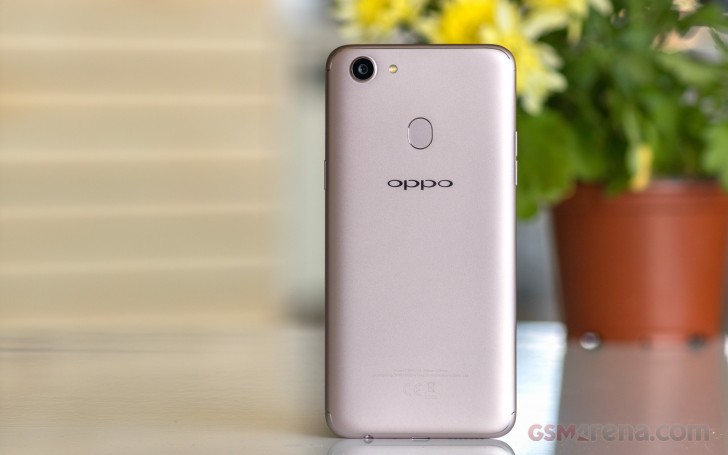 As far as specific numbers go, the Helio P23 is rated at Cat.6 LTE, with a theoretical maximum of 300 Mbps down. You also get 20Mz + 20Mz carrier aggregation. According to our findings, there are actually two variants of the Oppo F5. One has a total of 12 LTE bands and four HSPDA ones, while the other has 9 and 3, respectively.
On the local side of things, the Oppo F5 has Wi-Fi a/b/g/n, Bluetooth 4.2 and LE profiles. There are also a GPS and an FM radio receiver. No NFC, though. The microUSB port does support OTG (you do have to toggle it in the settings), but is only capable of USB 2.0 transfer speeds.