The usual Moto additions, Android 12 underneath
The Moto G62 runs Android 12, so it's not particularly up to date when it comes to the OS core. We did get a couple of small updates on our review unit over the past few weeks, so while Motorola may be a bit behind schedule with the OS releases, ongoing support isn't lacking. As is the norm with Motorola handsets, you'd be getting a largely stock UI, with minimal in-house tweaks, including some long-standing proprietary features.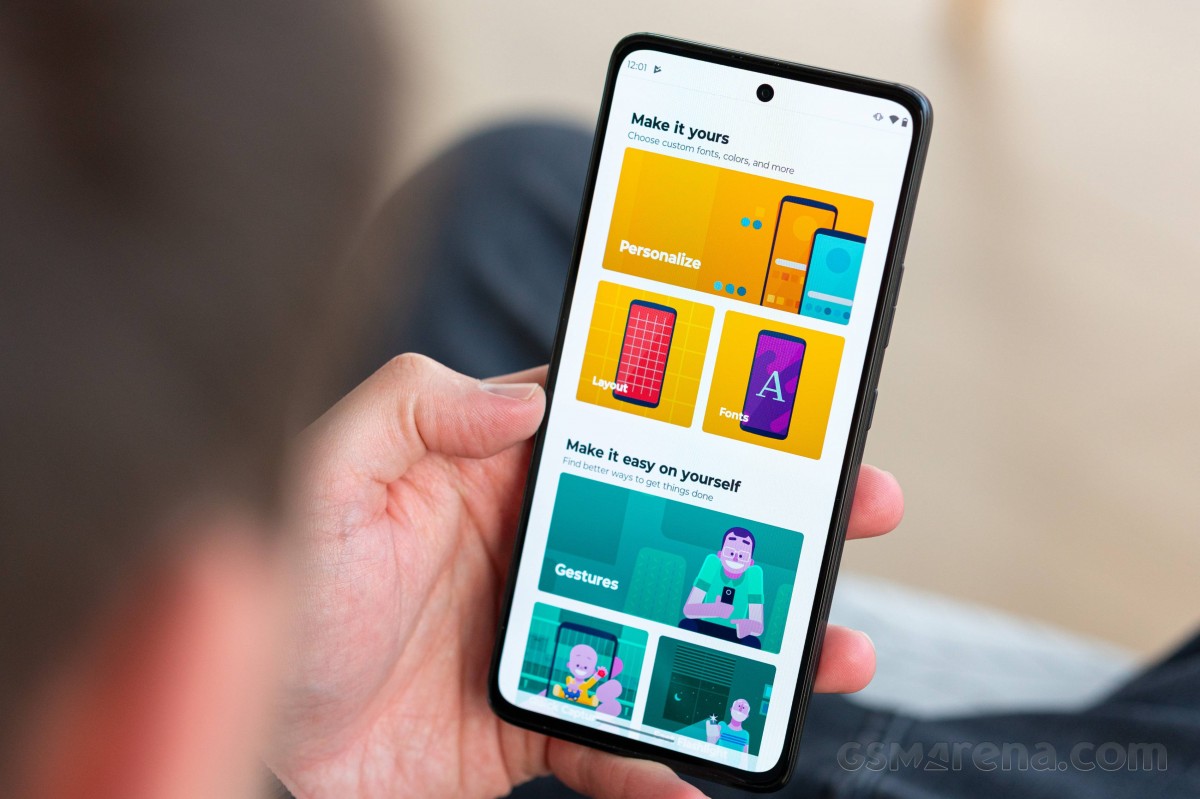 The UI and overall appearance are close to stock Android. That includes the large pill-shaped quick toggles in the notification shade and it also means no auto brightness toggle - Google keeps that in the display settings and Motorola follows suit.
The recent apps menu that displays apps in a carousel formation and the app drawer are unchanged as well.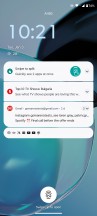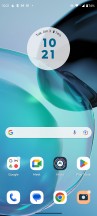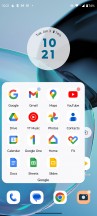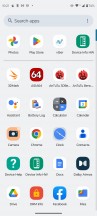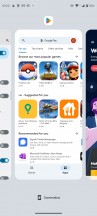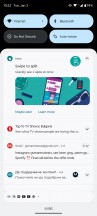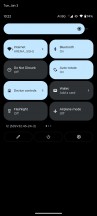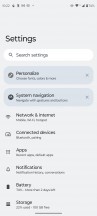 Lockscreen • Homescreen • Folder view • App drawer • Task switcher • Notifications • Quick toggles
As is usually the case, Motorola has added a handful of useful extras. They are all placed in a Moto settings app that lists them in categories.
The first one is Personalization which allows you to tinker with fonts, app icons layout, accent colors, icon shape and themes.
One thing that's hard to quantify is the Moto G72's scaling which by default is smaller than usual - in a good way, if that makes sense. You can of course change that to your liking in either direction, but the default strikes this particular reviewer as just right.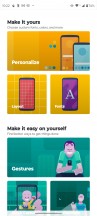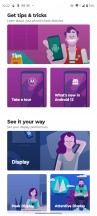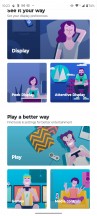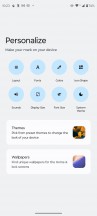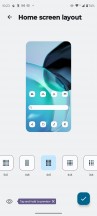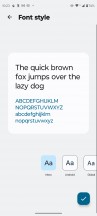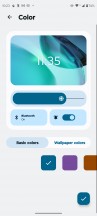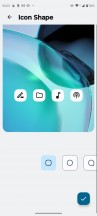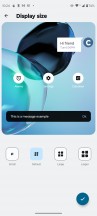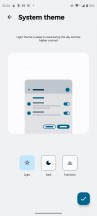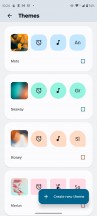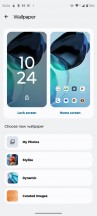 Moto app • Moto app • Moto app • Personalization
The more useful additions, however, involve gestures. The iconic ones - karate chop for turning on the flashlight or twisting your wrist to open up the camera app are here. There's also the Power touch (double tap on the power button) that brings out an additional app panel from the right edge of the display. It works exactly how the smart sidebar does in other Android skins.
The Attentive display keeps the screen on when the front camera detects a face looking at it so the display won't go dark when you are halfway through an article. Peek display lights up the lockscreen once the device senses you are close and you pick up the phone. It uses the proximity sensor and the accelerometer to detect motion. And in case there's a notification, you can just tap and hold on to the notification icon to see a quick preview of the text. The Peek display feature is almost as good as an Always-on functionality, but we would have preferred to have the ability to choose.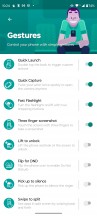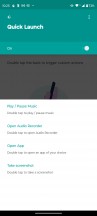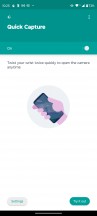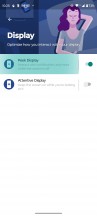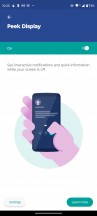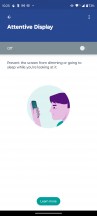 Moto gestures • Quick launch • Quick capture • Display features
A relatively new feature is the Overcharge protection toggle in the Battery menu. It will cut off charging once it detects that the phone hasn't been unplugged for three days straight and keep the battery charged at a much healthier 80%.
Predictably, the Moto G72 is missing the "Ready For" feature Motorola is offering on some of its Edge models.
Performance and benchmarks
The Moto G72 runs on the Helio G99 chipset, a no-frills Mediatek chipset with no 5G connectivity. Manufactured on a 6nm process, it's geared towards efficiency, though its octa-core CPU is still decently capable thanks to a couple of Cortex-A76 cores clocked at up to 2.2GHz (the other 6 Cortex-A55 cores max out at 2.0GHz). The GPU is a Mali-G57 MC2.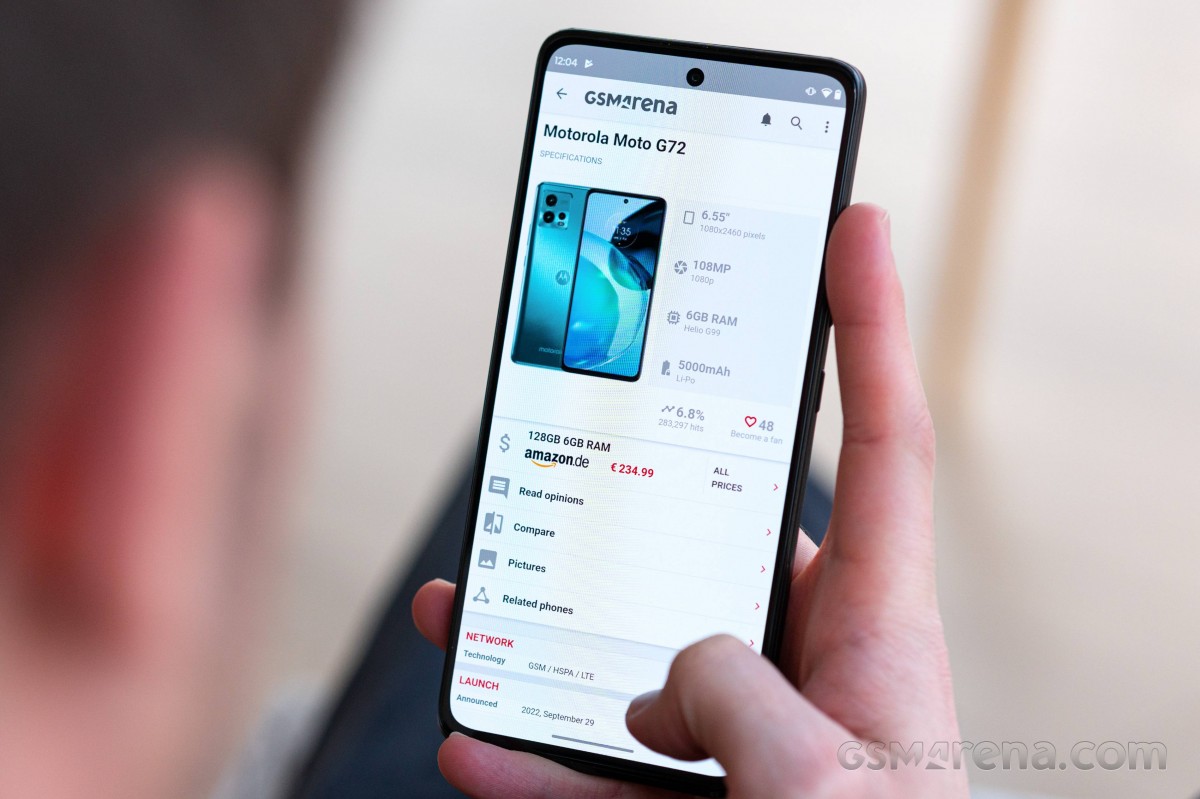 A single storage option appears to be in existence, the 128GB easily expandable via microSD (though you'd have to sacrifice the second SIM for that). RAM is either 6GB or 8GB (our review unit).
The Moto G72 is on par with the G62 (SD480) in single-core CPU performance, but a bit behind the G82 (SD695). Other SD695 handsets also have an advantage over the Moto, while the Exynos 1280 Galaxy A53 5G and A33 5G are even further ahead. The gaps are narrower in multi-core testing, though the G72 does maintain its spot in the lower half of the charts.
GeekBench 5 (single-core)
Higher is better
Galaxy A53 5G
743
Galaxy A33 5G
742
Realme 10 Pro
698
Galaxy A23 5G
676
Moto G82
671
Motorola Edge 30 Neo
670
Nokia G60
668
Nokia X30
663
Realme 10
567
Xiaomi Poco M5
550
Motorola Moto G72
546
Moto G62
543
Redmi Note 11S
526
Realme 9
380
Redmi Note 11
376
GeekBench 5 (multi-core)
Higher is better
Realme 10 Pro
2021
Moto G82
1977
Motorola Edge 30 Neo
1964
Galaxy A23 5G
1940
Nokia X30
1920
Nokia G60
1908
Galaxy A33 5G
1900
Xiaomi Poco M5
1896
Galaxy A53 5G
1891
Redmi Note 11S
1873
Motorola Moto G72
1842
Realme 10
1762
Moto G62
1697
Redmi Note 11
1662
Realme 9
1601
The Moto G72 climbs higher in Antutu, actually, marginally beating the Galaxy A53 and ranking inbetween SD695 competition.
AnTuTu 9
Higher is better
Nokia X30
403732
Nokia G60
402664
Realme 10 Pro
401860
Galaxy A33 5G
394918
Xiaomi Poco M5
386311
Realme 10
385829
Motorola Moto G72
383317
Motorola Edge 30 Neo
380818
Moto G82
380812
Galaxy A53 5G
379313
Galaxy A23 5G
318821
Redmi Note 11S
308741
Moto G62
303072
Realme 9
290097
Redmi Note 11
244526
GPU performance is once again in the 'satisfactory' category - you won't be getting any fps records out of the Moto G72, and competing offerings based on the Snapdragon 695 will deliver a better gaming experience.
GFX Aztek ES 3.1 High (onscreen)
Higher is better
Galaxy A33 5G
15
Galaxy A53 5G
15
Moto G82
12
Motorola Edge 30 Neo
12
Galaxy A23 5G
12
Nokia X30
12
Nokia G60
12
Realme 10 Pro
11
Realme 10
10
Moto G62
9.7
Motorola Moto G72
9.3
Xiaomi Poco M5
8.9
Redmi Note 11S
8.3
Realme 9
5
Redmi Note 11
4.6
GFX Aztek ES 3.1 High (offscreen 1440p)
Higher is better
Galaxy A33 5G
10
Galaxy A53 5G
10
Moto G82
7.9
Nokia X30
7.9
Motorola Edge 30 Neo
7.8
Realme 10 Pro
7.8
Nokia G60
7.8
Galaxy A23 5G
7.6
Moto G62
6.5
Realme 10
6.5
Motorola Moto G72
6
Xiaomi Poco M5
5.9
Redmi Note 11S
5.5
Realme 9
3.2
Redmi Note 11
3.1
GFX Aztek Vulkan High (onscreen)
Higher is better
Galaxy A33 5G
15
Galaxy A53 5G
15
Moto G82
13
Motorola Edge 30 Neo
12
Galaxy A23 5G
12
Realme 10 Pro
12
Nokia X30
12
Nokia G60
12
Moto G62
10
Realme 10
9.3
Motorola Moto G72
8.7
Xiaomi Poco M5
8.2
Redmi Note 11S
7.7
Realme 9
4.9
Redmi Note 11
4.8
GFX Aztek Vulkan High (offscreen 1440p)
Higher is better
Galaxy A33 5G
10
Galaxy A53 5G
10
Realme 10 Pro
8.3
Moto G82
8.2
Motorola Edge 30 Neo
8.2
Nokia X30
8.2
Nokia G60
8.2
Galaxy A23 5G
8
Moto G62
6.7
Realme 10
6.1
Motorola Moto G72
5.5
Xiaomi Poco M5
5.3
Redmi Note 11S
5.1
Realme 9
3.2
Redmi Note 11
3.1
GFX Car Chase ES 3.1 (onscreen)
Higher is better
Galaxy A33 5G
20
Galaxy A53 5G
19
Realme 10
17
Nokia X30
17
Nokia G60
17
Moto G82
16
Motorola Edge 30 Neo
16
Galaxy A23 5G
16
Realme 10 Pro
16
Moto G62
14
Motorola Moto G72
13
Xiaomi Poco M5
12
Redmi Note 11S
12
Realme 9
7.3
Redmi Note 11
6.8
GFX Car Chase ES 3.1 (offscreen 1080p)
Higher is better
Galaxy A33 5G
23
Galaxy A53 5G
23
Moto G82
21
Motorola Edge 30 Neo
20
Nokia X30
20
Nokia G60
20
Galaxy A23 5G
19
Realme 10 Pro
19
Moto G62
16
Motorola Moto G72
15
Xiaomi Poco M5
15
Realme 10
14
Redmi Note 11S
14
Realme 9
8.2
Redmi Note 11
8
3DMark Wild Life Vulkan 1.1 (offscreen 1440p)
Higher is better
Galaxy A53 5G
2292
Galaxy A33 5G
2260
Xiaomi Poco M5
1321
Realme 10
1320
Motorola Moto G72
1255
Realme 10 Pro
1218
Nokia X30
1214
Moto G82
1211
Motorola Edge 30 Neo
1201
Galaxy A23 5G
1200
Redmi Note 11S
1101
Moto G62
971
Redmi Note 11
439
3DMark Wild Life Extreme (offscreen 1440p)
Higher is better
Xiaomi Poco M5
369
Realme 10
366
Nokia X30
363
Nokia G60
362
Motorola Moto G72
347
One of the benefits of lower-end chipsets is that they tend not to throttle - they may not be putting out huge numbers, but they can maintain them essentially indefinitely. That's what we observed on the Moto G72 in both the CPU Throttling test and the stress tests in 3DMark.