Bright 120Hz OLED display
The Moto G72 is equipped with a 6.6-inch OLED display with a 1080x2400px resolution in a 20:9 aspect for a pixel density of 402ppi. It supports a 120Hz refresh rate - no half-baked 90Hz solutions here.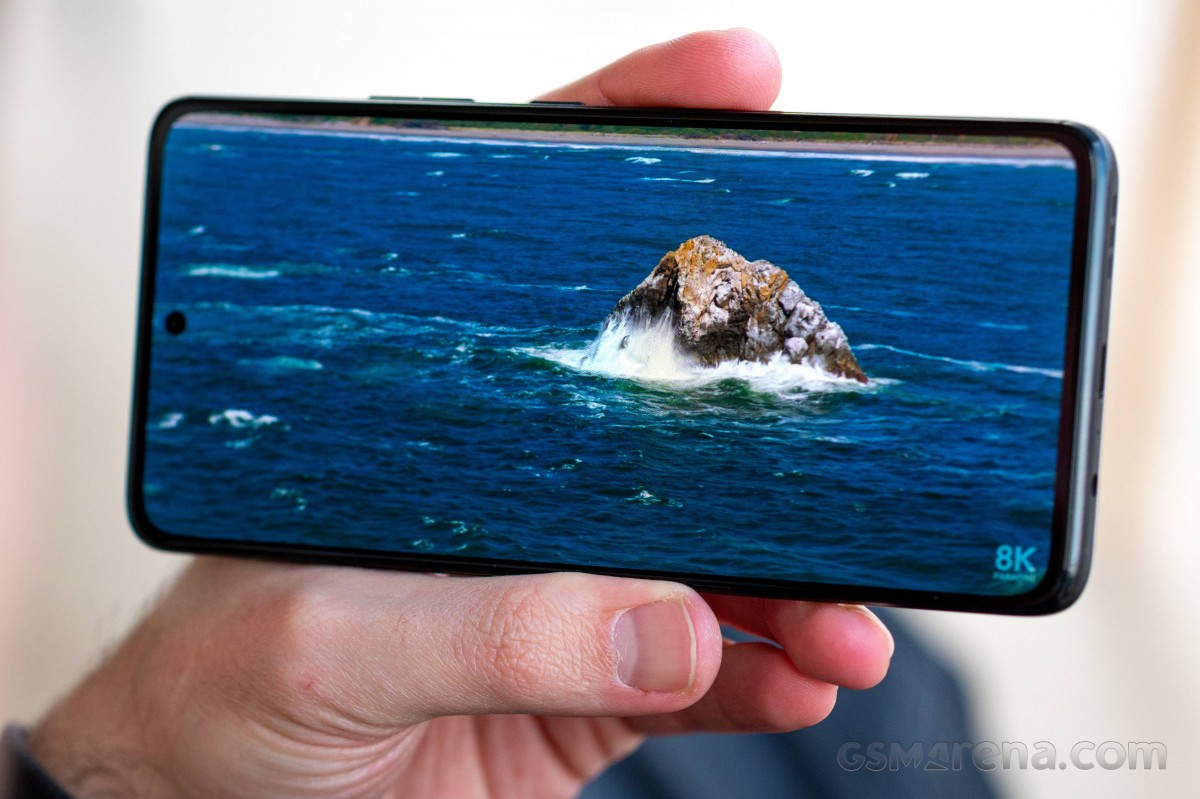 It's mighty bright too - possibly the brightest in its class. We measured 1015nits with the Adaptive brightness toggle enabled and the phone placed under bright ambient light - other OLEDs for the money typically hover around the 700nits mark. The 501nits we got manually on the slider is more or less the 'standard' value.
Display test
100% brightness
Black,cd/m2
White,cd/m2
Contrast ratio
Motorola Moto G72
0
501
∞
Motorola Moto G72 (Max Auto)
0
1015
∞
Motorola Moto G82
0
496
∞
Motorola Moto G82 (Max Auto)
0
690
∞
Motorola Moto G62
0.289
454
1571:1
Motorola Moto G62 (Max Auto)
0.37
552
1492:1
Motorola Edge 30 Neo
0
489
∞
Motorola Edge 30 Neo (Max Auto)
0
1004
∞
Motorola Edge 30 Fusion
0
516
∞
Motorola Edge 30 Fusion (Max Auto)
0
946
∞
Samsung Galaxy A33 5G
0
407
∞
Samsung Galaxy A33 5G (Max Auto)
0
728
∞
Realme 9
0
455
∞
Realme 9 (Max Auto)
0
647
∞
Realme 10
0
427
∞
Realme 10 (Max Auto)
0
610
∞
Xiaomi Redmi Note 11
0
465
∞
Xiaomi Redmi Note 11 (Max Auto)
0
736
∞
Poco M5s
0
473
∞
Poco M5s (Max Auto)
0
756
∞
In terms of color reproduction, the G72 isn't quite as great, but it's not too bad either. In the default Saturated mode, the phone showed about average accuracy for our DCI-P3 targets, with a similarly middle-of-the-pack blue shift to the white point and the grayscale swatches. That's well within the norm, but we have more of an issue here: bumping the temperature slider towards the warm end made things progressively worse, turning from blue to green to yellow, instead of giving us a neutral rendition. We'd stick with the default setting.
Normal mode, meanwhile, is tuned for sRGB content and is generally very close to target, albeit with a faint cyan shift to the grays.
The refresh rate menu gives you three options - 60Hz, 120Hz, and Auto. Both the fixed refresh rate modes will give you just that - hard settings that the phone will respect (almost) unconditionally. In 120Hz mode, you'll get that maximum refresh rate in browsers, video playing apps, games, the lot.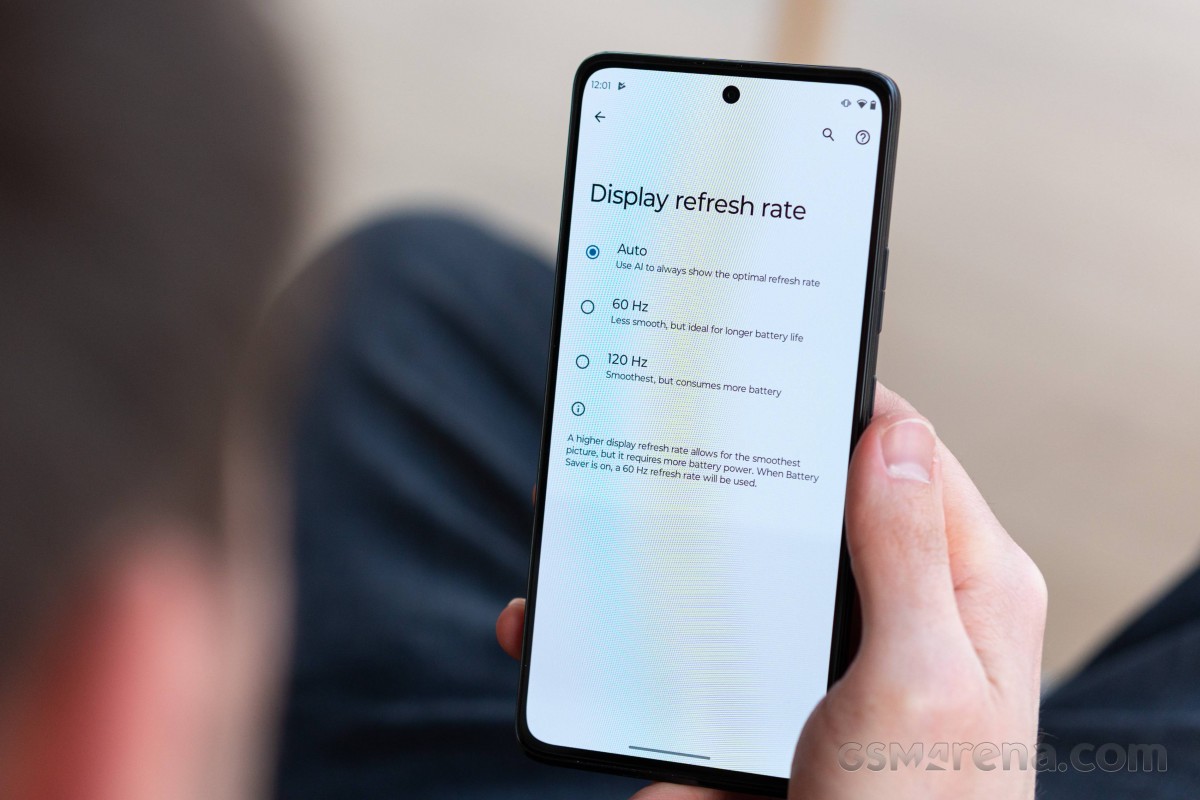 The Auto mode is also quite liberal in its use of 120Hz. It will default to that for games that support high frame rates, and it will maintain 120Hz for browsers, as long as there's moving content in them. In most other uses, the phone will ramp down to 60Hz after a few seconds of idling, only to shoot back up to 120Hz when you interact with it. Every now and then, it would show 90Hz, too, mostly as an intermediate step when going from 120 to 60, rather than a mode it maintains for any significant amount of time. We also saw 48Hz on the not-always-on display.
HDR support is somewhat of a murky topic on the Moto G72. At the phone's launch, we were led to believe it supported HDR10+, but mentions of any HDR capability can't be found in Motorola specsheets now. Mediatek doesn't claim any HDR support for the Helio G99 chip either. Hardware checking apps report HDR10 support after all (not HDR10+), but in practice, we didn't get HDR streams anywhere, not even YouTube. The Widevine L1 certification does enable FullHD streaming, though, which is nice.
Perhaps it's too much to expect everything from a phone in this price range, and we should appreciate the Moto G72's display for its high brightness, straightforward refresh rate handling, and general OLED goodness, instead of fixating on what it doesn't have.
Motorola Moto G72 battery life
Looking at the Moto G72 (and, even more so, holding it), you'd find it hard to believe it has a 5,000mAh battery inside. But it does, and it shows in its endurance numbers.
We clocked 43 hours on a voice call on this Moto, making it a fine choice for those who still spend a lot of time talking on their phones. It's pretty great with the display on, too - 14+ hours of web browsing (at a constant 120Hz) and over 19 hours of looping videos round up a very compelling showing in active use. With the pretty efficient standby thrown into the mix, the overall Endurance rating worked out to 121h.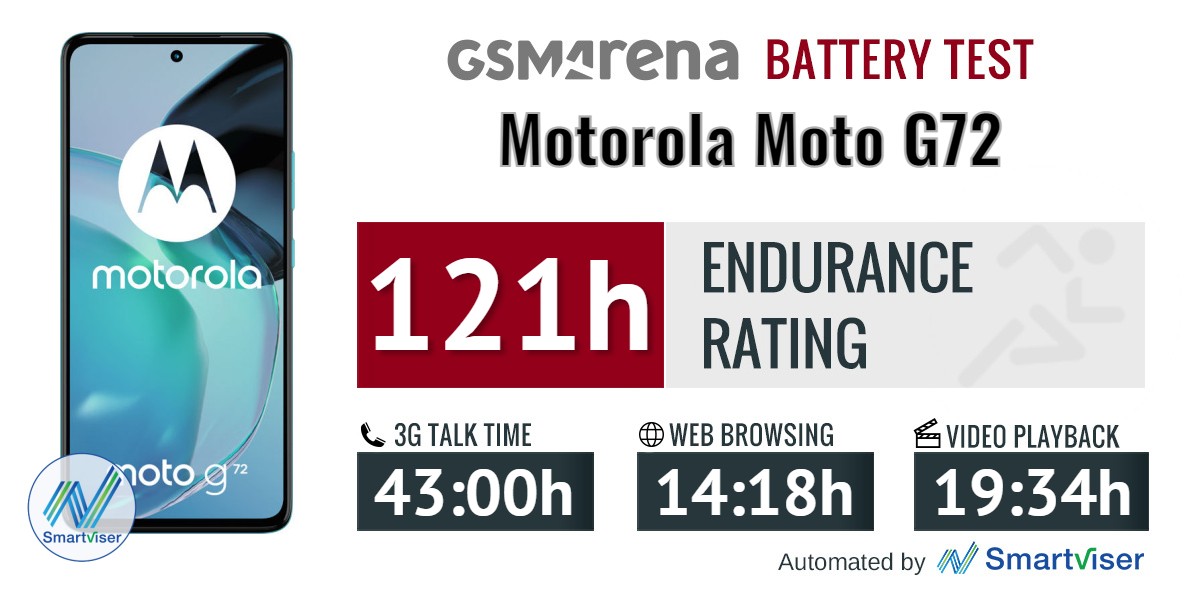 Our battery tests were automated thanks to SmartViser, using its viSerDevice app. The endurance rating denotes how long the battery charge will last you if you use the device for an hour of telephony, web browsing, and video playback daily. More details can be found here.
Video test carried out in 60Hz refresh rate mode whenever possible. Web browsing test done at the display's highest refresh rate whenever possible. Refer to the respective reviews for specifics. To adjust the endurance rating formula to match your own usage - check out our all-time battery test results chart.
Charging speed
The Moto G72 ships with a 33W TurboPower adapter. Looking at the numbers printed on it, it's not USB PowerDelivery compliant, and its USB-A port is another indication it's not going to be as versatile as you might like it. Still, for topping up the Moto itself, it does a respectable job.
The Moto was showing 53% half an hour into a charge from flat, while getting all the way to 100% took a total of 74 minutes. Allow another 17 minutes for the phone to actually reach a 'Charged' state, though - a bit longer than average.
The G72 is more or less in line with the norm for the class in both the 30-minute and 100% metrics. It's roughly on par with the G82 and notably better than the G62, but the Edge 30 Neo is, conversely, a lot quicker.
30min charging test (from 0%)
Higher is better
| | |
| --- | --- |
| Motorola Edge 30 Neo | 92% |
| vivo V21 5G | 64% |
| Motorola Moto G82 | 57% |
| Realme 10 Pro | 54% |
| Motorola Moto G72 | 53% |
| Poco M5s | 53% |
| Xiaomi Redmi Note 11 | 51% |
| Samsung Galaxy A33 5G | 50% |
| Realme 9 | 50% |
| Realme 10 | 48% |
| Motorola Moto G62 | 24% |
| Xiaomi Poco M5 | 24% |
* Tap/hover over the device names for more info
Time to full charge (from 0%)
Lower is better
| | |
| --- | --- |
| Motorola Edge 30 Neo | 0:40h |
| vivo V21 5G | 1:05h |
| Realme 10 Pro | 1:12h |
| Motorola Moto G72 | 1:14h |
| Motorola Moto G82 | 1:15h |
| Samsung Galaxy A33 5G | 1:15h |
| Realme 10 | 1:16h |
| Realme 9 | 1:16h |
| Xiaomi Redmi Note 11 | 1:18h |
| Poco M5s | 1:24h |
| Motorola Moto G62 | 1:46h |
| Xiaomi Poco M5 | 2:19h |
* Tap/hover over the device names for more info
Speaker test
Motorola has fitted the G72 with what's now become the conventional stereo speaker setup - a 'main' speaker on the bottom, joined by the earpiece, which takes on the other channel. The earpiece gets to the left when the phone is held vertically, and the channels get switched around to match the orientation in landscape.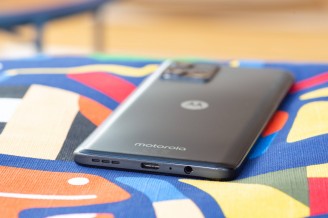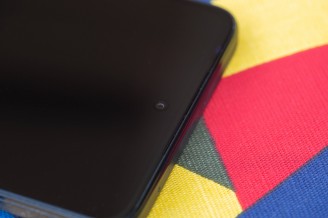 Bottom speaker • Top speaker/earpiece
The Motorola Moto G72 earned a 'Good' rating for loudness in our test, same as the G82 and a notch below the 'Very Good' G62 5G (which, in all fairness, only barely made it there). To our ears, the G72 sounds nearly identical to the G82, meaning you'd get clean output with well-defined treble and nice vocals but little in the way of low-end presence.
Use the Playback controls to listen to the phone sample recordings (best use headphones). We measure the average loudness of the speakers in LUFS. A lower absolute value means a louder sound. A look at the frequency response chart will tell you how far off the ideal "0db" flat line is the reproduction of the bass, treble, and mid frequencies. You can add more phones to compare how they differ. The scores and ratings are not comparable with our older loudspeaker test. Learn more about how we test here.