Penta camera in a 3+2 configuration
On announcement day, the LG V40 ThinQ was the first phone with a total of five cameras on board. The Galaxy A9 (2018) appeared a few days later with the same number, though we wouldn't strictly count a camera used for scene depth sensing as an actual camera quite like the ones the V40 has. What we're getting at, is that the V40 isn't just the first phone with five cameras, it's really the only phone with five cameras on board, at least for now.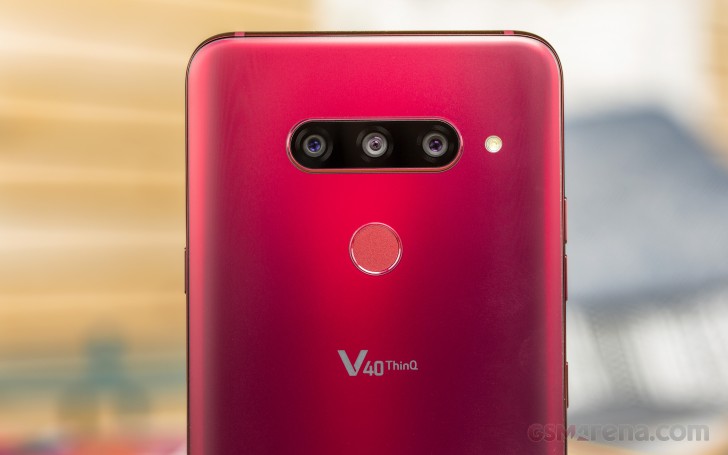 Let's start at the back, where conventional wisdom leads us to believe the 'main' camera is. Three out of five modules are here, and the list goes like this, left to right: telephoto, ultra wide, normal. LG likes to call them '2x Zoom Telephoto', 'Super Wide-Angle', and 'Standard Angle'. As usual, going by the coverage, for folks with any background in photography, those terms would translate to normal, ultra wide, and wide, but we're talking smartphones here, so we'll go with the smartphone notion.
The 'normal' camera then, which we could also dub 'primary', uses a 12MP 1/2.6" sensor with 1.4µm individual pixels and dual pixel phase detection autofocus. The lens to go with it covers a 78-degree field of view according to LG's specs, which should translate to a an equivalent focal length around 27mm in 35mm camera terms, though the EXIF data states 25mm. The aperture is f/1.5, and it's fixed at that value unlike certain Galaxies with otherwise quite similar camera specs. This lens is stabilized.
The ultra wide angle cam, LG's specialty, has been lifted off the G7. A 16MP 1/3.1" sensor with 1.0µm pixels sits behind an f/1.9 aperture lens that gives it a 107-degree field of view - that translates into 16mm if that's how you're wired to think of lenses. This one lacks autofocus (its focus is fixed) or stabilization, but neither of those should be a deal-breaker at this focal length.
What's new on an LG flagship is the telephoto camera, though it too appears rather familiar from... some other phones. It's based around another 12MP sensor, this one being Type 1/3.4" with 1.0µm pixels. The imager sits behind a lens with a 45-degree field of view (LG's specs), so theoretically a 52mm equivalent, even though EXIF data reports 50mm. This lens is stabilized too.
That's the rear ones dealt with - on to the front. Here you're getting a Standard Angle, and a Wide-Angle cam in LG's terms - note the lack of an 'ultra' on the wide one.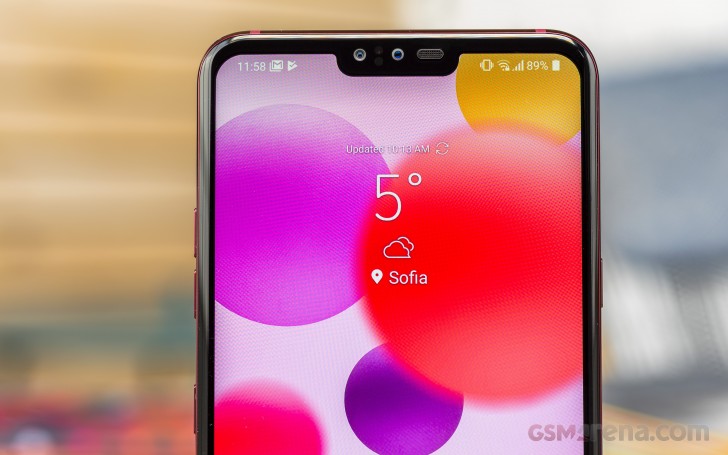 So the standard selfie cam is an 8MP module with an f/1.9 aperture lens that covers 80 degrees of diagonal FOV. That puts it around the 26mm equivalent and is about what you'd find on most smartphones.
The wide-angle one ups the coverage to 90 degrees (that's 21mm equivalent), but has fewer pixels - there is only 5 million of them. The aperture here is f/2.2. Both selfie cams have fixed focus.
Camera app
The camera app is both familiar and new, new and familiar. The new bit is, for rather obvious reasons, a larger tree icon in the viewfinder - that's where you tap to engage the telephoto camera. The smaller tree is for the main cam, while the multiple trees take you ultra wide - these two icons were available on the G7 as well.
Triple shot is a rather unique mode, where the V40 takes a shot with each of the three camera and creates a video with a pseudo zoom-in transition from ultra wide, through normal, to telephoto. You get to keep the three stills and the video.
Triple preview comes particularly handy. Long pressing on one of the tree icons enlarges them into three live viewfinder thumbnails, one for each camera, shown on top of the main viewfinder, which displays the currently selected cam's view. That way you can see the shot you'd get with each camera and switch to one of the other two if it looks more interesting.
The other truly new bit is the AI composition feature, which will try and suggest using another camera if it thinks you've chosen poorly. That works in the AI camera mode, where you generally wouldn't need or want to use though, or at least we typically refrain from it. But more on further down when you see the samples.
The rest are mostly old bits. The settings menu contains the Super Bright Camera mode selector - LG's Night Sight of sorts, which can kick in automatically, or it can just hint you with an icon that you tap to engage it. Or, you know, you could keep it off. The multi-exposure HDR processing can be set to off, on or auto (auto, of course), and there are a bunch of other settings of lesser importance. If you're not used to the new resolution selector you may be scrambling to find where that is.
The mode icon gives access to the V40's powerful manual modes for both stills and video. The manual photo mode lets you adjust white balance by light temperature (with handy icons above the corresponding Kelvins for common light sources), while manual focusing comes with peaking as an aid. ISO can be adjusted in the 50-3200 range, and shutter speed can be set between 1/3200s and 30s. And one of the best things about using the manual mode is the super satisfying haptic feedback from the vibration motor as you fiddle with the 'dials'.