User interface
The V40 ThinQ boots Android 8.1 Oreo with LG's in-house launcher on top. Sadly, gone are the days of the V20 which was at the time the first phone to launch on Nougat. Android P will certainly come, sooner or later.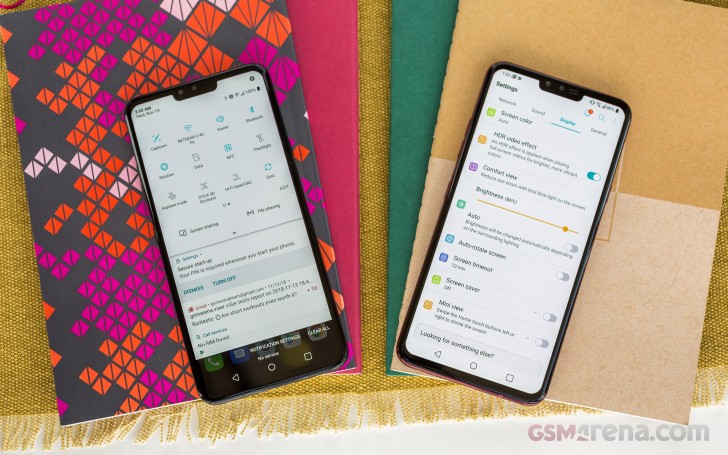 Always-on display is present on the V40, naturally, and you can have one out six designs in total, notifications from all apps can be shown, and you can also set up a period when the feature will be turned off - pretty much the usual AOD stuff.
LG likes to call the area around the notch New Second Screen and claims this is an enhanced version of the second screen from the V10 and V20. No matter the name, the notch is there and it splits the top of the screen. It fits the usual stuff - notification icons, status items, the clock and network bars. Unlike most other makers, LG gives you the option to embrace the notch and assign custom colors to the horns and pick one of two different corner radiuses.
The V40 ThinQ's lockscreen is virtually identical to the G7's. You get two shortcuts in the bottom corners by default - to the dialer and the camera. You can, however, have up to 5 shortcuts there, to apps of your own choosing.
You have multiple options for a secure unlock - the usual PIN, pattern or password, fingerprint (the sensor is always on), face (fast but less secure, or slow but more secure), and LG's own Knock Code. The nice thing is that these work simultaneously, and the phone will unlock with the first successful option.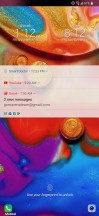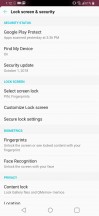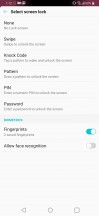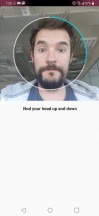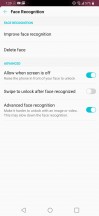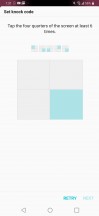 Lockscreen • ...and security settings
Past the lockscreen is the homescreen which lacks an app drawer by default. You can, however, switch back to the stock Android two-tiered arrangement.
Smart Bulletin is your leftmost pane with various widgets to help you organize your day.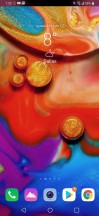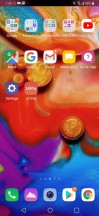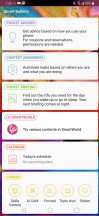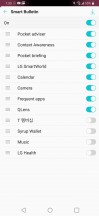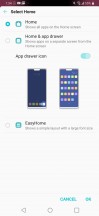 Homescreen • Homescreen • Smart Bulletin • Smart Bulletin • Types of Homes
The task switcher has a 'clear all' button, plus a pin you can tap on each app if you want it to remain after you've killed the rest. That's different from screen pinning (needs to be enabled in settings), where you can pin a single app to stay on the display regardless of the user's attempts to tap away from it.
There's, of course, split-screen multitasking. In split screen view, the Home button shows your homescreen but does not dismiss the apps - the app switcher button shows the split screen icon and double tapping it brings back the two. This is great since normally you can only pick apps from the app switcher rolodex for split screen use, but in this state, any app you launch from the homescreen goes straight into split screen mode.
QSlide, LG's floating app implementation, is still available in some places - the Phone, and the video player. But those are the exception rather than the rule.
The system wide search (swipe down anywhere on your homescreen) sifts through your apps, contacts, and settings for the search term you input. You can specify where exactly it looks into, so it doesn't have access to sensitive apps like instant messengers (or whatever it is that you prefer to stay private).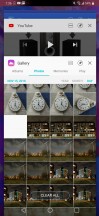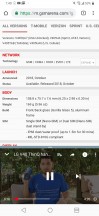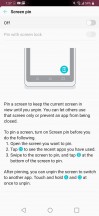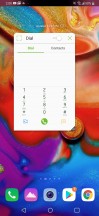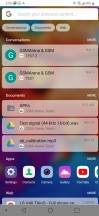 Task switcher • Multi-window • Screen pinning • Qslide • Universal search
The notification area is nothing out of the ordinary and features a single row of quick toggles plus a brightness slider on the furst pull, more toggles on the second.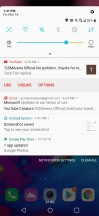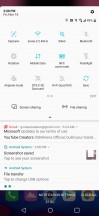 The notification area • Quick toggles galore
Finally, there is a dedicated hardware key to summon the Google Assistant - single press does that for you. A double press, on the other hand, will launch Google Lens.
Synthetic benchmarks
The V40 ThinQ is powered by the Snapdragon 845 chipset like every other high-end phone from a company that doesn't make their own chips. It's got 6GB of RAM and comes in storage tiers of 64GB and 128GB, though the latter may not be available everywhere.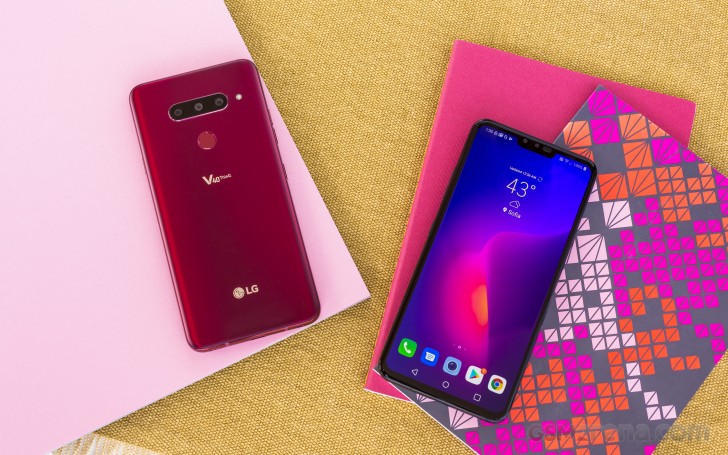 We ran the usual set of benchmarks, and the numbers don't really bring major surprises. The single-core CPU testing in GeekBench returned results typical of Snapdragon 845 phones, while the Mate 20 Pro with its brand new Kirin 980 and the Galaxy S9+ in Exynos trim put out much higher scores.
GeekBench 4.1 (single-core)
Higher is better
Samsung Galaxy S9+
3771
Huawei Mate 20 Pro
3291
Sony Xperia XZ3
2486
HTC U12+
2456
Xiaomi Pocophone F1
2438
Xiaomi Mi 8
2431
OnePlus 6T
2431
LG V40 ThinQ
2408
LG G7 ThinQ
2395
Google Pixel 3 XL
2363
Oppo Find X
2322
Samsung Galaxy S9+ (Snapdragon)
2199
There's a tiny bit more variation between the Snapdragons under multi-core loads, but all of them are plenty powerful, V40 included.
GeekBench 4.1 (multi-core)
Higher is better
Huawei Mate 20 Pro
9712
Xiaomi Pocophone F1
9003
HTC U12+
9001
OnePlus 6T
8977
Samsung Galaxy S9+
8883
LG G7 ThinQ
8865
Sony Xperia XZ3
8607
LG V40 ThinQ
8568
Xiaomi Mi 8
8494
Samsung Galaxy S9+ (Snapdragon)
8349
Google Pixel 3 XL
8088
Oppo Find X
8018
In Antutu, we didn't get quite as many points out of the V40 as we got from the competition - only the Exynos Galaxy S9+ and the Mi 8 are behind. The Pixel 3XL and LG's own G7 are marginally ahead of the V40, while the OnePlus 6T leads the way.
AnTuTu 7
Higher is better
OnePlus 6T
293994
Oppo Find X
291218
Sony Xperia XZ3
284555
Huawei Mate 20 Pro
273913
Xiaomi Pocophone F1
265314
Samsung Galaxy S9+ (Snapdragon)
264044
HTC U12+
263696
LG G7 ThinQ
259393
Google Pixel 3 XL
258244
LG V40 ThinQ
254304
Samsung Galaxy S9+
246660
Xiaomi Mi 8
217298
The V40 has the raw power to ace offscreen graphics benchmarks, but framerates predictably take a hit in onscreen testing. Te more pixels of the QHD display mean FullHD rivals like the Find X and OnePlus 6T will post better numbers, but the V40 is still ahead of the Pixel 3 XL and the Exynos Galaxy.
GFX 3.0 Manhattan (1080p offscreen)
Higher is better
LG V40 ThinQ
83
Samsung Galaxy S9+ (Snapdragon)
83
OnePlus 6T
83
Huawei Mate 20 Pro
83
Oppo Find X
82
Xiaomi Pocophone F1
82
Sony Xperia XZ3
76
Samsung Galaxy S9+
74
Google Pixel 3 XL
72
LG G7 ThinQ
66
HTC U12+
64
Xiaomi Mi 8
64
GFX 3.0 Manhattan (onscreen)
Higher is better
Xiaomi Pocophone F1
59
OnePlus 6T
59
Oppo Find X
58
Xiaomi Mi 8
57
Samsung Galaxy S9+ (Snapdragon)
51
HTC U12+
50
Huawei Mate 20 Pro
50
LG V40 ThinQ
46
Sony Xperia XZ3
45
Samsung Galaxy S9+
45
LG G7 ThinQ
43
Google Pixel 3 XL
39
GFX 3.1 Manhattan (1080p offscreen)
Higher is better
Samsung Galaxy S9+ (Snapdragon)
61
HTC U12+
60
Oppo Find X
60
Xiaomi Pocophone F1
60
OnePlus 6T
60
LG G7 ThinQ
57
LG V40 ThinQ
56
Sony Xperia XZ3
56
Xiaomi Mi 8
53
Huawei Mate 20 Pro
53
Samsung Galaxy S9+
47
Google Pixel 3 XL
44
GFX 3.1 Manhattan (onscreen)
Higher is better
Xiaomi Pocophone F1
53
OnePlus 6T
53
Xiaomi Mi 8
50
Oppo Find X
50
Samsung Galaxy S9+ (Snapdragon)
34
HTC U12+
33
Sony Xperia XZ3
31
LG G7 ThinQ
30
LG V40 ThinQ
29
Huawei Mate 20 Pro
27
Google Pixel 3 XL
24
Samsung Galaxy S9+
24
All in all, a predictably great showing from the V40 in the performance department, with no significant heat build up or major thermal throttling.