Ultra Vision Leica Penta Camera
The Huawei P40 Pro+ features the so-called Ultra Vision Leica Penta Camera, the fancy name behind the improved photography gear on the back. It's quite similar to the P40 Pro in terms of experience, but instead of one telephoto, the P40 Pro+ offers two of those. So, there is a regular wide camera, an ultra-wide snapper, a 3x zoom shooter, a 10x telephoto with periscope lens, and a ToF sensor.
This year, Huawei has worked on improving the overall quality, and each of the three cameras has an updated higher-resolution sensor featuring new color filters and improved lenses.
The main 'Ultra Vision' camera employs a new large 1/1.28" 50MP Quad Bayer sensor, with a RYYB filter. The sensor is physically bigger than the Galaxy S20 Ultra's 1/1.33" 108MP imager. The same applies to the binned pixel size - 2.44µm vs. 2.4µm. The lens has a 23mm equivalent focal length and an f/1.9 aperture and it is optically stabilized.
The RYYB color filter has the green sub-pixels replaced by yellow ones. Huawei says yellow allows the sensor to collect up to 40% more light than the regular RGGB filters and this change should translate into better image quality in low-light.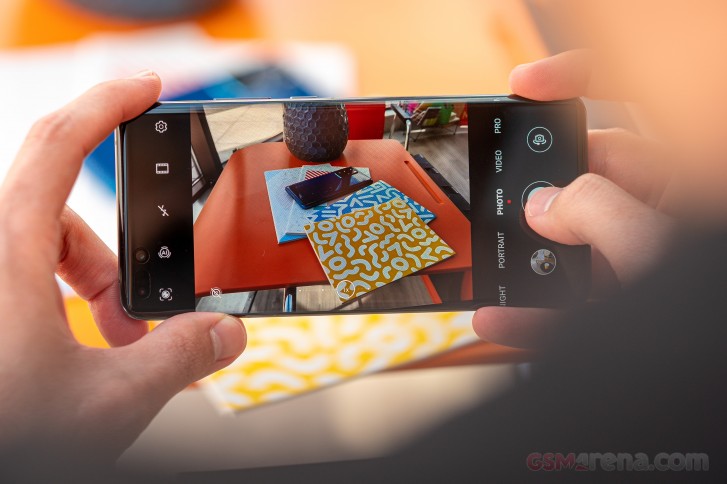 This camera has improved autofocus over the P30 series - now it's an all pixel omnidirectional phase detection autofocus. This means that not only are there autofocus detectors on each pixel but they are 8 of them per pixel. As a result, the camera's autofocus sensing has improved response to horizontal details whereas conventional dual pixel autofocus systems have a hard time with those. This also means autofocusing should also be generally improved in low-light.
By default, this camera outputs 12.5MP shots with a reported focal length of 27mm, which is different compared to the advertised nominal 23mm focal length that the camera is supposed to have. When you switch between 50MP and 12.5MP (default) mode, you can indeed notice that the high-res photos offer wider field-of-view, meaning some cropping is happening before we get those 12-megapixel photos.
The ultra-wide camera is an upgrade compared to the P30 Pro as it was introduced on the Mate 30 Pro. It's a 1/1.54" 40MP imager with a Quad-Bayer RGGB filter. And because of the Quad-Bayer nature, this snapper outputs 10MP images. And just like on the Mate 30 Pro, the photos are in a classic 3:2 aspect ratio as opposed to the usual 4:3 found in phone cameras. Huawei markets this camera as a Cine camera for its wider aspect ratio.
There are two telephoto cameras on the P40 Pro+ for short- and long-range zoom. Both are 8MP.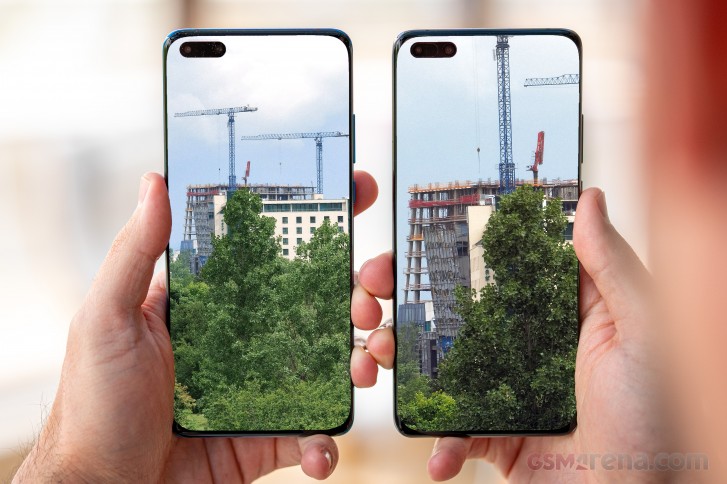 Zooming on Huawei P40 Pro and P40 Pro+
The first telephoto camera uses an 8MP sensor with large 1.4µm pixels. It sits behind 81mm f/2.4 lens with OIS and provides 3x optical zoom over the main camera. The 8MP images are upscaled to 12.5MP for some reason only Huawei knows.
The second telephoto camera has an 8MP sensor with smaller 1.22µm pixels. You can see only the end of its periscope lens on the back. The refracted light passes through a set of additional optical elements inside until it reaches the sensor, which sits perpendicular to the phone's plane. The system also provides optical image stabilization. The 8MP images are upscaled to 12.5MP, as Huawei just loves to do for no logical reason.
The periscope lens on the P40 Pro+ is 240mm with f/4.4 aperture, and it should offer 10x optical zoom (240mm) over the 23mm main camera. Well, if you do the math, the optical zoom isn't exactly 10x but more as 240/23 equals 10.43. So far, so good. But because of the 27mm crop default mode (remember that?) of the main camera, Huawei needed to adjust its 10x option to correspond to 270mm crop.
Here comes the tricky part. The zoom slider offers fixed 1x, 3x and 10x positions, but the 1x and 10x correspond to 27mm and 270mm crops - meaning both of them are the result of crop and upscale process. The upscale on the main camera is negligible. But it is another thing when done on the 8MP 10x tele photos - the algorithm first crops about 5.8MP and then upscales it to 12.5MP - that's a lot.
Long story short, the 10x is real no matter if we consider it over 23mm or 27mm. If you want the uncropped 240mm photo, you need to position the slider to 8.5x and you will get it. Upscaled, sure, but not cropped.
And while we are on it, if you want the 23mm uncropped photo from the main camera, drag the slider to 0.85x.
Here is hoping you are still with us and we didn't lose you in the crazy math the Huawei had to come up.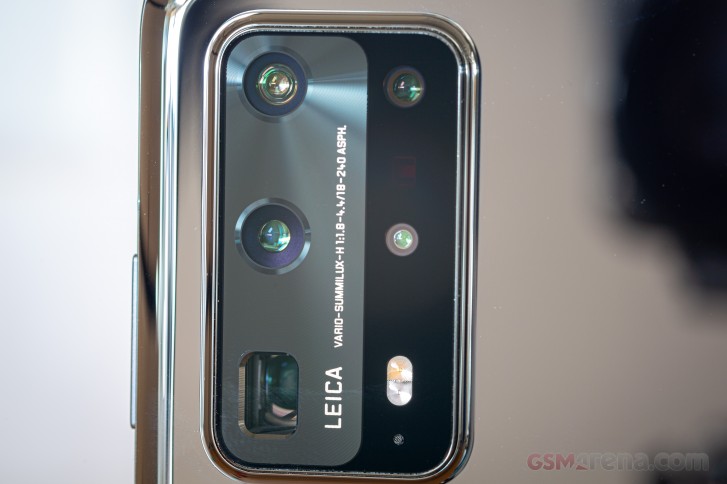 The fifth and final camera is a ToF one. The ToF (time of flight) camera speeds up the autofocus, and it also improves the subject separation and provides a more convincing background defocusing in portrait mode.
And speaking about portraits, the Huawei P40 Pro+ also features an upgraded multi-spectrum color temperature sensor with support for 8 channels (up from 3) and it has AI AWB (white balance) algorithm for even more accurate color balance when taking portrait shots.
The selfie setup has been upgraded since the P30 series, too, and it now features two cameras and autofocus!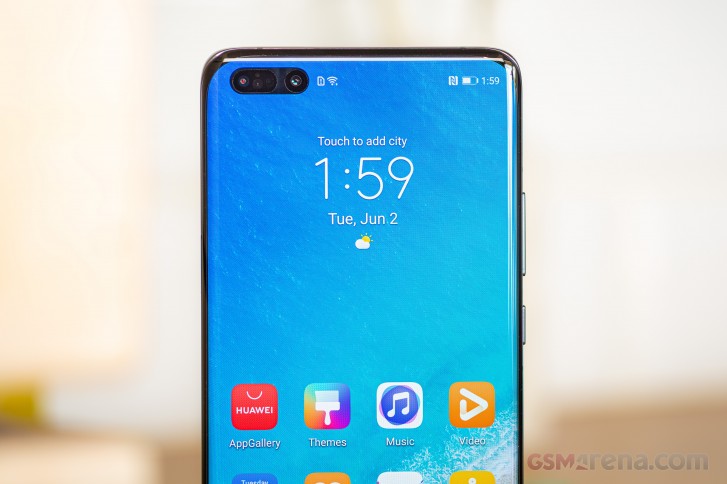 The primary camera uses a 32MP sensor behind an f/2.2 26mm lens. Autofocus is available for the first time - an improvement that is way overdue. Second, comes another ToF camera, which will help for superb bokeh selfies.
Huawei's camera app is pretty functional. You have a Mode selector on the bottom which you can swipe left or right to change modes.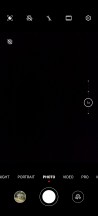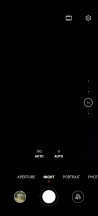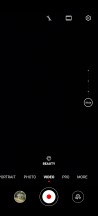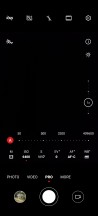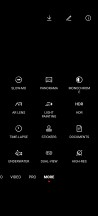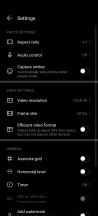 Camera app • Night Mode • Video • Pro mode • All other modes • Settings
Zooming is the other less-than-ideal bit about the P40 Pro+ camera UI. While the selector is reasonably accessible with the right thumb when holding the phone in portrait, operating it in landscape requires both hands. So, effectively, it's neither equally well suited to left-hand and right-hand use in portrait, nor is it usable single-handedly in the landscape. None of its competitors has these issues so Huawei can work more on improving the UI.
The camera app is enhanced by Huawei's AI just as before. There is an improved Master AI, which recognizes and tunes settings for up to 1,500 different scenes. There's a toggle in the viewfinder for turning it off and on, so you don't have to go into settings for that. We tend to keep it off, although the recent implementations are nowhere as aggressive as they used to be with phones in the past.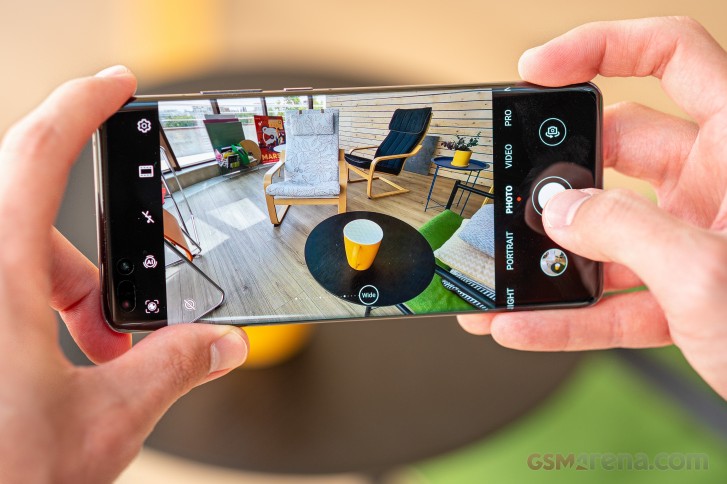 There's a Pro mode too where you can adjust parameters yourself - ISO (50 to 409,600), shutter speed (1/4000s to 30s), exposure compensation (-4 to +4EV in 1/3 stop increments), and white balance (presets and specific light temperature). You can also choose the metering mode (matrix, center-weighted, and spot), and the focus mode (single, continuous, and manual). If the phone thinks you messed up the exposure, an icon will pop up to warn you. Mind you, Pro mode is available on all three cameras, which isn't usually the case with competing phones.
By the way, Pro mode is available for video as well, and the maximum ISO there is 21,500 (on ultrawide camera). Unfortunately, you can't set a desired shutter speed.
For years now, Huawei phones have had both a Portrait mode and an Aperture mode. In Aperture, you can choose the simulated aperture in the range from f/0.95 to f/16. Post shot, you can change the aperture and the desired focus point within the Gallery.
In Portrait mode, you can enable and disable the background blur, but you can also choose the bokeh shapes - circles, hearts, swirl, or discs. You can also opt for simulated lighting, and you can add some beautification on a scale from 0 to 10.
Super Moon Shot has made it on the new P40 Pro+, too. It is now supported on both 10x and beyond zoom modes, but for the first time - you can now use Moon Shot on video, too.
Finally, there is this new feature called Golden Snap. It works when you enable Live Photo shooting and is basically an AI suggestion in the gallery for when your main photo isn't perfect (say there is a reflection or a blurry passerby), but the Live Photo did manage to capture info that will help improve it (remove said reflections or passerby).
The information from the Live Photo can be used later in the Photo Editor, which offers manual options for improving and/or removing reflections and passerby.