Standard phonebook
BlackBerry's first take on Android is a pretty close-to-stock experience. Save for a few additional features and of course the integration with the company's patented secure communication and enterprise solution, you wouldn't really find anything that different between the way the Priv and a Nexus device handle. This is especially true for the core applications.
The Priv phonebook is laid out across three tabs that can be navigated by swipes. It actually resides in a single application along with the dialer and messenger. An alphabetical list on the right can help you jump to a specific letter or you can just use the search function. Tapping on a contact brings up a popup with access to a contact's scrollable info.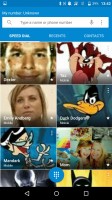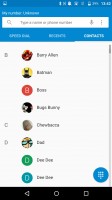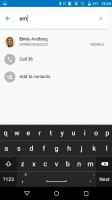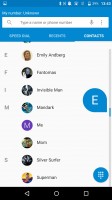 Straight-forward contacts experience
As on most Android launchers, you can input a variety of contact information including custom ringtones and images. You can link contacts too, if you've added the same person on multiple services.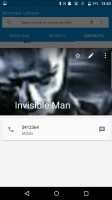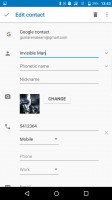 Lots of contact fields available
Telephony is excellent
The BlackBerry Priv held on to signal excellently and in-call sound was just fine. The proximity sensor makes sure the screen stays off when you hold the phone to your ear.
Flipping the phone on its face while it's ringing would mute the call ringing. Sadly, though, there was no gesture for automatically answering a call.
The secondary noise cancelling on-board microphone ensures a quieter background for your voice while in call.
The dialer is the standard affair. It offers smart dialing and it works both with names and numbers.
We put the BlackBerry Priv through our traditional loudspeaker test and it got a Below Average score. The front mounted speaker doesn't really shine with much quality either and its only one. So, we wouldn't really count much on the Priv at parties.
| | | | | |
| --- | --- | --- | --- | --- |
| Speakerphone test | Voice, dB | Pink noise/ Music, dB | Ringing phone, dB | Overall score |
| LG Nexus 5X | 61.2 | 65.8 | 61.7 | Below Average |
| Sony Xperia Z5 (ClearAudio) | 63.2 | 61.5 | 65.0 | Below Average |
| BlackBerry Priv | 62.1 | 61.7 | 66.5 | Below Average |
| Sony Xperia Z5 | 65.1 | 62.3 | 66.3 | Below Average |
| Apple iPhone 6s Plus | 65.8 | 65.1 | 64.6 | Below Average |
| Apple iPhone 6s | 66.5 | 64.6 | 65.8 | Below Average |
| Huawei Mate S | 66.0 | 65.8 | 66.6 | Below Average |
| Sony Xperia Z5 Premium | 66.6 | 65.2 | 66.9 | Below Average |
| Samsung Galaxy S6 edge+ | 65.8 | 64.8 | 70.4 | Average |
| Huawei P8 | 66.7 | 66.0 | 68.5 | Average |
| Samsung Galaxy Note5 | 65.3 | 64.6 | 73.5 | Average |
| Samsung Galaxy S6 | 68.1 | 66.3 | 73.7 | Good |
| Samsung Galaxy S6 edge | 69.7 | 66.5 | 73.5 | Good |
| LG G4 | 66.9 | 71.8 | 74.7 | Good |
| BlackBerry Leap | 71.3 | 73.8 | 79.9 | Very Good |
| OnePlus 2 | 75.7 | 73.5 | 80.7 | Excellent |
Messaging
Messaging has always been an integral part of the BlackBerry experience and the Priv does not shy away from the pack. Text messaging is pretty streamlined and rather surprisingly offers quite a bit of customization options and emojis. Each contact can have its own personal color coding assigned, that repaints the entire interface while within said conversation.
You can also decide on the fly whether to use simple SMS/MMS messaging or send via BBM. The latter, of course, has its merits, but sadly it has been loosing some of its popularity lately.
Unless of course, it's the communication tool of choice at your company. Plus, there are BB Meetings, which are great for the purpose.
Adding any kind of multimedia to a message automatically converts an SMS to a MMS. The attachment icon gives quick access to a camera interface, gallery, quite a few emote icons, voice memos and location sharing. We can't really think of anything else essential, so it is pretty much the full set.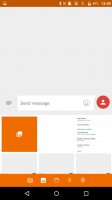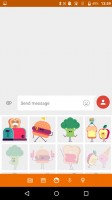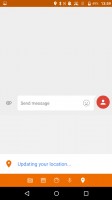 Adding multimedia content is a blast
For email, the Gmail app includes the four inbox options (Primary, Social, Promotions, Updates) that Google now has in their online interface.
And then, there is the all-powerful BlackBerry Hub. It aggregates all of your communication in one single place and loyal BlackBerry fans tend to love every aspect of the experience. Running the risk of going against the grain here, however, we will note that the whole experience can be quite overwhelming, especially if you have a few busy email accounts.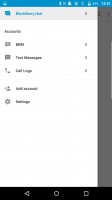 BlackBerry Hub puts all your communication under one roof
The integrated BlackBerry keyboard is quite nifty, although it won't exactly be to everybody's taste. There are dictionaries, personal and otherwise and predictive text. It works by overlaying the word it has guessed on top the next letter. All you need to do is fling up and it gets automatically inserted along with a trailing space. It does take some getting used to, but it has the potential of being quite powerful if you put in the initial effort to come to grips with how it works. Coupled with the gesture, which allows you to delete a word, it makes for a really quick typing experience on screen, perhaps rivaling the achievable speed on the physical keyboard.