Benchmarks
When it comes to benchmark performance, the BlackBerry Priv is far from a record-setter, but with a Snapdragon 808 SoC and 3GB of RAM, it is quite adequately specc'd to compete with the current generation of flagship devices. It is slightly disappointing that the OEM didn't go with a top-of-the-line chip, like the Snapdragon 810, like one would naturally expect considering the price tag, but the 808 still offers ample power for even the most advanced productivity tasks currently achievable with Android. Plus, more often than not, true performance comes down to proper implementation and utilization.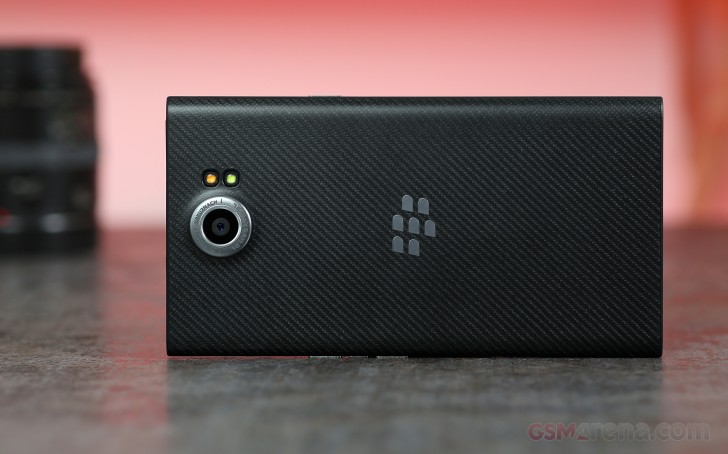 Two ARM Cortex-57 cores, clocked at 1.8GHz and additional four Cortex-A53 ones, working a 1.44 GHz, should provide plenty of power to go around, despite being slightly under-clocked. However, the Priv doesn't exactly shine in the performance department.
BlackBerry has undoubtedly done a spectacular job, as far as a first attempt at Android goes and, as already mentioned, all the features you would expect are there with an extra touch of BlackBerry innovation mixed in. However, optimization is really lacking down to the point where some parts of the GUI and a few apps, like the camera, tend to freeze up quite often.
Benchmark scores on the Priv are quite low and we know that the Snapdragon 808 is capable of a lot more. We also have the data to prove it, as the LG G4, Moto X Style and Nexus 5X happen to use the same silicon with noticeable better results.
Naturally, we made sure to include the above in our test charts. As for the rest of the competition, we made sure to pick out a few other phones with roughly the same display size. These include the Sony Xperia Z5, iPhone 6s, Huawei Mate S, and the Huawei P8. The rest of our picks are popular devices that fall within the BlackBerry Priv budget. Some of them, like the Z5 Premium and the 6s plus do cost a bit more, but if you are willing to sink so much cash into a phone, these shouldn't really be out of budget either.
First up, we have the raw CPU performance test with GeekBench 3, which should be straight-forward enough. Like we mentioned, the Snapdragon 808 inside the Priv has more than enough horsepower to breeze through computing tasks, just like the LG G4 and the Moto X Style or the Pure Edition. Sadly, that is not the case. We see the Priv underperform quite a bit and it is an observable pattern throughout all the benchmark results. We often find the Priv below the Huawei Mate S and P8, which are both equipped with notoriously under-performing HiSilicon chips. BlackBerry definitely has a lot of work on its plate, if it is going to bring the Priv up to code.
GeekBench 3
Higher is better
Samsung Galaxy S6
5215
Samsung Galaxy S6 edge+
5158
Samsung Galaxy Note5
5124
Samsung Galaxy S6 edge
5095
OnePlus 2
4429
Apple iPhone 6s
4427
Apple iPhone 6s Plus
4413
Sony Xperia Z5 Premium
4194
Sony Xperia Z5
4017
LG Nexus 5X
3527
LG G4 (final)
3522
Huawei Mate S
3475
Moto X Pure Edition
3433
Huawei P8
3380
BlackBerry Priv
2963
AnTuTu is a compound benchmark, which also takes into account RAM and GPU performance. Here we see pretty much the same arrangement. The BlackBerry Priv did manage to best the Mate S, but not by much. Other than that, Galaxies dominate the top chart again and you can clearly see that the performance difference is quite noticeable.
AnTuTu 5
Higher is better
Samsung Galaxy S6 edge
70053
Samsung Galaxy Note5
69465
Samsung Galaxy S6
69396
Samsung Galaxy S6 edge+
68324
Sony Xperia Z5 Premium
62652
Apple iPhone 6s
59074
Apple iPhone 6s Plus
58582
LG Nexus 5X
51948
Huawei P8
50876
Moto X Pure Edition
50629
Sony Xperia Z5
50611
LG G4 (final)
48693
OnePlus 2
47207
BlackBerry Priv
45725
Huawei Mate S
44393
Moving on to Basemark OS II, which is a truly all-round benchmark. Here we see the hexa-core setup of the Snapdragon 808 finally shine, at least in single-core tests, where the phone outperformed the Huawei's, as well as the OnePlus 2, both of which do use octa-core processors.
But sadly, that is just one ray of hope and it quickly fades away when we examine the milti-core performance. It is underwhelming to say the least and factoring in the poor overall score, we can only come to one conclusion - the Priv suffers severely from poor optimization. Hopefully, this can and will be fixed with timely software updates, but in the current state, the Snapdragon 808 in the Priv is highly underutilized, which is a real shame.
Basemark OS II
Higher is better
Sony Xperia Z5 Premium
2073
Moto X Pure Edition
2016
OnePlus 2
1942
Samsung Galaxy Note5
1852
Samsung Galaxy S6 edge+
1833
Samsung Galaxy S6 edge
1826
Sony Xperia Z5
1825
Samsung Galaxy S6
1769
BlackBerry Priv
1704
Huawei P8
1056
Huawei Mate S
981
Basemark OS II (single-core)
Higher is better
Samsung Galaxy Note5
3585
Samsung Galaxy S6 edge+
3567
Samsung Galaxy S6
3497
Sony Xperia Z5 Premium
3458
Samsung Galaxy S6 edge
3372
Sony Xperia Z5
3089
Moto X Pure Edition
2508
BlackBerry Priv
2271
Huawei P8
2111
OnePlus 2
2047
Huawei Mate S
1605
Basemark OS II (multi-core)
Higher is better
Samsung Galaxy Note5
18653
Samsung Galaxy S6
16986
Samsung Galaxy S6 edge
16856
Samsung Galaxy S6 edge+
16291
Huawei P8
14046
Sony Xperia Z5 Premium
12882
Huawei Mate S
12085
OnePlus 2
10799
Moto X Pure Edition
9132
Sony Xperia Z5
8148
BlackBerry Priv
7602
And if you hoped that the Priv could at least redeem itself in the graphics department, well, it's not the case. The Adreno 418 inside the Snapdragon 808 is no pixel-pushing monster, but it is still a capable platform for some casual gaming and light GPU tasks. The LG G4 and Moto X Pure Edition both manage to hit a good 34 frames on the GFX 2.7 test and the LG Nexus 5x with its Android 6.0 firmware, pushes the envelope even further and can squeeze out 37 frames.
The BlackBerry Priv, on the other hand, was only capable of producing 27fps on the same test, which is a lot less than what the Nexus is capable of, despite having the same identical hardware. And mind you, we are talking about offscreen rendering, so the display cannot be blamed in any way.
This is a major example of poor implementation and underutilization yet again. And while, you would have trouble spotting the missing frames while working with the GUI, gaming is another thing and it is a shame that the Priv can't even hit the pivotal 30fps. Then again, perhaps it wasn't meant to be a gaming device.
GFX 2.7 T-Rex (1080p offscreen)
Higher is better
Apple iPhone 6s
79.8
Apple iPhone 6s Plus
79.6
Samsung Galaxy S6 edge
59
Samsung Galaxy S6
59
Sony Xperia Z5 Premium
57
Samsung Galaxy S6 edge+
56
Samsung Galaxy Note5
56
Sony Xperia Z5
49
OnePlus 2
48
LG Nexus 5X
37
LG G4 (final)
34
Moto X Pure Edition
34
BlackBerry Priv
27
Huawei P8
10
Huawei Mate S
10
GFX 2.7 T-Rex (onscreen)
Higher is better
Apple iPhone 6s Plus
59.6
Apple iPhone 6s
59.6
Sony Xperia Z5 Premium
51
Sony Xperia Z5
49
OnePlus 2
46.7
Samsung Galaxy S6 edge
39
Samsung Galaxy S6
38
LG Nexus 5X
38
Samsung Galaxy S6 edge+
37
Samsung Galaxy Note5
29
LG G4 (final)
25
Moto X Pure Edition
24
BlackBerry Priv
19
Huawei Mate S
11
Huawei P8
10.7
GFX 3.0 Manhattan (1080p offscreen)
Higher is better
Apple iPhone 6s Plus
39.5
Apple iPhone 6s
39.5
Samsung Galaxy S6 edge
26
Sony Xperia Z5 Premium
26
Samsung Galaxy S6 edge+
25
Sony Xperia Z5
24
Samsung Galaxy S6
24
OnePlus 2
22
Samsung Galaxy Note5
21
LG Nexus 5X
16
LG G4 (final)
15
Moto X Pure Edition
15
BlackBerry Priv
12
Huawei P8
5.4
Huawei Mate S
5.4
GFX 3.0 Manhattan (onscreen)
Higher is better
Apple iPhone 6s
53.6
Apple iPhone 6s Plus
38.6
Sony Xperia Z5 Premium
27
Sony Xperia Z5
25
OnePlus 2
22
LG Nexus 5X
17
Samsung Galaxy S6 edge
15
Samsung Galaxy Note5
15
Samsung Galaxy S6 edge+
15
Samsung Galaxy S6
14
LG G4 (final)
9.4
Moto X Pure Edition
9.3
BlackBerry Priv
7.6
Huawei Mate S
5.8
Huawei P8
5.7
GFX 3.1 Manhattan (1080p offscreen)
Higher is better
Sony Xperia Z5
18
Sony Xperia Z5 Premium
18
OnePlus 2
16
Samsung Galaxy Note5
15
Samsung Galaxy S6 edge+
15
LG Nexus 5X
11
Moto X Pure Edition
10
LG G4 (final)
9.9
BlackBerry Priv
7.8
Huawei P8
3.4
Huawei Mate S
3
GFX 3.1 Manhattan (onscreen)
Higher is better
Sony Xperia Z5
19
Sony Xperia Z5 Premium
19
OnePlus 2
16
LG Nexus 5X
11
Samsung Galaxy Note5
6.7
Samsung Galaxy S6 edge+
6.6
LG G4 (final)
5.6
Moto X Pure Edition
5.6
BlackBerry Priv
5.4
Huawei P8
4.3
Huawei Mate S
3.4
The BlackBerry Priv ships with the Chrome browser by default, which is definitely a good thing. Google's mobile solution offers clear-cut performance and stability advantages over most any other proprietary browser we have experienced and it is generally a good idea to stick with it, expecially in BlackBerry's situation of just adopting Android.
Still, like every other aspect of the OS, Chrome suffers from the overall bad optimization.
Kraken 1.1
Lower is better
Apple iPhone 6s Plus
1731
Apple iPhone 6s
1737
Samsung Galaxy Note5
3702
Samsung Galaxy S6 edge+
3767
Samsung Galaxy S6 edge
3989
Samsung Galaxy S6
4154
Sony Xperia Z5 Premium
4226
LG Nexus 5X
4575
LG G4 (final)
4639
Sony Xperia Z5
5635
BlackBerry Priv
6761
OnePlus 2
6808
Moto X Pure Edition
6910
Huawei P8
11867
Huawei Mate S
12919
BrowserMark 2.1
Higher is better
Samsung Galaxy S6
2718
Samsung Galaxy S6 edge
2702
Samsung Galaxy S6 edge+
2591
Samsung Galaxy Note5
2324
Sony Xperia Z5 Premium
2305
Sony Xperia Z5
2303
LG Nexus 5X
2241
Moto X Pure Edition
2132
OnePlus 2
2055
LG G4 (final)
1992
BlackBerry Priv
1683
Huawei Mate S
817
Huawei P8
764
Like the old saying goes - "Never judge a book by its covers". It is definitely true when it comes to the BlackBerry's first big dip in the Android realm, but sadly, the connotation is slightly different. The legendary Canadian OEM has definitely put a lot of effort into adapting the OS to its needs and bringing over all of the essentials of its own secure ecosystem and that has actually worked out quite well, even better than we expected.
However, underneath the slick GUI the Priv is hiding some pretty major optimization issues. We know it's a first try and do sympathize with BlackBerry and the process it is going through, but we can't exactly give up on our expectations of flagship-grade performance to meet the flagship price.
Overall, if it is power you are after, you can most-certainly do better than the Priv and even spend far less. However, it's not like there is a better Android Lollipop device with a slide out keyboard out there, or a more capable BlackBerry enterprise communication device, so it all depends on how you look at things. But more on that later.