Near stock Android Lollipop
A BlackBerry phone with Android! We know it's kind of overstated at this point, but we just wanted to say it again. The company's move toward the Google OS hardly comes as a surprise and has been in the works in one form or another for some time now. And still, hardly anybody believed BlackBerry would actually go through with a full-fledged adoption of Android.
Loyal fans will know that BB10 has been able to run native Android apps for a while now, so the Canadian giant has already dipped its toes into the realm and should have a considerable level of experience. Running APK packages at often native speeds with zero porting and modification is nothing short of an engineering feat, which we don't really feel BlackBerry is given enough credit for.
But running a full Android 5.1.1 ROM is a whole other cup of tea and it brings along numerous challenges in somewhat the opposite direction - porting over quintessential BlackBerry services to the open source OS and somehow managing to provide the expected level of security, customers have come to expect.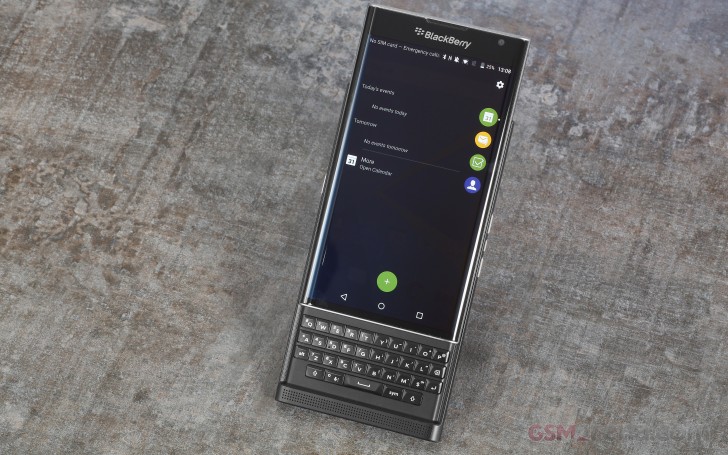 This is no easy task, which the Priv boldly takes on without really holding back. The OEM was aiming for nothing short of the full BlackBerry experience on Android and we are happy to report that the result seems to be just that.
Of course, no software is truly perfect, especially Android builds, and there are a few notable hiccups in BlackBerry's pioneering effort and a lot of room for improvement. But, for the most part, everything works fine and as advertised, there is no obvious absence of any major feature and there are even a few extra little things thrown in for an enhanced experience - well done BlackBerry!
The OS designed for the Priv has a distinct Vanilla Android look and feel and seems to be quite close to stock. That means, there is practically no bloatware to speak of, well, unless you have no need for the extensive BlackBerry app suite, but that sounds more like a case of wrong expectations. Still, BlackBerry has made sure to add a few touches here and there for extra productivity, which we will be sure to point out.
Starting off with the lock screen, it is the usual affair - a big clock, slide to unlock and a duo of unlock shortcuts at the bottom - phone and camera. Keen observers will surely notice the slightly weird notification icon underneath the clock, which is part of Blackberry's custom notification grouping mechanism, but more on that in a bit.
The home screen is also pretty standard. You get a few panels for widgets and shortcuts, well, three to be exact - no more, no less, which is slightly limiting, as well as a row of four shortcuts stuck to the bottom. But, even though everything looks stock enough, something is still amiss and long-pressing the screen to enter into edit mode gives us the first hint that there is more to the UI than meets the eye.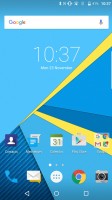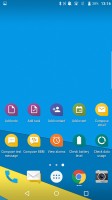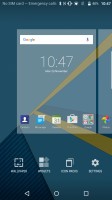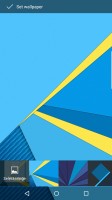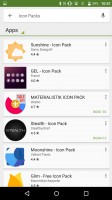 Home screen and customization with icon pack support
What BlackBerry has actually done for the Priv is develop its own custom launcher. It looks strikingly similar to the Google Launcher and is most-likely based upon it, but it has a few extra features. One is the icon pack support, just like you would see on Nova Launcher, for example. That opens up a whole new realm of possibility for customizing the overall look and feel of the Priv.
Another new addition, which you might not notice, if you don't know it's there, are a special type of app-widgets, called Popup widgets. They work by swiping up from any compatible app. This brings up a sort of overlay interface with various info from said application. It is quite reminiscent to what Apple has done using Force Touch.
Most bundled BlackBerry apps naturally have support for the feature and we found it quite convenient to pull up a glance interface of calendar events, for example. Third-party app support is mostly missing, save for a few exceptions. The bundled Chrome browser, for instance, has obviously gone through the extra treatment to implement the required APIs.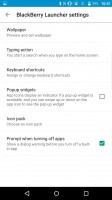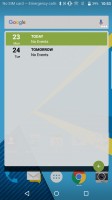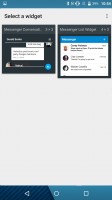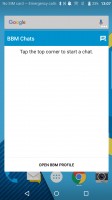 Popup widgets are a nice little feature
Other than that, the launcher is the usual vanilla affair. Well, there are small tweaks, like the changed remove and uninstall drag target areas.
Also, there is the somewhat odd, but still cool looking bar interface that goes along the right edge of the phone while charging to indicate the battery level. It looks to be intended for use when the screen is off, but it did, oddly pop-up occasionally on other GUI segments as well.
Folders work the same as on other Android phones though.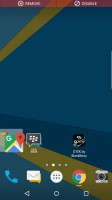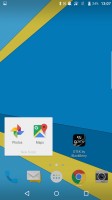 The launcher is mostly vanilla, save for a few tweaks
Sliding up from the menu icon brings up a shortcut for Google Now, just like on a Nexus, but BlackBerry has also thrown in two additional shortcuts of its own - one on either side. They are fully customizable, so you literally have a lot of quick-access power right at your fingertips. Shortcuts actually play a big role in the Priv interface and there is a substantial set of quick activities BlackBerry has predefined from within its apps, like writing an email, or starting a BBM meeting. These can be placed as shortcuts on the home screens, as well as the aforementioned two customizable slots.
The Priv also has a convenient overlay interface that can be invoked from anywhere within the GUI. You simply slide it out and have quick access to your calendar, tasks, messages and favorite contacts.
The interface is quite reminiscent of what Samsung is doing with its Edge phones and it can also be customized a fair bit. And, if you don't find it convenient, you can always opt out of the experience all together.
Last, but not least, there are a few advanced accessibility features baked inside the OS. You can flip the phone to mute an incoming call or make it go into sleep mode, which is convenient. Also, holding the phone in your hand can be used to keep your screen on for longer.