Last updated: April 20, 2023 (Changelog)
Phones have gradually replaced so many standalone devices we used to rely on, so why not take over our handheld gaming. Razer made waves in late 2017 and Asus' ROG branch joined in in 2018, with offers following from a Xiaomi-backed Black Shark and ZTE's nubia. Those have gaming-centric features and often sport a certain gaming aesthetic that may not be to everyone's taste, but there are also some mainstream phones that can do better for gaming than others. What's the best there is right now?
Here's what we consider to be the best gaming phones of 2022.
---
Editors' choice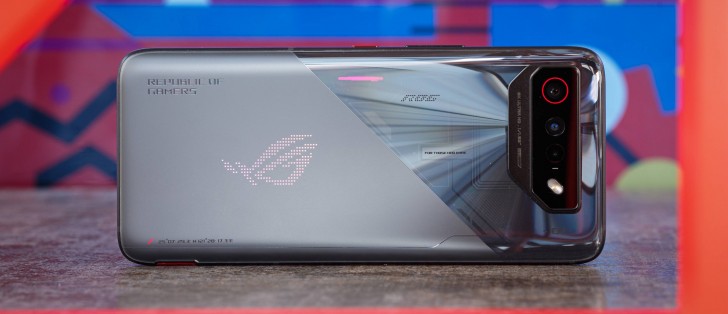 Asus ROG Phone 7
These are the best offers from our affiliate partners. We may get a commission from qualifying sales.

| | | |
| --- | --- | --- |
| 256GB 12GB RAM | $ 643.00 | £ 649.00 |
| 512GB 16GB RAM | $ 829.00 | C$ 1,793.65 |
Toned-down, but still ROG-inspired gamer's design with great build quality.
IP54 certified body.
AirTigger 7 ultrasonic touch sensors remain industry-leading, are very precise and versatile. Motion controls are extended and improved from last gen
Significantly improved internal cooling design with a new "rapid-cycle" vapor chamber.
AeroActive Cooler 7 now cools the front of the device and also has a built-in subwoofer.
Industry-leading stereo speaker performance, complete with gaming-specific sound tweaks.
One of the best around 10-bit, HDR10+, AMOLED screen, 165Hz refresh rate now with improved 1,500 nits peak brightness and real-time SDR to HDR conversion.
Amazing battery life, even at full 165Hz. Rich battery health prolonging options. Very fast charging (65W charger bundled).
Flagship Snapdragon 8 Gen 2 chipset with unparalleled performance tuning.
Great Android implementation, an unparalleled number of game tweaks, control-mapping and performance options.
Solid all-round camera performance.
Available accessory ecosystem is significantly smaller than on older models.
The accessory connector is back to having POGO pins, which may be prone to breaking.
AeroActive Cooler 7 not included in the standard retail package.
Thermal management is not as good as on the older ROG Phone 5/5s. AeroActive Cooler 7 is now required to make the most of the available hardware.
Rather basic camera setup, compared to typical 2023 flagships. 8K video recording is capped at 24fps. The Selfie video is now capped at 1080p.
Nobody does smartphone gaming quite like Asus. Four iterations into the ROG Phone line, that remains a fact.
The ROG Phone 7 is still arguably the "top dog" in the mobile gaming niche. It is definitely an iterative rather than a major upgrade over last year's model, but that's perfectly fine. Asus has a tight grip on the first spot on that particular podium through the sheer scope and depth of its mobile gaming efforts rather than any particular gimmick and the ROG Phone 7 is just more of the same.
Some of the highlights of the ROG Phone 7 include one of the best 10-bit, HDR10+, 165Hz Super AMOLED displays around now brighter than ever, some of the best-sounding, huge symmetrical stereo speakers with dedicated drivers, incredible haptics, two of the most complex AirTrigger capacitive touch controls for gaming, two battery packs totaling 6,000 mAh with fast and standard PD charging, amazing wired connectivity through its additional USB Type-C Side port including video out and external hard drive support and this year the whole package, has IP54 protection.
Of course, you also get the latest and greatest Qualcomm has to offer in the Snapdragon 8 Gen 2 chipset and up to 16GB of RAM and 512GB of storage. But the thing that really makes the ROG Phone line unique is the unparalleled access to low-level OS performance settings and limiters ASUS provides to gamers. This level of commitment and customizability is still unmatched by any rival in the smartphone gaming space.
It's not all sunshine and roses, though, and just like every other phone, the ROG Phone 7 has its weaknesses too. The once-mighty ASUS accessory ecosystem has shriveled and shrunk to a shadow of its former glorious state. The famous side connector is back to having POGO pins once again, which is a step back in durability. On the plus side, this year marks another big leap for the AeroActive cooler accessory, which now includes a subwoofer. Unfortunately, it is not included in the box and is yet another expensive purchase on top of the pricy phone. One that enthusiasts might want since it is the only way to truly make the most out of the Snapdragon 8 Gen 2, which the ROG Phone 7 struggles to properly cool at times on its own. Thermals have been a bit better on older ROG devices.
We should probably mention the ROG Phone 7 Ultimate as well. It is essentially the same phone as the ROG Phone 7 with the addition of a ROG Vision full-color display on the back and the AeroActive Portal – a mechanized air vent that gives direct access for air from the AeroActive Cooler to blow inside the phone for cooling. Speaking of the cooling accessory, the ROG Phone 7 Ultimate has it included in the box, unlike the vanilla ROG Phone 7 and the Ultimate edition only comes in white and only in the top 16GB/512GB configuration. This is all reflected in the price, however, with the vanilla ROG Phone 7 starting at €999 and the Ultimate retailing at €1399.
Read full review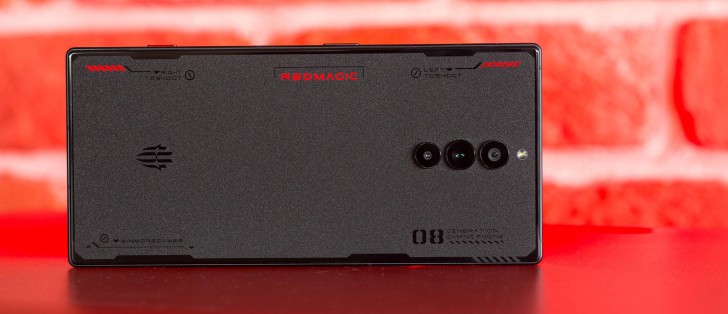 ZTE nubia Red Magic 8 Pro
The new "square" design is refreshing and appreciated, and the phone is very well made.
Large and fast 120Hz OLED panel, the UD selfie camera is inconspicuous.
Great battery life, fast charging.
Plenty of gaming-oriented features, including pressure-sensitive shoulder triggers.
Flexible and well-executed external display and peripherals gaming experience.
Impressive thermal management during high, sustained loads; the fan helps a lot.
Nice sounding stereo speakers.
Notably improved image quality on the main camera compared to past models.
While helpful in practice, the internal fan can be quite noisy.
While nice, the display lacks HDR video support, and its refresh rate is not as high nor as dynamic as some of the competition.
Ultrawide camera quality is not very good, while the selfie camera quality is downright bad.
No ingress protection.
The software is still plagued by awkward English translations from Chinese.
There is a lot to like about the nubia Red Magic 8 Pro. It offers the latest and greatest Snapdragon 8 Gen 2 chipset alongside fast UFS 4.0 storage, which translates to an amazingly smooth experience no matter what you task the phone with. Of course, gaming is the bread and butter of the Red Magic line, and the Red Magic 8 Pro excels at it like few others. Not only does it have the raw power to chew through even the heaviest modern titles, but nubia's extra Game Space software layer has gotten better than ever. We found ourselves particularly impressed with how well the Red Magic 8 Pro handles gaming on an external monitor via a display connection or through the excellent Windows game streaming software, both wired and wireless. If excellence in gaming is all you are after, then we have no issue wholeheartedly recommending the Red Magic 8 Pro.
No device is perfect, however, and there are some rough aspects about the Red Magic 8 Pro, like the display, which lacks modern flagship extras like LTPO or HDR support. While the main cam on the phone has been upgraded this generation, the rest of the camera experience is lackluster. Speaking of which, we still can't accept the half-translated state Redmagic OS is in. All of this ultimately makes the Red Magic 8 Pro an amazing Android gaming device and a somewhat compromised Android smartphone.
Read full review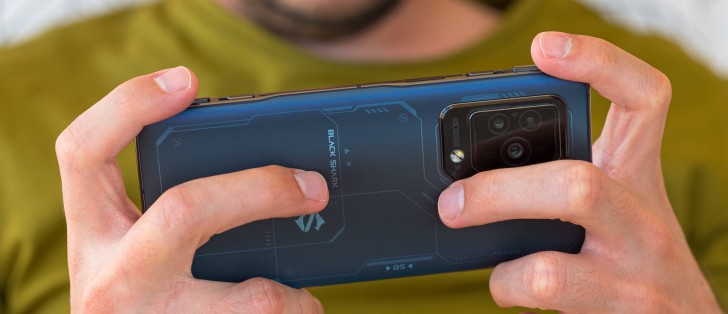 Xiaomi Black Shark 5 Pro
Bright, 144Hz OLED display with HDR10+ support and now 10-bit color.
Plenty of useful gaming features, physical shoulder triggers with additional functionalities.
Great-sounding stereo speakers.
Solid sustained and peak performance, Snapdragon 8 Gen 1.
Awesome haptic feedback around.
Super-fast 120W charging.
No ingress protection.
Battery life is hardly great.
Does not use the latest Qualcomm chipset.
Phone gets extremely hot to the touch in an effort to keep the internals cool.
Convoluted high refresh rate handling both for games and UI.
The Black Shark 5 Pro comes with the powerful Snapdragon 8 Gen 1 chipset and many gaming-oriented features. It is an excellent choice as it's probably one of the cheapest among the gaming bunch. Its highlights include a 144Hz OLED, a flagship chipset with commendable sustained performance, and all-round connectivity options. p>
The Black Shark 5 Pro features with a 6.67" OLED display, capable of 144Hz refresh rate and HDR10+ playback. It also packs a large 4,650mAh battery that can be fast charged at 120W for 15 minutes. It also flexes stereo speakers of excellent quality.
The best part is that the Black Shark 5 Pro is not that expensive, not ROG money anyway. And if that's still a bit too expensive for you, you may want to consider the even cheaper Snapdragon 870-powered Black Shark 5 or the Snapdragon 888-featuring Black Shark 5 RS.
Read full review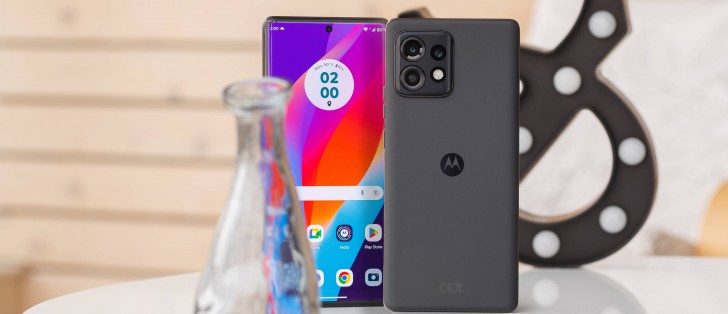 Motorola Edge 40 Pro
These are the best offers from our affiliate partners. We may get a commission from qualifying sales.

| | | |
| --- | --- | --- |
| 256GB 12GB RAM | $ 855.00 | $ 969.50 |
Premium glass/metal build with attractive curves all around, IP68 rating.
Super smooth 165Hz display, good adaptive refresh rate handling.
Excellent battery life, super-fast charging.
Loud stereo speakers.
Clean Android interface updates up to Android 16, additional Moto custom bits, 'Ready For' PC-like capability.
Snapdragon 8 Gen 2 is as snappy as they come.
Competent camera setup with standout low-light performance; particularly nice selfies too.
Back panel is about as slippery as possible.
At 2x zoom, the tele camera has a reach that's too short.
Daylight photo quality from the ultrawide and the telephoto is unimpressive.
Portrait mode results are disappointing.
The Motorola Edge 40 Pro doesn't market itself as a gaming phone. On the contrary, with its slick and toned-down exterior, it couldn't look further from it. However, it has a lot of the same makings and the potential to be a true gaming beast. Starting with the chipset, the Edge 40 Pro is rocking Qualcomm's best Snapdragon 8 Gen 2 chip. Then there's also the display. The Edge 40 Pro has a 165Hz OLED display, which is unheard of outside the gaming realm. The phone also does great with auto refresh rate handling, which is great for gaming.
The Edge 40 Pro also has excellent battery life and fast charging. Its only real shortcoming is the daylight camera performance, which falls a bit short. We guess that won't bother the gamer crowd too much, though.
Read full review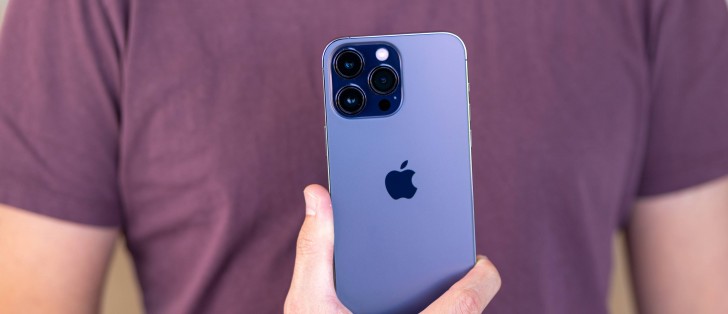 Apple iPhone 14 Pro Max
These are the best offers from our affiliate partners. We may get a commission from qualifying sales.

| | | |
| --- | --- | --- |
| 128GB 6GB RAM | $ 864.33 | C$ 1,349.99 |
| 256GB 6GB RAM | $ 972.25 | C$ 1,479.99 |
Vast game ecosystem, early releases and exclusive iOS titles
The most powerful chipset available
Great 120Hz OLED screen, Dolby Vision and HDR10
Very capable triple-camera
Excellent battery life
Outstanding build quality, superb water resistance
The Dynamic Island won't be everyone's cup of tea
No charger in the box
The most powerful iPhone 14 Pro Max with the largest display gets an easy recommendation in this section. Gaming is thriving across the iOS ecosystem and the most current iPhone 14 Pro Max is an excellent device to enjoy it with the best possible quality. The large 120Hz OLED with the Apple A16 chip are an excellent match and together with the great battery life you can play games for quite some time.
The combination of super-powerful hardware with a huge selection of games (some exclusive to the platform or coming sooner than elsewhere) makes the iPhone 14 Pro Max a gaming smartphone. The loud stereo speakers and the flagship-grade cameras, do help, too.
Read full review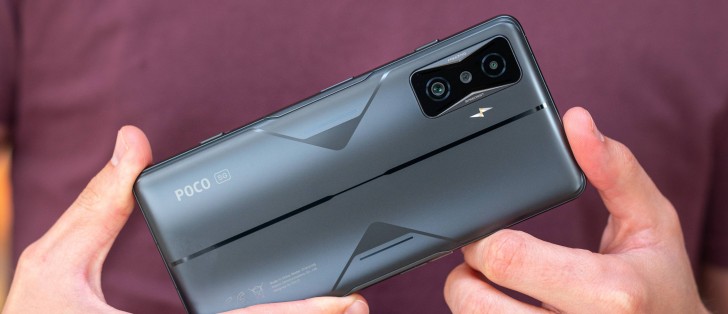 Xiaomi Poco F4 GT
These are the best offers from our affiliate partners. We may get a commission from qualifying sales.

| | | |
| --- | --- | --- |
| 128GB 8GB RAM | $ 352.00 | £ 408.48 |
| 256GB 12GB RAM | $ 479.99 | £ 299.00 |
Physical magnetic pop-up triggers, fitting design
Excellent AMOLED screen, 1B colors, 120Hz, HDR10+
Dual Glass, aluminum frame, IP53-rated design
The flagship Snapdragon 8 Gen 1 5G chip
Stereo speakers
Top-class battery life, fast to charge
Dependable triple camera
Uninspiring battery life
Not waterproofed
The Poco F4 GT is one of the most affordable flagships available today and it's an excellent choice for a gaming device, too. It has the latest Snapdragon 8 Gen 1 chipset and an incredibly good AMOLED screen with 1B colors and 120Hz refresh rate. There are four stereo speakers, fast charging, and a reliable triple-camera system, too.
The all-round package also includes unbelievably fast 120W charging, the familiar MIUI 13 on top of Android 12, and an attractive design.
But what makes this Poco a great gaming device is the combination of top-notch hardware and the availability of physical magnetic pop-up gaming triggers. These keys are configurable and will surely make a difference over the regular touch-based controls.
The best part of the Poco F4 GT is its pricing, of course. The phone costs €550, which makes it the cheapest flagship you can buy in 2022.
Read full review
India Special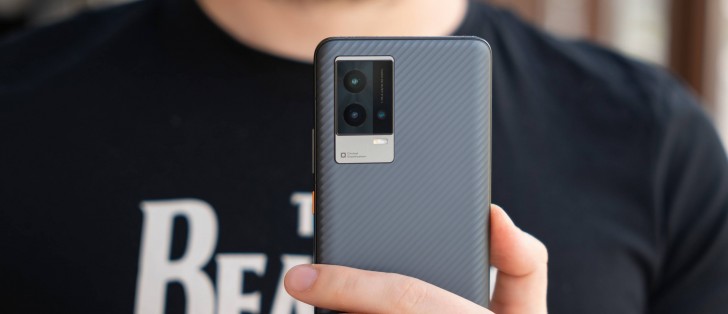 vivo iQOO 9
Attractive dual-glass design, metal frame, IP52.
Outstanding OLED display, 1B colors, 120Hz.
Pressure sensitive touchscreen for custom gaming triggers.
Great battery life, crazy-fast charging.
The second-best chipset on the Android market.
Superb photo and video quality across the board.
Great video stabilization across all cameras.
Thermal management is too relaxed, allowing terminal overheating during gaming.
No HFR gaming support past CoD and BGMI.
No ingress protection
Weak top speaker.
The iQOO 9 is an excellent smartphone for its many great treats that give it an edge over the competition - gimbal OIS, a zoom camera, the pressure-sensitive Monster Touch layer, and the 120W fast charging, to name a few. We also found its screen and performance to be of a flagship origin, and the iQOO 9 surprised us with excellent photo and video quality.
Even better, the iQOO 9 demonstrated some excellent battery life, a stable Funtouch launcher, and it can be a very good gaming smartphone. We also got a promise for two major Android updates and three years of security patches.
The iQOO 9 is not an ideal offer, of course. It is not a water-resistant device, and the speaker quality is hardly impressive. But there is something of a bigger concern - the overheating. We all know that the Snapdragon 888+ generates a lot of heat under pressure, and there is no passive cooling that can handle it for hours. That's why Asus and ZTE are using actual fans for that. It's fine. But having no thermal control and throttling and relying instead on the overheating failsafe is not healthy for the phones or the users.
Read full review
Value proposition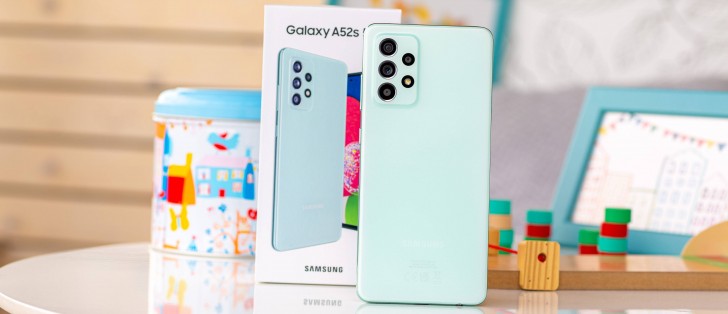 Samsung Galaxy A52s 5G
These are the best offers from our affiliate partners. We may get a commission from qualifying sales.

| | | |
| --- | --- | --- |
| 128GB 6GB RAM | $ 379.99 | £ 299.49 |
| 128GB 8GB RAM | ₹ 21,899 | |
120Hz AMOLED screen
Gaming-friendly Snapdragon 778G 5G chip
Excellent battery life
Solid camera quality
Loud stereo speakers
IP67-rated glass body
Cheap
No special gaming features
The Samsung Galaxy A52s 5G is still available, though the stock will be probably gone in about 2-3 months. It gets our recommendation for a gaming device on a budget for its excellent 120Hz AMOLED and the powerful Snapdragon 778G that offers more than enough punch for smooth gaming. And some games can even go beyond 60fps, unlike on the Realme HRR phones.
The Galaxy A52s is also particularly good at snapping photos, too, as it offers excellent photo and video quality across all cameras. And we did like its stereo speakers, the excellent connectivity options, and the complete water protection.
Sure, the A52s has no special gaming features, but it still can handle games pretty well, for quite a while at that!
Read full review
Value proposition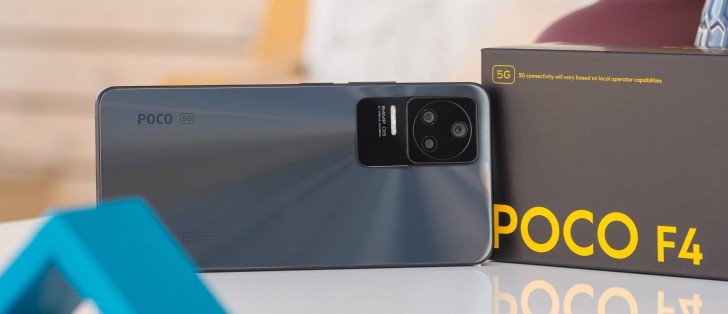 Xiaomi Poco F4
These are the best offers from our affiliate partners. We may get a commission from qualifying sales.

| | | |
| --- | --- | --- |
| 128GB 6GB RAM | $ 310.00 | £ 349.99 |
| 256GB 8GB RAM | $ 419.99 | |
Excellent AMOLED, 120Hz refresh, Dolby Vision
Top-notch performance by Snapdragon 870, great stability, 5G.
Loud dual speakers, Dolby Atmos.
Dependable battery life, fast to charge.
Good all-round camera experience.
NFC, IR blaster, Android 12, MIUI 13.
No special gaming features
The videos could benefit from a contrast boost.
The Poco F4 is a dependable smartphone with an excellent all-round specs sheet – a 120Hz OLED Dolby Vision display, stereo speakers, great performance and stability by the Snapdragon 870, a reliable camera system with OIS, good battery life and fast charging. Sounds like Poco, doesn't it?
The Poco F4 is a cheap smartphone that offers excellent performance and good stability, which makes it a great device for gaming on the go.
Read full review
Most recent updates
April 20, 2023: Replaced ROG Phone 6/6 Pro with ROG Phone 7. Replaced ZTE nubia Red Magic 7S Pro with ZTE nubia Red Magic 8 Pro. Added Motorola Edge 40 Pro.
March 13, 2023: Revisited and reconfirmed the phone shortlist.
November 11, 2022: Replaced the iPhone 13 Pro Max with the iPhone 14 Pro Max. Added a mention of the ROG Phone 6D.
July 27, 2022: Replaced the Nubia Red Magic 7 with Red magic 7s Pro.
July 25, 2022: Added the Poco F4 GT.
July 12, 2022: Replaced ROG Phone 5 with ROG Phone 6 as new top. Replaced the iPhone 12 with the iPhone 13 Pro Max. Replaced the Nubia Red Magic 6s Pro with Red Magic 7. Replaced the iQOO 7 Legend with the iQOO 9. Replaced the Black Shark 4S with Black Shark 5 Pro. Added the Galaxy A52s and the Poco F4 as budget offers. Removed the Xiaomi 11 Lite 5G NE and Moto Edge 20.
December 30, 2021: Added the iQOO 7 Legend as India Special. Removed the nubia Red Magic 6R (discontinued).
October 20, 2021: Added the Motorola Edge 20. Replaced the iPhone 11 with the iPhone 12. Replaced the Mi 11 Lite 5G with the 11 Lite 5G NE. Replaced the Red Magic 6 with Red Magic 6s. Replaced the Black Shark 4 Pro with Black Shark 4S Pro.
June 30, 2021: Added the nubia Red Magic 6R.
May 18, 2021: Replaced the ROG Phone 3 with ROG Phone 5. Replaced the Red Magic 5G with Red Magic 6. Replaced the Black Shark 3 Pro with the Black Shark 4 Pro. Replaced the Xiaomi Mi 10T Lite 5G with Xiaomi Mi 11 Lite 5G. Replaced the Lenovo Legion Duel with Lenovo Legion Duel 2. Removed Moto Edge, Huawei P40 Lite and iQOO 3.
---
Best phones by category
n
Last comment here about 2 months old - and there enter INFINIX GT 10 Pro - which I think beats down the included Samsung A52s and XIAOMI Poco 4 combined in this 2023 Buyers guide, even though tagged as 'value proposition'.
Z
Can you put the best of the best camera in the upcoming ROG 8 ultimate and make batman and diablo edition of ROG 7 ultimate
S
Just wow my jaw just dropped when i saw a Sony Xperia 1 IV Gaming edition it exists it's a must see and only option if you want 4k gaming on mobile a Sony gaming phone with 4k 120hz screen 16gb ram / 512gb storage yes has sd car...