Last updated: June 13, 2023 (Changelog)
High-end hardware at half the price of the big names, what's not to like? A category started by OnePlus in 2014, the top-specced 'flagship killer' is a crowd favorite. OnePlus itself now fights in the upper echelon with its top offerings, but with its diversifying portfolio there's one for this level as well. Brands that usually top bang-for-buck charts are here too - both Realme and Xiaomi have options for those who aren't willing to shell top dollar, but still appreciate top-tier performance.
---
Editors' choice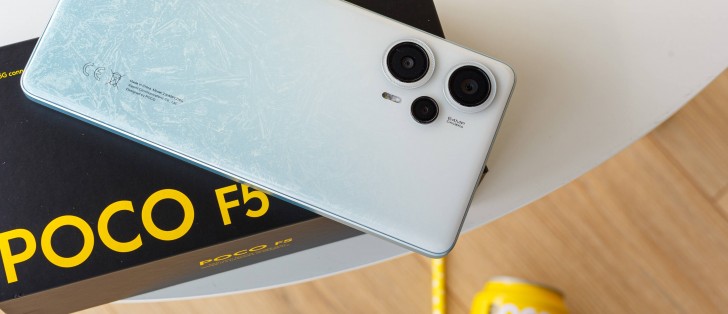 Xiaomi Poco F5
These are the best offers from our affiliate partners. We may get a commission from qualifying sales.

| | | |
| --- | --- | --- |
| 256GB 8GB RAM | $ 359.00 | £ 389.00 |
| 256GB 12GB RAM | $ 380.00 | $ 411.00 |
Awesome, lightweight build, IP53
Excellent AMOLED, 120Hz refresh, Dolby Vision, HDR10+
Unrivaled performance thanks to the SD 7+ Gen 2
Loud dual speakers, Dolby Atmos
Solid battery life with competitive fast charging solution
Great camera experience all-around (except selfies)
3.5mm audio jack, IR blaster, premium haptics, 256GB base storage
Side-mounted fingerprint reader instead of UD scanner
Night mode needs more work, selfies are meh
The Poco F5 replaces the Poco F4 GT as our next flagship killer. There is also an F5 Pro model with a marginally faster chipset, but its 1440p screen makes it slower than the standard F5 – hence the F5 remains our top pick here.
The Poco F5 has a superb display with all the HDR certifications, battery life is solid, charging speed is competitive, camera quality is surprisingly good (except for the Night mode and the selfies), performance is unrivaled even by more expensive phones thanks to the brand new SD 7+ Gen 2, loudspeakers are decent, and design and ergonomics are excellent. Bonus points for being IP53-rated, offering flagship-level haptics and having an OIS on the main camera. It makes the shooting experience a tad better.
If we go into nitpicking mode, we can complain about the side-mounted fingerprint reader. The under-display one is more versatile, and it just doesn't sit well in 2023. The handset uses an OLED panel too, so there's no reason to opt for the side-mounted fingerprint reader. But it is, obviously, nitpicking.
The best part of the Poco F5 is its pricing, of course. The phone costs about €430-€450, which makes it the cheapest flagship-like phone you can buy in 2023, a flagship killer, if you will.
Read full review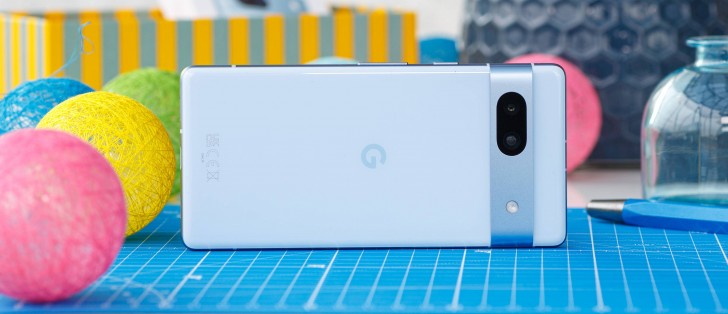 Google Pixel 7a
These are the best offers from our affiliate partners. We may get a commission from qualifying sales.

| | | |
| --- | --- | --- |
| 128GB 8GB RAM | $ 322.00 | $ 389.50 |
Compact and waterproofed smartphone
OLED display, 90Hz, HDR
Clean Android interface, exclusive features, timely updates
Chipset has plenty of oomph, GPU is beefier than most in the class
Flagship-grade photo quality from the rear cameras in most situations
Stereo speakers
Display is 90Hz amongst competitors with 120Hz (or higher)
Very slow charging, so-so battery life
Chipset tends to throttle, only 128GB storage option available
Portrait mode is subpar, selfies aren't great either
Video stabilization isn't flawless
The appeal of Pixel phones tends to be pretty niche, often not entirely well-founded in reason, and difficult to explain with just numbers and test results. It's somewhat of a similar story with the Pixel 7a here, as a quick look at the pros and cons lists below will show you. Yet, it is one of the most compact smartphones on the market, one of the most powerful, and one with a remarkable photo quality from its cameras.
Google hasn't been quick to adopt a high refresh rate display on its cheaper model and even when it finally has, it's a 90Hz panel in a sea of higher RR competitors. Battery life is unremarkable, charging speed is downright unacceptable, the lack of storage options is limiting, and the Tensor G2 runs hot and throttles. There are also missteps in what should be any Pixel's forte - camera performance.
Attempting to counter all of the above, we have an Android experience tailored to Google's own vision with a clutter-free interface, Pixel-only features, and an update policy that's hard to rival. An otherwise meh flagship chipset does make for a pretty great midrange one, prone to throttling as it may be. And so long as you avoid people shots in most of their incarnations, the Pixel 7a's camera's system will deliver image quality that wouldn't be out of place on an actual flagship.
In summary, with the 7a, Google appears to have simply created a more affordable, and smaller, Pixel 7. And that's not a bad thing at all, on the contrary.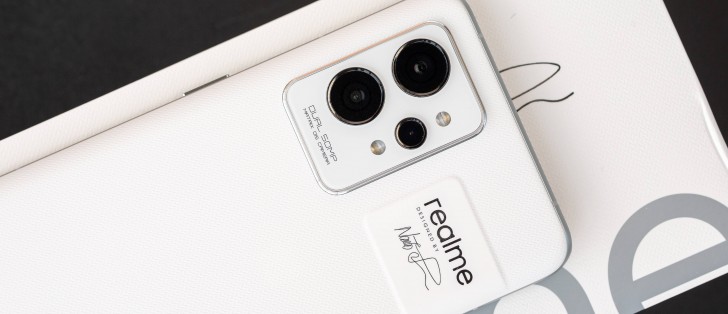 Realme GT2 Pro
These are the best offers from our affiliate partners. We may get a commission from qualifying sales.

| | | |
| --- | --- | --- |
| 128GB 8GB RAM | $ 949.00 | € 409.49 |
| 256GB 12GB RAM | $ 556.00 | £ 936.20 |
Superb 120Hz LTPO2 AMOLED display with granular HRR control
We really liked the Paper-like texture of the back
Good sustained performance, low surface temperatures
Excellent camera performance all-around (especially the ultrawide)
Extra long battery life, fast charging
Customizable and feature-rich Realme UI 3.0, Android 12
Neat features such as 360-degree NFC, crisp vibration motor, microscopic lens
The Paper designs might not feel as premium for some
Selfies are not up to par
Lacks telephoto camera
The Realme GT2 Pro has a great display, long battery life, fast charging, excellent camera performance across all scenarios (especially the ultrawide with its added-value features), and utilizes the Snapdragon 8 Gen 1's full potential. These, and its €650 price, are what make it a true flagship killer.
We are quite keen on the Paper White and Paper Green design options as they eliminate smudges and provide superior grip to glass-made devices. Oh, and the bio-based polymer seems to keep the surface temperatures low even after long periods of gaming.
The all-round package also includes stereo speakers, 65W fast charging, excellent battery life, and unique microscope camera.
The best parts of the Realme GT2 Pro also include widespread availability and attractive pricing of €650.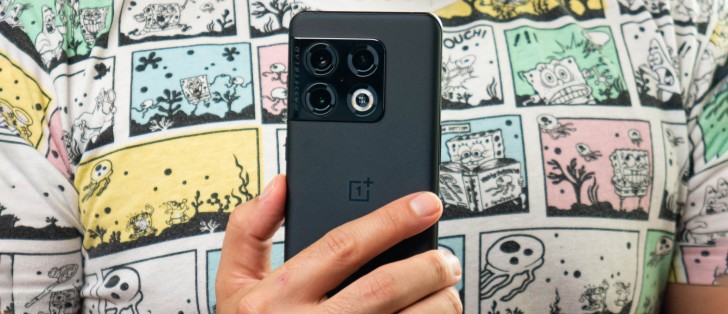 OnePlus 10 Pro
These are the best offers from our affiliate partners. We may get a commission from qualifying sales.

| | | |
| --- | --- | --- |
| 128GB 8GB RAM | $ 444.99 | C$ 884.17 |
| 256GB 8GB RAM | $ 599.00 | C$ 1,915.00 |
Distinctive design with premium finish
Superb 120Hz LTPO2 AMOLED display with granular HRR control and great color-accuracy
Competitive battery life, 80W SuperVOOC charging speeds are excellent
Excellent sustained performance and thermals
Reliably good performance from the primary camera
No formal IP rating outside US
OxygenOS 12 no longer has that OnePlus fan-favorite look and feel
Ultra wide is not at the level of last year's model and also lacks AF or Macro
Most games limited to 60Hz refresh rate
Front camera and telephoto camera only offer 1080p video recording
The OnePlus 10 Pro price has already dropped down to less than €700 and being a full-fledged 2022 flagship in 2923 with rising prices is what makes it perfect for this flagship killer category. It's not only fairly affordable for a premium smartphone, but it also has everything – an attractive premium design, an outstanding OLED screen with high resolution and refresh rate, flagship performance and plenty fast charging.
This OnePlus 10 Pro also comes with a versatile triple camera setup on the back with high-res primary and ultrawide cameras, plus an 8MP 3.3x telephoto. The quality, while not class-leading, is still more than enough for the premium segment.
Overall, the OnePlus 10 Pro is a solid offer with all-round flagship specs. The only real caveat is the USA exclusive IP68 certification, something OnePlus has been known to do for a while.
Read full review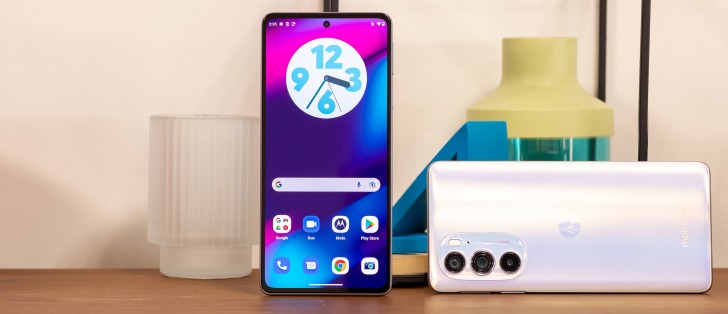 Motorola Edge 30 Pro
These are the best offers from our affiliate partners. We may get a commission from qualifying sales.

| | | |
| --- | --- | --- |
| 256GB 12GB RAM | $ 314.00 | $ 510.00 |
| 512GB 8GB RAM | $ 499.99 | $ 999.99 |
Extra fluid 144Hz display, straightforward HRR handling
Top-tier performance, excellent stability under sustained CPU load
Fast charging with standard USB Power Delivery peripherals
Wireless charging
Stereo speakers, NFC, UD fingerprint scanner
Reliable camera system, excellent selfies
Android 12 interface akin to that on a Pixel, additional Moto custom bits, 'ready for' PC-like capability
Not waterproof (just splash resistant), plastic frame lacks premium feel
Display not as bright as the competition
Battery life is uninspiring
No telephoto camera, no 4K60, no 4K on the ultrawide at all
The Motorola Edge 30 Pro is somewhat of an odd proposition - a flagship that isn't quite, with unique selling points but also some notable shortcomings. On the first list is the 144Hz display - we can appreciate the smoothness, but can't quite see it as a substantial advantage over the 120Hz of the competition. We do appreciate the latest Snapdragon 8 Gen 1 hardware, of course.
We also enjoyed the 'stock' Android 12 build, sweetened by Moto enhancements and we can even come up with use cases for the 'ready for' platform. It's in those cases that the latest-gen Snapdragon comes in handy and it doesn't hurt that the Edge 30 Pro shows one of its more stable implementations that we've seen.
The lack of a telephoto camera stands out and it's compounded by all too simple video recording capabilities. Slight missteps in the display and battery departments, while hardly dealbreakers, place the Edge 30 Pro in a somewhat trailing position. Add to that the missing waterproofing in a sea of properly sealed competitors and some odd choices in the BoM and the phone isn't looking very premium either.
With all that said, the Motorola Edge 30 Pro isn't a bad package. On the contrary, it's a balanced offering that's easy to recommend for its €660 or so price.
Read full review
India special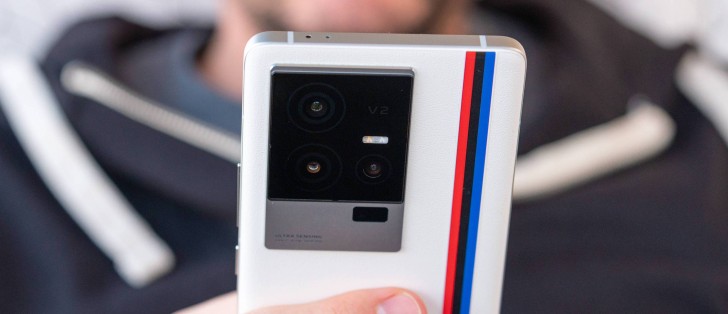 vivo iQOO 11
These are the best offers from our affiliate partners. We may get a commission from qualifying sales.

| | | |
| --- | --- | --- |
| 256GB 8GB RAM | ₹ 49,999 | |
| 256GB 16GB RAM | ₹ 54,999 | |
Recognizable design
Excellent display throughout
Top-class battery life and charging speed
Nice-sounding stereo speakers, IR emitter
Superb performance
Overall great photo quality for the class, notably good low-light results
No proper ingress protection
Underwhelming nighttime video quality, some oddities with the zoomed-in video implementation
Going from the 9T to the 11, iQOO's non-Pro high-end model has stepped its game up a notch. For starters, it gets a great display with a spec sheet and performance not typically found in the class. The latest Snapdragon inside it is proving its worth too and delivers heaps of power, while the whole package is remarkably efficient and also super-fast to charge. Stereo speakers are a given at this point, but these are better than average, the IR emitter is a welcome sight, and the design stands out - particularly if you go for the BMW Motorsport livery.
Some may say it's unreasonable to expect an IP rating at this level, but if you can find it on a midrange Samsung, perhaps the top-tier iQOO should have it too. Video recording on the 11 does not inspire confidence either, though that's more of an outlier in an otherwise convincing camera setup, which still leaves room for the Pro to breathe freely.
In the end, the iQOO 11 is a performance-focused offering with a superb display, excellent battery results, and a camera that's good enough. It may be priced a touch too high, but you're getting some state-of-the-art hardware.
Read full review
Most recent updates
June 13, 2023: Replaced Poco F4 GT with the Poco F5, added the Pixel 7a.
March 21, 2023: Replaced iQOO 9T with iQOO 11.
March 13, 2023: Replaced OnePlus 10T with OnePlus 10 Pro.
October 21, 2022:Added the Realme GT2 Pro, OnePlus 10T, Motorola Edge 30 Pro, and the iQOO 9T. Removed the Poco F4, Realme GT Neo 3T, Realme GT Neo 3, OnePlus Nord 2T, Xiaomi 11T, Xiaomi 11T Pro, Motorola Edge 30, and the iQOO Neo 6.
June 29, 2022: Replaced the Poco F3 with Poco F4 GT as new Top. Replaced the OnePlus Nord 2 5G with the OnePlus Nord 2T. Replaced the Moto Edge 20 Pro with the Moto Edge 30. Added Poco F4, Realme GT Neo 3T, Realme GT Neo 3, iQOO Neo 6. Removed OnePlus 8T, Zenfone 8 Flip, Red Magic 6R, Google Pixel 6, Realme GT Neo 2.
December 7, 2021: Added the Motorola Edge 20 Pro, Xiaomi 11T Pro, Pixel 6, Asus Zenfone 8 Flip and the Samsung Galaxy Z Flip3.
November 18, 2021: Added the Realme GT Neo2 and the Xiaomi 11T. Removed the nubia Red Magic 6R.
October 20, 2021: Added the OnePlus Nord 2 5G. Removed the Galaxy S21 5G, Xiaomi Mi 11, Zenfone 8 and the OnePlus 9R.
June 30, 2021: Added the Realme GT 5G and the nubia Red Magic 6R.
May 17, 2021: Replaced the Galaxy S20 FE with the Poco F3 as our Editor's choice. Replaced the Mi 10T Pro 5G with the Mi 11. Added the Galaxy S21 5G, the Zenfone 8 and the OnePlus 9R, and removed the Realme X50 Pro, the Redmi K30 Pro Zoom and the iQOO 3.
---
Best phones by category
?
Google Pixels are way overrated. They have a number of drawbacks (see reviews) yet there is an exagerated hype about them. They are the iphones of android world and this is not a praise
?
All of those fancy specs don't matter if the phone doesn't have the frequency bands to work where I live. I'm in the US so most of these great phones are just dreams.
I
How about vivo neo 7 pro, thats exactly like all of these and better value than some