Competition
The Xiaomi 11T retails for around €550, give or take, depending on country and retailer. That's a base model we're talking about, with 8GB of RAM and 128GB of storage, while doubling the storage will cost you €50 extra. That sets it up against some pretty tough competitors.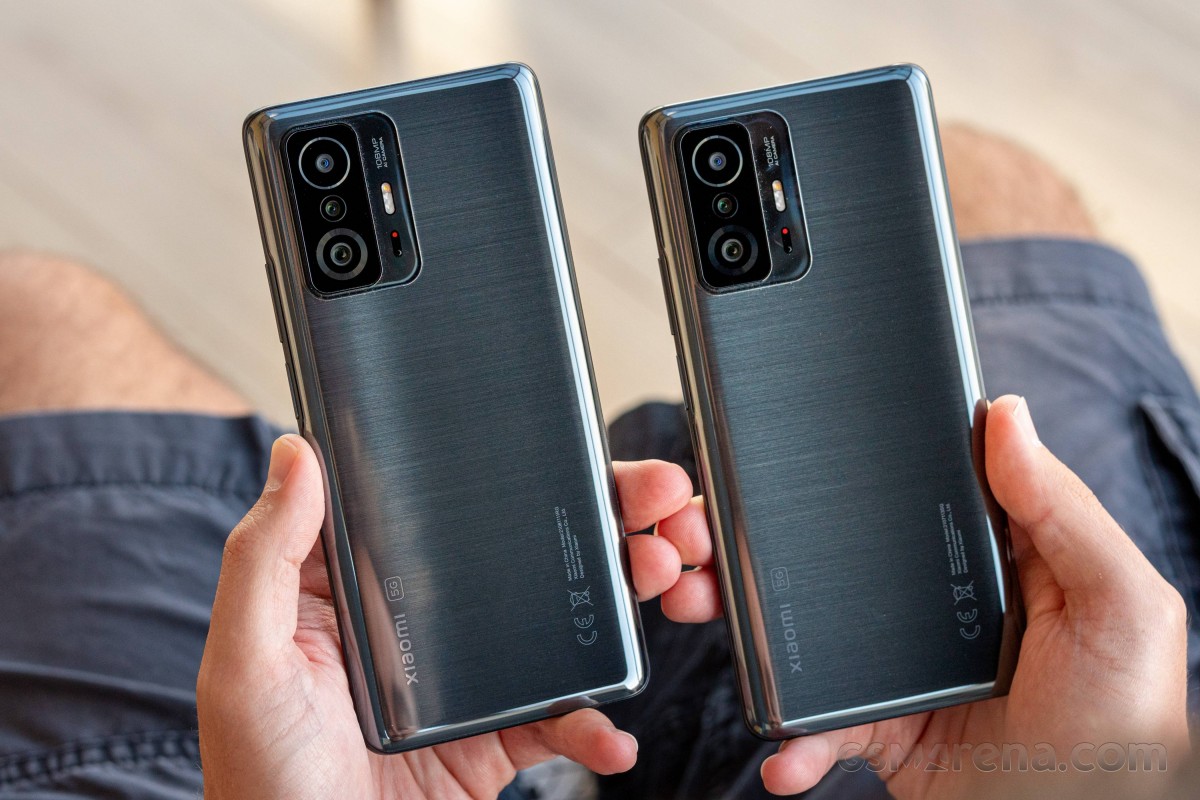 We don't know which is which at this point
First up, let's get it out of the way - the 11T Pro is a hard sell for its €100-150 price premium. The Pro does have advantages, but do they really matter? For starters, is Snapdragon 888 is a slightly more powerful chip but a certified heavy throttler. 21 minutes from 0 to 100% sure is nice, but it's not like the non-Pro's 41 minutes are sluggish, plus the vanilla model lasts longer to begin with in anything that isn't standby. Then it's the camera - despite supposedly identical hardware, we're liking the non-Pro's images better. So we'd save the €100 and go vanilla 11T.
Speaking of savings, the OnePlus Nord 2 5G in its fully tricked out 12GB/256GB configuration is already cheaper than the base model Xiaomi. The difference gets to a tangible €150 euro for a matching 8GB/128GB spec. The Nord's display isn't as good - not as bright and just 90Hz vs. 120Hz on the 11T, but that's not a dealbreaker. Battery life is comparable between the two, and the slightly quicker charging on the Nord is appreciated, but hardly a gamechanger against the Xiaomi. The 11T is easily the better cameraphone, and that might make it worth the price difference after all.
For roughly €500, you can snatch a Galaxy S20 FE, while an S20 FE 5G will set you back an extra €100. LTE-only or 5G capable, the somewhat aging Galaxy comes with a proper IP68 rating for dust and water protection and a real tri-set of cameras, including a 3x telephoto - no macro, though. It's can also record 4K60 video, with its selfie camera too, plus it has a memory slot. The 11T battery will comfortably outlast the Galaxy in screen-on activities, and will be much quicker to charge, too - that could be worth considering if you're constantly on your phone.
We'd like to mention the Realme GT Explorer Master here, but that's still not widely available, so how about the Realme GT 5G. The SD888 inside it will be faster than the Dimensity 1200 in the 11T, but only as long as you use it in shorter bursts and not in gaming - so does it really matter? The Xiaomi is the all-around better cameraphone of the two; its battery lasts longer where it matters, and its display is superior. The GT 5G isn't quite as good in any of these areas, but it's not half bad either, and the best bit about it is the price - about €100 less for a matching memory configuration.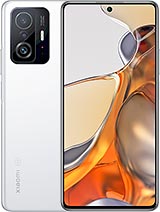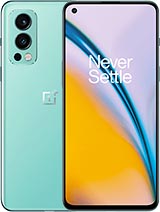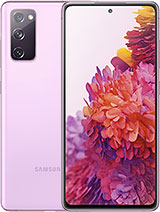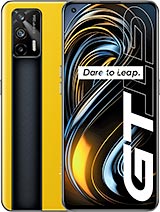 Xiaomi 11T Pro • OnePlus Nord 2 5G • Samsung Galaxy S20 FE 5G • Realme GT 5G
Verdict
Every now and then, the non-Pro is the better package than the higher-end model. We believe this to be the case with the Xiaomi 11T duo. The change of chipset from the SD888 to the Dimensity 1200 means lower peak performance but better sustained results, and aside from the high-ish battery drain in standby, we'd say the SoC swap is a success. The other battery numbers support that claim, and the 11T is so much better than the 11T Pro across the rest of the tests. Ah, but it only charges half as fast, taking a good 40minutes for a full top-off - only that's not bad at all.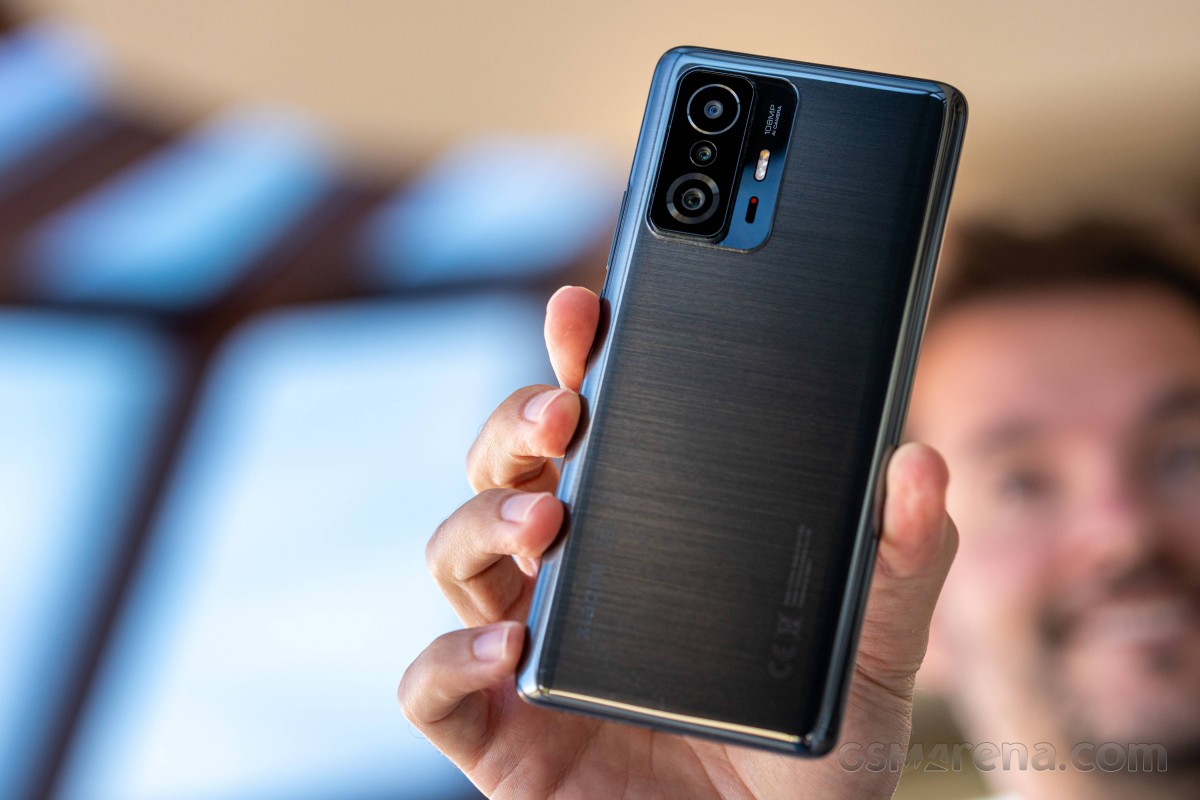 Then it's the display - it's missing Dolby Vision and MEMC, and its 120Hz refresh rate isn't as adaptive as on the Pro, but in our books, HDR10+ is good enough, and if this one gets such battery life, mostly at 120Hz, why bother adapting. And unless you absolutely must have 4K60 and 8K video, then the non-Pro's camera is better, too.
The stiff competition in this upper midrange segment means some careful consideration is due, so you get the right phone for your priorities. As a whole, we think the Xiaomi 11T is well worth its asking price.
Pros
Great build with attractive design, splash resistance.
Excellent OLED display - bright, sRGB-accurate, 120Hz, HDR.
Speedy charging.
Stable sustained GPU performance, okay at prolonged CPU loads too.
MIUI is great, 3 major Android updates promised.
Excellent photo quality day and night.
Great videos from the main camera.
Cons
Unremarkable standby performance ruins overall battery life.
Display is missing the Dolby Vision certification, MEMC, SD upscaling and the adaptive bit in the high refresh rate compared to the 11T Pro.
No OIS, telephoto camera or lossless zoom.
Meh selfie camera is long overdue for an upgrade.
Pricing

These are the best offers from our affiliate partners. We may get a commission from qualifying sales.

128GB 8GB RAM
$ 386.50
£ 259.00
256GB 8GB RAM
£ 379.00
€ 207.46
Show all prices