The 6.67-inch HRR AMOLED leaves little to be desired
The Xiaomi 11T Pro features a 6.67-inch FullHD AMOLED display that has all sorts of bells and whistles. It's got the 120Hz refresh rate and AdaptiveSync for automatic RR adjustment, as well as a 480Hz touch sampling rate. It can display a billion colors and covers the DCI-P3 color gamut, and it also supports HDR10+ - Dolby Vision is reserved for the 11T Pro.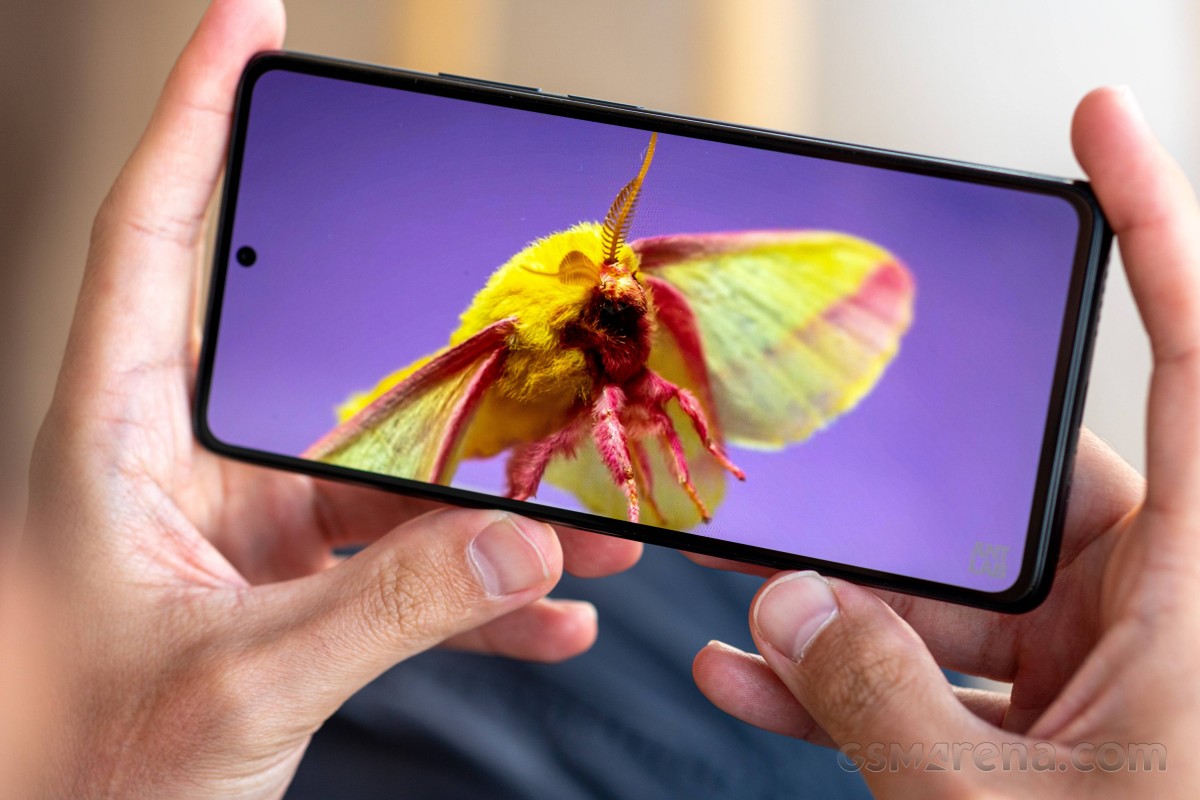 In our testing, the 11T put out 498nits when the brightness is left up to the user and shot up to 798nits when under bright ambient light and with Auto brightness enabled. The results are ever so slightly lower than on the Pro, but still in that premium OLED category as opposed to the more mainstream 600-ish units.
Display test
100% brightness
Black,cd/m2
White,cd/m2
Contrast ratio
Xiaomi Mi 11T
0
498
∞
Xiaomi Mi 11T (Max Auto)
0
798
∞
Xiaomi Mi 11T Pro
0
516
∞
Xiaomi Mi 11T Pro (Max Auto)
0
837
∞
Xiaomi Mi 10T Pro
0.432
512
1185:1
Xiaomi Mi 10T Pro (Max Auto)
0.541
630
1165:1
Realme GT Explorer Master
0
504
∞
Realme GT Explorer Master (Max Auto)
0
805
∞
Realme GT 5G
0
443
∞
Realme GT 5G (Max Auto)
0
650
∞
OnePlus 9
0
450
∞
OnePlus 9 (Max Auto)
0
821
∞
OnePlus Nord 2 5G
0
438
∞
OnePlus Nord 2 5G (Max Auto)
0
633
∞
Motorola Edge 20
0
466
∞
Motorola Edge 20 (Max Auto)
0
650
∞
Motorola Edge 20 Pro
0
484
∞
Motorola Edge 20 Pro (Max Auto)
0
673
∞
Samsung Galaxy S20 FE
0
404
∞
Samsung Galaxy S20 FE (Max Auto)
0
823
∞
vivo X60 Pro
0
472
∞
vivo X60 Pro (Max Auto)
0
818
∞
The Color scheme menu on the 11T gives you a ton of options for tweaking color reproduction, including several presets, a color wheel, and a multitude of sliders. The out of the box state has Vivid mode enabled, and that offers wide gamut coverage but only okayish accuracy for our DCI-P3 test swatches, a notable blue shift to white and grays (which you can counter with the color wheel). The Original color setting, on the other hand, offers nearly perfect calibration for sRGB content.
The Advanced settings menu has presets for DCI-P3 (about as accurate as Vivid mode above) and sRGB (noticeably less accurate than Original color). It's in here that you can find sliders for the RGB primary colors, Hue, Saturation, and Value, as well as Contrast and Gamma - wonderful options if you know what to do with them, but perhaps a bit overkill.
The AdaptiveSync display branding in Xiaomi promo material might be somewhat of an exaggeration since the 'adaptiveness' is quite crude - more basic, in fact, than on the 11T Pro, which caught us by surprise.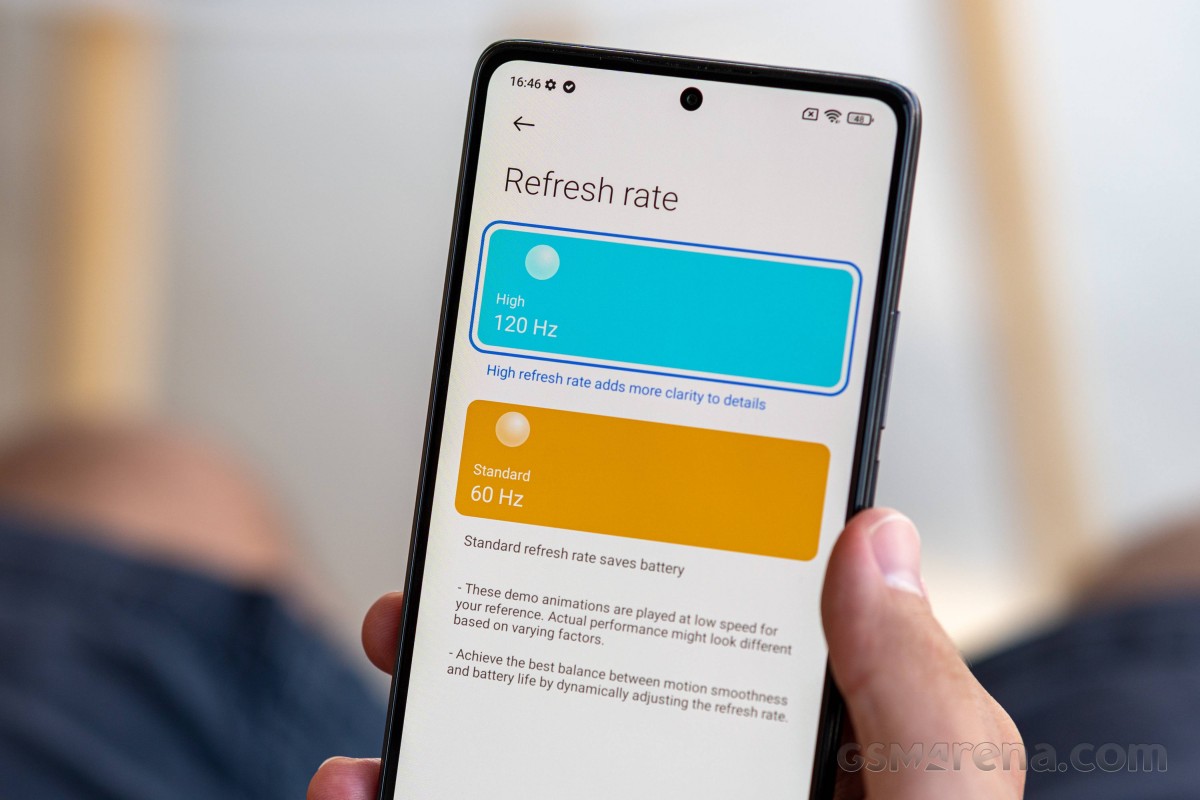 There is no touch-based refresh rate dependency, and whether you get 120Hz or 60Hz is entirely based on the app you're in. So you'd be getting a constant 120Hz throughout the UI, the system apps and Google's suite, browsers and social network apps. But video apps like YouTube, Netflix, Prime Video, even the built-in Mi Video player will cause an immediate switch to 60Hz.
Even the in-house Music app will be shown at 60Hz, though YouTube Music does get 120Hz treatment. That's not necessarily all bad, it's more of an observation, and as we'll go on to detail below, the constant 120Hz refresh rate doesn't appear to be that big of a battery drainer.
It's worth pointing out that high frame rate gaming is possible on the Xiaomi 11T. The screen maintained a 120Hz refresh rate in titles that support high frame rates themselves, and the Game Turbo tool reported fps rates above 60fps, often in the 100s.
The phone's HDR capability shows in both Netflix and YouTube, with both streaming services serving high-res HDR content. Amazon Prime Video wasn't as cooperative, and it maxed out at 480p in our experience - that sounds like Amazon hasn't whitelisted the phone to get the higher quality since it does support Widevine L1, and there shouldn't be other limitations.
The AI Image Engine we saw on the 11T Pro is missing on the 11T, though we won't be lamenting that. It includes features we would typically avoid anyway, such as video resolution upscaling, SDR-to-HDR conversion, and motion interpolation.
Xiaomi 11T battery life
The Xiaomi 11T relies on a 5,000mAh battery to keep the lights on, slightly more than the 4,500mAh mark where the bulk of competitors stand. It's also the same capacity as on the 11T Pro, but it needs to feed a SD888, which isn't exactly famous for its power efficiency.
Indeed, the 11T posted great numbers across the board, and it outlasted the 11T Pro in all disciplines. The 11T was good for Just over 23 hours of video playback (14:27h on the Pro) or 14:40h in Wi-Fi web browsing at a constant 120Hz (2 hours more than the Pro), and topped it all with nearly 30 hours of voice calls (7h more than the Pro). What the 11T isn't so good at is standby, and that hurt its overall result.
With all the numbers taken into account, the Xiaomi 11T's Endurance rating works out to 98h.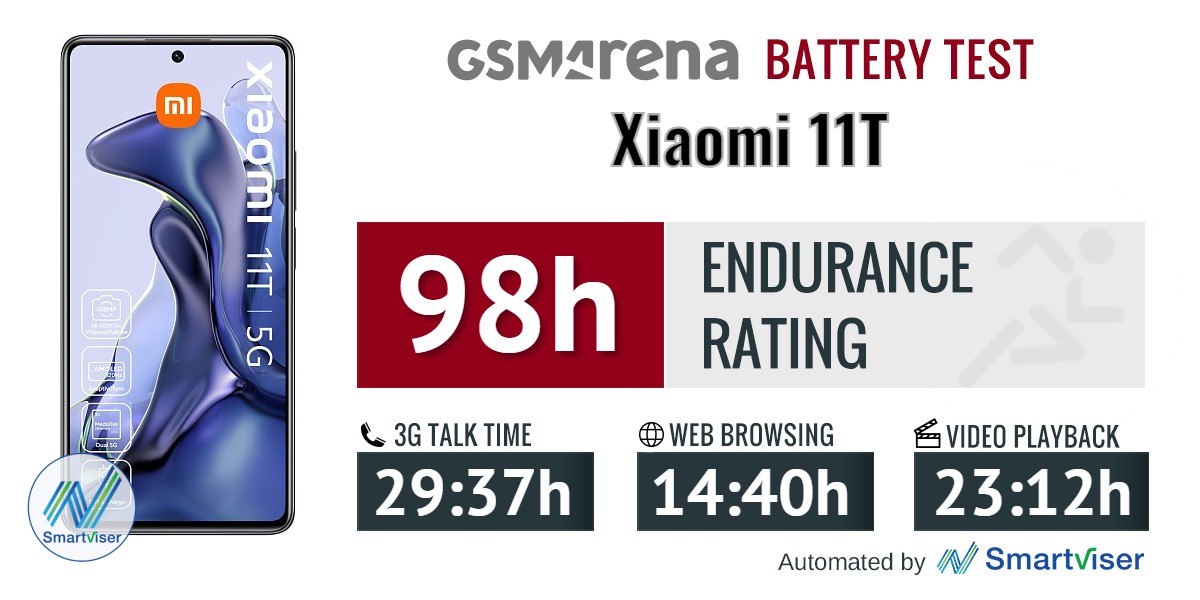 Our battery tests were automated thanks to SmartViser, using its viSerDevice app. The endurance rating denotes how long the battery charge will last you if you use the device for an hour of telephony, web browsing, and video playback daily. More details can be found here.
The web test was done at the highest refresh rate option, as usual, and on the Maximum setting, the phone maintained 120Hz constantly. Opting for the Standard setting and its 60Hz refresh rate resulted in a 10% longer battery life of 16:05h. We reckon the 120Hz result is easily good enough to render the 60Hz mode unnecessary, but if you absolutely need the extra minutes, the option is there for you.
Video test carried out in 60Hz refresh rate mode. Web browsing test done at the display's highest refresh rate whenever possible. Refer to the respective reviews for specifics. To adjust the endurance rating formula to match your own usage - check out our all-time battery test results chart.
Charging speed
Bundled with the 11T is Xiaomi's 67W adapter that can vary its output voltage between 5V and 20V and its current between 6.2A and 3.25A, respectively, when fast charging. It's pretty compact for its rated maximum power, which is nice.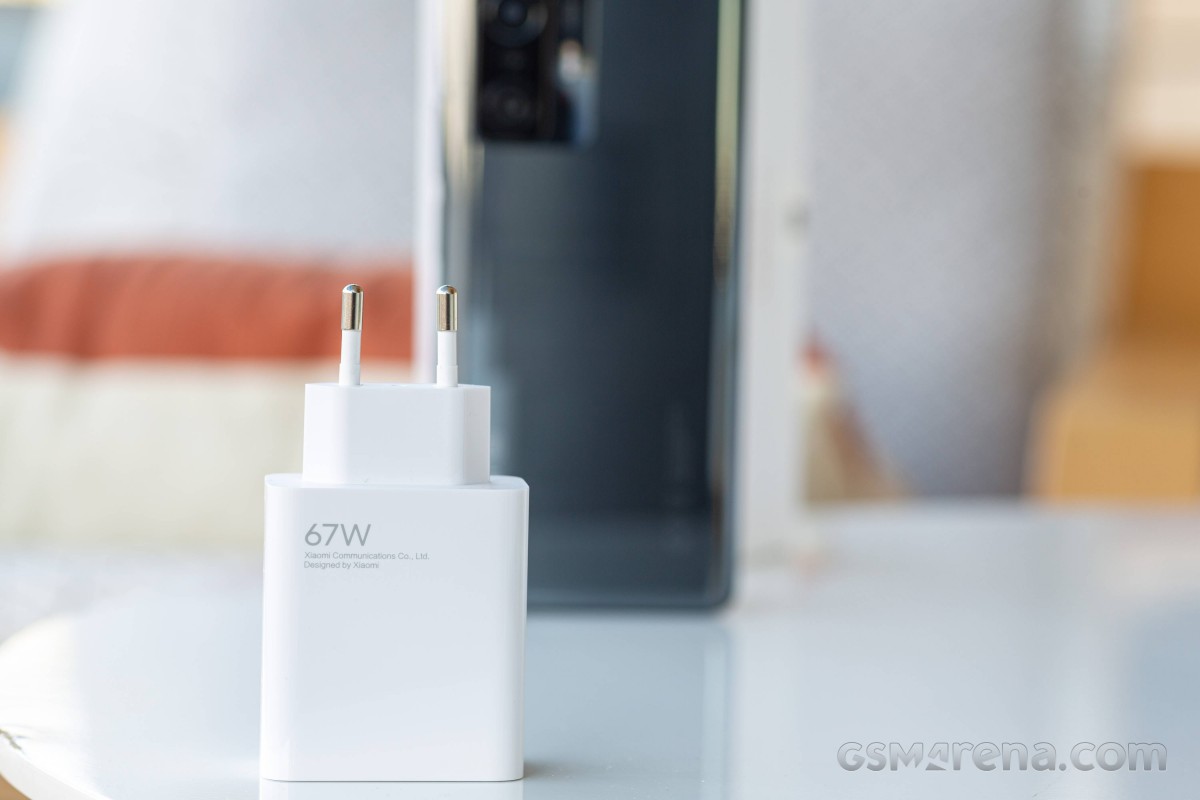 That adapter got us from 0% to 100% in 41 minutes - 5 minutes more than what Xiaomi promises, though we do carry out the test with the phone-powered one, and their number could be with the device switched off. Not that we're complaining about 40-minute charge times now. If you only have half an hour to spare for charging, the phone will get to 86% from flat in that amount of time. Sure, the Pro with its 120W charging and 20-ish minutes for a full top-up is quicker, but the non-Pro is good enough.
30min charging test (from 0%)
Higher is better
Xiaomi 11T Pro
100%
OnePlus 9
100%
Realme GT Master
100%
OnePlus Nord 2
98%
Realme GT Explorer Master
96%
Realme GT 5G (65W)
87%
Xiaomi 11T
86%
ZTE Axon 30 5G
76%
vivo X60 Pro
68%
Motorola Edge 20
68%
Galaxy S20 FE (25W)
57%
Motorola Edge 20 Pro
53%
Galaxy S20 FE (15W bundled)
37%
Time to full charge (from 0%)
Lower is better
Xiaomi 11T Pro
0:21h
OnePlus 9
0:29h
Realme GT Master
0:30h
OnePlus Nord 2
0:31h
Realme GT Explorer Master
0:33h
Realme GT 5G (65W)
0:39h
Xiaomi 11T
0:41h
ZTE Axon 30 5G
0:48h
vivo X60 Pro
0:58h
Motorola Edge 20
1:01h
Galaxy S20 FE (25W)
1:10h
Motorola Edge 20 Pro
1:17h
Galaxy S20 FE (15W bundled)
1:35h
Speaker test
The 11T features stereo speakers in a setup that's somewhat unusual outside of Xiaomi's lineup. There's one speaker on the bottom; that much is standard. Up top, on the other hand, the second speaker fires both up and forward to double as an earpiece. That does bring benefits in terms of creating a better soundstage, but it also means a lot of sound gets blasted away from your ear and into your surroundings when on a call, robbing you of some privacy.
Another peculiarity of the 11T is that the top and the bottom speaker are always left and right channels respectively, with no accelerometer-based switching depending on orientation. So if you happen to be holding the phone the wrong way, with the top to the right, the channels won't be correct.
The 11T does feature Dolby Atmos, and it is enabled by default. However, what's missing on this phone is any Harman/Kardon branding like you'd find on the 11T Pro. While you'd think that's a recipe for a dramatic difference between the two, that's not necessarily the case.
While the 11T was still slightly quieter, it did rank in the same 'Good' category for loudness as its more upmarket stablemate. On top of that, even though the OnePlus Nord 2 5G and the Realme GT Explorer Master rank higher for loudness, the Xiaomi 11T has a notably more balanced output with plenty of presence in the low end that the two above lack. Ultimately, the 11T has a solid speaker setup that is among the best ones in the segment despite its quirks.
Use the Playback controls to listen to the phone sample recordings (best use headphones). We measure the average loudness of the speakers in LUFS. A lower absolute value means a louder sound. A look at the frequency response chart will tell you how far off the ideal "0db" flat line is the reproduction of the bass, treble, and mid frequencies. You can add more phones to compare how they differ. The scores and ratings are not comparable with our older loudspeaker test. Learn more about how we test here.