Android 11 with MIUI 12.5
The Xiaomi 11T boots Android 11 with MIUI 12.5 at the time of release. MIUI 13 should be arriving by the end of 2021, and logic points to the newest phones being among the first to get it. Unrelated to that, with the new 11T series Xiaomi announced its commitment to delivering three major Android updates and four years of security patches - a most welcome development.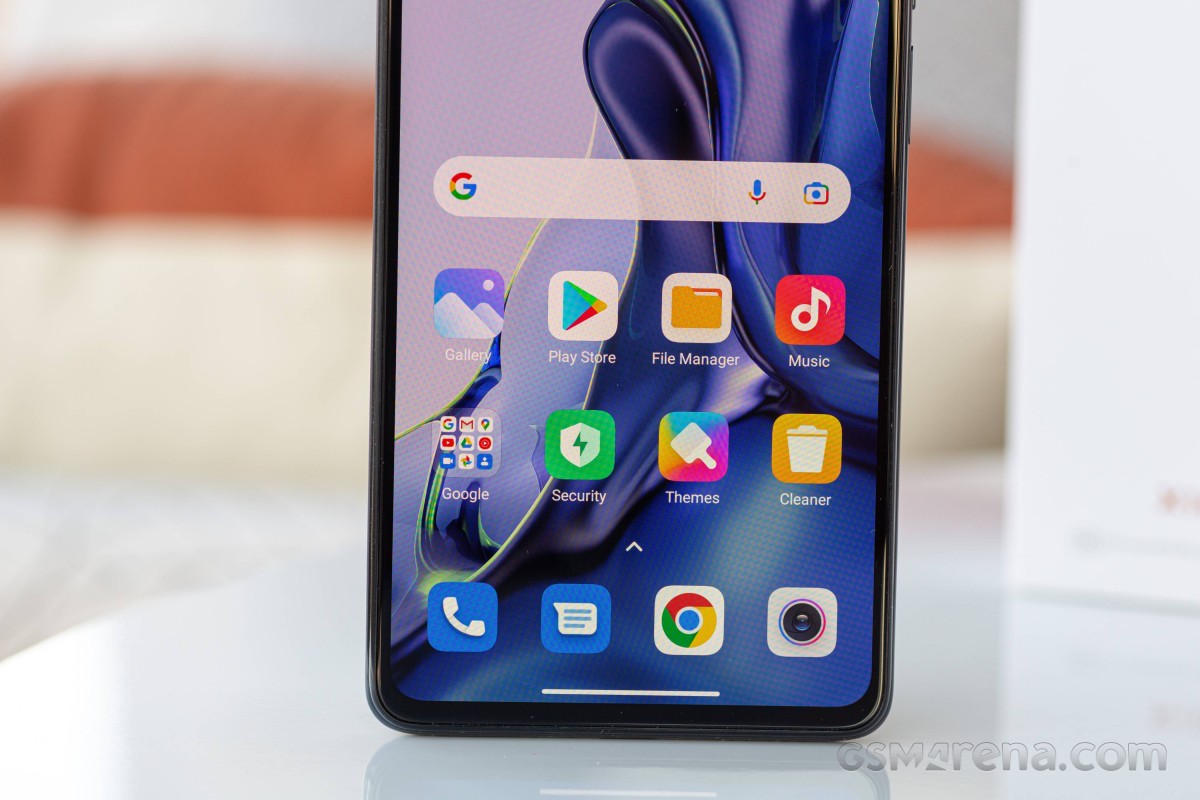 Meanwhile, the current MIUI 12 has been around for quite some time, and it is plenty familiar already.
Starting at the Always-on display on the 11T, it offers the usual choice of being always on, appear according to a schedule, or just show up for 10s after a tap. MIUI 12 has a ton of AOD themes you can choose from, and you can customize many of those and make them truly yours. The Always-on display also supports breathing light - the curved edges of the display will flash with colors upon new notifications.
Biometric security is taken care of by the side-mounted fingerprint scanner. The reader is easy to set up, blazing-fast, and the accuracy is superb. We advise you to set the unlock method to Press as the always-on reader will often attempt reading your palm and/or other fingers and eventually disable the fingerprint unlock until you input your PIN. A 2D Face Unlock is available too, but it is far less secure than the fingerprint option.
The homescreens are business as usual - they are populated with shortcuts, folders, and widgets. The leftmost pane, if enabled, is Google's Discover.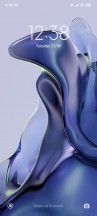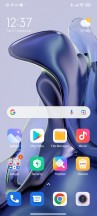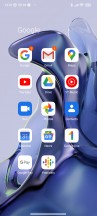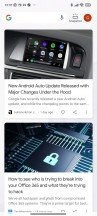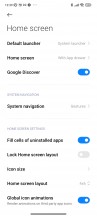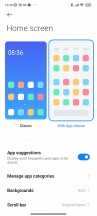 Lockscreen • Homescreen • Folder view • Google Discover • Homescreen settings • Navigation
The high-end phones running on MIUI 12 support a feature called Super Wallpapers. It's a type of dynamic wallpaper that zooms each time you pass a certain screen. While not something groundbreaking, it does provide a very coherent visual experience that is a feast for the eyes and, in the meantime - connects the parts of MIUI in a subtle yet striking way.
There are now five Super Wallpapers available, the newly added Snowy Peaks joining the older Home (Earth), The Red Planet (Mars), Faraway rings (Saturn), and Geometry.
MIUI 12 offers an app drawer, and it automatically organizes your apps into categories. The first is All, meaning it contains all apps. Then follow Communication, Entertainment, Photography, Tools, New, and Business. You can edit these categories or even disable them altogether.
You can disable the app drawer entirely if that's not your thing.
Another interesting feature is the Notification shade split into Notification Center and Control Center. It's clearly inspired by iOS, and you even summon them in the same fashion - pull down from the left part of the screen for the Notification Center, pull down from the right for the Control Center.
If you are not fond of this split - you can disable the Control Center, and the shade will revert to its normal looks and operation.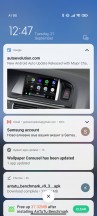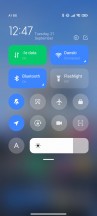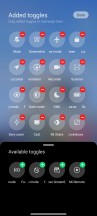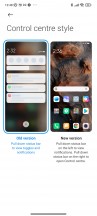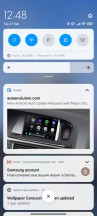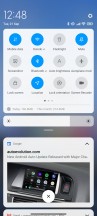 Notification Center • Control Center • Control Center • Options • Classic Notification Shade
The default task switcher is the MIUI-specific one that shows all your recent apps in two columns. Tap and hold on a card for the split-screen shortcut, or just swipe it left or right to close it. There is a Floating Windows button on top, which lets you put a compatible app in a floating state, but you can only have one floating window at a time.
If you don't like the MIUI task switcher, you can set a classic horizontally scrollable layout with a rolodex of vertical cards.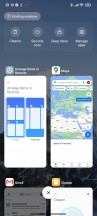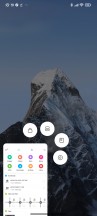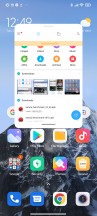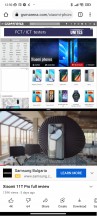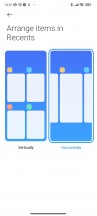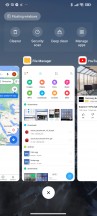 Task Switcher • Window options • Floating Window • Split screen • Traditional is an option
Themes are a huge part of MIUI, and they are available on the 11T's version of the software. You can download new ones from the Themes store, and they can change wallpapers, ringtones, system icons, and even the always-on display style.
Xiaomi enhanced MIUI 12 with a couple of additional privacy options. Now, when sharing stuff, like photos and videos, you can opt to remove location info and/or other metadata (incl. device info) and thus protect your privacy better. It will ask you the first time you choose to share stuff, but the setting is there in the menu if you change your mind afterwards.
MIUI also offers a Security app. It can scan your phone for malware, manage your blacklist, manage or restrict your data usage, configure battery behavior, and free up some RAM. It can also manage the permissions of your installed apps, allows you to define the battery behavior of selected apps, and applies restrictions only to the apps you choose.
Proprietary Gallery, Music, and Video player are included, and in some regions, the music and video apps may include paid streaming options. Mi Remote for the IR blaster is available, too.
The Notes app has been enhanced with even more Task checklists and subtask options.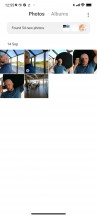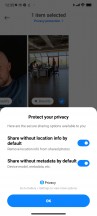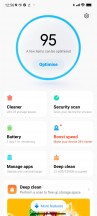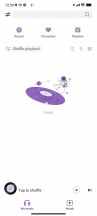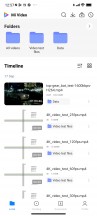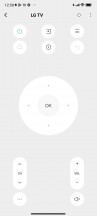 Gallery • Privacy Settings • Security • Music • Video • Mi Remote
MIUI 12 supports Dark Mode, too, and you can even force it on wallpapers or restrict its application on incompatible individual apps.
Synthetic benchmarks
The 11T is powered by the Dimensity 1200, Mediatek's top-of-the-line 5G-capable chipset that's manufactured on a 6nm production line. It features a 1+3+4 CPU with one Cortex-A78-based Ultra core that's clocked at up to 3.0GHz, three more A78s limited to 2.6GHz and four A55s reaching up to 2GHz. A Mali-G77 MC9 GPU is in charge of graphics. Two storage versions are available - 128GB (our review unit) and 256GB, and both come with 8GB of RAM.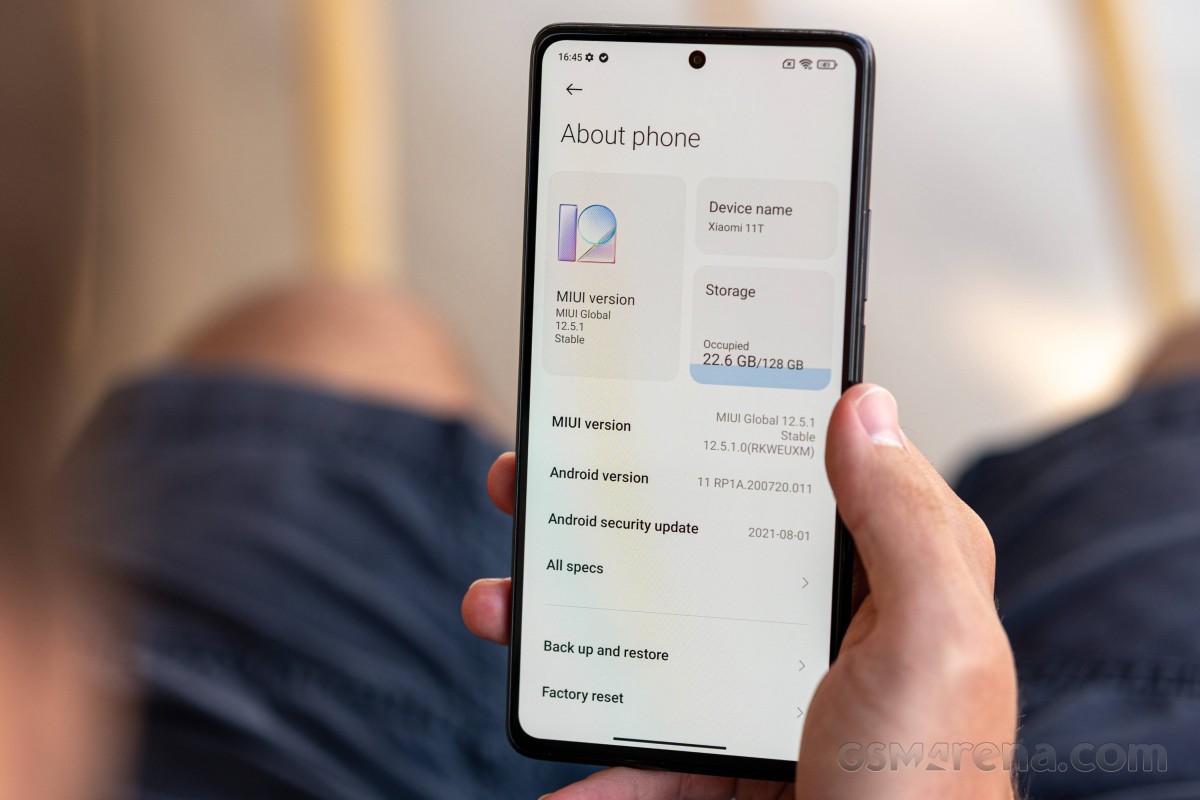 In GeekBench, the 11T posted slightly lower than usual numbers (for a Dimensity 1200) under single-core loads with the OP Nord 2 and the Reno6 Pro 5G outperforming it slightly, and the Realme X7 Max 5X even further up. SD778 and SD780 handsets also have a minor advantage over the 11T. SD800-series devices are significantly more powerful, be it the 870 or 888 that ticks inside them.
GeekBench 5 (single-core)
Higher is better
Realme GT 5G
1139
ZTE Axon 30 Ultra 5G
1124
Xiaomi Mi 11i
1114
vivo X60 Pro
1034
Realme GT Explorer Master
1020
ZTE Axon 30 5G
985
Motorola Edge 20 Pro
972
Motorola Moto G100
950
OnePlus Nord 2
814
Oppo Reno6 Pro 5G
813
Xiaomi Mi 11 Lite 5G
803
Xiaomi 11 Lite 5G NE
787
Realme GT Master
785
Samsung Galaxy A52s 5G
771
Motorola Edge 20
762
Xiaomi 11T
742
Poco X3 GT
693
Under multi-core loads, the Xioami 11T is, in fact, slightly ahead of the other Dimensity 1200 phones we've tested though it still loses to SD870 or SD888 models.
GeekBench 5 (multi-core)
Higher is better
Xiaomi Mi 11i
3641
ZTE Axon 30 Ultra 5G
3582
Realme GT 5G
3555
vivo X60 Pro
3490
ZTE Axon 30 5G
3160
Motorola Edge 20 Pro
3140
Realme GT Explorer Master
3050
Realme GT Master
2917
Xiaomi Mi 11 Lite 5G
2909
Motorola Moto G100
2860
Xiaomi 11T
2834
Xiaomi 11 Lite 5G NE
2832
Samsung Galaxy A52s 5G
2801
OnePlus Nord 2
2792
Oppo Reno6 Pro 5G
2621
Motorola Edge 20
2550
Poco X3 GT
2310
In Antutu, the 11T is on par with the Nord 2, the overachieving Realme X7 Max 5G, meanwhile, posting uncharacteristically high scores for the chipset. SD778 handsets are behind the Xiaomi here, while the high-end Snapdragon-powered rivals are way ahead.
AnTuTu 9
Higher is better
Realme GT 5G
810433
ZTE Axon 30 Ultra 5G
804626
Xiaomi Mi 11i
779481
vivo X60 Pro
720352
Realme GT Explorer Master
717879
Motorola Edge 20 Pro
711090
ZTE Axon 30 5G
701991
Motorola Moto G100
681559
OnePlus Nord 2
598022
Xiaomi 11T
590837
Poco X3 GT
578505
Realme GT Master
529263
Xiaomi 11 Lite 5G NE
527663
Xiaomi Mi 11 Lite 5G
522490
Samsung Galaxy A52s 5G
506432
Motorola Edge 20
488574
In graphics benchmarks, the 11T is tightly packed with the rest of the 1200 Dimensities. Its Mali GPU is a tangible upgrade over the Adrenos in the SD700-series, and it's a match for the Adreno 650 in the SD870-powered phones in most tasks. The Adreno 660 in the SD888 still reigns supreme.
GFX Manhattan ES 3.1 (offscreen 1080p)
Higher is better
ZTE Axon 30 Ultra 5G
118
Realme GT 5G
112
Realme GT Explorer Master
99
ZTE Axon 30 5G
96
Motorola Edge 20 Pro
92
Motorola Moto G100
91
Oppo Reno6 Pro 5G
81
Xiaomi 11T
77
OnePlus Nord 2
75
Poco X3 GT
74
Xiaomi Mi 11 Lite 5G
65
Motorola Edge 20
57
Realme GT Master
56
Xiaomi 11 Lite 5G NE
56
Samsung Galaxy A52s 5G
56
GFX Manhattan ES 3.1 (onscreen)
Higher is better
ZTE Axon 30 Ultra 5G
93
ZTE Axon 30 5G
84
Motorola Edge 20 Pro
83
Motorola Moto G100
79
Xiaomi 11T
72
Poco X3 GT
68
Oppo Reno6 Pro 5G
61
Realme GT Explorer Master
60
Realme GT 5G
60
OnePlus Nord 2
57
Xiaomi Mi 11 Lite 5G
57
Motorola Edge 20
51
Xiaomi 11 Lite 5G NE
49
Samsung Galaxy A52s 5G
49
Realme GT Master
46
GFX Car Chase ES 3.1 (offscreen 1080p)
Higher is better
ZTE Axon 30 Ultra 5G
69
Realme GT 5G
65
ZTE Axon 30 5G
60
Realme GT Explorer Master
59
Motorola Edge 20 Pro
57
Motorola Moto G100
56
Oppo Reno6 Pro 5G
48
Xiaomi 11T
47
OnePlus Nord 2
46
Poco X3 GT
44
Xiaomi Mi 11 Lite 5G
40
Realme GT Master
33
Motorola Edge 20
33
Xiaomi 11 Lite 5G NE
33
Samsung Galaxy A52s 5G
33
GFX Car Chase ES 3.1 (onscreen)
Higher is better
Realme GT 5G
55
ZTE Axon 30 Ultra 5G
54
ZTE Axon 30 5G
51
Realme GT Explorer Master
50
Motorola Edge 20 Pro
49
Motorola Moto G100
47
Oppo Reno6 Pro 5G
42
Xiaomi 11T
40
OnePlus Nord 2
38
Poco X3 GT
38
Xiaomi Mi 11 Lite 5G
35
Motorola Edge 20
29
Xiaomi 11 Lite 5G NE
28
Samsung Galaxy A52s 5G
28
Realme GT Master
27
GFX Aztek Vulkan High (onscreen)
Higher is better
ZTE Axon 30 Ultra 5G
41
Realme GT 5G
38
Motorola Edge 20 Pro
35
ZTE Axon 30 5G
34
Motorola Moto G100
33
Realme GT Explorer Master
33
Xiaomi 11T
29
Poco X3 GT
28
OnePlus Nord 2
26
Motorola Edge 20
20
Xiaomi 11 Lite 5G NE
20
Samsung Galaxy A52s 5G
20
Realme GT Master
19
GFX Aztek ES 3.1 High (onscreen)
Higher is better
ZTE Axon 30 Ultra 5G
39
Realme GT 5G
39
ZTE Axon 30 5G
33
Realme GT Explorer Master
32
Motorola Moto G100
31
Motorola Edge 20 Pro
31
OnePlus Nord 2
30
Xiaomi 11T
30
Poco X3 GT
29
Motorola Edge 20
19
Xiaomi 11 Lite 5G NE
19
Samsung Galaxy A52s 5G
19
Realme GT Master
18
3DMark Wild Life Vulkan 1.1 (offscreen 1440p)
Higher is better
Realme GT 5G
5872
ZTE Axon 30 Ultra 5G
5714
Realme GT Explorer Master
4255
Oppo Reno6 Pro 5G
4236
OnePlus Nord 2
4224
Motorola Edge 20 Pro
4206
ZTE Axon 30 5G
4191
Xiaomi 11T
4172
Motorola Moto G100
4114
Poco X3 GT
3991
Xiaomi Mi 11 Lite 5G
3136
Motorola Edge 20
2494
Samsung Galaxy A52s 5G
2491
Realme GT Master
2481
Xiaomi 11 Lite 5G NE
2477
The Xiaomi 11T showed good stability under sustained load in the GPU department, posting a 93% stability rating in the 3DMark Wild Life stress test. It was a bit shakier under CPU load, its performance dropping to around 70% of the initial result. Overall, the 11T and its Dimensity 1200 are dependable and deliver plenty of performance for the money, if not quite up to SD870 level.