Android 13 and One UI 5.1 is a nice combo
The Galaxy A54 runs Android 13, augmented by Samsung's One UI, in its latest 5.1 incarnation. Samsung promises "up to" 4 years of OS upgrades and 5 years of security patches. That's more or less the flagship treatment - the S23s run the same combo and gets the same update policy.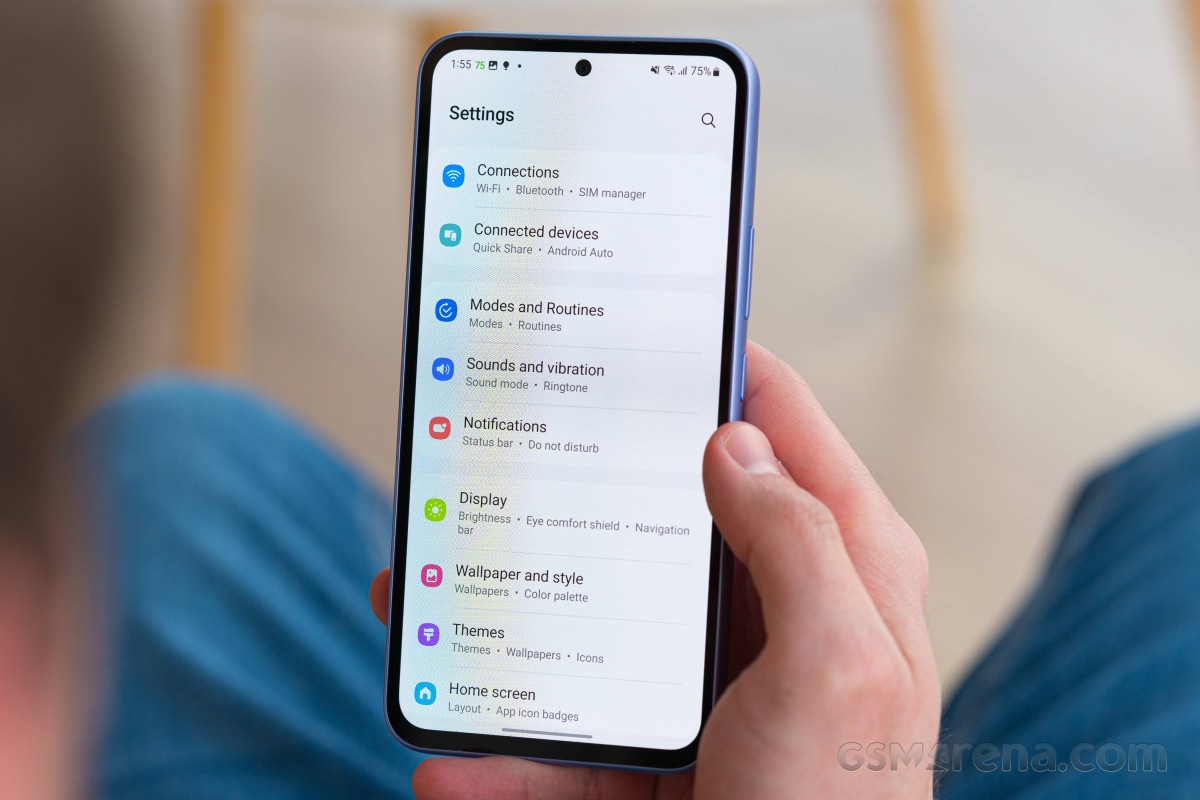 In any case, you'd be getting the same looks as higher-end Galaxy models, minus some of the more niche features. The list of proprietary Samsung features that the S series have and the A54 doesn't is shorter than on the A14 - essentially, only DeX is missing.
You can choose between a few clock styles of the Always-on Display or opt for an Image Clock. Music info is also supported. The AoD can be always-off, always-on, scheduled, shown only when new notifications are available, or you can opt for tap-to-show for 10s.
The under-display fingerprint reader will likely be the primary method of unlocking for most, but you can still use face unlock either instead of or alongside it. It can be more convenient in certain situations, but it generally is less secure since it's just using the selfie camera. You can have the fingerprint icon displayed on the AoD or not, and you can have the reader itself always on or only available after you wake up the screen.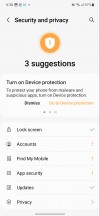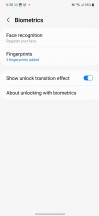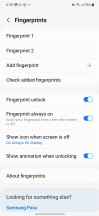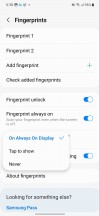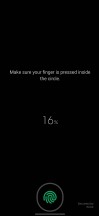 Security options • Biometrics • Fingerprint settings • Fingerprint settings • Fingerprint enrollment
The experience when dealing with the fundamentals is straightforward and familiar. The app drawer, notification shade, recent apps, lock screen and home screen, are all business as usual, as is the general Settings menu.
The accent color palette is automatically generated based on your wallpaper, and the system gives you a wide choice of color combinations and that palette can also be applied to app icons.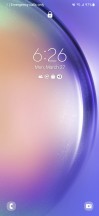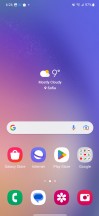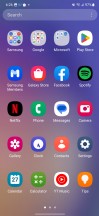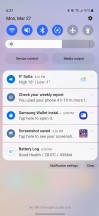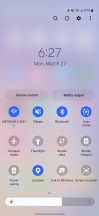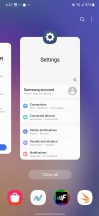 One UI 5.1 basics: Lockscreen • Homescreen • App drawer • Notifications • Quick settings • Task switcher
Widgets can now be stacked, and you can switch between stacked widgets with a simple swipe. Keep in mind that not all widgets support stacking, so app developers might have to get around that pretty soon.
Modes and routines, a feature similar to Apple's Focus, is present on the Galaxy A14 5G's Core build too. You can choose a mode based on what you are doing right now and execute certain actions, change sound profiles, display settings, notifications, etc. For instance, the driving Routines profile can be set up to turn on DnD mode and launch Spotify automatically, for example. You can even trigger certain Routines with actions of your choice, such as turning on the hotspot or airplane mode.
Familiar proprietary Samsung features include the Edge panels - the panes that show up when you swipe in from the side and provide tools and shortcuts to apps and contacts. Game launcher, the hub for all your games, also provides options for limiting distraction when gaming is here to stay as well. An in-house Gallery app and a proprietary file manager are both present, as well as Samsung's Internet web browser. Split-screen multitasking is also an option.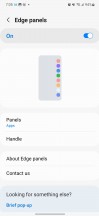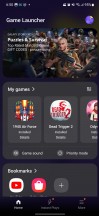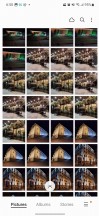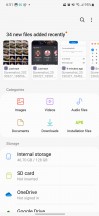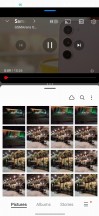 Edge panel • Game Launcher • Gallery • File manager • Split-screen
Performance and benchmarks
One of the more significant upgrades the Galaxy A54 brings is the chipset. Samsung's in-house Exynos 1380, manufactured on a 5nm process, comes with a more powerful CPU and GPU compared to the Exynos 1280 that powered the A53. A case could be made that the A54 simply returns things to the baseline set by the A52s (Snapdragon 778G), which the A53 downgraded from, but if we put a one-year limit on our memory, the A54 is a step up.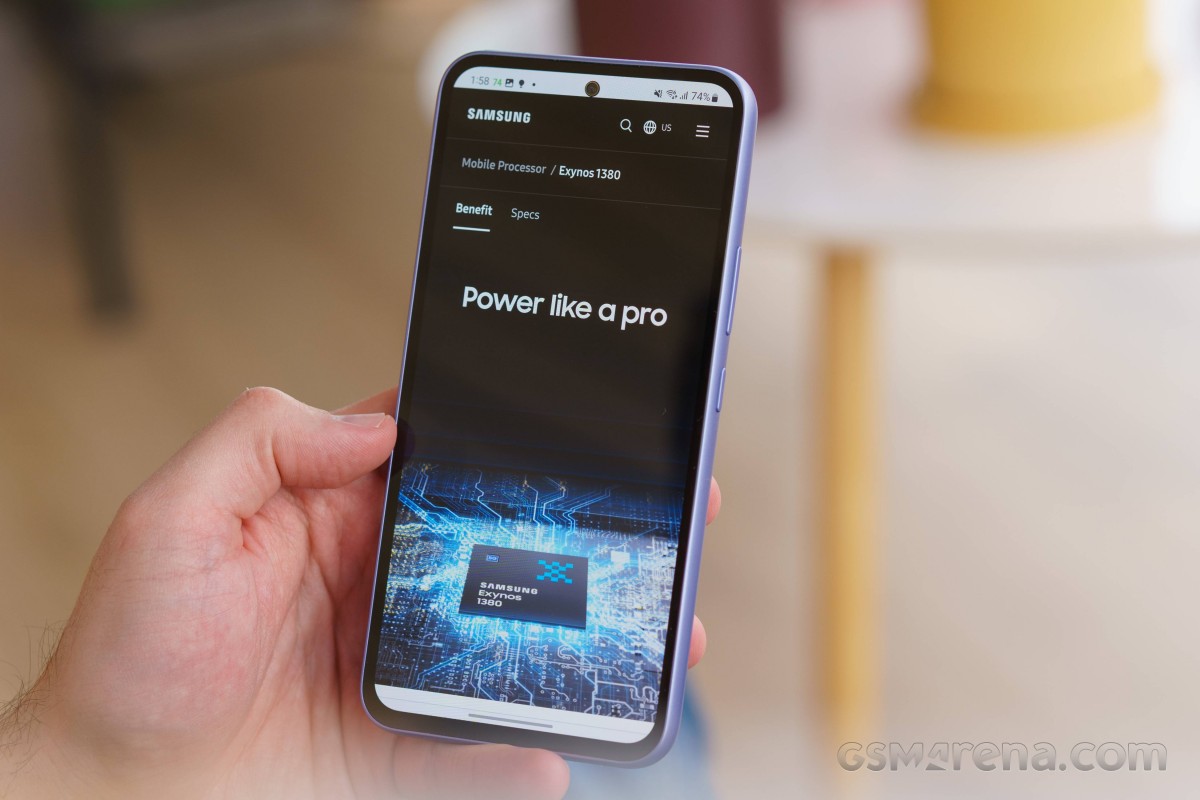 So the CPU here has a two-cluster arrangement with 4x Cortex-A78 cores clocked at up to 2.4GHz and another 4x Cortex-A55 rated at up to 2.0GHz. The E1280's CPU has the same types of cores, ticking at the same frequencies, only it's a 2+6 setup - so multi-core CPU-intense tasks should benefit from the new chipset. For reference, the SD778G in the A52s has a 1+3+4 core setup, with 4 A78s and 4 A55s, with altogether slightly lower frequencies.
The GPU that's part of the E1380 is a Mali-G68 MP5 - that's 1 more MP than the A1280's GPU, indicating an extra core.
Memory configurations start from 128GB of storage and 6GB of RAM, and top out at 256GB/8GB. Our review unit is the medium option - 128GB/8GB.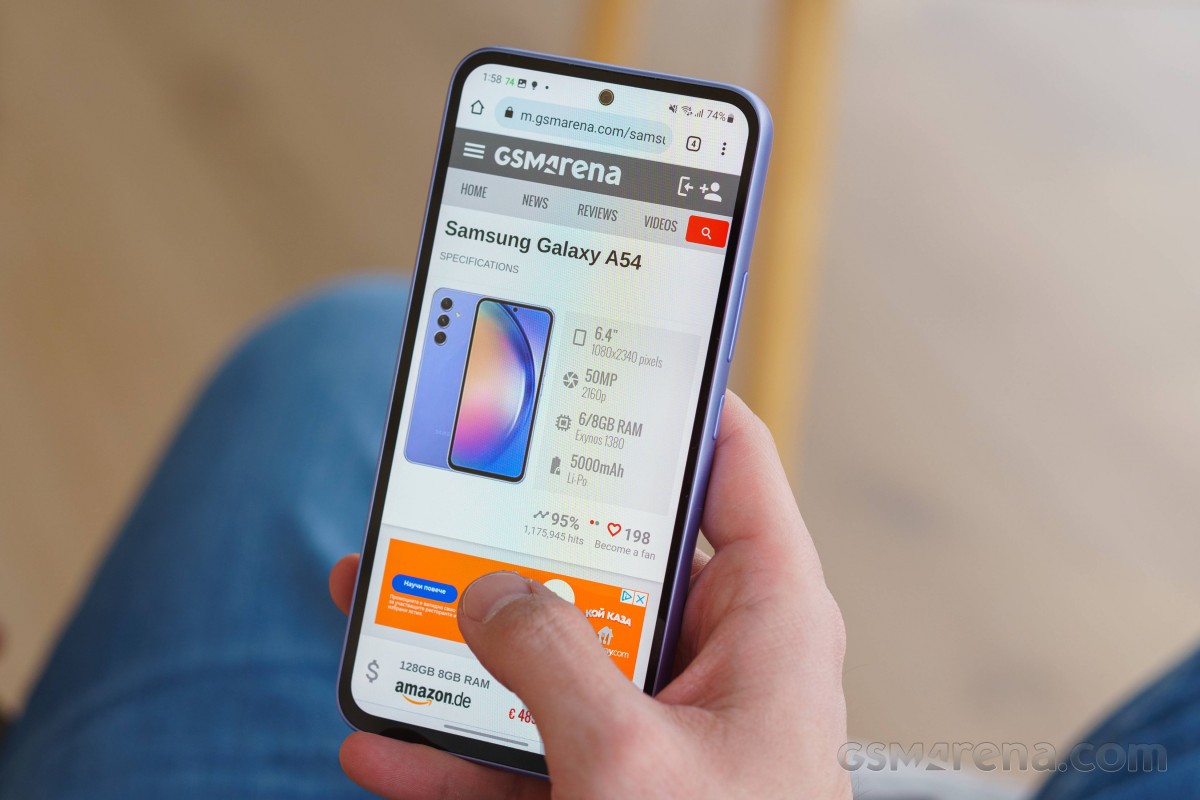 Indeed, it takes a quick look at the GeekBench results to notice that the A54 is more or less on par with the A52s, both ahead of the A53. The Galaxy is bested by the Nothing Phone (1) and the Xiaomi 13 Lite in both single-core and multi-core testing, and such is the case with the Pixel 6 ('a' or otherwise) too, with the Google phones having a substantial advantage under single-core load. The Galaxy does beat both lower-end Motorolas though, the Moto G82 and the Edge 30 Neo.
GeekBench 5 (single-core)
Higher is better
Motorola Edge 30 Fusion
1073
Google Pixel 6a
1047
Google Pixel 6
1030
Xiaomi 12T
925
Realme 10 Pro+
842
Nothing Phone (1)
820
Xiaomi 13 Lite
795
Galaxy A34
781
Galaxy A52s 5G
771
Galaxy A54
770
Galaxy A53 5G
743
Moto G82
671
Motorola Edge 30 Neo
670
Nokia X30
663
OnePlus Nord 2T
491
GeekBench 5 (multi-core)
Higher is better
Xiaomi 12T
3756
Motorola Edge 30 Fusion
3458
Nothing Phone (1)
3024
Xiaomi 13 Lite
2936
Google Pixel 6
2899
Google Pixel 6a
2876
Galaxy A52s 5G
2801
OnePlus Nord 2T
2790
Galaxy A54
2703
Realme 10 Pro+
2371
Galaxy A34
2316
Moto G82
1977
Motorola Edge 30 Neo
1964
Nokia X30
1920
Galaxy A53 5G
1891
GeekBench 6 (single-core)
Higher is better
OnePlus Nord 2T
1107
Galaxy A34
1034
Galaxy A54
1008
Galaxy A53 5G
947
Xiaomi 13 Lite
938
GeekBench 6 (multi-core)
Higher is better
OnePlus Nord 2T
3350
Galaxy A54
2797
Galaxy A34
2518
Xiaomi 13 Lite
2434
Galaxy A53 5G
1941
The generational relationship between the last three A5x phones remains the same in Antutu, where the A54 is essentially tied with the A52s, while the A53 is trailing. The Xiaomi, Nothing, and Google phones are ahead of the A54 by various margins, though the Edge 30 Neo and Moto G82 are still behind the Galaxy.
AnTuTu 9
Higher is better
Motorola Edge 30 Fusion
827929
Xiaomi 12T
780204
Google Pixel 6a
712092
Google Pixel 6
676831
OnePlus Nord 2T
604467
Nothing Phone (1)
592789
Xiaomi 13 Lite
534143
Realme 10 Pro+
522376
Galaxy A54
506678
Galaxy A52s 5G
506432
Galaxy A34
472126
Nokia X30
403732
Motorola Edge 30 Neo
380818
Moto G82
380812
Galaxy A53 5G
379313
The advantage of an extra GPU core over the predecessor shows in graphics benchmarks, where the A54 results correlate essentially precisely to the number of GPU cores - the A54's numbers are 25% higher. It's somewhat amusing that the A52s still has a slight edge, two year's later. Similarly to the other tests, the Galaxy proves more powerful than the Motos but not as good as the Phone (1), the Xiaomi 13 Lite, or the Pixels.
GFX Aztek ES 3.1 High (onscreen)
Higher is better
Google Pixel 6a
47
Google Pixel 6
46
Motorola Edge 30 Fusion
43
OnePlus Nord 2T
31
Nothing Phone (1)
23
Xiaomi 13 Lite
23
Galaxy A54
19
Galaxy A52s 5G
19
Galaxy A34
17
Realme 10 Pro+
16
Galaxy A53 5G
15
Moto G82
12
Motorola Edge 30 Neo
12
Nokia X30
12
GFX Aztek ES 3.1 High (offscreen 1440p)
Higher is better
Google Pixel 6
30
Google Pixel 6a
29
Motorola Edge 30 Fusion
26
OnePlus Nord 2T
22
Nothing Phone (1)
15
Xiaomi 13 Lite
15
Galaxy A54
13
Galaxy A52s 5G
13
Realme 10 Pro+
11
Galaxy A34
11
Galaxy A53 5G
10
Moto G82
7.9
Nokia X30
7.9
Motorola Edge 30 Neo
7.8
GFX Aztek Vulkan High (onscreen)
Higher is better
Google Pixel 6
43
Google Pixel 6a
39
Motorola Edge 30 Fusion
35
OnePlus Nord 2T
29
Nothing Phone (1)
23
Xiaomi 13 Lite
23
Galaxy A52s 5G
20
Galaxy A54
19
Galaxy A34
16
Realme 10 Pro+
15
Galaxy A53 5G
15
Moto G82
13
Motorola Edge 30 Neo
12
Nokia X30
12
GFX Aztek Vulkan High (offscreen 1440p)
Higher is better
Google Pixel 6a
32
Google Pixel 6
30
Motorola Edge 30 Fusion
23
OnePlus Nord 2T
20
Xiaomi 13 Lite
17
Nothing Phone (1)
16
Galaxy A52s 5G
14
Galaxy A54
13
Realme 10 Pro+
10
Galaxy A53 5G
10
Galaxy A34
10
Moto G82
8.2
Motorola Edge 30 Neo
8.2
Nokia X30
8.2
GFX Car Chase ES 3.1 (onscreen)
Higher is better
Motorola Edge 30 Fusion
62
Google Pixel 6
57
Google Pixel 6a
51
OnePlus Nord 2T
40
Nothing Phone (1)
33
Xiaomi 13 Lite
33
Galaxy A52s 5G
28
Galaxy A54
25
Galaxy A34
23
Realme 10 Pro+
21
Galaxy A53 5G
19
Nokia X30
17
Moto G82
16
Motorola Edge 30 Neo
16
GFX Car Chase ES 3.1 (offscreen 1080p)
Higher is better
Google Pixel 6
66
Google Pixel 6a
66
Motorola Edge 30 Fusion
63
OnePlus Nord 2T
50
Xiaomi 13 Lite
39
Nothing Phone (1)
37
Galaxy A52s 5G
33
Galaxy A54
31
Realme 10 Pro+
27
Galaxy A34
26
Galaxy A53 5G
23
Moto G82
21
Motorola Edge 30 Neo
20
Nokia X30
20
GFX Manhattan ES 3.1 (onscreen)
Higher is better
Google Pixel 6
90
Motorola Edge 30 Fusion
82
Google Pixel 6a
60
Xiaomi 13 Lite
59
Nothing Phone (1)
58
OnePlus Nord 2T
56
Galaxy A52s 5G
49
Galaxy A54
46
Galaxy A34
41
Realme 10 Pro+
38
Galaxy A53 5G
35
Moto G82
30
Nokia X30
30
Motorola Edge 30 Neo
29
GFX Manhattan ES 3.1 (offscreen 1080p)
Higher is better
Google Pixel 6
117
Google Pixel 6a
116
Motorola Edge 30 Fusion
81
OnePlus Nord 2T
80
Nothing Phone (1)
65
Xiaomi 13 Lite
64
Galaxy A52s 5G
56
Galaxy A54
52
Realme 10 Pro+
45
Galaxy A34
44
Galaxy A53 5G
38
Motorola Edge 30 Neo
35
Nokia X30
35
Moto G82
34
3DMark Wild Life Vulkan 1.1 (offscreen 1440p)
Higher is better
Google Pixel 6
6832
Google Pixel 6a
6066
Motorola Edge 30 Fusion
5797
OnePlus Nord 2T
4577
Xiaomi 13 Lite
2969
Nothing Phone (1)
2921
Galaxy A54
2818
Galaxy A52s 5G
2491
Galaxy A34
2313
Galaxy A53 5G
2292
Realme 10 Pro+
2252
Nokia X30
1214
Moto G82
1211
Motorola Edge 30 Neo
1201
The A54 was also very consistent under sustained GPU load, with both the Wild Life and Wild Life Extreme stress test returning essentially constant results for the entirety of the 20-minute runs.
The phone wasn't quite as rock-solid under prolonged load on the CPU, however. The choppy graph in the CPU Throttling test isn't pretty to look at and suggests potentially inconsistent performance, while the dip to 54% of the maximum result is among the lowest ones we've seen.