Familiar 6.5-inch AMOLED display
Even though Samsung hasn't mentioned any changes to the display of the Galaxy A52s 5G, we still had to make sure. On paper the panel is identical to the one in the Galaxy A52 5G - 6.5 inches, 1080 x 2400-pixel resolution and 120Hz refresh rate.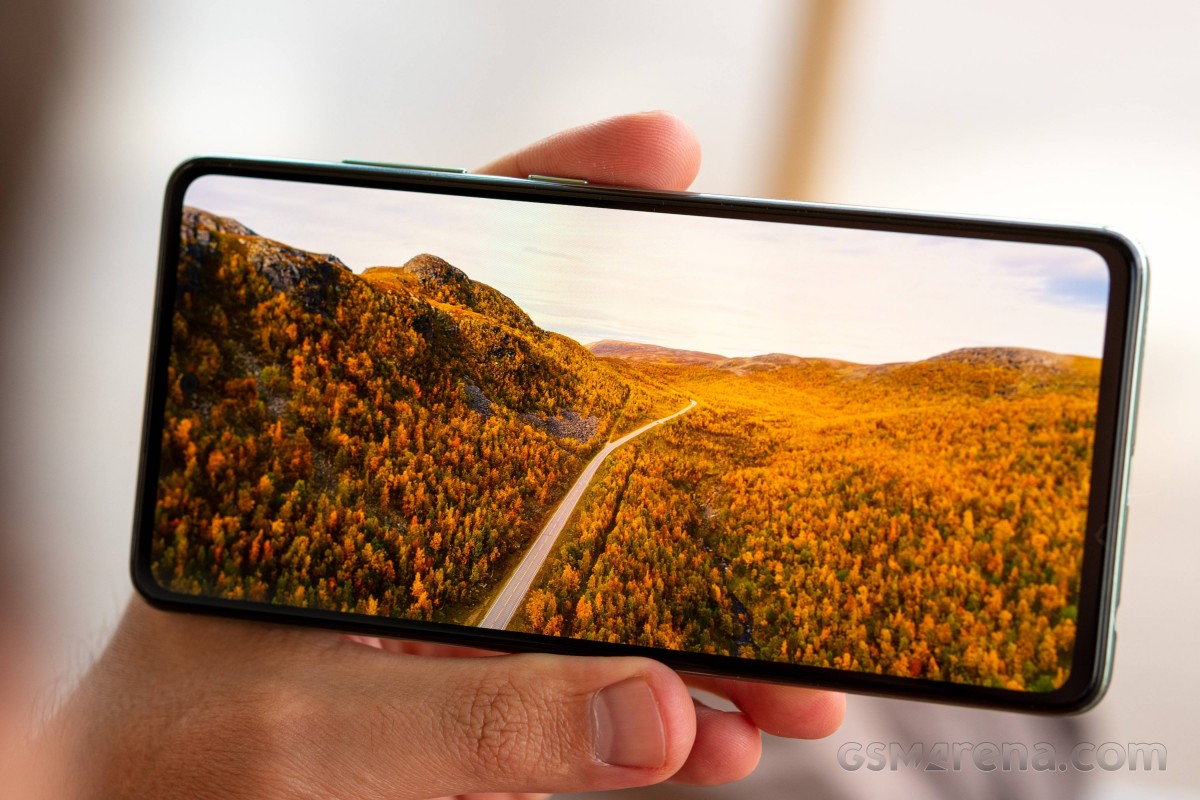 Indeed, after running our standard set of tests, we can conclude that the panel hasn't been changed. That's a good thing too, since it is a solid one, all around.
The Max Brightness, as achieved with the main slider, isn't all that impressive and just reaches a maximum of 383 nits. However, automatic brightness adjustment works great and managed to boost our unit all the way up to 800 nits - perfectly usable outdoors.
Display test
100% brightness
Black,cd/m2
White,cd/m2
Contrast ratio
Samsung Galaxy S21 Ultra 5G (Max Auto)
0
1023
∞
Xiaomi Mi 11 Lite 5G (Max Auto)
0
846
∞
Samsung Galaxy A72 (Max Auto)
0
825
∞
Samsung Galaxy S20 FE (Max Auto)
0
823
∞
Samsung Galaxy A32 (Max Auto)
0
814
∞
Samsung Galaxy A52s 5G (Max Auto)
0
800
∞
Samsung Galaxy A52 (Max Auto)
0
794
∞
Samsung Galaxy A52 5G (Max Auto)
0
787
∞
Xiaomi Redmi Note 10 Pro (Max Auto)
0
725
∞
Poco F3 (Max Auto)
0
716
∞
Xiaomi Redmi Note 10 (Max Auto)
0
682
∞
Realme GT Master (Max Auto)
0
634
∞
Poco X3 GT (Max Auto)
0.38
537
1413:1
Poco X3 Pro (Max Auto)
0.4
534
1335:1
Xiaomi Mi 11 Lite 5G
0
514
∞
Poco F3
0
511
∞
Samsung Galaxy A32 5G (Max Auto)
0.338
497
1470:1
Xiaomi Redmi 10 (Max Auto)
0.4
477
1193:1
Xiaomi Redmi Note 10
0
475
∞
Samsung Galaxy S21 Ultra 5G
0
458
∞
Poco X3 Pro
0.327
458
1401:1
Xiaomi Redmi Note 10 Pro
0
457
∞
Poco M3 (Max Auto)
0.277
439
1585:1
Realme GT Master
0
437
∞
Poco X3 GT
0.301
429
1425:1
Samsung Galaxy A32 5G
0.286
426
1490:1
Samsung Galaxy S20 FE
0
404
∞
Samsung Galaxy A72
0
396
∞
Xiaomi Redmi 10
0
396
1494:1
Poco M3
0.252
395
1567:1
Samsung Galaxy A32
0
393
∞
Samsung Galaxy A52
0
386
∞
Samsung Galaxy A52s 5G
0
383
∞
Samsung Galaxy A52 5G
0
378
∞
This are pretty much the same numbers we got from the original Galaxy A52 and the A52 5G, or within the margin of error.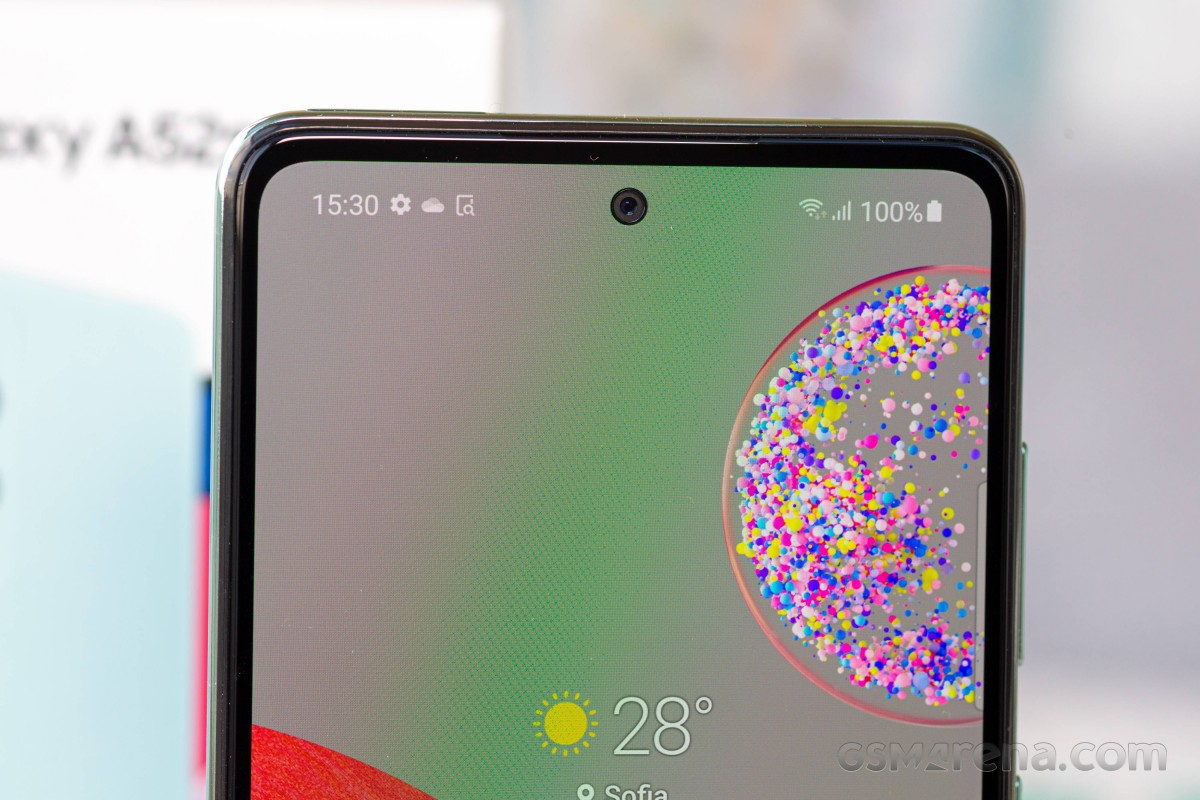 In typical Samsung fashion, there are two color profiles to choose from. Natural is what you want for the best possible sRGB color accuracy. The accuracy is not exactly perfect, but pretty close to what we would consider great.
The default vivid profile aims to cover the DCI-P3 space. Color accuracy isn't as good as sRGB, but we are still looking at very low deltaE values.
There is a color temperature slider available in vivid mode, as well as custom whitepoint adjustment, but neither managed to give us better results in terms of color accuracy.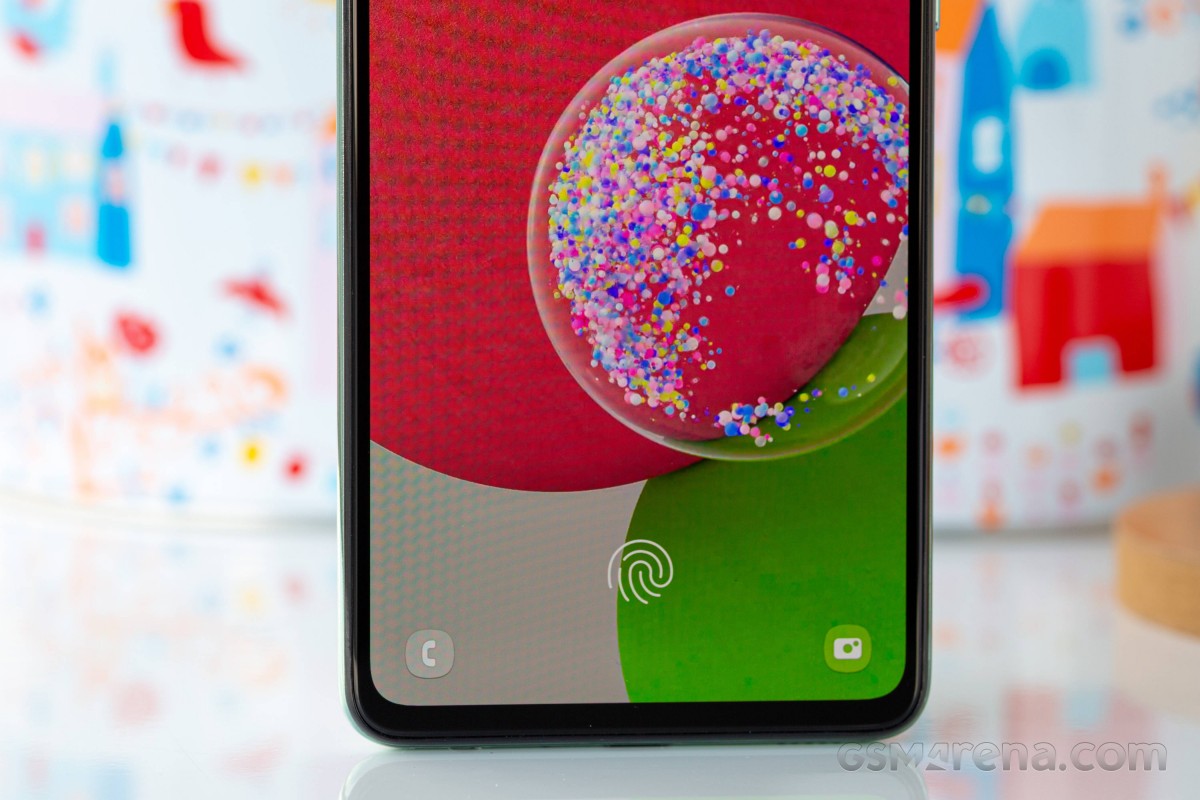 Speaking of colors, the Galaxy A52s 5G reports quite extensive HDR support in software, which includes HDR10, HDR10+ and HLG. Combined with the highest L1 Widevine certification, you should get access to HD+ and HDR content on streaming services like Netflix. However, at the time of writing, Netflix offers FullHD streaming, as it should with Widevine L1, but does not acknowledge any HDR support.
The Galaxy A52s 5G offers two options for refresh rate - 60Hz (Standard) and 120Hz (High) Motion Smoothness. In either case, it's a fixed frame rate with no adaptive adjustments, which may end up hurting battery life.
When using the 120Hz mode, all apps work at 120Hz, including YouTube, Netflix, benchmarks, games, social networks. This doesn't mean all games can reach 120fps.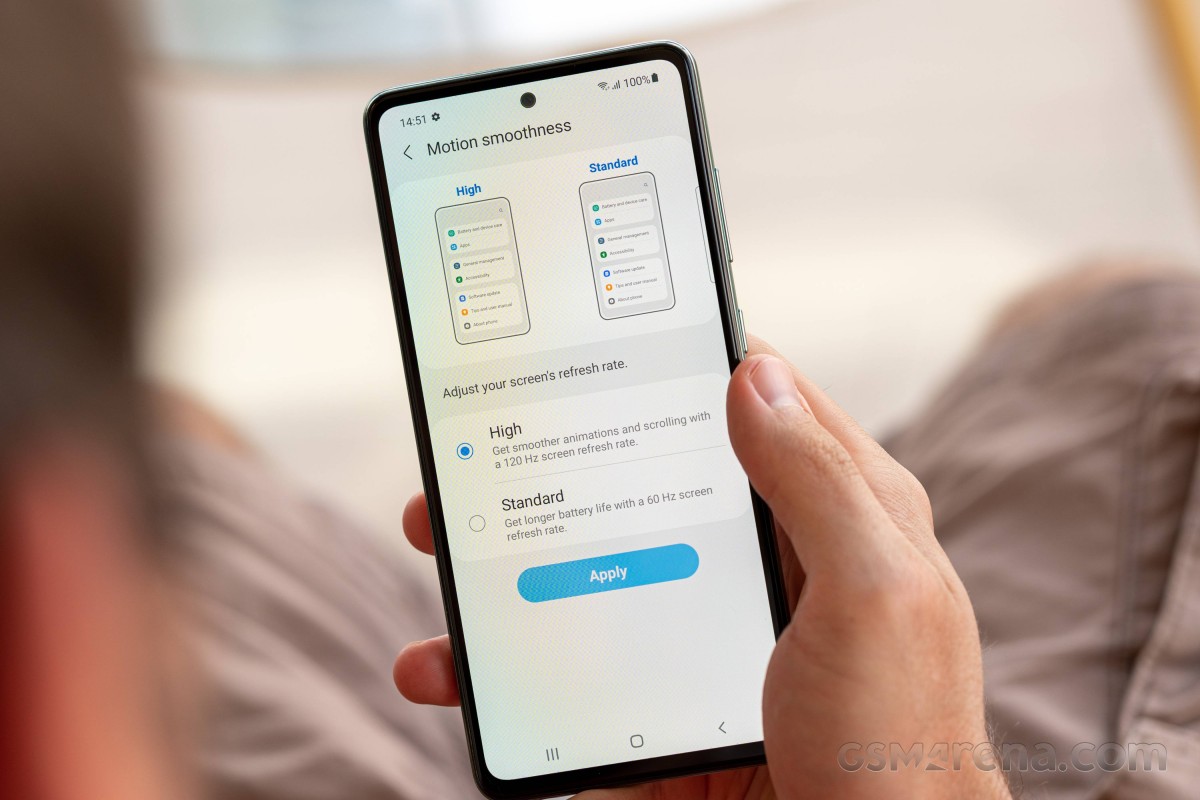 There are apps that specifically mandate 60Hz operation for one reason or another, and those would, of course, run at the lower refresh rate, but they are the exceptions to the rule. Notable examples include Google Maps and the Camera app, as well as apps that use a Maps UI component or call up a camera viewfinder.
We made sure to test the behavior in a well-lit room, as well, since that is sometimes a condition for any automatic switching to kick in. No such system seems to be in place on the A52s 5G. While not perfect for getting the optimal battery endurance, it does provide certain simplicity. The refresh rate switch is basically just that - a simple switch, you either get 60Hz or 120Hz all of the time, with very few exceptions in the latter mode, which we already mentioned.
Battery life
The Samsung Galaxy A52s 5G borrows its 4,500 mAh battery, straight from its A52 5G sibling. Yet another part that is carried over. Still, with the chipset swap in mind, we made sure to re-test the battery endurance as well. We ended up with almost identical numbers to the older Galaxy A52 5G.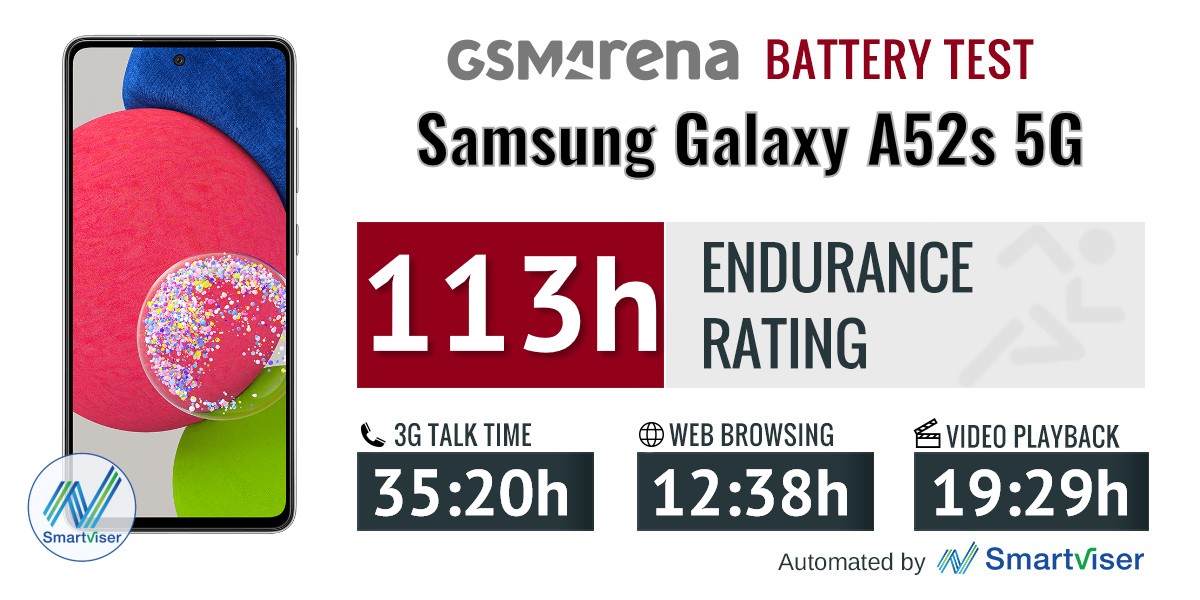 In fact, the newer model and its more modern modem did slightly better in both our standby and 3G call tests. An hour or so more in the video test all add up to a couple of extra hours of total endurance rating for the A52s 5G.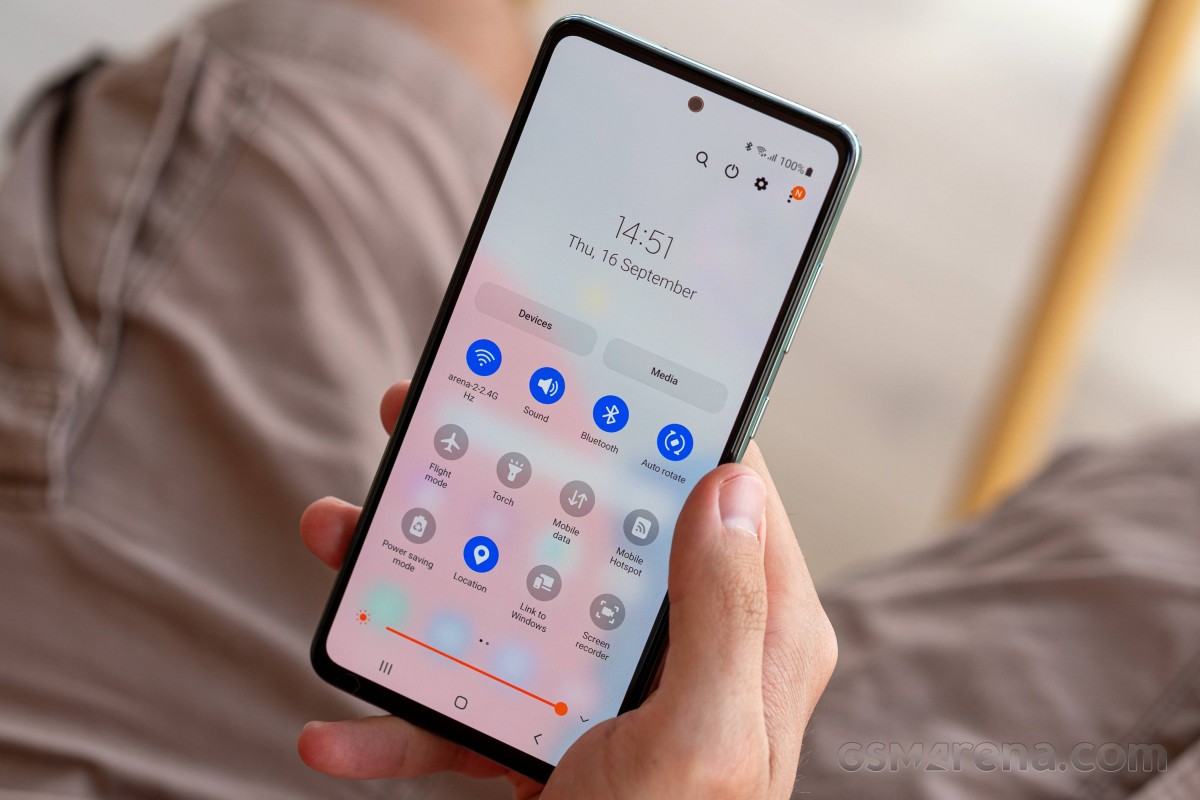 Definitely nothing earth-shattering, but it is still great to see that the switch over to the Snapdragon 778G chipset has not negatively affected battery life.
Compared to some other recent devices with the same chipset in our battery endurance database, the A52s 5G holds up well, even if there are potentially a few more hours of endurance to be squeezed out. The Xiaomi 11 Lite 5G NE, in particular, seems to be getting markedly better standby numbers from the same chipset and a smaller 4,250 mAh battery. Then again, the A52s 5G stacks up well against the Realme GT Master and its 114 hours of endurance from a 4,300 mAh battery.
Our battery tests were automated thanks to SmartViser, using its viSerDevice app. The endurance rating denotes how long the battery charge will last you if you use the device for an hour of telephony, web browsing, and video playback daily. More details can be found here.
Video test carried out in 60Hz refresh rate mode. Web browsing test done at the display's highest refresh rate whenever possible. Refer to the respective reviews for specifics. To adjust the endurance rating formula to match your own usage patterns check out our all-time battery test results chart where you can also find all phones we've tested.
Charging
Charging capabilities haven't changed much from the original Galaxy A52, through the A52 5G and now to the new A52s 5G. All three can accept a peak of 25W via Power Delivery. With the new Galaxy A52s 5G, however, Samsung is now bundling a "full-fat" 25W charger in the box in some markets, instead of the weaker 15W one. It is a nice quality PPS PD unit too. That saves you the potential hustle of buying a charger separately or, alternatively, the FOMO involved with using a slower charger.
30min charging test (from 0%)
Higher is better
Realme GT Master
100%
OnePlus Nord 2
98%
Motorola Edge 20
68%
Poco F3
67%
Xiaomi Redmi Note 10
65%
Xiaomi Mi 11 Lite 4G
58%
Samsung Galaxy S20 FE (25W)
57%
Samsung Galaxy S21 Ultra 5G
54%
Samsung Galaxy A72
54%
Samsung Galaxy A52s 5G
53%
Samsung Galaxy A52 (25W)
52%
Xiaomi Redmi Note 10 Pro
50%
Samsung Galaxy S20 FE (15W bundled)
37%
Samsung Galaxy M51
35%
Samsung Galaxy A52
34%
Samsung Galaxy A52 5G
34%
Samsung Galaxy A02s
30%
Xiaomi Redmi 10
26%
Samsung Galaxy A32
25%
Samsung Galaxy A32 5G
23%
Samsung Galaxy A22 5G
23%
Samsung Galaxy A12
20%
Time to full charge (from 0%)
Lower is better
Realme GT Master
0:30h
OnePlus Nord 2
0:31h
Poco F3
0:56h
Motorola Edge 20
1:01h
Xiaomi Mi 11 Lite 4G
1:04h
Samsung Galaxy S20 FE (25W)
1:10h
Samsung Galaxy S21 Ultra 5G
1:11h
Xiaomi Redmi Note 10
1:13h
Samsung Galaxy A72
1:15h
Xiaomi Redmi Note 10 Pro
1:21h
Samsung Galaxy A52s 5G
1:28h
Samsung Galaxy A52 (25W)
1:30h
Samsung Galaxy S20 FE (15W bundled)
1:35h
Samsung Galaxy A52 5G
1:39h
Samsung Galaxy M51
1:47h
Samsung Galaxy A52
2:03h
Xiaomi Redmi 10
2:13h
Samsung Galaxy A32
2:19h
Samsung Galaxy A32 5G
2:24h
Samsung Galaxy A22 5G
2:29h
Samsung Galaxy A02s
2:36h
Samsung Galaxy A12
3:03h
That's not to say, though, that Samsung's 25W charging is going to be setting charging records any time soon. It manages to hold its own well against competitors without going to any extremes and potentially harming the battery's long-term health. We think it strikes a good balance between that and pure speed. If you want to be extra careful with your battery, you can also disable fast charging altogether.
Speakers
The Samsung Galaxy A52s 5G unsurprisingly carries over the same speaker setup from its siblings and predecessors, as well. It is a stereo one, but just the bottom-firing speaker is dedicated. The second channel is handled by the amplified earpiece. Samsung has managed a surprisingly well-balanced hybrid setup here, which is not always the case.
In terms of loudness, the A52s 5G managed -27.5 LUFS, earning it a respectable "good" grade on our scale. That's with Dolby Atmos turned off, since enabling it lowers the max volume slightly. We'd describe the sound quality as "good', too. It offers well-presented mid-tones, the high notes are okay, while the bass is barely there. Far from the best sounding speakers on a phone, obviously, but we've heard a lot worse, so we'd say we are happy with what we experience on the A52s 5G.
Use the Playback controls to listen to the phone sample recordings (best use headphones). We measure the average loudness of the speakers in LUFS. A lower absolute value means a louder sound. A look at the frequency response chart will tell you how far off the ideal "0db" flat line is the reproduction of the bass, treble, and mid frequencies. You can add more phones to compare how they differ. The scores and ratings are not comparable with our older loudspeaker test. Learn more about how we test here.
The Galaxy A52s 5G offers a lot of customizations when it comes to audio. The Dolby Atmos implementation includes presets for movies, music and voice, as well as an automatic option. As a nifty bonus on top of that - Dolby Atmos for gaming specifically picks up and optimizes certain sounds, like footsteps in-game, for a slight competitive advantage.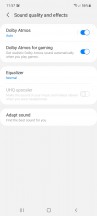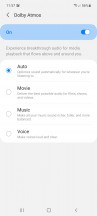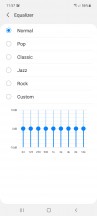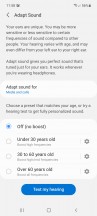 Dolby Atmos, equalizers and Adapt sound on the Galaxy A72
Rounding off the audio section, the Galaxy A52s 5G also has an advanced equalizer, as well as Samsung's Adapt sound system, which can tune the audio profile to your specific personal needs and preferences.