One UI 4.1 Core on top of Android 12
The Galaxy A04s boots Android 12 with the custom One UI has been toned down to One UI 4.1 Core. This means that the core One UI features and aesthetics are here, but some advanced functionalities were omitted.
Update, Jan 03, 2023: The Galaxy A04s has been updated recently with the latest Android 13 and One UI Core 5. One UI Core 5 introduces a refreshed design and should improves the overall system performance. The latest version of the launcher offers richer customization options, stacked widgets, improved notification access and split-screen switch.
One of the key One UI 5 features is Routines and it is available to the A04s - a feature similar to Apple's Focus. You can choose a mode based on what you are doing right now and execute certain actions, change sound profiles, display settings, notifications, etc. For instance, the driving Routines profile can be set up to turn on DnD mode and launch Spotify automatically, for example. You can even trigger certain Routines with actions of your choice, such as turning on the hotspot or airplane mode.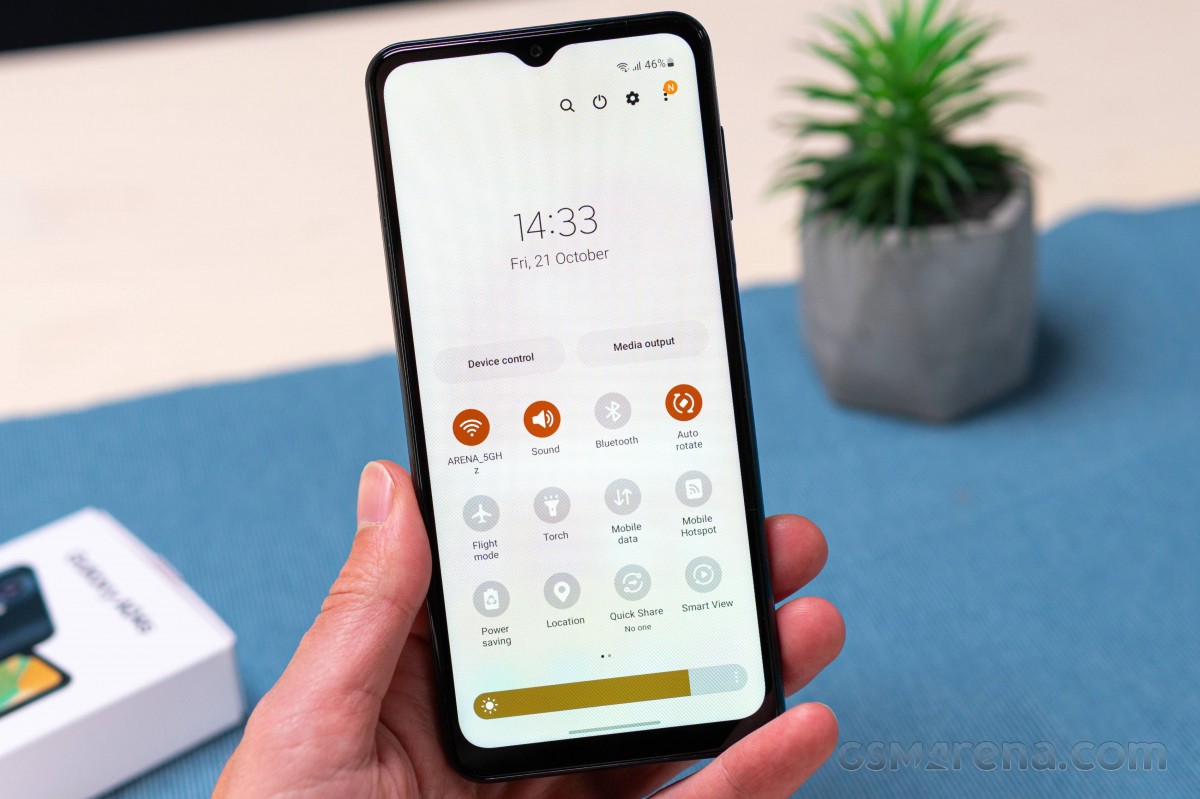 Samsung is using a light version of the software for the Galaxy A04s as One UI is pretty resource-heavy, and the Exynos 850 isn't the fastest chipset around. Even as it is, with a limited set of features, the One UI user experience could be smoother.
The Core version of One UI cuts a few apps and services to make the launcher easier on system resources. The list of features that didn't make the cut include Samsung Pay service (GPay is available), Easy Mode, the Bixby assistant, Windows Link service, and the Good Lock app for advanced customizations. Secure Folder is missing as well, but interestingly enough, there is Knox on the A04s and even advertised on the official specs page for its malware and threat protection.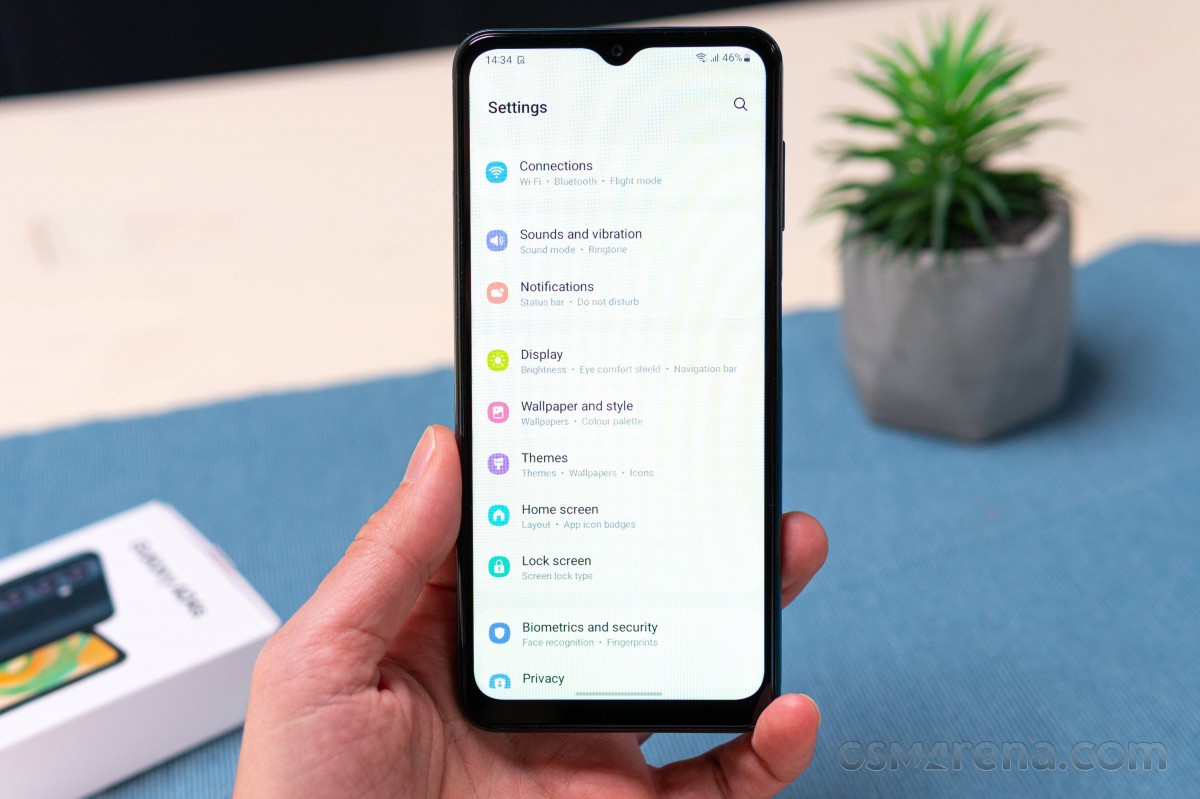 The Android experience with One UI 4.1 Core is rather straightforward and familiar, though. The app drawer, notification shade, recent apps, lock screen and home screen, are all business as usual. Even the general Settings menu.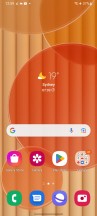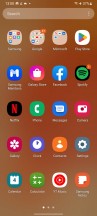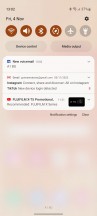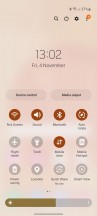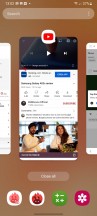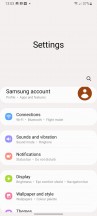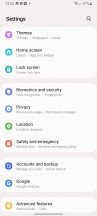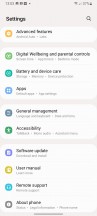 Home screen, recent apps, notification shade, settings menu
Samsung's Music Share and Smart View are not available either. We suspect few people will miss these on such a basic phone. The Samsung Game Launcher is absent too, but Game Booster is a part of One UI 4.1 Core. Samsung Smart Widgets, Edge Panels and the fancy Object Eraser in the gallery app are also not available, but the new Color palettes are here.
The Galaxy A04s does not support Always-on Display. Its default lock screen has two shortcuts - dialer and camera, but you can pick different apps. The lock screen has a Wellbeing widget - you can now keep track of how much time you've spent on your phone without even unlocking it.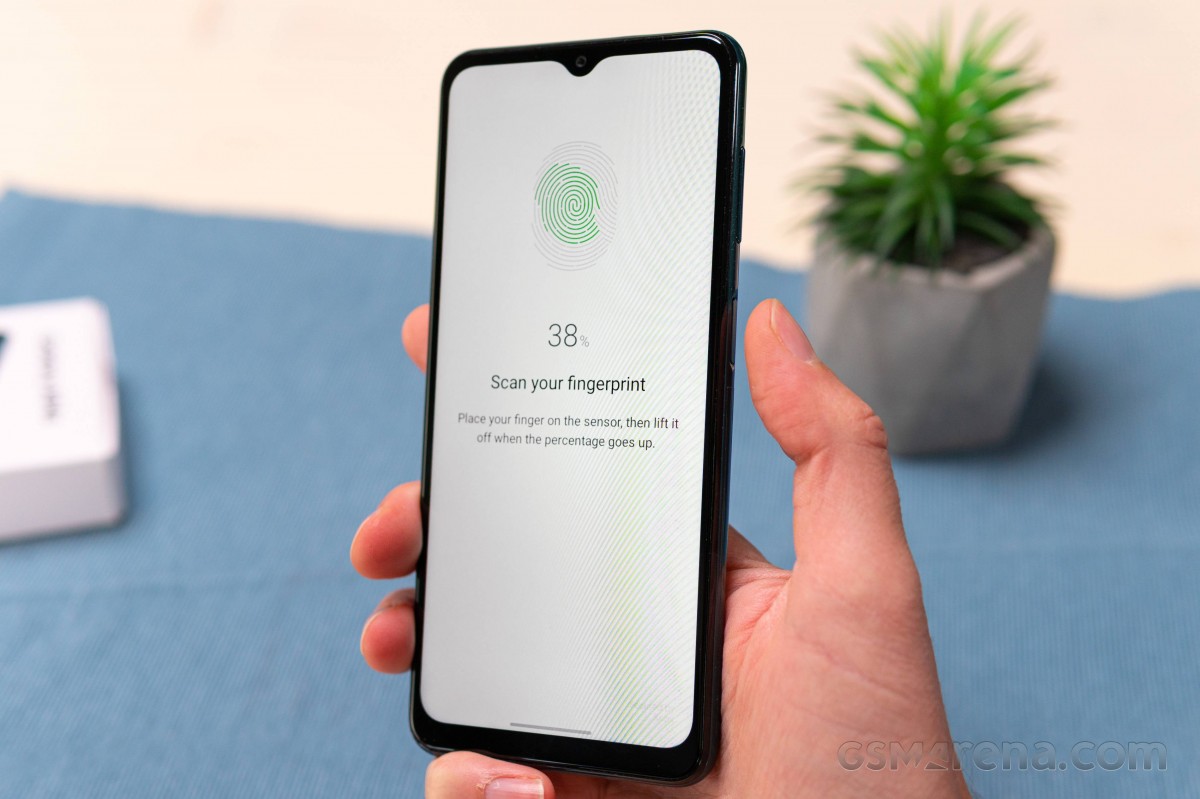 Unlocking the screen with the side-mounted fingerprint scanner is a breezy experience - the reader is always-on and has superb accuracy and speed.
We often find ourselves locked out of the device because we've touched the fingerprint reader accidentally with the palm multiple times. So we preferred to enable the option where it would wait for you to press the power button first before attempting to read your fingerprint.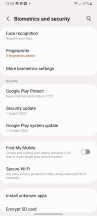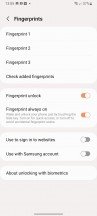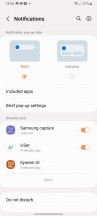 Fingerpint readerand other biometrics settings
All of the standard layout adjustments and toggles for the quick panel and taskbar are accounted for. There are Bubbles notifications for messaging apps - you'll find these in the 'Floating notifications' submenu, where you can alternatively turn both of them off and opt for the old-school cards-only interface.
The Media screen was already available on One UI 2.5 pre-Android 11, offering similar functionality for picking the output device. The volume control panel has gotten a makeover too, and now the four sliders are vertical instead of the horizontal ones of One UIs past.
One UI has always offered plenty of customizability, and One UI 4.1 Core on the Galaxy A13 is no exception. You get wallpapers and services like Dynamic lock screen and Samsung Global Goals. There is also a whole tone of themes and wallpapers to choose from through Samsung Themes - many free as well.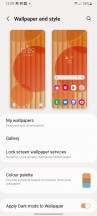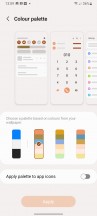 Themes, wallpapers, accent colors
As we mentioned, the new Color palette feature is present. It allows you to match the accent colors of the UI and even stock app icon colors to the colors in your wallpaper.
The Galaxy A04s comes with Samsung's own Gallery, Internet browser and Notes app. The gallery notably lacks Samsung's fancy new Object Eraser feature. The Galaxy Store offers different apps than the Google Play Store, though many do overlap and can be downloaded and updated through either repository.
Overall, One UI remains one of the best and most polished custom Android experiences. It is chock-full of useful features, even in this lighter One UI 4.1 Core version that the Galaxy A04s is running.
There is, however, plenty to be unhappy about the way it runs on the Galaxy A04s. It is very much not a fluent and smooth experience. There are plenty of slowdowns and stutters all over the place in animations and transitions. Slow app load times and even app switching and background operation issues due to the limited resources of the phone. The Exynos 850 seems to really be struggling to keep up with the otherwise excellent One UI 4.1 Core.
Performance
This isn't our first encounter with Samsung's Exynos 850 chip - it's a 2020 hardware, after all, which in smartphone terms is somewhat outdated. It's based on the company's 8nm LPP process, which is a tad behind the current low-end chips at 6nm.
The CPU package is pretty simple as it consists of just 8x Cortex-A55 energy-efficient cores. In turn, they aren't made for serious number crunching. All eight are clocked at 2.0 GHz. The Mali-G52 leads the GPU department, which struggles to deliver any meaningful performance in most cases.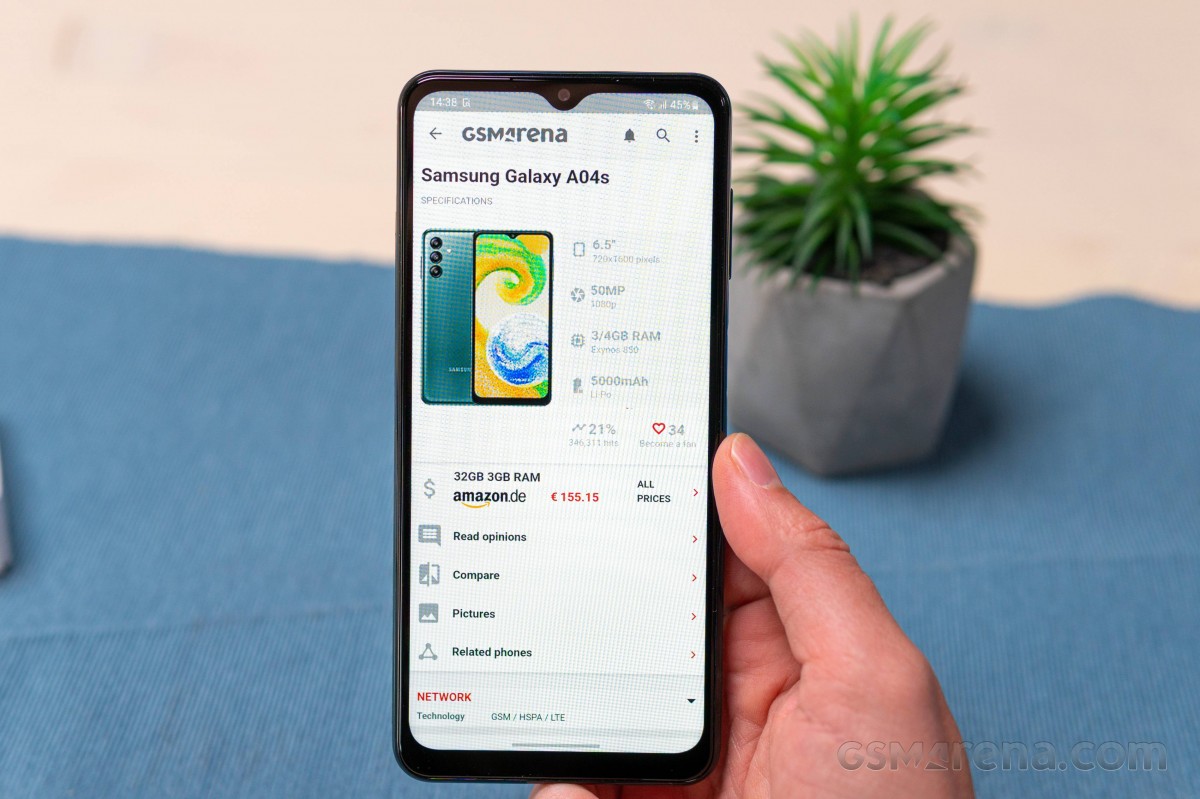 Unfortunately, the device's memory options start from 3GB/32GB and can go up to 4GB/128GB. However, we believe that 3GB/32GB configurations are a thing of the past, even in the low-end segment. Sure, there's a dedicated microSD card slot, but 32GB just isn't enough, especially since most competitors offer 64GB as a standard.
GeekBench 5 (multi-core)
Higher is better
Samsung Galaxy A33 5G
1900
Poco M4 5G
1730
Xiaomi Redmi Note 11
1662
Samsung Galaxy A23
1632
Realme 9i
1581
Samsung Galaxy A04s
1100
Samsung Galaxy A03s
889
Samsung Galaxy A13
588
GeekBench 5 (single-core)
Higher is better
Samsung Galaxy A33 5G
742
Poco M4 5G
552
Realme 9i
384
Samsung Galaxy A23
380
Xiaomi Redmi Note 11
376
Samsung Galaxy A04s
184
Samsung Galaxy A03s
179
Samsung Galaxy A13
153
AnTuTu 9
Higher is better
Samsung Galaxy A33 5G
394918
Poco M4 5G
336380
Samsung Galaxy A23
273554
Xiaomi Redmi Note 11
244526
Samsung Galaxy A04s
145123
Samsung Galaxy A13
136286
Samsung Galaxy A03s
101299
GFX Manhattan ES 3.1 (onscreen)
Higher is better
Samsung Galaxy A33 5G
35
Poco M4 5G
21
Samsung Galaxy A04s
19
Samsung Galaxy A03s
14
Realme 9i
14
Xiaomi Redmi Note 11
12
Samsung Galaxy A23
12
Samsung Galaxy A13
8.3
GFX Manhattan ES 3.1 (offscreen 1080p)
Higher is better
Samsung Galaxy A33 5G
38
Poco M4 5G
25
Realme 9i
23
Xiaomi Redmi Note 11
15
Samsung Galaxy A23
15
Samsung Galaxy A04s
9.4
Samsung Galaxy A13
9.4
Samsung Galaxy A03s
7.9
GFX Car Chase ES 3.1 (offscreen 1080p)
Higher is better
Samsung Galaxy A33 5G
23
Poco M4 5G
15
Samsung Galaxy A23
8.3
Realme 9i
8.2
Xiaomi Redmi Note 11
8
Samsung Galaxy A13
6.2
Samsung Galaxy A04s
6
Samsung Galaxy A03s
3.5
GFX Car Chase ES 3.1 (onscreen)
Higher is better
Samsung Galaxy A33 5G
20
Poco M4 5G
12
Samsung Galaxy A04s
11
Realme 9i
7.3
Xiaomi Redmi Note 11
6.8
Samsung Galaxy A23
6.7
Samsung Galaxy A03s
5.5
Samsung Galaxy A13
5.2
3DMark SSE ES 3.1 (offscreen 1440p)
Higher is better
Poco M4 5G
2514
Realme 9i
1339
Samsung Galaxy A23
1320
Xiaomi Redmi Note 11
1316
Samsung Galaxy A04s
888
Samsung Galaxy A13
886
The single-core Mali-G52 GPU is enough for budget gaming on a 720p display, so this probably won't be an issue or a bottleneck in any way.
The poor CPU performance is probably the Galaxy A04s' weakest point. While an eight-core CPU is the standard today, most, if not all, competitors offer at least two powerful cores, such as Cortex-A75. The underpowered CPU used here makes for an uninspiring UI performance, and some lag or stutter does happen once you start populating those homescreens and apps with content.
Performance-wise, the A04s is not up to par with the competition, crippled by its disappointing processor. It is a budget phone, but we expected a bit more, even in this class.