6.5-inch IPS LCD panel
The Samsung Galaxy A04s is built around a 6.5-inch IPS LCD panel, which is a common find in this price range. LCDs are still pretty common and often allow for cost-cutting. Interestingly enough, Samsung went for a 90Hz display instead of 60Hz, which might have forced the product planning team to settle for a 720 x 1600px resolution. Most, if not all, of the phone's competitors, have higher resolution 1080p screens.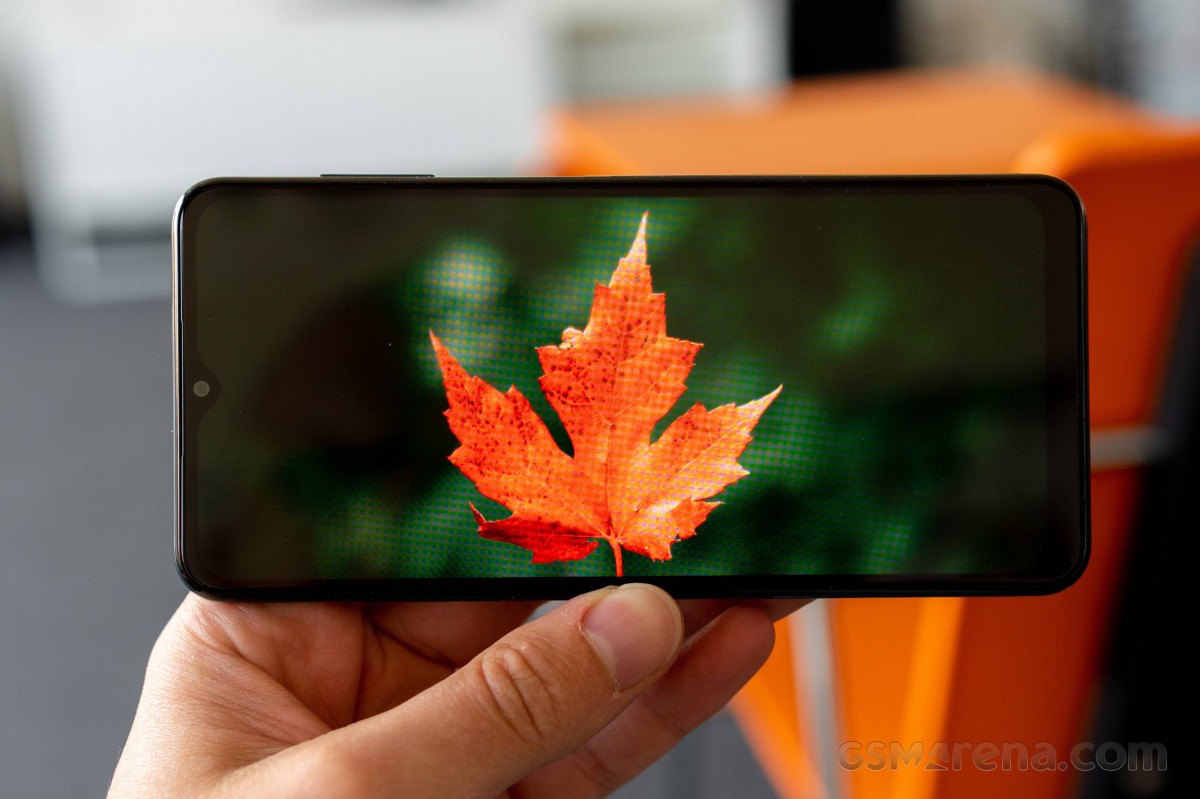 In terms of brightness, the phone wasn't able to hit the advertised 400 nits mark, but it did get pretty close. In our tests, the display reached 389 nits in auto and manual modes. There's no brightness boost in Auto mode.
Display test
100% brightness
Black,cd/m2
White,cd/m2
Contrast ratio
Samsung Galaxy A04s
0.241
389
1614:1
Samsung Galaxy A03s
0.284
488
1718:1
Samsung Galaxy A13
0.376
498
1324:1
Samsung Galaxy A13 (Max Auto)
0.448
587
1310:1
Xiaomi Redmi Note 11
0
465
∞
Xiaomi Redmi Note 11 (Max Auto)
0
736
∞
Realme 9
0
455
∞
Realme 9 (Max Auto)
0
647
∞
Xiaomi Poco M4 5G
0.2
326
1630:1
Xiaomi Poco M4 5G (Max Auto)
0.4
410
1025:1
The lack of physical proximity and ambient light sensors are somewhat of an issue. Virtual proximity sensors are notorious for their poor consistency in turning off the screen during calls. Phones that lack ambient light sensors use the front-facing camera to measure lighting conditions. This means it's less energy efficient, takes too much time to react to changes, and it's inaccurate at times.
After taking the phone out of your pocket, it takes a couple of seconds for the software to adjust the brightness if there is a stark difference from the previous ambient light situation where you've last used it. We found ourselves reaching for the brightness slider more often than not. And when you consider the somewhat low maximum brightness, the overall outdoor experience could be better.
Color accuracy, on the other hand, isn't all that bad, with average dE2000 of 3.8. Then again, the whites and grays appear quite blueish, and there's no way to adjust the color temperature or change the color mode.
HRR control
The high refresh rate control on the Galaxy A04s is pretty straightforward - an idle screen means 60Hz, and interacting with it means 90Hz. All apps we've tried ran at 90Hz, including video players and streaming apps. But once you leave the video/movie playing for a few seconds without touching the screen, the screen dials down to 60Hz.
Battery life
The Galaxy A04s runs on a power-efficient Exynos 850 chipset and draws power from a big 5,000 mAh battery, so battery life is expectedly great. The screen-on, as well as the screen-off test results, are more than commendable. We were also expecting an overall endurance score that's similar to the Galaxy A13 since both handsets sport almost identical hardware. Either way, 114-hour overall endurance rating is an excellent score.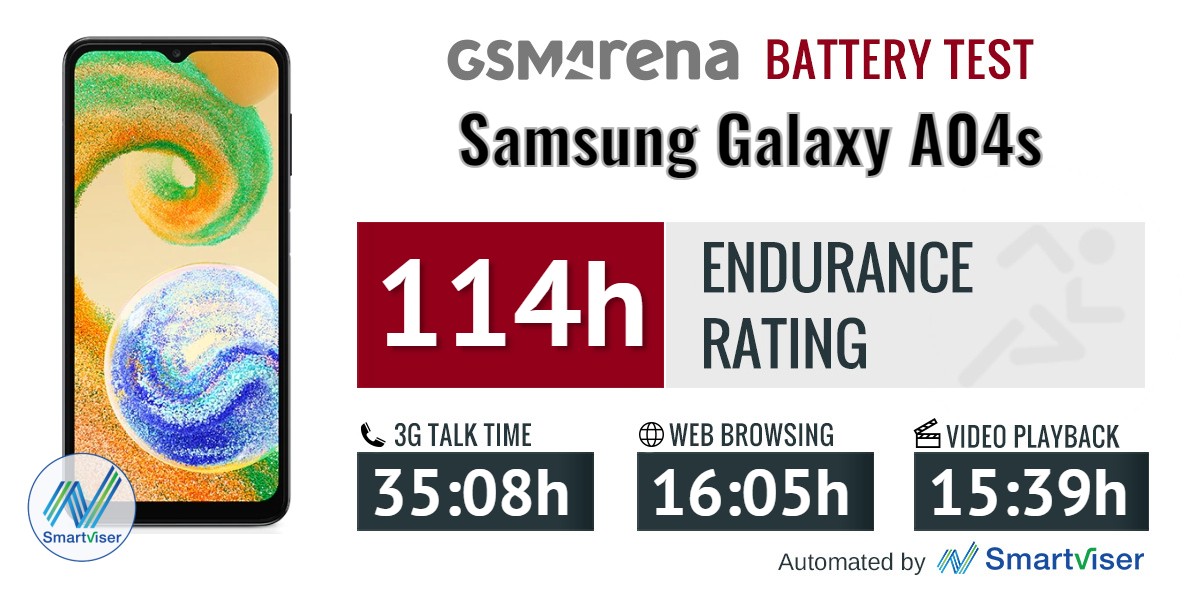 Our battery tests were automated thanks to SmartViser, using its viSerDevice app. The endurance rating denotes how long the battery charge will last you if you use the device for an hour of telephony, web browsing, and video playback daily. More details can be found here.
Video test carried out in 60Hz refresh rate mode. Web browsing test done at the display's highest refresh rate whenever possible. Refer to the respective reviews for specifics. To adjust the endurance rating formula to match your own usage patterns check out our all-time battery test results chart where you can also find all phones we've tested.
Charging speed
The Galaxy A04s doesn't come bundled with a charger but supports standard 15W charging, just like the Galaxy A13. Even charging times are quite similar as the Galaxy A04s gets just 28% of the battery charge in the first 30 minutes while a full charge requires 2 hours and 14 minutes on the cord.
30min charging test (from 0%)
Higher is better
Xiaomi Redmi Note 11
51%
Realme 9
50%
Xiaomi Poco M4 5G
31%
Samsung Galaxy A04s
28%
Samsung Galaxy A13
27%
Samsung Galaxy A03s
15%
Time to full charge (from 0%)
Lower is better
Realme 9
1:16h
Xiaomi Redmi Note 11
1:18h
Xiaomi Poco M4 5G
2:02h
Samsung Galaxy A04s
2:14h
Samsung Galaxy A13
2:18h
Samsung Galaxy A03s
3:38h
While this isn't fast by any means, it's somewhat fitting in the context of the entry-level class.
Speaker
The Galaxy A04s features a single, bottom-firing speaker, which is the usual audio setup for devices in this price bracket. In terms of loudness, the tiny speaker is a bit underwhelming as our test scenario returned an "Average" score of -30.3 LUFS.
Quality-wise, the speaker is far from impressive too. Vocals and highs start to ring at higher volumes while the bass is non-existent, and as a result, all tracks sound pretty flat. Still, this is somewhat expected in this class, so we won't be bashing the Galaxy A04s for it.
Use the Playback controls to listen to the phone sample recordings (best use headphones). We measure the average loudness of the speakers in LUFS. A lower absolute value means a louder sound. A look at the frequency response chart will tell you how far off the ideal "0db" flat line is the reproduction of the bass, treble, and mid frequencies. You can add more phones to compare how they differ. The scores and ratings are not comparable with our older loudspeaker test. Learn more about how we test here.