Color OS 12.1 on top of Android 12
The Reno8 Pro runs on the latest and greatest Oppo has to offer - Color OS 12.1 on top of Android 12. That's great to see since there are still occasionally new Oppo phones that come out with Android 11 out of the box. BBK is using Color OS for all its current Oppo's and Realme's, so if you've used any recent Oppo or Realme phone, you will feel right at home here.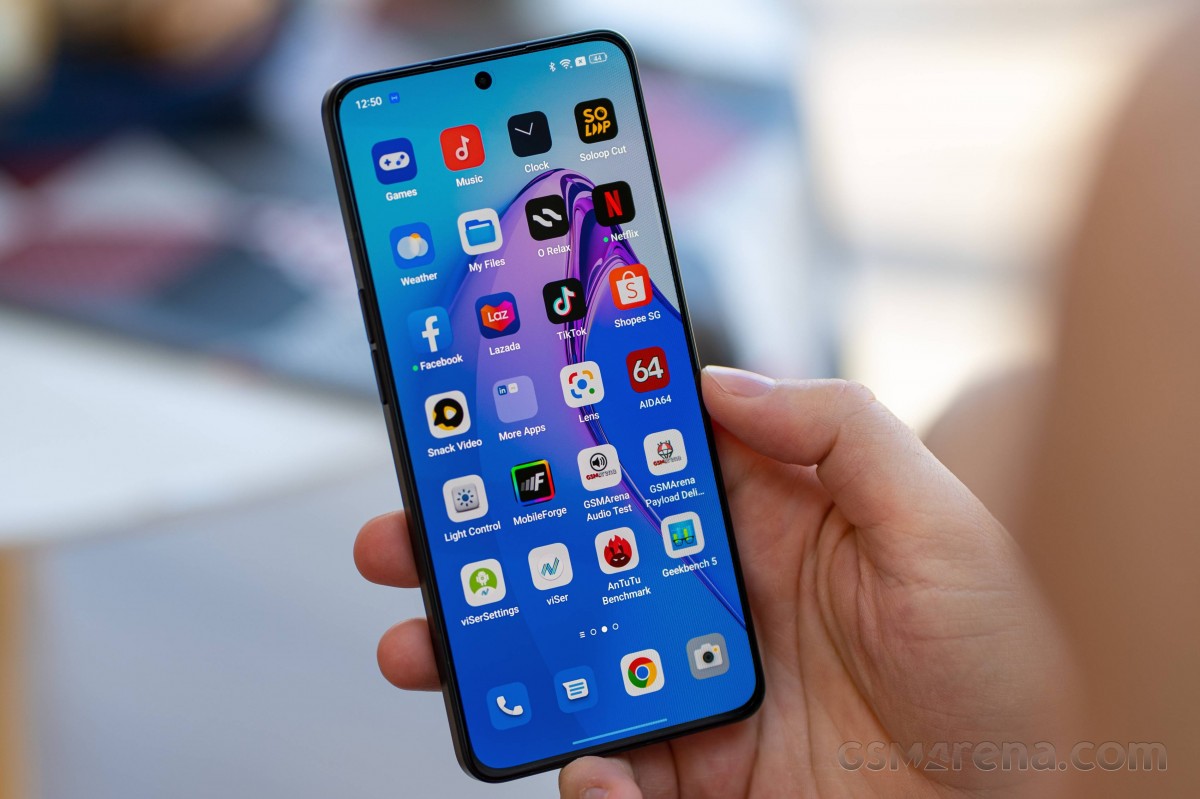 The Oppo Reno7 Lite 5G supports an Always-on display. You can schedule it, make it appear only for a few seconds, or leave it on/off all the time. As per usual, Color OS has a ton of customizations when it comes to the AOD.
Edge lighting is also supported - the edges of the display will flash with colors upon new notifications. This can work with or without the AOD screen.
You unlock the screen via the under-display fingerprint scanner. The reader is easy to set up, incredibly fast (as these go), and with great accuracy.
You can set up face unlock, too, but it's less secure.
The ColorOS launcher is indeed quite clean and simple to use - apps and widgets go to your homescreens, and there is a leftmost page with an integrated system-wide search. There is an app drawer, but you can get rid of it if it's not your cup of tea.
The notification area with expandable toggles is familiar, too. We didn't manage to spot any major visual changes between Color OS 12 and 12.1.
The task switcher is also a familiar affair. From here, you can close or lock apps and initiate split-screen multi-tasking or a floating window (one at a time).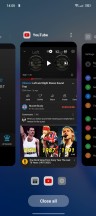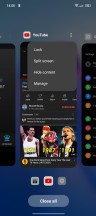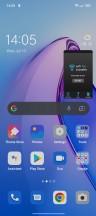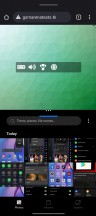 Task Switcher with floating windows and split screen
The Icon pull-down gesture is still here, and it makes it way easier to operate with one hand on an overcrowded home screen with plenty of app icons. Just swipe down alongside the edge of the display to bring down the icons close to your thumb and select an app to launch. The gesture is consistent and useful.
Most of the UI elements on Color OS can be customized. We are talking about deep customization of app icons, accent colors, quick toggles and their shape, font, and fingerprint reader animation.
The Special features tabs hold the familiar Smart Sidebar and Flexible windows functions. They are both tailored toward better multitasking. The sidebar offers quick access to some of your favorite apps when turned on.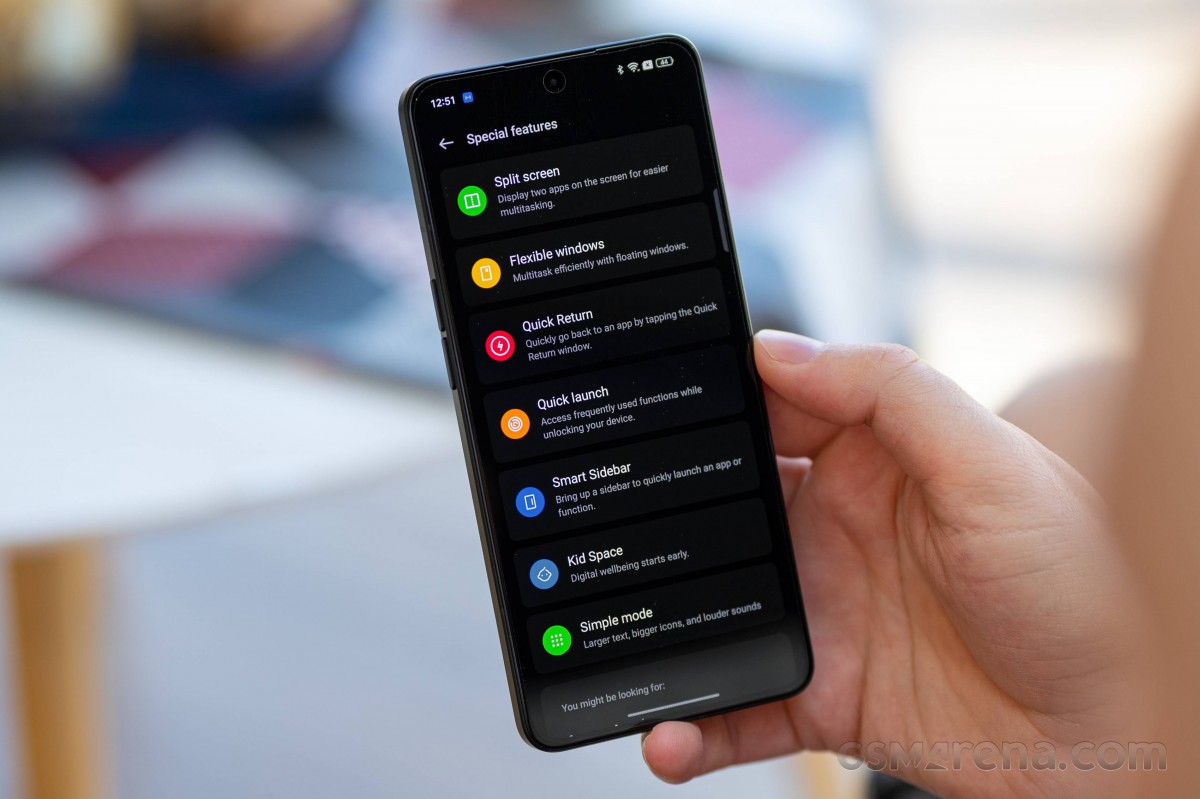 The system allows you to adjust the position of the sidebar, which is crucial because it might interfere with the back gesture if you are using the standard Android gestures. Anyway, tapping and holding on an app icon enters split-screen mode while a single tap opens up the app in a floating window or, as Realme likes to call it, "Flexible window". The supported apps can be opened in small, draggable and size-adjustable windows.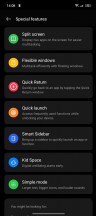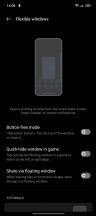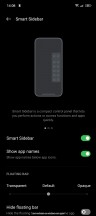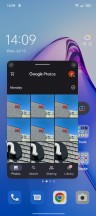 Special features, Smart Sidebar and Flexible windows
The Quick launch function has been around on OnePlus' OxygenOS-powered phones for a while now, and it's nice to see it making its way to other brands under the BBK Electronics umbrella. Once enabled, you can set up to three apps that can launch as soon as the display is unlocked. Tap and hold on the fingerprint reader from a locked screen to open up the Quick launch menu.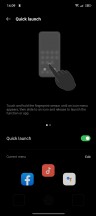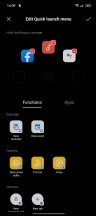 Quick launch from the lock screen
The Reno8 Pro has a few interesting gestures, called Air gestures and powered by the selfie camera. You can answer a call by flicking your wrist, and generally, the same motion can also be used to remotely scroll interfaces and pages up and down. There is also a nifty play/pause palm gesture for videos that works well on YouTube.
Color OS 12.1 is chock full of its own proprietary apps, often alongside alternatives from Google in the international version of phones. You get first-party apps like Photos, Phone Manager, My Files, Music, and Games (game launcher with various settings).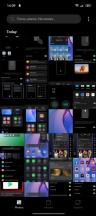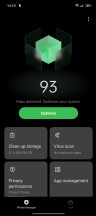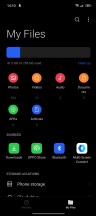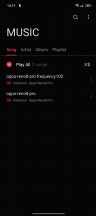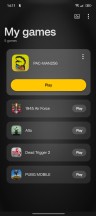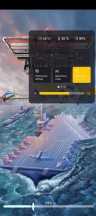 Photos • Phone Manager • My Files • Music • Games • Game overlay
Last but not least, it is worth noting that our unit came with no China-related apps or ads as one would expect from an international model.
Performance and benchmarks
The Reno8 Pro is powered by the MediaTek Dimensity 8100-MAX chipset - fairly uncommon silicon which we have only seen inside the OnePlus 10R thus far. Information about the MAX variant of the chip is a bit scarce online, but we did manage to get to the gist of things eventually.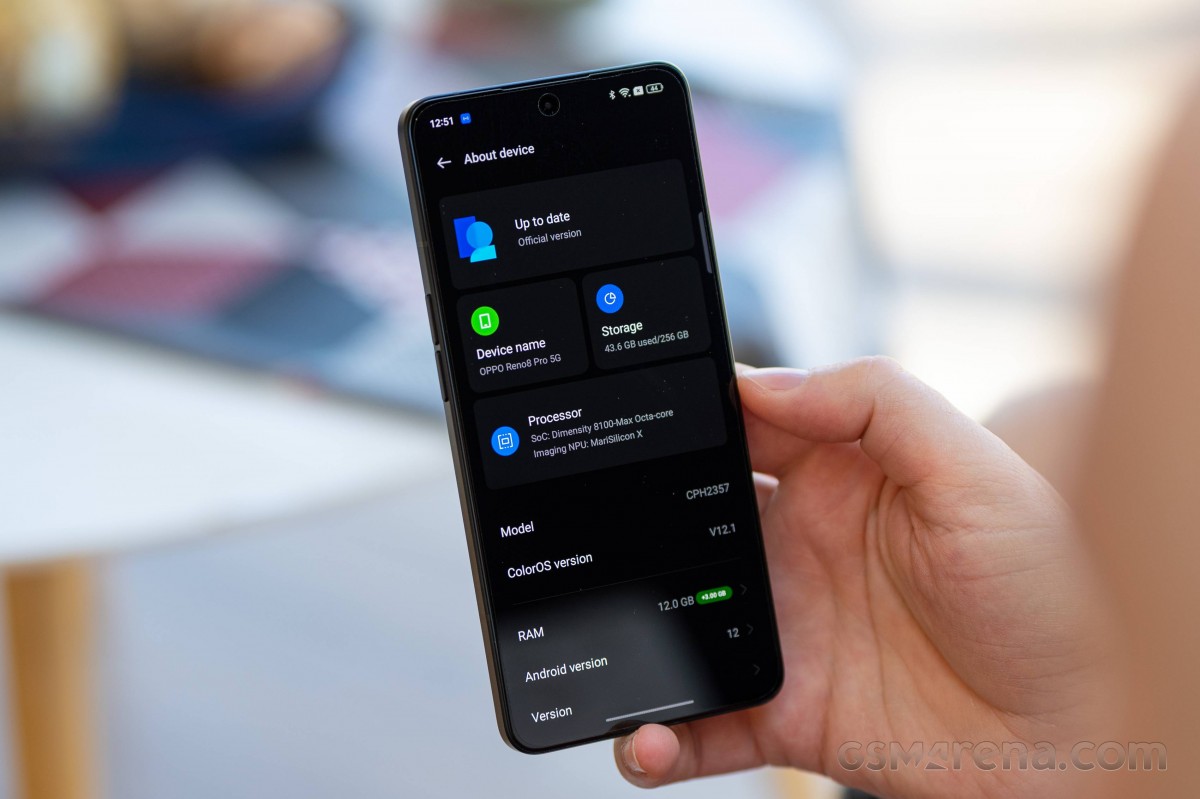 In almost every major hardware aspect, the Dimensity 8100-MAX is identical to its Dimensity 8100 sibling. That includes a 4x Cortex-A78@2.85 GHz and 4x Cortex-A55@2.0GHz CPU setup, a Mali-G610 MC6 GPU, a MediaTek Imagiq 780 ISP and a MediaTek APU 580 AI processing unit, plus an LPDDR5 memory controller all packaged on a 5nm TSMC node. That's just a hair more powerful than the Dimensity 8000 and generally positioned to be competitive with Qualcomm's Snapdragon 888 and 888+.
What about that MAX part, then? Well, back in 2021, MediaTek announced the Dimensity 5G Open Resource Architecture program, which basically allows manufacturers to custom tune and order Dimensity chips with alterations to certain bits, including things like connectivity and features and all the way up to CPU and GPU. Not many such custom chips have been created, but the Dimensity 8100-MAX is one of them with Oppo, or rather its parent BBK corporation altering the capabilities of the onboard MediaTek APU 580 in particular. These alterations promise better overall AI performance, better and more stable game framerates and improvements to low-light video recording. That's what the OnePlus 10R got out of the custom chip, and that's exactly what the Reno8 Pro is getting from it as well.
Without further ado, let's dive into some benchmark numbers to put the Dimensity 8100-MAX into perspective starting with CPU runs and GeekBench.
GeekBench 5 (multi-core)
Higher is better
Realme GT Neo3
4079
Poco X4 GT
3719
Xiaomi 12
3652
Poco F4 GT
3637
OnePlus 9 Pro
3636
Asus Zenfone 8
3604
OnePlus 10R
3564
Oppo Reno8 Pro
3395
Oppo Find X5
3331
Samsung Galaxy S21 5G
3238
Realme GT Neo 3T
3180
Xiaomi 12X
3168
Samsung Galaxy S21 FE 5G
3049
vivo V23 Pro
3021
Xiaomi 12 Lite
2943
Google Pixel 6
2899
Xiaomi 11T
2834
OnePlus Nord 2T 5G
2694
Oppo Reno7 Pro 5G
2691
Oppo Reno7 5G
2276
vivo V23 5g
2140
Sony Xperia 10 IV
1908
Realme 8 Pro
1678
Oppo Reno7
1653
GeekBench 5 (single-core)
Higher is better
Poco F4 GT
1244
Xiaomi 12
1187
OnePlus 9 Pro
1126
Asus Zenfone 8
1118
Oppo Find X5
1110
Samsung Galaxy S21 FE 5G
1096
Samsung Galaxy S21 5G
1032
Google Pixel 6
1030
Realme GT Neo 3T
1023
Realme GT Neo3
968
Xiaomi 12X
943
Poco X4 GT
917
Oppo Reno8 Pro
894
OnePlus 10R
881
vivo V23 Pro
850
Oppo Reno7 Pro 5G
815
Xiaomi 12 Lite
785
Xiaomi 11T
742
vivo V23 5g
739
Oppo Reno7 5G
738
Sony Xperia 10 IV
662
Realme 8 Pro
566
OnePlus Nord 2T 5G
493
Oppo Reno7
380
A few noteworthy observations can be made from these results: the Dimensity 8100-MAX seems to be falling a bit short compared to its Dimensity 8100 sibling on average, which is a bit interesting. It is also, as taunted, a decent competitor to the Snapdragon 888, but mostly when it comes to multi-core or rather all-core loads where the four by four CPU arrangement with decently high clocks seems to be excelling. In single-core loads the Dimensity 8100-MAX seems closer in points to a Snapdragon 870 5G instead.
In any case, it's a chip that holds its own well. This fact is also evidenced by the AnTuTu scores of the Reno8 Pro.
AnTuTu 9
Higher is better
Xiaomi 12
985115
Poco F4 GT
952124
Realme GT Neo3
819348
Oppo Find X5
810715
Asus Zenfone 8
799738
OnePlus 9 Pro
789332
OnePlus 10R
759929
Poco X4 GT
747871
Realme GT Neo 3T
726007
Samsung Galaxy S21 FE 5G
719696
Oppo Reno8 Pro
718351
vivo V23 Pro
716766
Samsung Galaxy S21 5G
714395
Xiaomi 12X
690298
Google Pixel 6
676831
OnePlus Nord 2T 5G
619610
Xiaomi 11T
590837
Xiaomi 12 Lite
528905
Oppo Reno7 5G
479608
vivo V23 5g
476058
Sony Xperia 10 IV
396008
Oppo Reno7
289250
AnTuTu is a much more compound benchmark which incorporates GPU runs and takes into account memory as well. We can see that the Reno8 Pro performs about as well as a flagship from 2021 overall. Not too shabby at all and about what we expected.
Moving on to GFXBench and some more dedicated GPU tests, we start to see a bigger device between the Dimensity 8100-MAX and chips like the Dimensity 1200 and Snapdragon 870. While the latter generally come close to the Dimensity 8100-MAX in CPU tasks, they get generally outpaced by it in the GPU department.
GFX Aztek ES 3.1 High (onscreen)
Higher is better
Xiaomi 12
59
Google Pixel 6
46
Realme GT Neo3
42
Asus Zenfone 8
41
Oppo Find X5
40
Oppo Reno8 Pro
39
OnePlus 10R
39
Poco X4 GT
38
Samsung Galaxy S21 FE 5G
38
Samsung Galaxy S21 5G
38
vivo V23 Pro
34
Realme GT Neo 3T
32
Xiaomi 12X
32
OnePlus Nord 2T 5G
31
Xiaomi 11T
30
OnePlus 9 Pro
24
Xiaomi 12 Lite
19
Sony Xperia 10 IV
11
vivo V23 5g
11
Realme 8 Pro
11
Oppo Reno7
5
GFX Aztek ES 3.1 High (offscreen 1440p)
Higher is better
Xiaomi 12
41
Google Pixel 6
30
OnePlus 9 Pro
28
Oppo Find X5
27
Realme GT Neo3
27
Asus Zenfone 8
27
Oppo Reno8 Pro
26
OnePlus 10R
26
Poco X4 GT
26
Samsung Galaxy S21 5G
25
Samsung Galaxy S21 FE 5G
24
vivo V23 Pro
23
Realme GT Neo 3T
22
Xiaomi 12X
22
OnePlus Nord 2T 5G
22
Xiaomi 11T
21
vivo V23 5g
16
Xiaomi 12 Lite
13
Sony Xperia 10 IV
7.8
Realme 8 Pro
7
Oppo Reno7
3.2
GFX Aztek Vulkan High (onscreen)
Higher is better
Xiaomi 12
59
Asus Zenfone 8
45
Realme GT Neo3
43
Google Pixel 6
43
Oppo Reno8 Pro
40
OnePlus 10R
39
Oppo Find X5
38
Poco X4 GT
38
Samsung Galaxy S21 FE 5G
38
Xiaomi 12X
35
Realme GT Neo 3T
34
vivo V23 Pro
32
OnePlus Nord 2T 5G
30
Xiaomi 11T
29
Samsung Galaxy S21 5G
29
OnePlus 9 Pro
27
Xiaomi 12 Lite
19
Sony Xperia 10 IV
11
Realme 8 Pro
11
vivo V23 5g
10
Oppo Reno7
4.9
GFX Aztek Vulkan High (offscreen 1440p)
Higher is better
Xiaomi 12
45
OnePlus 9 Pro
31
Oppo Find X5
30
Google Pixel 6
30
Asus Zenfone 8
30
Realme GT Neo3
28
Oppo Reno8 Pro
26
OnePlus 10R
26
Samsung Galaxy S21 FE 5G
25
Poco X4 GT
24
Realme GT Neo 3T
24
Xiaomi 12X
24
vivo V23 Pro
21
Xiaomi 11T
20
OnePlus Nord 2T 5G
20
Xiaomi 12 Lite
15
vivo V23 5g
15
Samsung Galaxy S21 5G
14
Sony Xperia 10 IV
8.2
Realme 8 Pro
7.2
Oppo Reno7
3.2
Moving further down the difficulty stack with more OpenGL ES testing we can see a very similar overall picture. The Reno8 Pro is generally holding its own well against its competitors.
GFX Car Chase ES 3.1 (onscreen)
Higher is better
Xiaomi 12
75
Asus Zenfone 8
61
Google Pixel 6
57
Samsung Galaxy S21 FE 5G
56
Oppo Find X5
55
Samsung Galaxy S21 5G
54
Realme GT Neo3
53
Realme GT Neo 3T
49
Xiaomi 12X
47
Poco X4 GT
46
vivo V23 Pro
45
Oppo Reno8 Pro
44
OnePlus 10R
42
OnePlus Nord 2T 5G
42
Xiaomi 11T
40
OnePlus 9 Pro
36
Xiaomi 12 Lite
29
vivo V23 5g
22
Oppo Reno7 5G
20
Sony Xperia 10 IV
16
Realme 8 Pro
16
Oppo Reno7
7.2
GFX Car Chase ES 3.1 (offscreen 1080p)
Higher is better
Xiaomi 12
84
OnePlus 9 Pro
70
Oppo Find X5
69
Asus Zenfone 8
69
Google Pixel 6
66
Realme GT Neo3
60
Samsung Galaxy S21 5G
60
Realme GT Neo 3T
59
Samsung Galaxy S21 FE 5G
57
Xiaomi 12X
55
vivo V23 Pro
53
Poco X4 GT
52
OnePlus Nord 2T 5G
51
OnePlus 10R
48
Xiaomi 11T
47
Oppo Reno8 Pro
46
Xiaomi 12 Lite
33
vivo V23 5g
27
Oppo Reno7 5G
24
Sony Xperia 10 IV
20
Realme 8 Pro
18
Oppo Reno7
8.1
It should be noted that the Reno8 Pro failed to run GFXBench at a higher refresh rate which effectively limited the on-screen runs to 60Hz and hence 60fps. Not that you should be using on-screen test to compare across devices with different native resolution, though. Just as a reminder.
GFX Manhattan ES 3.1 (onscreen)
Higher is better
Xiaomi 12
117
Asus Zenfone 8
105
Samsung Galaxy S21 FE 5G
98
Samsung Galaxy S21 5G
95
Google Pixel 6
90
Realme GT Neo 3T
85
vivo V23 Pro
79
Xiaomi 11T
72
Xiaomi 12X
70
Oppo Reno8 Pro
60
Oppo Find X5
60
Realme GT Neo3
60
OnePlus 10R
59
OnePlus 9 Pro
57
OnePlus Nord 2T 5G
55
Poco X4 GT
54
Xiaomi 12 Lite
50
vivo V23 5g
40
Oppo Reno7 5G
36
Realme 8 Pro
31
Sony Xperia 10 IV
28
Oppo Reno7
14
GFX Manhattan ES 3.1 (offscreen 1080p)
Higher is better
Xiaomi 12
164
OnePlus 9 Pro
119
Google Pixel 6
117
Asus Zenfone 8
117
Oppo Find X5
115
Realme GT Neo3
111
Poco X4 GT
103
Samsung Galaxy S21 FE 5G
103
Realme GT Neo 3T
98
Oppo Reno8 Pro
97
Samsung Galaxy S21 5G
97
OnePlus 10R
95
vivo V23 Pro
91
Xiaomi 12X
89
OnePlus Nord 2T 5G
81
Xiaomi 11T
77
Xiaomi 12 Lite
54
vivo V23 5g
45
Oppo Reno7 5G
42
Sony Xperia 10 IV
35
Realme 8 Pro
28
Oppo Reno7
20
GFX Manhattan ES 3.0 (onscreen)
Higher is better
Xiaomi 12
121
Asus Zenfone 8
119
Samsung Galaxy S21 5G
118
Samsung Galaxy S21 FE 5G
116
Realme GT Neo 3T
115
Xiaomi 12X
106
Xiaomi 11T
96
Google Pixel 6
90
vivo V23 Pro
89
Xiaomi 12 Lite
68
Poco X4 GT
65
vivo V23 5g
63
Oppo Reno8 Pro
61
Oppo Find X5
60
Realme GT Neo3
60
OnePlus 9 Pro
60
OnePlus 10R
59
OnePlus Nord 2T 5G
59
Oppo Reno7 5G
52
Sony Xperia 10 IV
39
Realme 8 Pro
38
Oppo Reno7
20
GFX Manhattan ES 3.0 (offscreen 1080p)
Higher is better
Xiaomi 12
236
OnePlus 9 Pro
174
Oppo Find X5
169
Realme GT Neo3
168
Asus Zenfone 8
164
OnePlus 10R
159
Google Pixel 6
159
Poco X4 GT
146
Realme GT Neo 3T
145
Samsung Galaxy S21 5G
143
vivo V23 Pro
140
Oppo Reno8 Pro
137
Samsung Galaxy S21 FE 5G
133
Xiaomi 12X
127
OnePlus Nord 2T 5G
124
Xiaomi 11T
121
Xiaomi 12 Lite
78
vivo V23 5g
68
Oppo Reno7 5G
61
Sony Xperia 10 IV
48
Realme 8 Pro
43
Oppo Reno7
22
Finally, we have 3D Mark and its Wild Life test since the Reno8 Pro proved two powerful for the Slingshot Extreme runs and maxed those out. We get a much cleaner and neater performance stack overall from this test suit.
3DMark Wild Life Vulkan 1.1 (offscreen 1440p)
Higher is better
Xiaomi 12
9535
Google Pixel 6
6832
Oppo Find X5
5851
OnePlus 9 Pro
5701
Oppo Reno8 Pro
5668
Asus Zenfone 8
5666
OnePlus 10R
5600
Samsung Galaxy S21 FE 5G
5432
Realme GT Neo3
5428
Samsung Galaxy S21 5G
5412
vivo V23 Pro
4713
OnePlus Nord 2T 5G
4653
Xiaomi 12X
4320
Poco X4 GT
4301
Realme GT Neo 3T
4255
Oppo Reno7 Pro 5G
4219
Xiaomi 11T
4172
Xiaomi 12 Lite
2483
vivo V23 5g
2315
Oppo Reno7 5G
2037
Sony Xperia 10 IV
1213
Realme 8 Pro
1051
Oppo Reno7
450
The Reno8 Pro handles heat pretty well. Like any closed-off passively-cooled system heat buildup is inevitable over time. The main thing to consider is how gradually the phone drops down its performance to accommodate the extra heat. The Reno8 Pro does that quite well. There are no sudden or jarring drops in performance, which is what typically causes stutters in games.
All things considered, we are very pleased with how the Oppo Reno8 Pro and its Dimensity 8100-MAX chipset perform. While the hardware can't quite rub shoulders with this year's latest and greatest, it easily matches flagship performance from a generation ago with advanced chipset features like ISP capabilities and connectivity to match. As far as the "MAX" notation on the chipset goes, it denotes some extra custom capabilities apparently added to the NPU for improvements to general AI performance, game stability and low-light video.