Gorgeous 6.7-inch, 120Hz AMOLED
The display is definitely one of the highlights of the Reno8 Pro. You get a large 6.7-inch display with a resolution of 1080 x 2412 pixels. That works out to a perfectly sharp density of around 394 ppi. It looks perfect in person.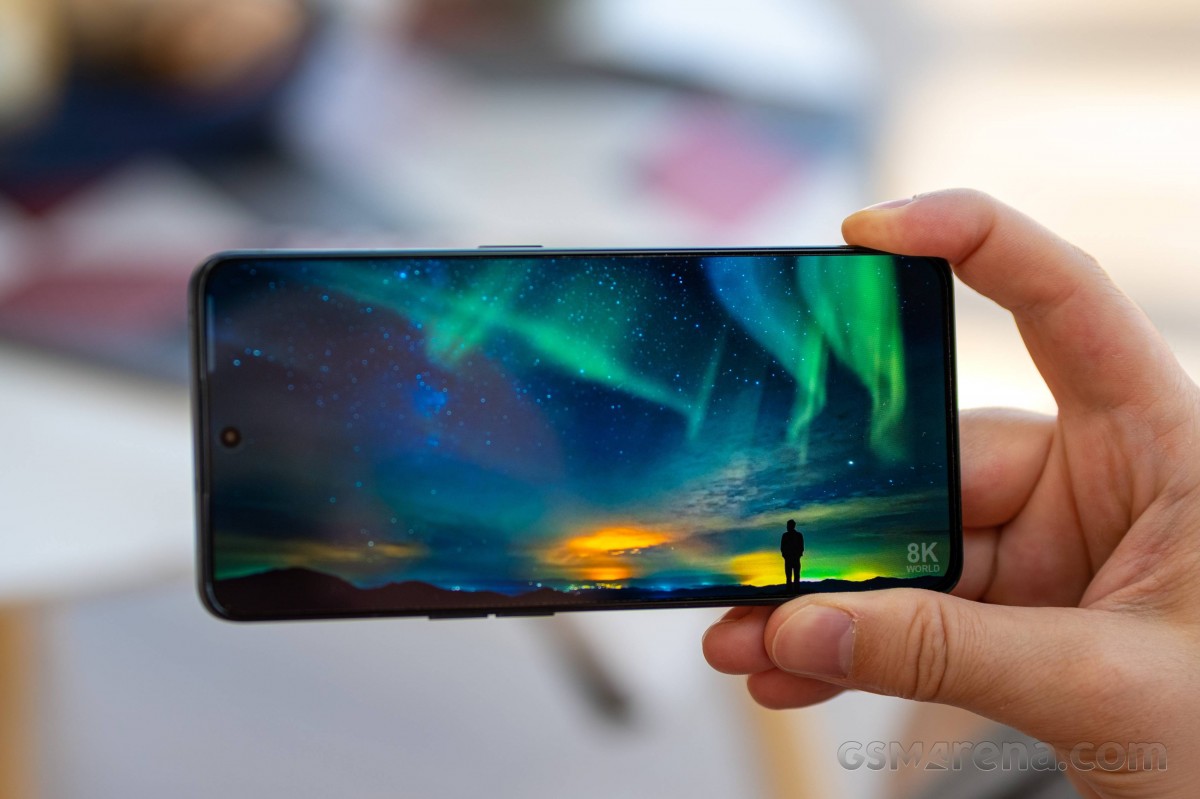 That's just the tip of the iceberg, though. Seeing how this is an AMOLED panel, it gets perfect blacks and hence technically infinite contrast. This particular panel gets quite bright too. Oppo advertises a peak brightness of 950 nits.
Display test
100% brightness
Black,cd/m2
White,cd/m2
Contrast ratio
Xiaomi 12 (Max Auto)
0
896
∞
OnePlus 9 Pro (Max Auto)
0.038
871
22921:1
Google Pixel 6 (Max Auto)
0
846
∞
Samsung Galaxy A53 5G (Max Auto)
0
830
∞
Xiaomi 12 Lite (Max Auto)
0
824
∞
Samsung Galaxy S20 FE (Max Auto)
0
823
∞
Oppo Reno8 Pro (Max Auto)
0
818
∞
Realme GT Neo 3T (Max Auto)
0
803
∞
Realme GT Neo3 (Max Auto)
0
796
∞
Samsung Galaxy S21 FE 5G
0
792
∞
Poco F4 GT (Max Auto)
0
761
∞
Sony Xperia 10 IV
0
683
∞
Oppo Reno7 Lite 5G (Max Auto)
0
657
∞
Oppo Reno7 (Max Auto)
0
624
∞
OnePlus 9 Pro
0
525
∞
Realme GT Neo 3T
0
516
∞
Oppo Reno8 Pro
0
510
∞
Xiaomi 12 Lite
0
507
∞
Xiaomi 12
0
494
∞
Google Pixel 6
0
477
∞
Poco F4 GT
0
468
∞
Realme GT Neo3
0
466
∞
Oppo Reno7 Lite 5G
0
447
∞
Oppo Reno7
0
439
∞
Samsung Galaxy A53 5G
0
427
∞
Samsung Galaxy S20 FE
0
404
∞
Samsung Galaxy S21 FE 5G (before second slide)
0
385
∞
In our standardized testing we managed to get 510 nits of brightness on the slider at 100% and a max auto brightness value of 810 nits. Not chart-topping by modern standards but more than plenty for a great all-around experience, especially outdoors in sunlight.
The display on the Reno8 Pro is also 10-bit, which means it can deliver a whopping 1 billion colors. Colors manage to really "pop" in person, which is also evident in our colorimeter tests. The Reno8 Pro ships in a default vivid mode, which clearly targets the DCI-P3 color space but doesn't really do a particularly great job. All of the main color channels are noticeably boosted, with blues and cyan being particularly overwhelming on average. That results in a bit of a colder color palette. Oppo clearly prioritized punchy OLED colors over accuracy.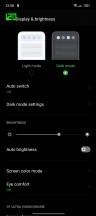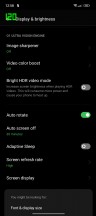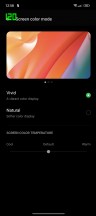 Color modes and display settings
There is a color temperature slider in the settings. When set all the way to its warmest setting in vivid mode, the Reno8 Pro manages to get pretty close to what we would consider color accurate against DCI-P3. Beyond that, there is also the natural mode, which targets the smaller sRGB color space, but generally suffers from a cold hue as well in its default state. You can also warm this profile up using the slider, but that still isn't enough to get the blue channel in check and doesn't result in accurate colors compared to the sRGB space.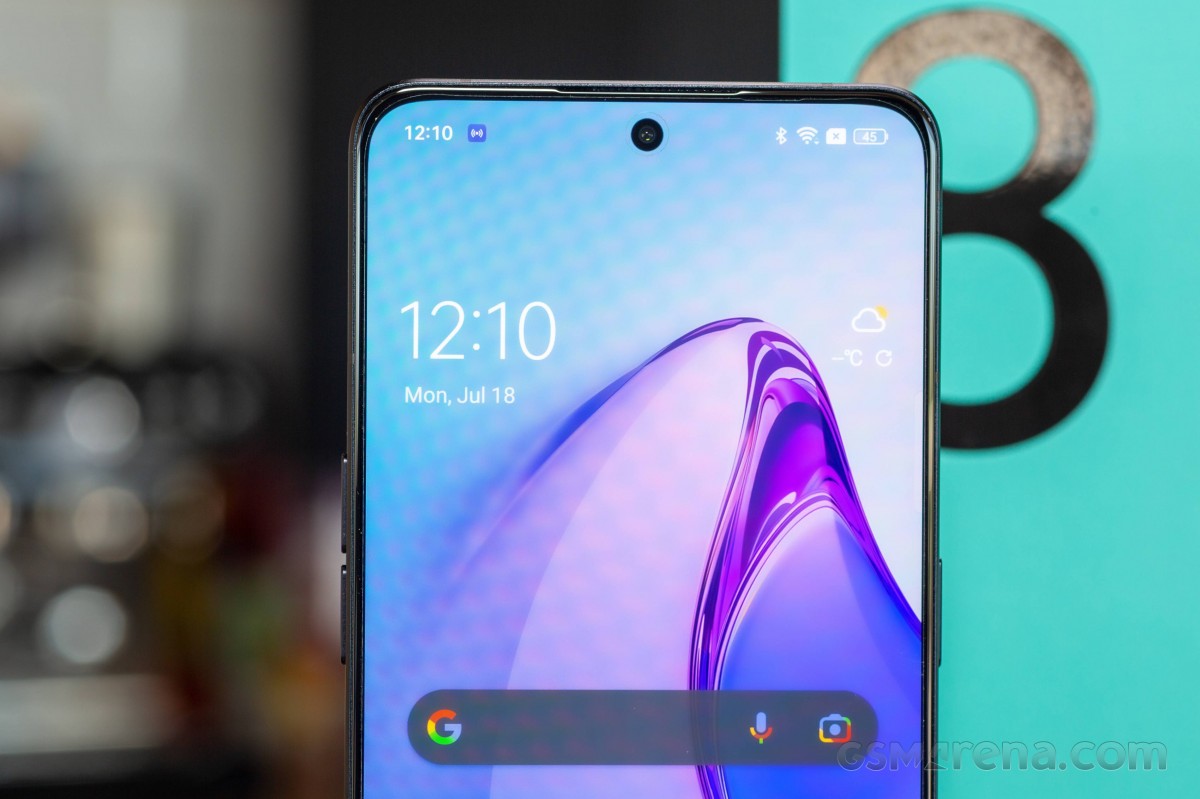 While on the topic of colors, Oppo has its own optimization engine baked into the Reno8 Pro. It is called the 01 Ultra Vision Engine and consists of two independent optimization systems. One is the Video Color Boost, which claims to intelligently identify common scenes in video and enhance their color and clarity. Then there is the Video Image Sharpener which does some on-the-fly upscaling, like 540p to 1080p.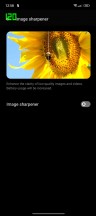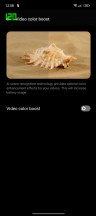 01 Ultra Vision Engine options
Both systems are designed to work during video playback, not just within Oppo's gallery and video player apps but also in third-party apps. Oppo explicitly mentions support for Instagram and YouTube. We gave them a try and could notice a difference, particularly from Video Color Boost, but the effect might not be universally appealing.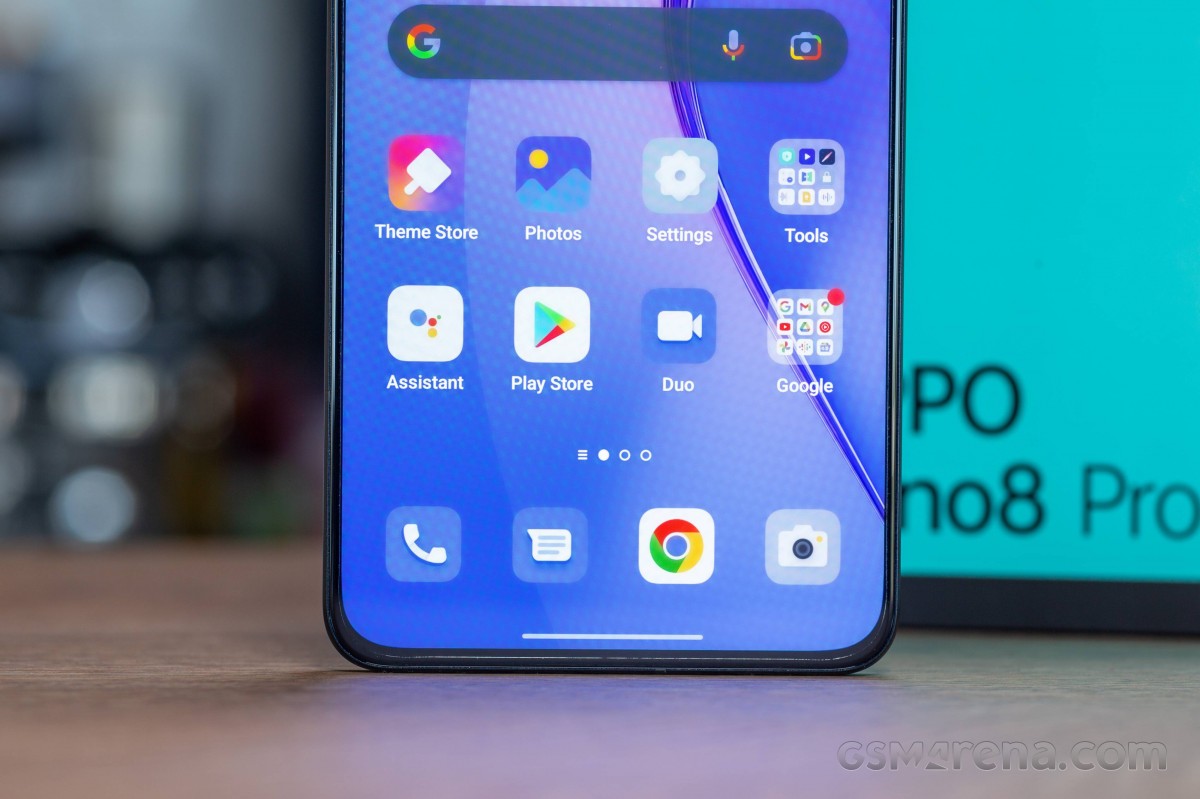 We should mention that the Oppo Reno8 Pro has the highest possible Widevine L1 certification, which lets streaming services like Netflix offer FullHD video to saturate its display resolution fully.
There is also ample HDR decoding support, including HDR 10, HDR 10+ and HLG. Everything except for Dolby Vision. The Netflix app was more than happy to offer HDR and also recognized the forward-looking AV1 video decoder that the Reno8 Pro has.
High refresh rate handling
The Reno8 Pro has a 120Hz refresh rate display, which, just like any high refresh rate, is only as good as the OS handling is. Oppo, like most of its cousins from the BBK group, doesn't exactly have the best of reputations in this department. The Reno8 Pro is arguably among the better high refresh rate performers we've seen out of the BBK bunch, but it still has plenty of issues.
There are just two refresh rate modes available in the display settings - standard, which is basically a locked 60Hz mode and high. The latter mostly runs the UI of the phone at a locked and extra-smooth 120Hz, which is great to see.
Unfortunately, most first-party Oppo apps, like the gallery and video player, have rather inconsistent behavior. Most of the time, they run at 120Hz, which is already not ideal and wasteful when dealing with things like video playback. Worse still, other times, the same apps would run at 90Hz.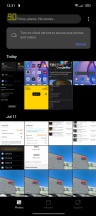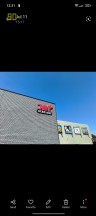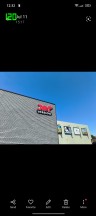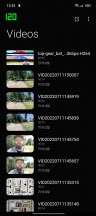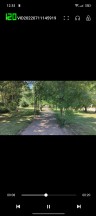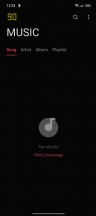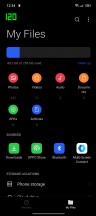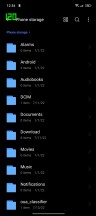 Oppo apps inconsistently working at 120Hz and 90Hz
There seems to be no rhyme or reason that determines when the refresh rate change occurs. It is not tied to motion and activity on screen, nor to a timeout of touch inactivity. The app simply decides on what refresh it will launch in and sticks to that with no automatic switching.
Google apps are all over the place as well. Gmail and Chrome run at 90Hz, while YouTube and Google Photos stick to 60Hz out of the gate. The Files app uses 120Hz.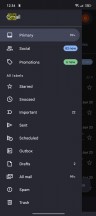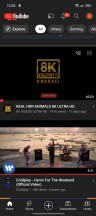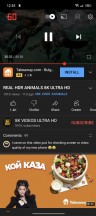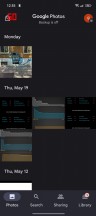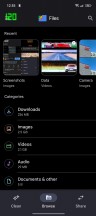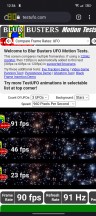 Google apps running in high refresh rate mode
The same goes for popular third-party apps. Facebook runs at 90Hz, while TikTok and Netflix use 60Hz.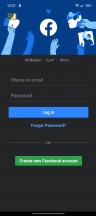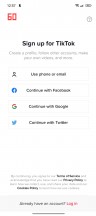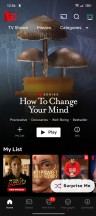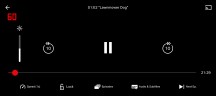 Third-party apps running in high refresh rate mode
There's just no logic. None we could discern anyway. This, unfortunately, carries over to high refresh rate gaming, where you'll have to test on a per-title basis. All of the following games are known to support higher than 60fps rendering. Even so, 1945 Sky Force, Pacman 256 and PUBG Mobile all ran locked at 60Hz despite the latter explicitly mentioned in some of the PR materials for the Reno8 Pro as running at 90Hz.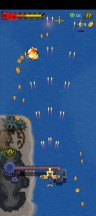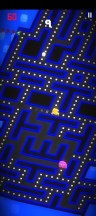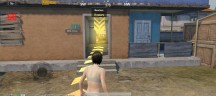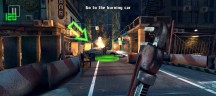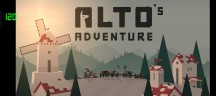 Gaming in high refresh rate mode
Other titles like Dead Trigger 2 and Alto's Adventure were perfectly happy to run at 120Hz.
Bottom line, Oppo's high refresh rate handling seems to be showing some signs of improvement but is still a hot mess and needs a major rework, in our opinion. As things currently stand, Reno8 Pro users can only count on guaranteed benefits from the 120Hz display and smooth scrolling in the phone's UI. Apps and games are a coin toss.
Battery life
The Oppo Reno8 Pro has a decently-sized but not particularly large 4,500 mAh battery pack. Considering that, it did reasonably well in our endurance testing, scoring a total of 100 hours.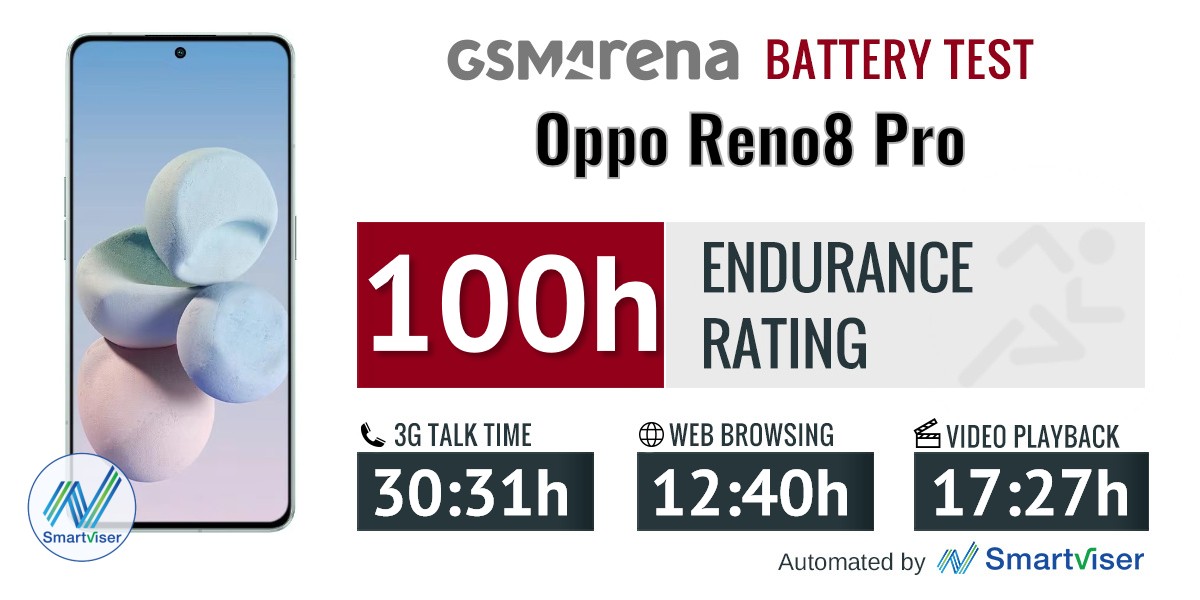 Oppo could have surely squeezed a bigger battery inside the Reno8 Pro for better endurance, but that would have meant sacrificing the thin and light design. As things stand, the Reno8 Pro and its Dimensity 8100-MAX chipset appear to be well optimized and make great use of the available battery capacity, scoring about what we would expect from the particular chipset and battery combo.
Our battery tests were automated thanks to SmartViser, using its viSerDevice app. The endurance rating denotes how long the battery charge will last you if you use the device for an hour of telephony, web browsing, and video playback daily. More details can be found here.
Video test carried out in 60Hz refresh rate mode. Web browsing test done at the display's highest refresh rate whenever possible. Refer to the respective reviews for specifics. To adjust the endurance rating formula to match your own usage patterns check out our all-time battery test results chart where you can also find all phones we've tested.
Charging
The Reno8 Pro can charge at up to 80W peak with the SUPERVOOC charger and cable combo provided in the box. That's a pretty big number and one that translates well into actual real-world charging rates. We managed to get the Reno8 Pro from dead up to a whopping 90% charge in just 30 minutes. A full charge took us precisely 42 minutes, which is indeed very rapid. Mind you, we are charging a decent-size, but not huge, 4,500 mAh battery.
30min charging test (from 0%)
Higher is better
Realme GT Neo3 150W
100%
OnePlus 9 Pro
99%
Realme GT Neo3T
95%
Oppo Reno8 Pro
90%
Xiaomi 12
87%
Xiaomi 12 Lite
84%
vivo V23 Pro
65%
vivo V23 5g
60%
Samsung Galaxy S20 FE (25W)
57%
Oppo Reno7 Lite 5G
52%
Samsung Galaxy S21 FE 5G
51%
Oppo Reno7
50%
Google Pixel 6 (65W)
48%
Samsung Galaxy A53 5G
45%
Google Pixel 6 (18W)
41%
Sony Xperia 10 IV (65W PD)
26%
Time to full charge (from 0%)
Lower is better
Realme GT Neo3 150W
0:16h
OnePlus 9 Pro
0:32h
Realme GT Neo3T
0:40h
Oppo Reno8 Pro
0:42h
Xiaomi 12
0:46h
Xiaomi 12 Lite
0:50h
vivo V23 Pro
0:57h
vivo V23 5g
1:03h
Oppo Reno7
1:10h
Samsung Galaxy S20 FE (25W)
1:10h
Oppo Reno7 Lite 5G
1:11h
Samsung Galaxy S21 FE 5G
1:15h
Samsung Galaxy A53 5G
1:24h
Google Pixel 6 (65W)
1:50h
Google Pixel 6 (18W)
1:53h
Sony Xperia 10 IV (65W PD)
2:35h
Speakers
The Reno8 Pro has a hybrid stereo speaker setup with one dedicated speaker on the bottom of the device and the earpiece acting like the other channel.
Audio output on the Reno8 Pro can probably best be described as decent but unremarkable in any particular way. The phone gets loud enough.
The speakers sound clean with little distortion and not until you go to max volume. The frequency response curve is what we would expect from a phone of this caliber. That being said, a better overall audio setup can definitely be had from a competing phone if you shop around.
Use the Playback controls to listen to the phone sample recordings (best use headphones). We measure the average loudness of the speakers in LUFS. A lower absolute value means a louder sound. A look at the frequency response chart will tell you how far off the ideal "0db" flat line is the reproduction of the bass, treble, and mid frequencies. You can add more phones to compare how they differ. The scores and ratings are not comparable with our older loudspeaker test. Learn more about how we test here.