Design
As we already mentioned, the Reno7 Lite 5G sends off a sort of Apple-inspired overall design vibe mostly due to its flat sides and gently rounded corners and the way the cameras protrude out the back. There's nothing wrong with that at all since it's a refined look. Plus, the resemblance is mostly skin-deep since the Reno7 Lite is a much "skinnier" device - both narrower and thinner.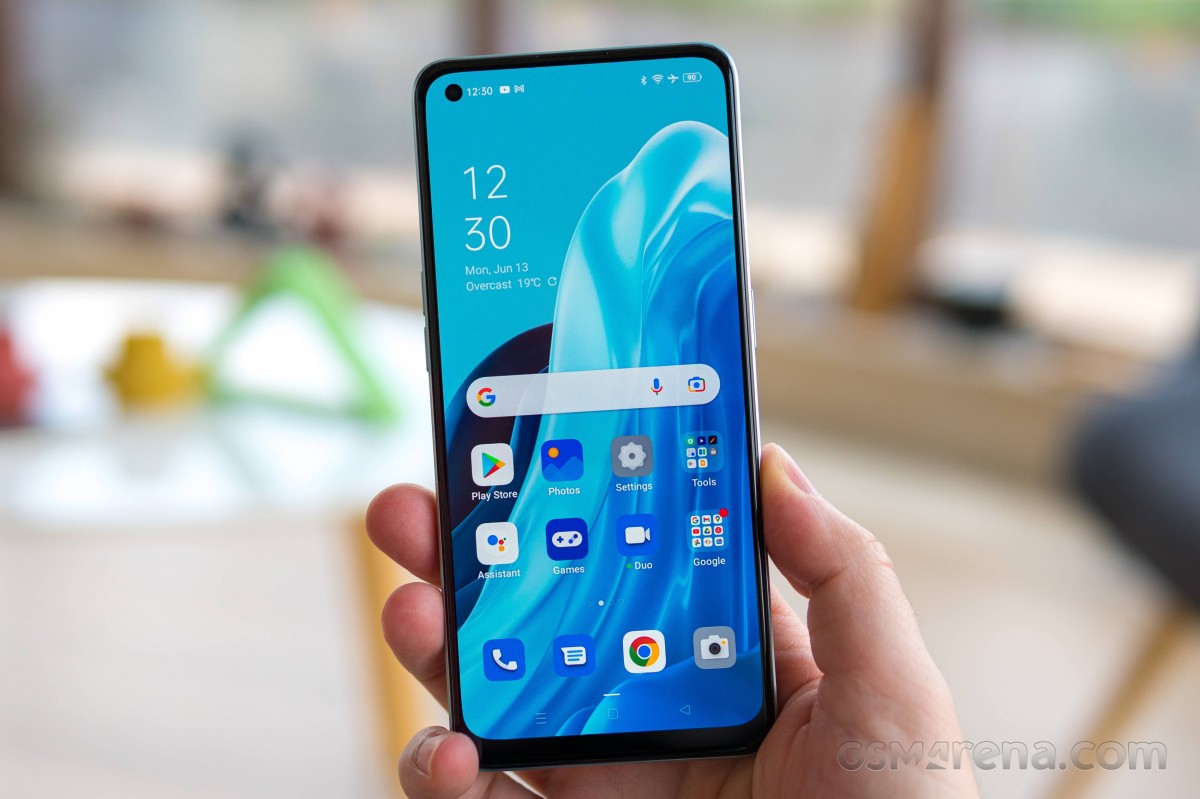 In fact, we would go as far as to say that its slim profile is one of the defining features of the design. That and the lightness of its body, tipping the scale at just 173 grams. In terms of the overall footprint, the 159.9 x 73.2 x 7.5 mm Reno7 Lite 5G sits somewhere between the smaller iPhone 13 and the iPhone 13 Pro Max.
That about wraps up any comparison we'll be making to Cupertino tech since the Reno7 Lite 5G is actually rocking a unique style of its own. Our review unit came in Champagne Silver which is far and away the more interesting finish. While Cosmic Black is just a serious and dignified solid color (more graphite than anything), our unit shines in every possible color of the rainbow, depending on how the light hits it. It is almost like an oil slick but with more of a sandy rather than oily texture. It is stunning to look at in person.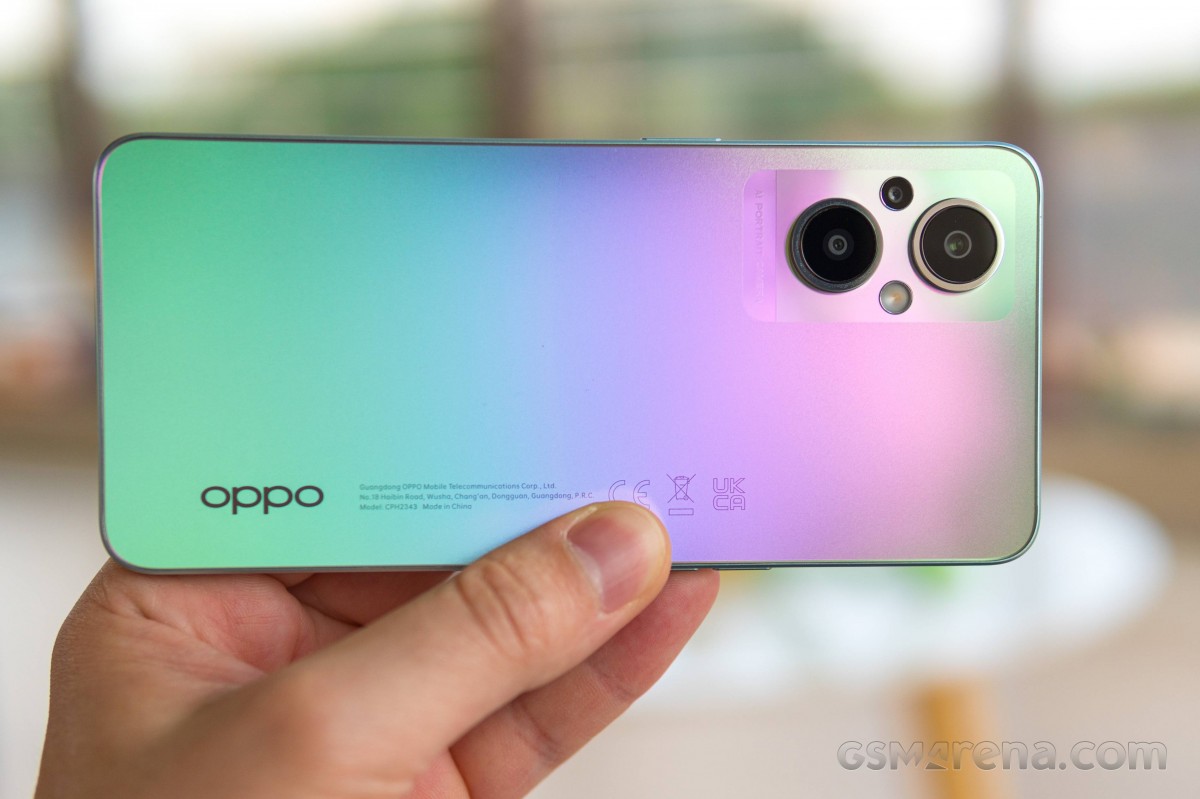 However, that texture we mentioned is not exposed to the back surface itself but rather sits below the top layer of glass or plastic. Oppo hasn't exactly detailed its bill of materials. This surface feels like smooth plastic to the touch. That is to say, smooth, but not as smudge-friendly and gliding as most glass surfaces are, but rather a bit grippier.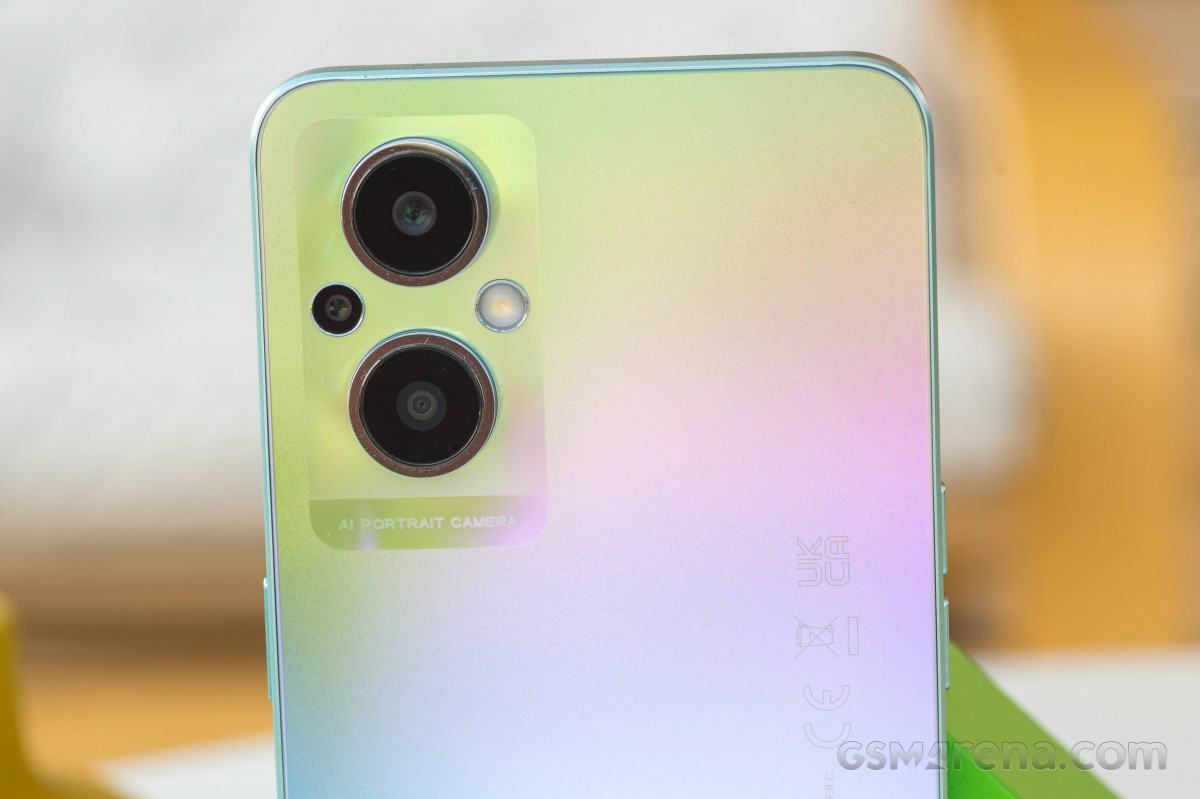 Even though the Reno7 Lite 5G lacks a camera island in the full sense of the word, since just the actual lenses themselves protrude, the area around them is the only one that sports a distinct texture, different from the rest of the back. It is almost rubbery to the touch.
Of course, we can't fail to mention the other distinctive design feature on the Reno7 Lite 5G - the pair of blue ring lights at the base of the rear cameras. Oppo calls them breathing lights, and we have to say they look truly awesome and stylish. It's an amazing yet subtle accent that complements the overall design nicely and gives it that extra bit of "pop".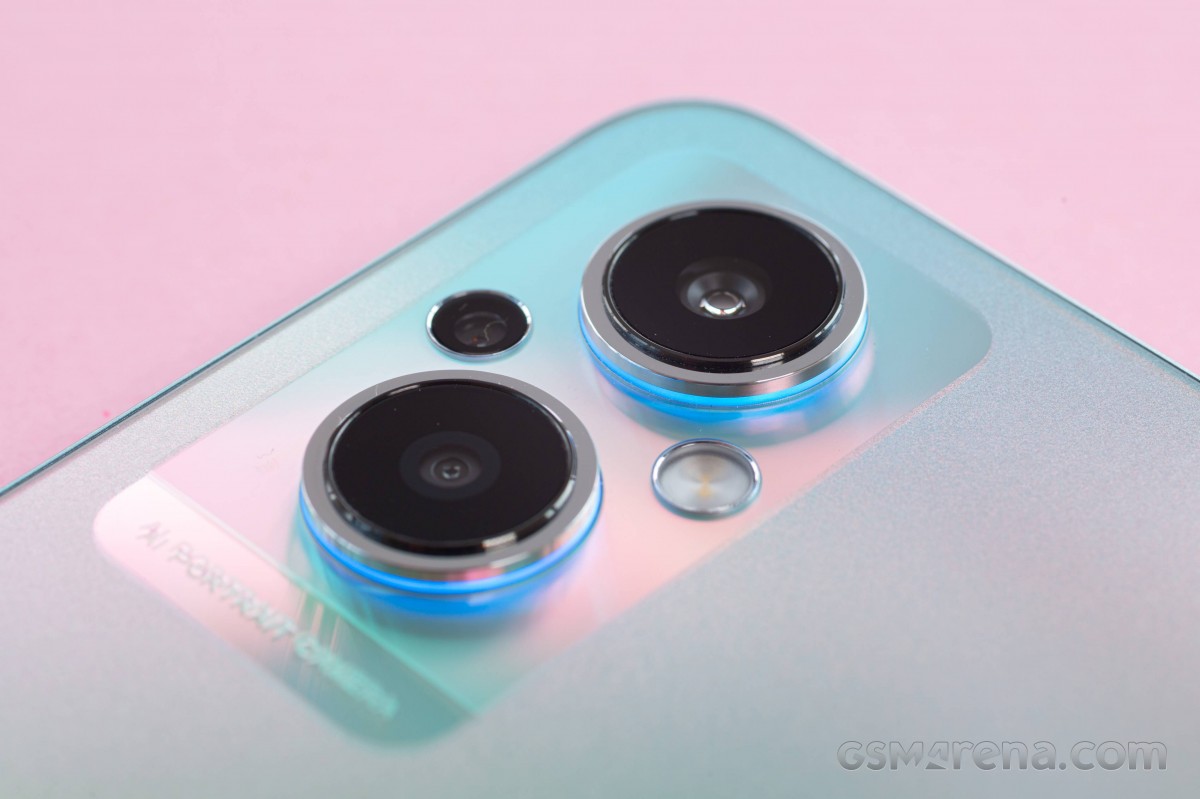 In terms of features, the lights can be used to indicate charging and blink for calls and notifications. Also, they can be set to blink when launching a game. Nothing too fancy. You can't change the color or do custom patterns or anything of the sort, but we honestly kind of appreciate this approach. It makes it so that you can't do any ridiculous or over-the-top effects and ruin the subtlety of the whole setup.
There isn't much of a "design" to speak of on the front side of the Reno7 Lite 5G. The display itself is flat, with its glass only tapering off with a gentle curve around the edges. The selfie punch hole is not particularly wide. It does have a think black inner border, but it's not too obtrusive.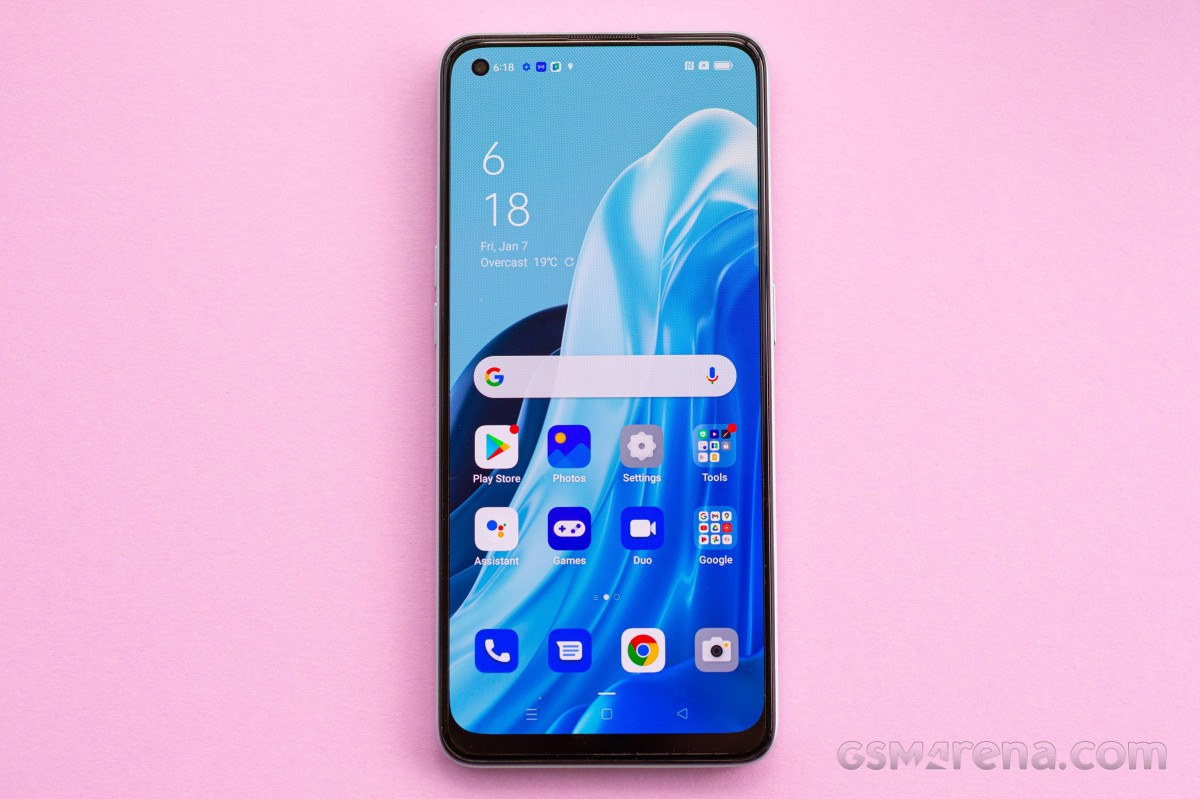 The same goes for the bezels around the display. The bottom one is a bit on the thicker side, but not excessively so. It's perfect for resting your thumb.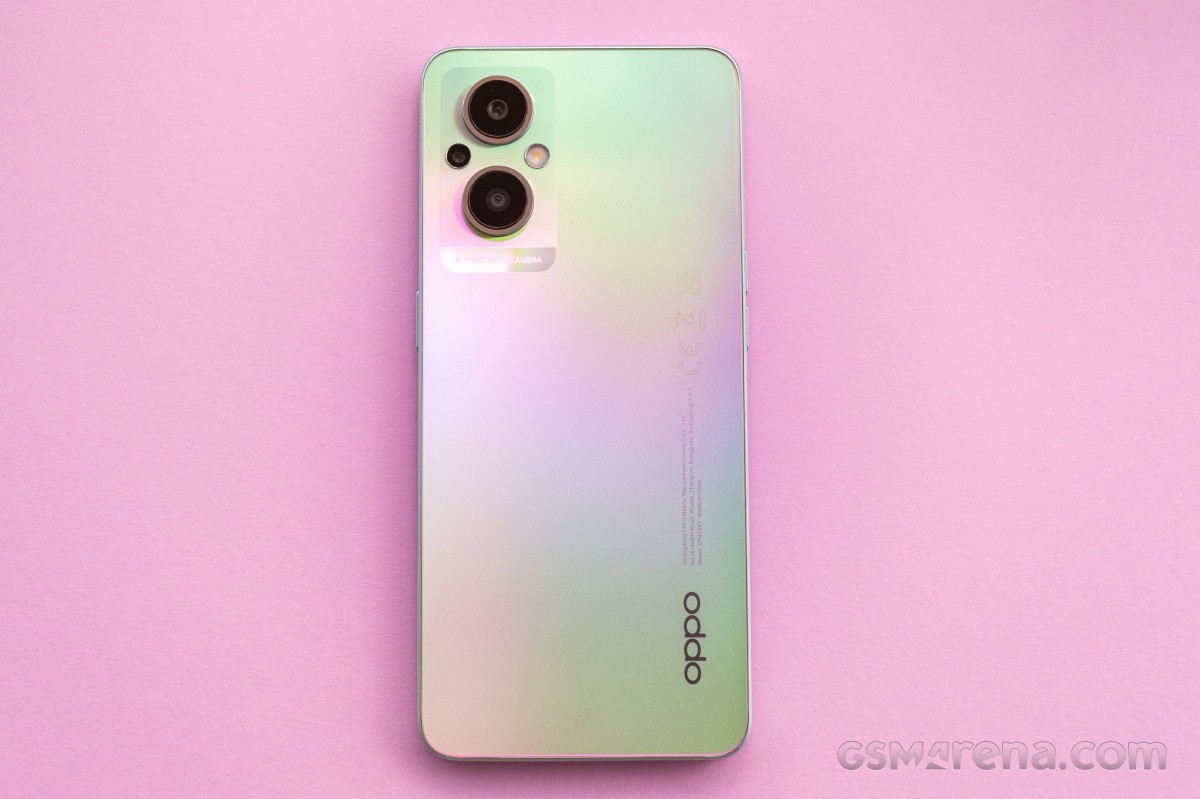 Overall, looking at these details, you couldn't guess whether the Reno7 Lite 5G is a budget or premium device.
Build quality and materials
The Reno7 Lite 5G is pretty light at just 173 grams and doesn't exactly feel "dense". That, however, should not be misconstrued as it being fragile. Part of its lightweight nature probably comes from the bill of materials. As we mentioned, Oppo isn't exactly forthcoming about this particular aspect, but it isn't hard to tell that the middle frame is plastic. If nothing else, there are no antenna lines anywhere.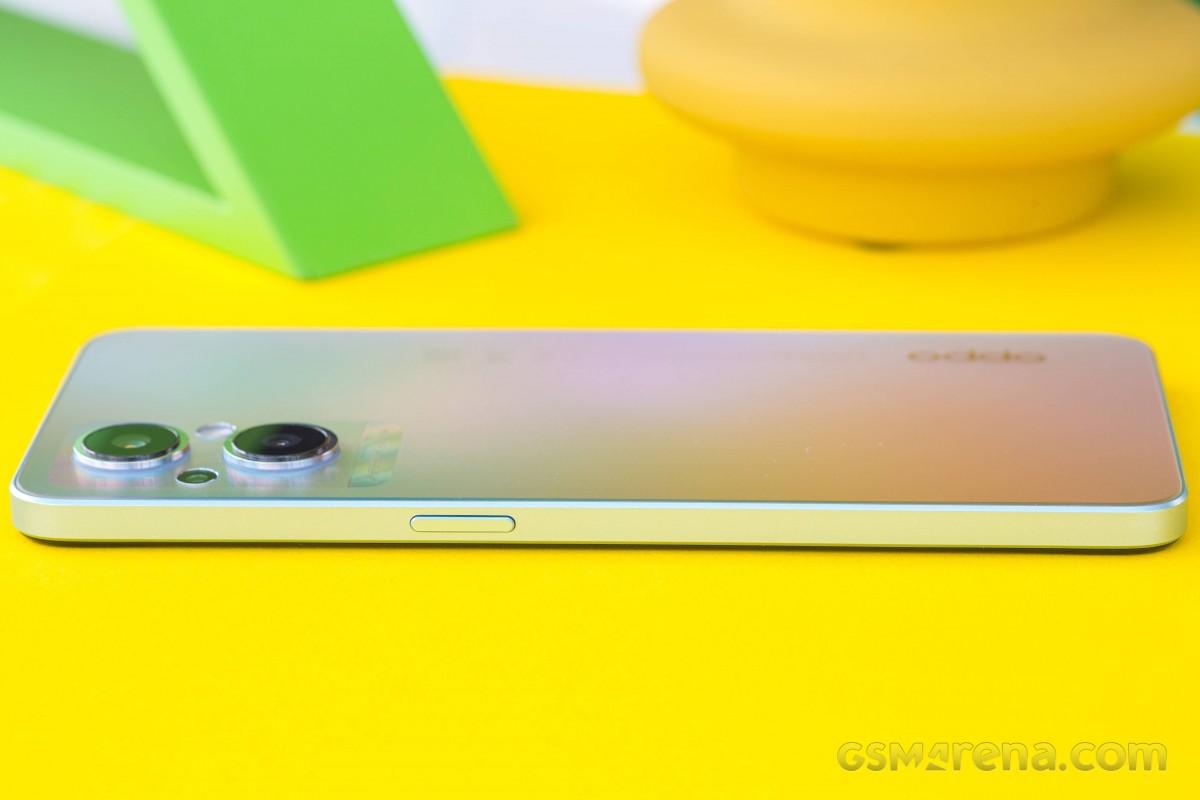 Still, it has no flex and feels nice and strong. The same is true for the back panel. There is no give to it, and although we can't be certain exactly what it's made of, it feels plastic as well.
Regarding materials, we have the Oppo F21 Pro 5G specs sheet to go off of and assume that at least the front glass of the Reno7 Lite 5G, which is essentially the same device, is made of Schott Xensation glass. In case you are not in the know, Schott is a hardened mineral glass maker and a smaller competitor to Corning.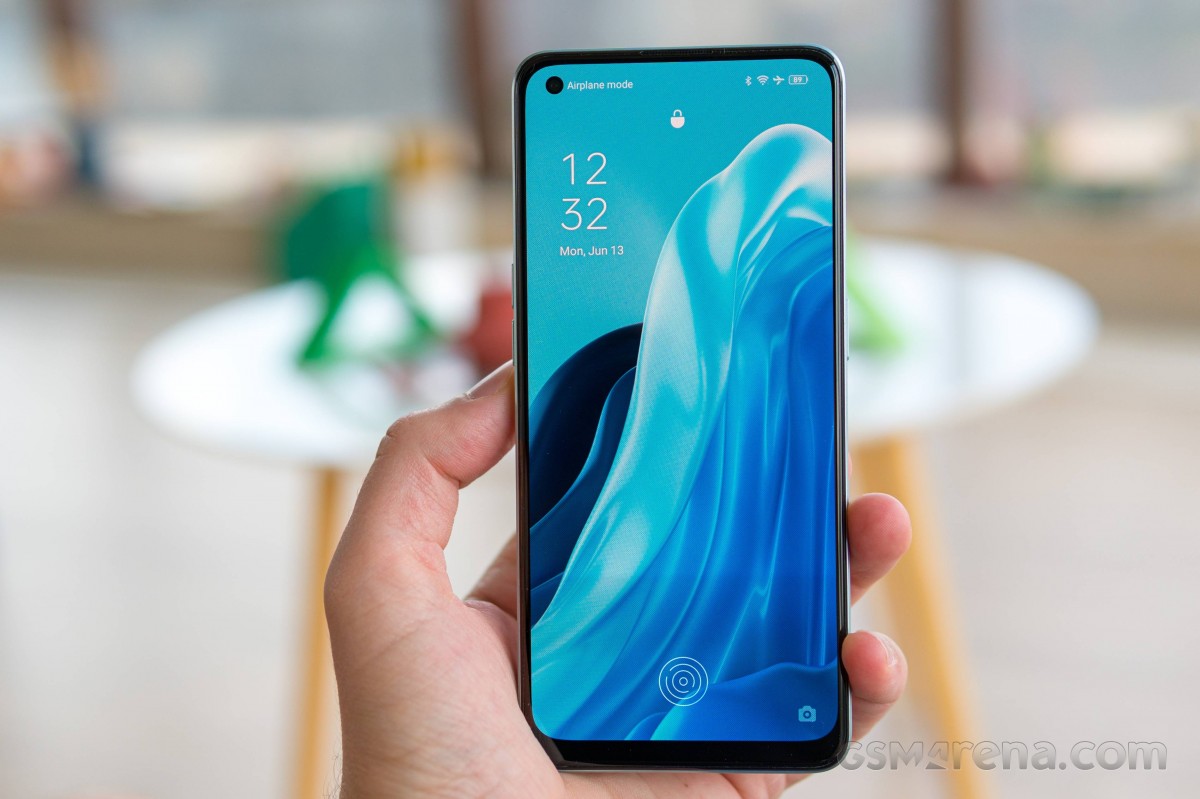 Our review unit also has a thin, factory-pre-applied plastic screen protector, which is always nice to see. It is unobtrusive and doesn't get in the way. Its surface feels reasonably good, too.
The Reno7 Lite 5G has a rather basic IPX4 ingress protection rating, which is far from perfect but is also better than nothing.
Controls, sensors and connectivity
The Oppo Reno7 Lite 5G has a standard control layout.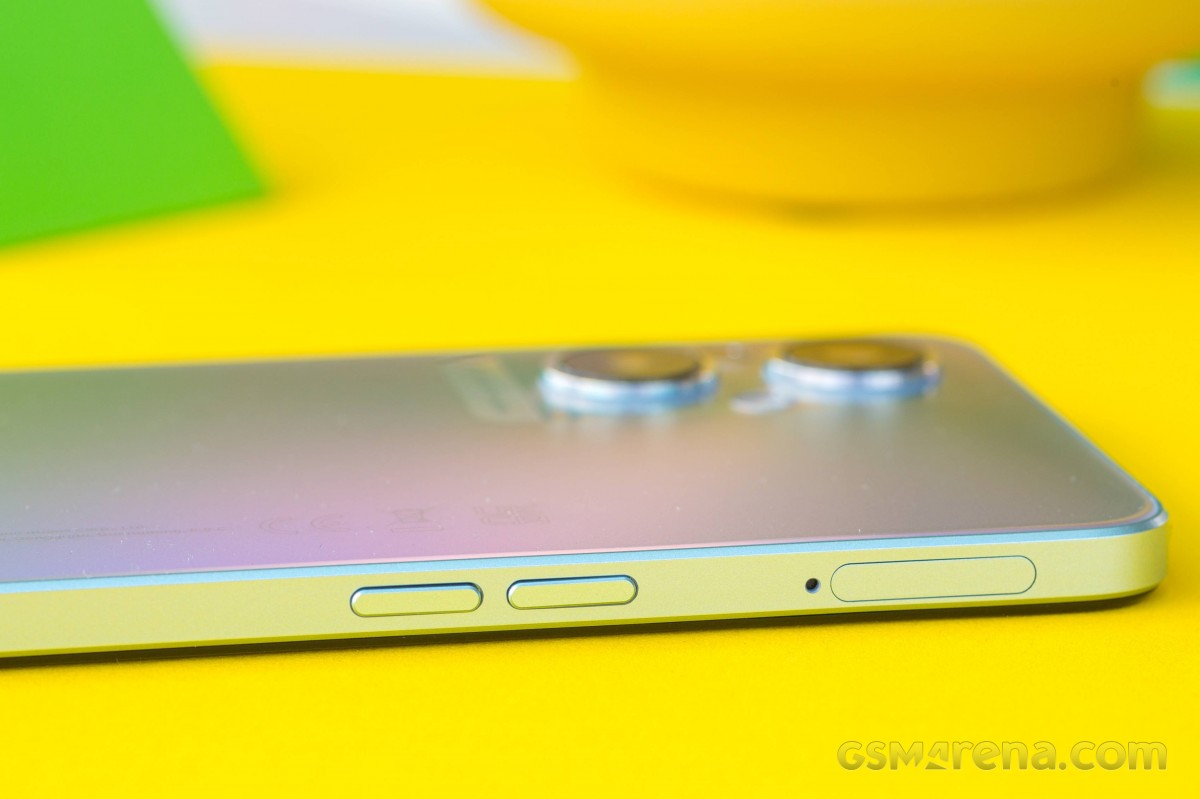 A power button on the right-hand side and volume buttons on the left. All three buttons are nice and "clicky", so no complaints there.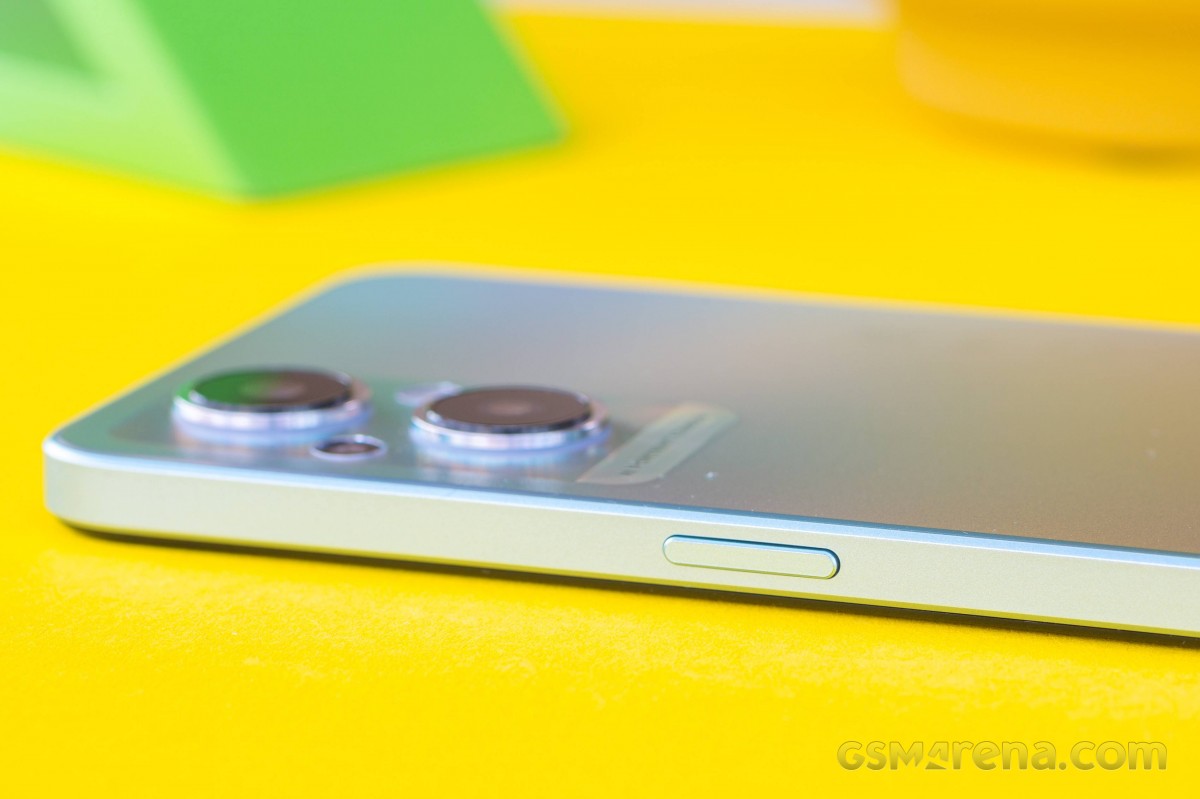 The Reno7 Lite 5G has an under-display fingerprint reader. It is a standard optical unit that is both speedy and dependable. These sensors have come a long way now and are quite reliable. Still, if you want even faster unlocks, the Reno7 Lite 5G even suggests you enroll a face for facial unlocking alongside the fingerprint.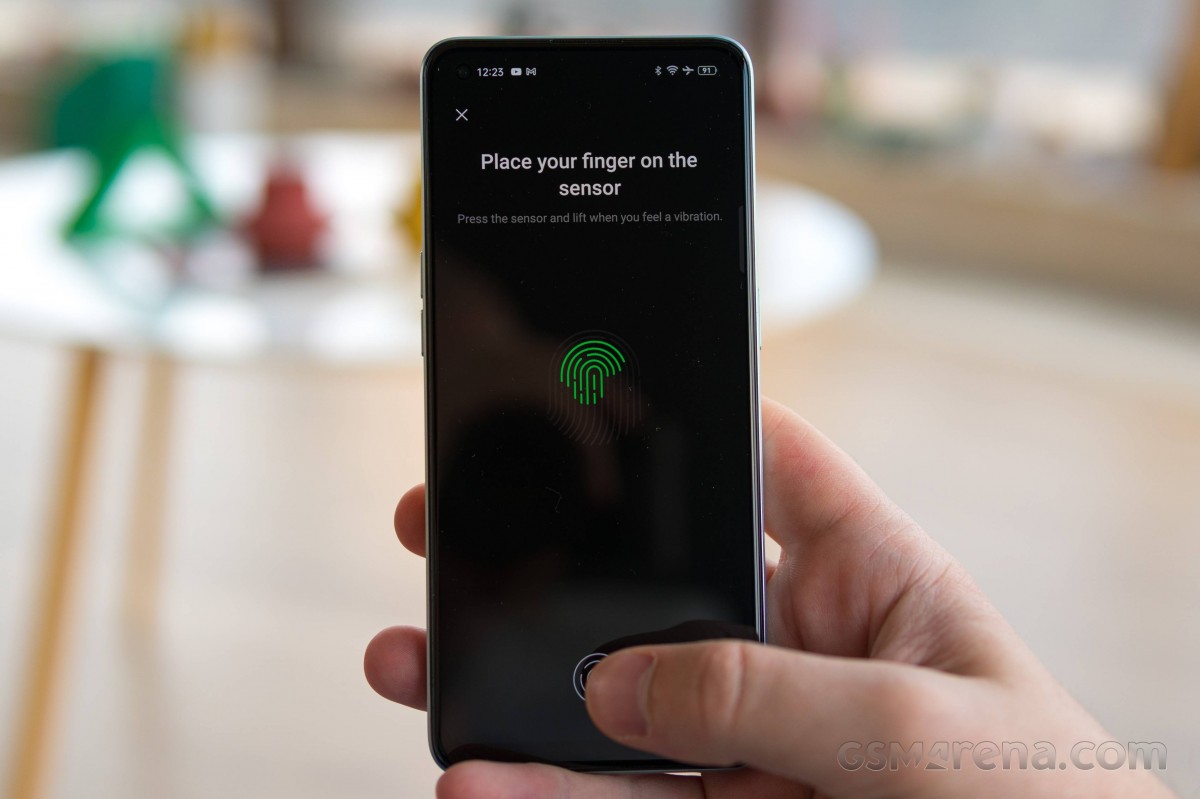 There is a SIM tray above the power buttons on the left. It can house either two nano-SIM cards or one nano-SIM and a microSD card. You have to pick and choose with these hybrid slots.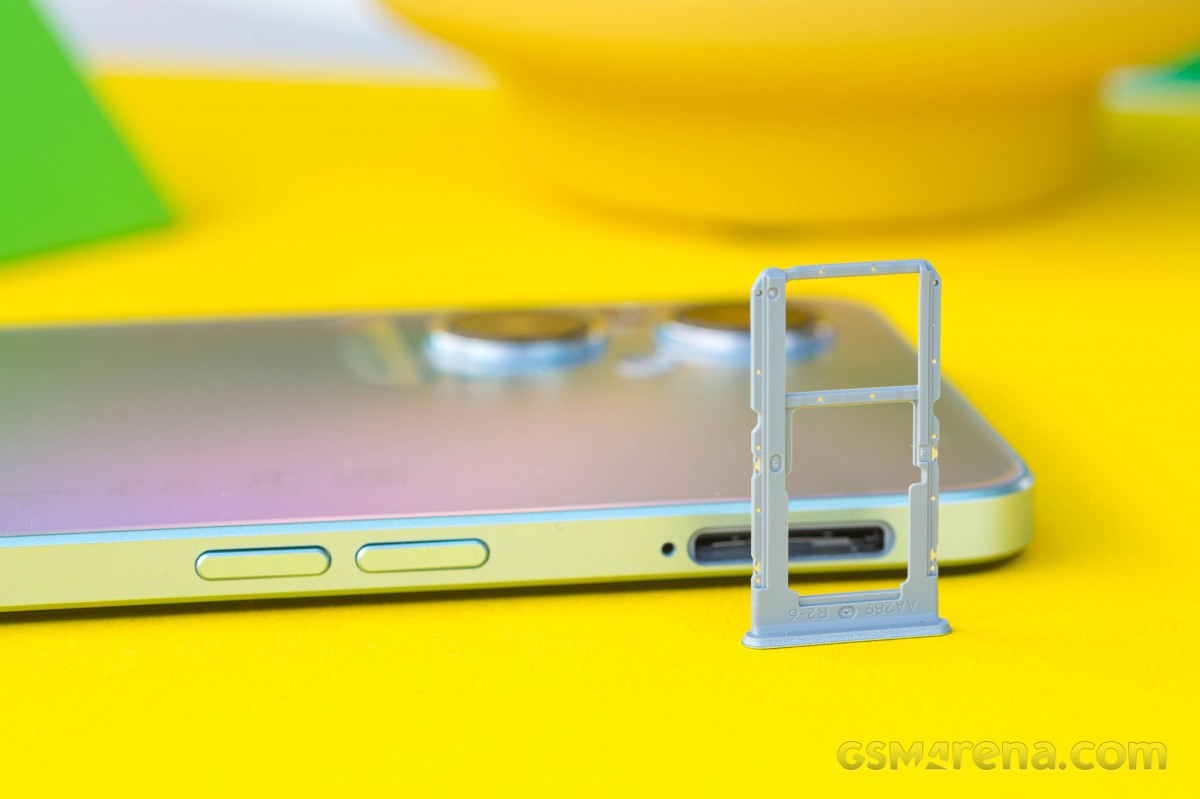 There is no gasket around the slot, so we don't expect Oppo is being modest with its IPX4 rating.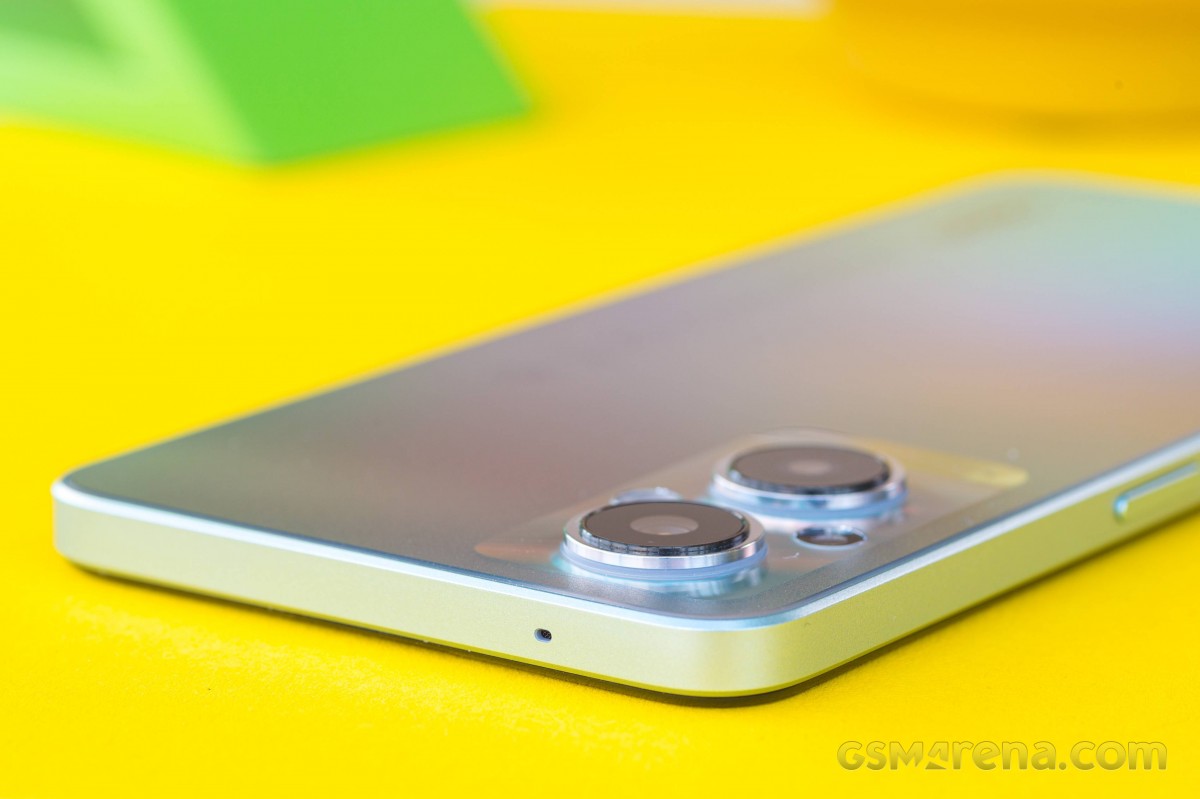 The top of the Reno7 Lite 5G is empty except for a secondary microphone
The bottom is a lot busier. This is where the singular bottom-firing speaker on the phone is. Also, the main microphone and a trusty old 3.5mm audio/headset jack.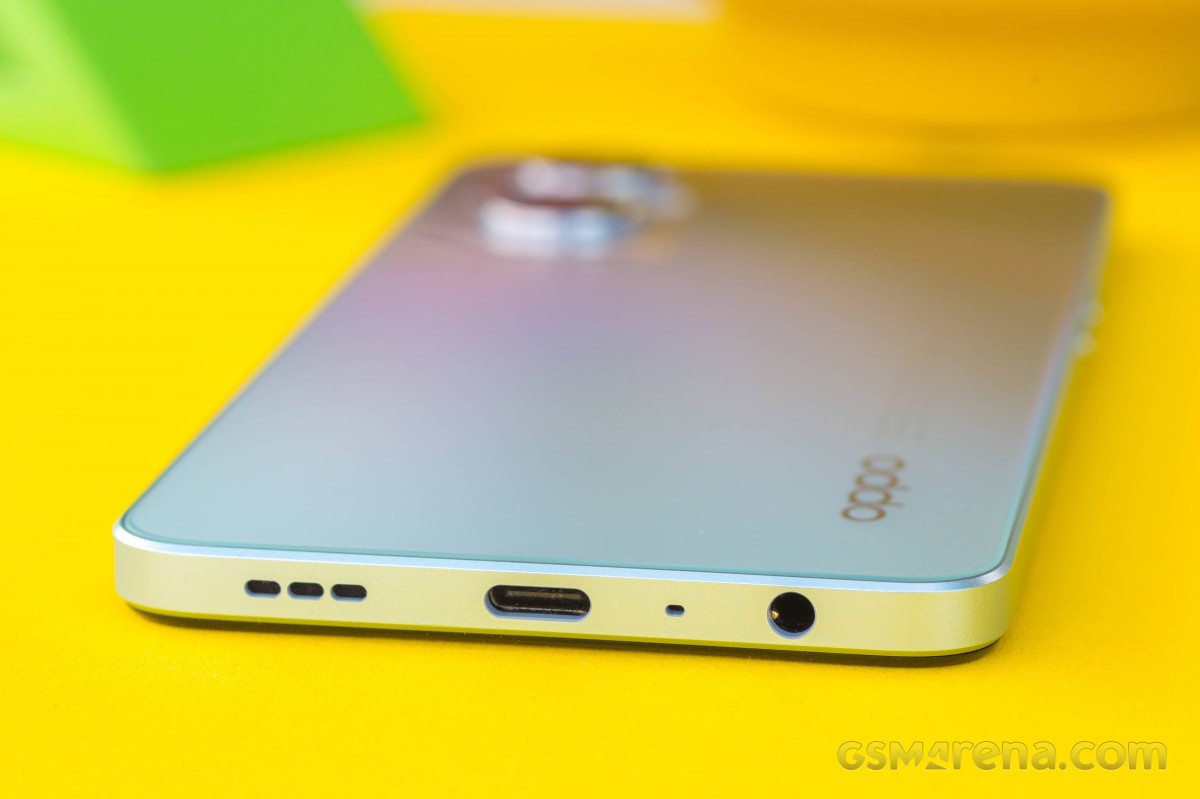 The central-mounted USB Type-C port has a regular USB 2.0 data connection behind it. It supports USB Host, but lacks anything fancier like video output.
In terms of wireless connectivity, the Reno7 Lite 5G has SA and NSA 5G support, dual-band Wi-Fi ac, Bluetooth 5.1 with LE and aptX HD support, NFC and GPS with A-GPS, GLONASS, BDS, GALILEO and QZSS. Nothing out of the ordinary like an IR blaster, but not a bad loadout either.
For sensors, the Reno7 Lite 5G has an accelerometer, gyro, compass, magnetometer, light sensor and a proper hardware tcs3701 proximity sensor.