Synthetic and real-life performance
Meizu Pro 7 Plus is the first smartphone to utilize the latest Helio X30 chip by MediaTek. It has a powerful deca-core processor and PowerVR graphics. Meizu has added 6 gigabytes of RAM, more than enough for smooth multi-tasking.
The 10-core processor has two powerful Cortex-A73 cores clocked at 2.6GHz, four energy-efficient A53 cores running at 2.2GHz, and four super lightweight A35 ones ticking at 1.9GHz. The GPU in charge of graphics is PowerVR 7XTP series - not exactly new as Apple had a similar one in the iPhone 6s two years ago.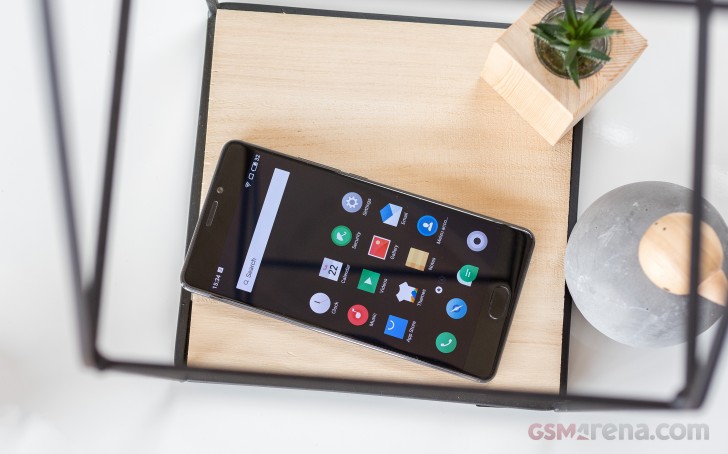 Traditionally we start our benchmarking routine with some Geekbench tests on the processor, but our unit is running on a pre-release Flyme version, and it failed to run the app.
Other than Geekbench, all other tests were able to complete their routines. The GPU chosen for the Helio X30 isn't of the latest generations and while it was once a flagship-grade, it's now more of a mid-range performer. Considering the QHD screen on the Pro 7 Plus we weren't sure what to expect, but luckily there are no reasons for worries.
The offscreen GFX tests show the PowerVR 7XTP GPU is noticeably weaker than the current Adreno 540 by Qualcomm, but very close to its previous Adreno 530 model available in the Snapdragon 820 generation and on par with the Mali-T880MP10 found in the Meizu Pro 6 Plus.
GFX 3.0 Manhattan (1080p offscreen)
Higher is better
OnePlus 5
60
Xiaomi Mi 6
59
Nokia 8
57
Sony Xperia XZ Premium
50
Samsung Galaxy S8
50
OnePlus 3T
49
Sony Xperia XZs
42
LG G6
41
Samsung Galaxy S7 edge (E8890)
40
Meizu Pro 6 Plus
37
Meizu Pro 7 Plus
34
Huawei P10 Plus
28
Huawei Mate 9 Pro
28
Meizu Pro 5
25
Meizu Pro 6
18
Huawei P9 Plus
18
GFX 3.1 Manhattan (1080p offscreen)
Higher is better
OnePlus 5
41
Xiaomi Mi 6
41
Sony Xperia XZ Premium
39
Nokia 8
39
Samsung Galaxy S8
36
OnePlus 3T
33
Sony Xperia XZs
32
Samsung Galaxy S7 edge (E8890)
29
LG G6
26
Meizu Pro 6 Plus
25
Huawei Mate 9 Pro
22
Meizu Pro 7 Plus
22
Huawei P10 Plus
19
Meizu Pro 5
14
Meizu Pro 6
11
Huawei P9 Plus
10
There are apps that will run on the native 1440p resolution, so we also ran the onscreen GFX benchmarks. The Pro 7 Plus GPU does a decent job, though the current top-of-the-line crop offers twice the performance, so not really spectacular.
GFX 3.0 Manhattan (onscreen)
Higher is better
OnePlus 5
56
Xiaomi Mi 6
56
OnePlus 3T
48
Sony Xperia XZ Premium
47
Sony Xperia XZs
40
Samsung Galaxy S8
36
Nokia 8
33
Samsung Galaxy S7 edge (E8890)
27
Meizu Pro 5
25
LG G6
24
Meizu Pro 6 Plus
23
Meizu Pro 7 Plus
23
Huawei P10 Plus
19
Huawei P9 Plus
19
Meizu Pro 6
18
Huawei Mate 9 Pro
18
GFX 3.1 Manhattan (onscreen)
Higher is better
Sony Xperia XZ Premium
41
Xiaomi Mi 6
41
OnePlus 5
40
Sony Xperia XZs
34
OnePlus 3T
33
Samsung Galaxy S8
23
Nokia 8
18
Samsung Galaxy S7 edge (E8890)
15
Meizu Pro 5
14
Meizu Pro 6 Plus
13
Meizu Pro 7 Plus
13
Huawei P10 Plus
12
LG G6
12
Huawei Mate 9 Pro
12
Meizu Pro 6
11
Huawei P9 Plus
11
We can draw the same conclusions from the compound GPU tests by BaseMark - the Pro 7 Plus has a capable GPU, but far from the best on the market.
Basemark X
Higher is better
Samsung Galaxy S8
42370
OnePlus 5
38844
Xiaomi Mi 6
38541
Sony Xperia XZ Premium
38507
Nokia 8
37593
OnePlus 3T
36958
Sony Xperia XZs
33815
Huawei P10 Plus
30602
LG G6
30507
Samsung Galaxy S7 edge (E8890)
28480
Huawei Mate 9 Pro
27600
Meizu Pro 6 Plus
23513
Meizu Pro 7 Plus
22472
Meizu Pro 5
20038
Meizu Pro 6
15209
Huawei P9 Plus
15058
Basemark ES 3.1 / Metal
Higher is better
Samsung Galaxy S8
1189
Xiaomi Mi 6
861
Nokia 8
855
Sony Xperia XZ Premium
842
OnePlus 5
796
Samsung Galaxy S7 edge (E8890)
733
Meizu Pro 6 Plus
642
OnePlus 3T
641
Sony Xperia XZs
623
Huawei Mate 9 Pro
616
LG G6
541
Meizu Pro 7 Plus
517
Meizu Pro 5
409
Huawei P9 Plus
214
While we couldn't run the CPU tests, the compound apps AnTuTu and BaseMark OS II 2.0 give us a pretty good idea of what to expect. The Meizu Pro 7 Plus was closer to the top here, suggesting that its processor is much to the top dogs than its GPU.
AnTuTu 6
Higher is better
OnePlus 5
180331
Xiaomi Mi 6
177326
Nokia 8
175872
Samsung Galaxy S8
174435
OnePlus 3T
165097
Sony Xperia XZ Premium
144223
LG G6
143639
Sony Xperia XZs
133574
Samsung Galaxy S7 edge (E8890)
129229
Huawei Mate 9 Pro
128719
Meizu Pro 7 Plus
128498
Huawei P10 Plus
126252
Meizu Pro 6 Plus
113397
Meizu Pro 6
99195
Huawei P9 Plus
97392
Meizu Pro 5
67531
Basemark OS 2.0
Higher is better
OnePlus 5
3601
Xiaomi Mi 6
3547
Nokia 8
3503
Samsung Galaxy S8
3376
Sony Xperia XZ Premium
3174
Huawei P10 Plus
2940
OnePlus 3T
2678
Huawei Mate 9 Pro
2496
Sony Xperia XZs
2386
Meizu Pro 7 Plus
2380
LG G6
2126
Huawei P9 Plus
2099
Samsung Galaxy S7 edge (E8890)
2050
Meizu Pro 6
1919
Meizu Pro 5
1837
The Meizu Pro 7 Plus isn't topping any benchmark charts, but this doesn't mean it doesn't offer flagship-grade performance in daily usage. Its 10-core processor offers plenty of future-proofing and being built on the 10nm it's very energy-efficient, so the phone runs pretty cool even when stress-tested.
The GPU seemed like the weak spot of the Meizu Pro 7 Plus and its Helio X30 chip, but things aren't as bad as the numbers alone might have you believe. It may not have the same theoretical performance as the current competition, but it's capable of handling any demanding 3D game or high-res movie, hassle-free, no matter the resolution. It may not be as future-proof as the CPU, but it will be good enough for at least a couple more years.