Flyme 6 premieres on the Meizu Pro 7 Plus
Meizu Pro 7 Plus is the first smartphone to come with the new Flyme 6 OS. The latest version of the company's launcher is based on Android Nougat and is already available for download on various Meizu smartphones as a beta ROM. Our unit is also running on a pre-release Flyme 6.
Flyme 6, depending on where you live, will either come with Google Play Services, the option to install them, or with China-friendly apps instead.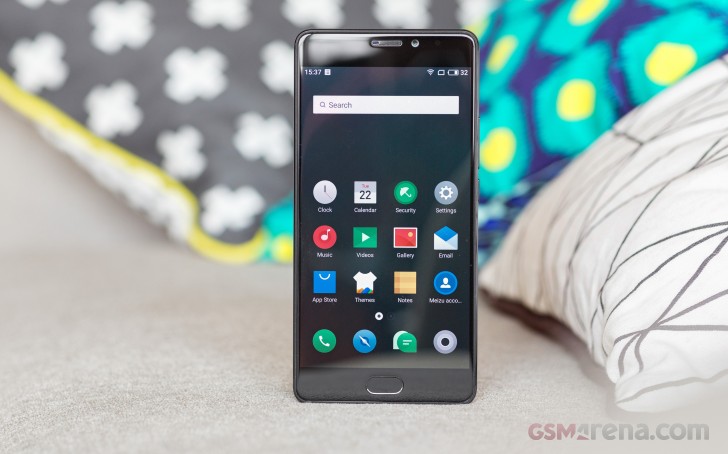 The Flyme 6 interface is not a departure from Flyme 5, but more of a refinement. There is a lot going under the hood with Meizu's One Mind - it's a machine learning algorithm that follows and learns your habits, and then optimizes the phone's performance and suggestions per your preferences and use patterns.
In addition to One Mind, Meizu has implemented a new Game Mode, which knows when a game is running and prioritizes all available resources to it. You can turn this mode on and off from Settings, disable mTouch Back, the Task Switcher and even the notification area.
Parallel Spaces is another new feature premiering with Flyme 6. It lets multiple accounts coexist as it offers Guest, Normal, and Private modes. There is even a Kids mode if you want to share the phone with your children as well.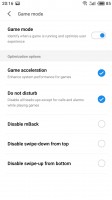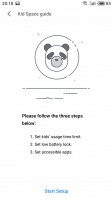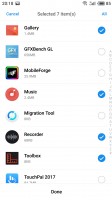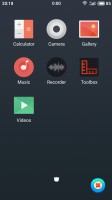 Game mode settings • Kid Space setup • Kid Space settings • Kid Space
Any of those modes can be activated with a different PIN or pattern, or even a fingerprint. The Guest and Kid modes have limited functions, while the Normal and Private modes are just two separate accounts dressed in fancy names. Still, it's always good to have those.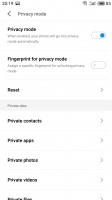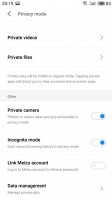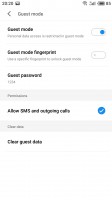 Private mode settings • Private mode settings • Guest mode settings
There are some additional levels of security protecting your sensitive data for payments and accounts. And, there's granular control over notifications and a time machine (read backups) for contacts.
The lockscreen hasn't changed a bit - it's clean and simple, with a camera shortcut and nothing else. The fingerprint scanner isn't always-on, but is lightning-fast and you'll barely see the lockscreen upon pressing. Gesture Wakeup is available, as usual.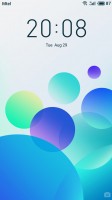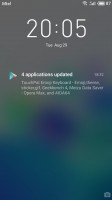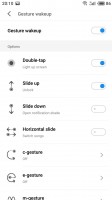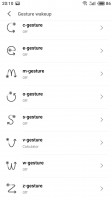 Lockscreen • Lockscreen with notifications • Configuring gestures wakeup
The homescreen is simple - you get two panes by default, but you can add new ones later on. The homescreen gathers all apps as it's a single-tier UI and there is no app drawer here.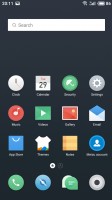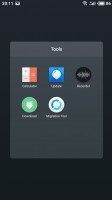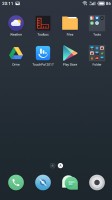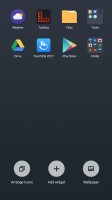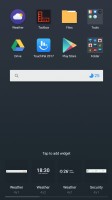 Homescreen • A folder • The Homescreen • Organizing the homescreen • Widgets
The notification area is business as usual - the first pull down gets you the full notification shade along with five toggles, while a second pull reveals all the available toggles and the screen brightness control.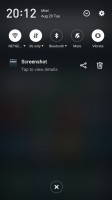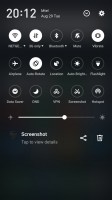 Notification area • The toggles
Switching between tasks is done with a pull-up menu from the bottom of the screen. The task switcher is a 3D scrollable carousel, and there is a memory footprint info below each app card.
Flyme 6 supports multi-window mode, which is also managed via the task switching interface. The supported apps have a 'Multi' button, and you can activate a split-screen app right away.
There is also a system-wide search - you just need to swipe up anywhere on the homescreen.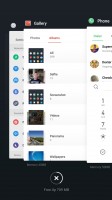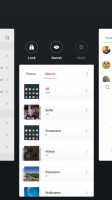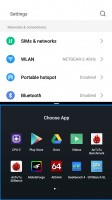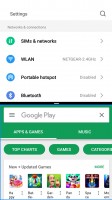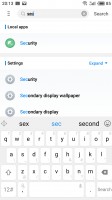 Task switcher • Card settings • Multi-window • Multi-Window • Search
You can customize the UI with various themes. You can download new ones from the App Center - some of them are paid, but there are many free ones and a lot to choose from. There's also a variety of built-in wallpapers.
The Security app lets you scan for viruses, clean junk files, keep an eye on your large files, manage your data traffic, and most importantly - control the permissions for each app you install one by one.
The latest version of the MX web browser utilizes almost the entire screen real estate to show the web pages, save for the status bar on top and a tiny bar on the bottom for Refresh, Tabs, and Bookmarks. Choosing Tabs opens a quick pop-up preview of your open tabs instead of bringing up an entirely new screen, which is great as it still leaves the current website in plain view.
The browser comes with an integrated ad-blocker. Oddly, it advertised Flash support, too, but we weren't able to run Adobe Flash content.
Fenetre - the second display
Meizu calls the back display Fenetre, which means window in French. It's a 2" AMOLED unit just below the main camera, but just like the front AMOLED, it doesn't support always-on functionality.
The second display wakes up every time you flip the phone backwards, no matter if the main screen is on or not. You can also wake it with a double tap.
Fenetre supports wallpapers, including live ones, shows your pedometer, weather info, and the clock. Music player controls are also available.
Notifications can be displayed here too, but probably its most useful feature is the camera viewfinder. A swipe up or down fires the main camera, and you can switch easily between normal, beauty and bokeh shot.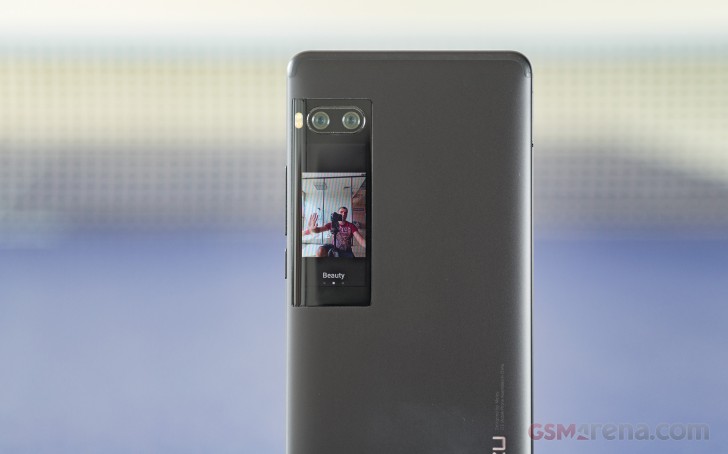 We found the small display also shows battery percentage while charging and a green handset when you are in a call, among other icons.
You can disable some, or all, of these functions from Settings.
Finally, there is one more use of the second display, which we found by accident. If you press and hold the power key, you get an additional power option - Music mode. This will shut down your phone, and then fire up the rear display and the music player. This way you can enjoy many hours of music without wasting your battery.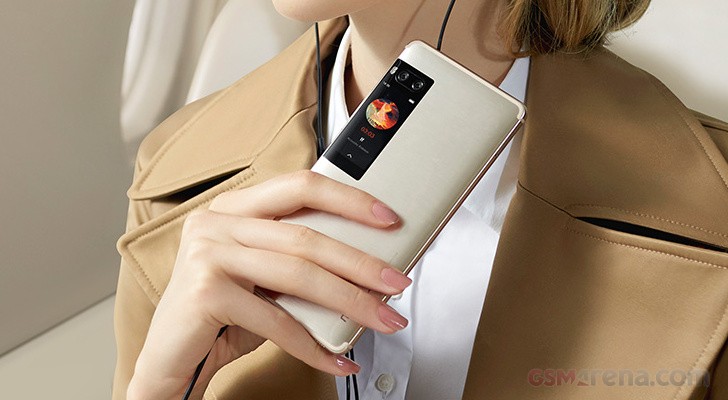 We could surely appreciate such an option in the mountains, at lonely beaches, on transcontinental flights, or whenever power sockets are miles away.