All-round camera improvements
The iPhone 14 Pro and Pro Max offer identical four cameras - three on the back, one at the front. And while their logic and operation seem quite like what the iPhone 13 Pro duo had, all but the telephoto camera have been improved in various ways.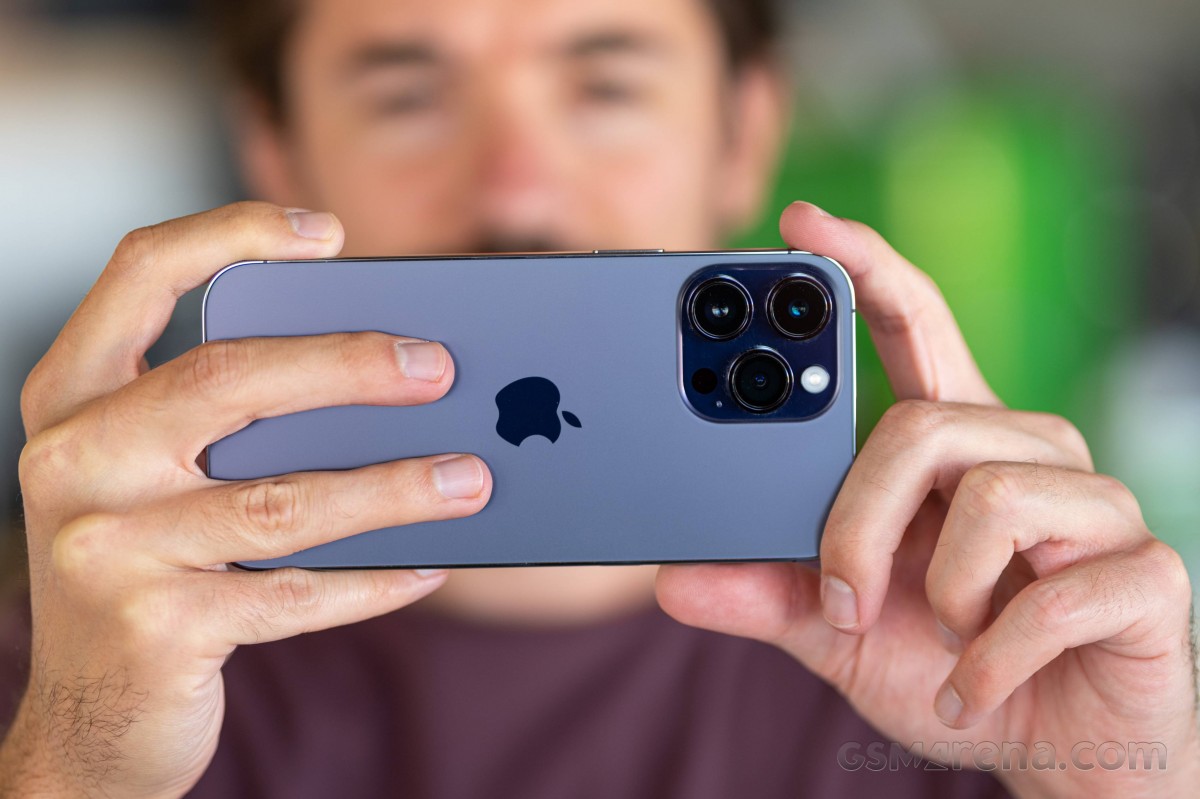 The primary camera of the iPhone 14 Pro Max has seen the biggest update. It now uses a 48MP 1/1.28" sensor with a Quad-Bayer color filter, a first for the iPhone. The camera has a 1.22µm pixel size before binning - 2.44µm with binning. It's coupled with a 24mm f/1.78 lens. There is also second-gen sensor-shift stabilization, as well as full-focus pixels.
The high-res main sensor enables a new intermediary zooming step of 2x in the camera app, by cropping from the middle and AI-assisted upscaling. High-res 48MP RAW shooting is also available in addition to the standard 12MP RAW mode.
There's a new 12MP sensor for the ultrawide camera, too. It's a 1/2.55" unit with large 1.4µm pixels and should deliver sharper images with more detail and improve on macro shots, too. The lens now has a 14mm equivalent focal length and an f/2.2 aperture. Dual-pixel PDAF is available for this camera.
The telephoto camera has no improvements - it's still the same 12MP 1/3.5" imager with a 77mm f/2.8 OIS lens that provides 3x optical zoom over the main camera.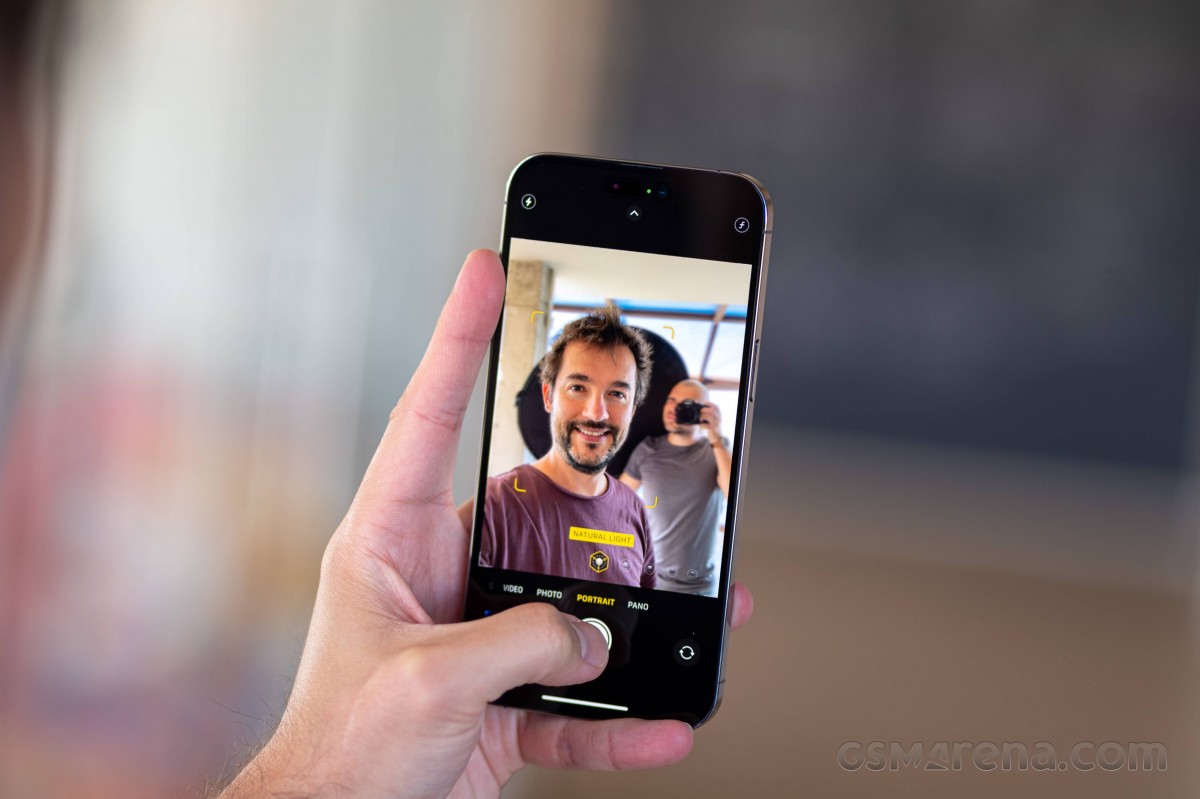 The selfie camera uses a 12MP 1/3.6" sensor again, but it now comes with a brighter f/1.9 aperture on its 23mm lens and supports autofocus. There is also OIS, something that Apple did not mention at the event, but various teardown videos have revealed later on. This has to be a first on a selfie camera, at least for the western markets, so one has to wonder why Apple didn't make a big thing out of it.
All cameras support up to 4K@60fps video recording with Cinematic Stabilization and Expanded Dynamic Range. Dolby Vision HDR capturing is possible on all cameras in all modes. The Cinematic Mode works on the primary, telephoto and selfie cameras and now supports up to 4K HDR recording at 30fps.
There are two new Stabilization options - one is a setting called Enhanced Stabilization, and the other one is Action mode.
Enhanced stabilization crops a bit and stabilizes the footage even more. Apple has always forced electronic stabilization across its cameras, and it still does it. This new option seems to be a small improvement over the default EIS should you need it.
Action mode is quite a familiar feature to many Android phones, but it finally made it to the iPhones - exclusive to the 14 Pro series, of course. It uses heavy cropping to achieve action-camera-like stabilization and saves videos in 2.8K resolution or 2,816x1,584px. It's best used in 60fps with the ultrawide camera, but it is available to the main and telephoto cameras, too.

Finally, we have to mention the new LED flash. It now consists of 9 LEDs within a 3x3 grid. Each of those can be independently adjusted and fired. It's a true-tone flash with slow-sync, but now thanks to this new arrangement, it can also fire in a specific pattern.
Camera app and features
The viewfinder has been mostly the same since the iOS 13 and the iPhone 11 - you can see outside of the viewfinder thanks to the precise calibration of the three cameras that allows seeing what will be left outside of the frame in real-time.
The Apple image processing includes all legacy features (Smart HDR, Night Mode, and Deep Fusion), but the big deal is the Photonic Engine.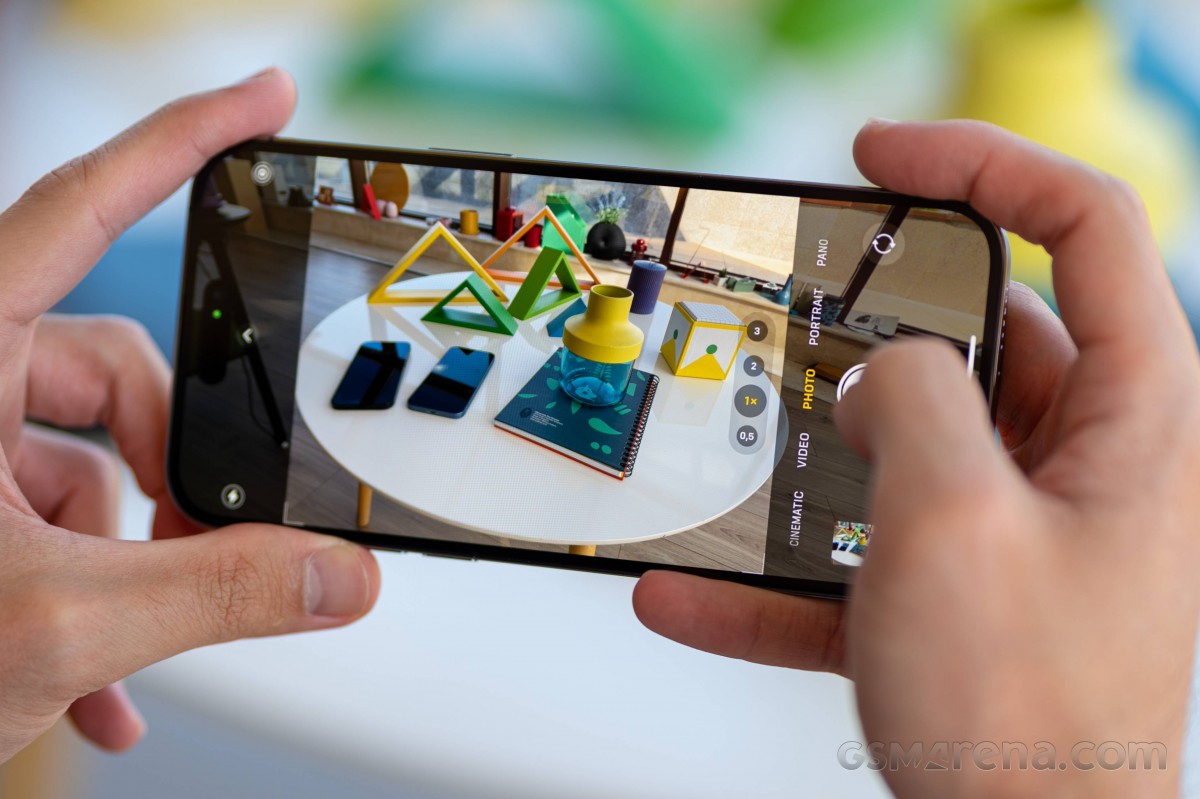 Photonic Engine is new to the iPhone camera, available only on the iPhone 14 Pro duo via the Apple A16 chip. It further improves on Deep Fusion and promises 2x improvement in mid- to low-light conditions.
Deep Fusion triggers instead of Smart HDR and Night Mode when light conditions are not ideal, but it's not that dark just yet. Deep Fusion uses frames before you hit the shutter, more frames once you do, and one long exposure shot. The Neural engine will select the best frames and create a high-quality HDR photo that is very detailed, sharp, and more natural looking. The Neural processor's machine learning process analyzes the image being taken and processes them differently depending on what's in the frame - say, sky, foliage, or skin tones. Meanwhile, structure and color tones are based on ratios obtained by the Neural unit on the Apple CPU.
The Night Mode icon pops up automatically when a low-light scene presents itself, and you will see the seconds suggested next to the Night Mode icon. You can choose longer exposure or altogether disable the Night Mode.
Macro mode is available, too. Enabled by the ultrawide camera's autofocusing capability, it's an option you only get on the recent Pro models.
As usual, all cameras talk to each other, so they already know the correct exposure and tone mapping settings when you switch between them. This applies to both stills and videos.
The camera interface is mostly unchanged unless we count the new 2x toggle between 1x and 3x. The macro toggle appears automatically if you are close enough for such a photo.
You swipe between modes and have a couple of settings you can uncover with an upward swipe - flash, night mode, live photo, photo aspect, exposure compensation, and filters. In video mode, you can change the resolution and frame rate from the viewfinder.
Portrait mode is available on the main, tele and selfie cameras.
RAW capture is supported across all cameras, and it can shoot in 48MP for the primary one - in fact, this is the only way to get 48MP images out of the iPhone 14 Pros.
There is this feature called Photographic Styles which automatically edits a photo, one element at a time (applying different corrections to the subject and background, for example). You can choose between Standard, Rich Contrast, Vibrant, Warm, and Cool. You can tune each of these modes to your liking, and set your preferred one as default. It's like filters but more permanent.
Cinematic Mode is present, and it now supports 4K HDR at 24fps and 30fps. It does automatic rack focus, but the phone records a depth map alongside the video, so you can change the focus point manually after the fact. Editing such videos is possible in iMovie and Clips apps.
Finally, there is also Action mode, which is intended to be used with the ultrawide camera at 2.8K@60fps, though you can use any rear camera and any resolution and frame rate. It heavily crops from the 4K stabilized footage to mimic an action camera output.
Daylight photo quality
As expected, the iPhone 14 Pro Max saves 12MP images, and in principle, they're no different than what iPhones have been capturing for the past couple of years. That means accurate color rendition, excellent contrast, and noise-free detail. Apple's way when it comes to HDR processing, even with Smart HDR in place, has been to deliver reasonable dynamic range without the photos looking overtly HDR-y, and that's the case here as well.
One thing we're not enthusiastic about is the foliage rendition, which is anything but natural-looking. While the leaves in a tree crown will inevitably outresolve a 12MP image, we've seen way less heavily processed interpretations of such intricate textures.
You stand to get superior results if you shoot RAW at 48MP and downscale the images to 12MP in post - without any additional work. We'd go ahead and call these results class-leading thanks to the excellent detail level and its organic rendition. Noise is nowhere to be found, colors are wonderful, and contrast and dynamic range are on point. It makes you wonder why Apple has made the choices it's made with the default processing when a better alternative clearly exists.
Okay, but we skipped a step there. The 48MP RAW files are your only option if you want to get photos at the nominal resolution of the sensor - there's no 48MP JPEG or HEIF mode. Again, without any processing other than a format conversion to JPEG, these 48MP images are the best we've seen from a Quad Bayer-type sensor in its 'native' resolution.
This exceptional performance is undeniably the reason why the iPhone 14 Pro Max is capable of producing great shots at the 2x zoom level - they are sourced from this main 48MP camera, after all. Detail is excellent, better than some dedicated 2x cameras, we'd say, while global parameters remain the same as in images saved at the native field of view.
There is a standalone telephoto camera, of course - that's what the 3x zoom level in the viewfinder uses. These photos don't disappoint either - they are detailed and sharp, with a natural look and likable rendition. The colors are accurate, the contrast is high, and the dynamic range is Apple-grade wide.
The overhauled ultrawide camera features a larger sensor and a different lens, and it's one successful combo. The competent distortion correction and sharp corners are just the start of it, while color reproduction, contrast, and dynamic range are a solid match for the other modules. Now, greenery isn't looking the absolute best and can have some of the overprocessing we mentioned on the main camera, but even so, these are some of the better ultrawide shots you can get.
The ultrawide camera can focus down to as low as 4cm, and that makes it suitable for closeups. Apple leverages it for its auto macro mode (that 'Macro Control' toggle in the camera settings), which will switch to the ultrawide camera if you're trying to take a picture with the primary module and get too close for it to be able to focus. In that scenario, you'll get a photo sourced from the ultrawide, but with a field of view to match that of the main camera, which can only happen from upscaling.
These are good, certainly better than the pretend-macro cameras on more budget-friendly devices. Depending on what you're going to do with them, the narrower field of view may be more important than the absolute per-pixel detail, which does suffer from the upscale.
But you can always just switch to the ultrawide and use it for closeups in its native FoV. That way, you'd be looking at sharper detail.
Portrait mode
You could say that Apple made 'Portrait' mode the big thing it is today, even if earlier attempts at faux bokeh did exist prior to the iPhone 7 Plus' debut. Years later, the iPhone 14 Pro can shoot portraits at three zoom levels with two of its rear cameras (plus the front-facing one). This year, the new iPhone Pro generation offers 2x portraits in addition to 1x and 3x, and the 48mm equivalent focal length is perfect for such photos.
And they do! Let's start with the 1x shots. The subjects are incredibly detailed, colorful and well-exposed. Meanwhile, the background is blurred proficiently, and HDR is applied when necessary without making it too obvious. The depth map is accurate, and the separation in most cases is great, though complex backgrounds and light conditions pose a challenge.
The detail we observed in regular 2x zoom shots translates nicely to Portrait mode, where the subject gets excellent sharpness and definition. Subject separation is proficient, while the background blur looks natural. This is the default zoom level for portraits, and we can see why that is the case - not only is image quality top-notch, but the perspective is flattering on the faces, while you also get decent coverage for some context.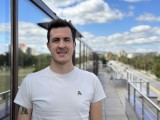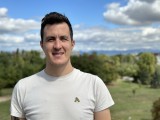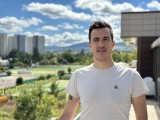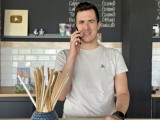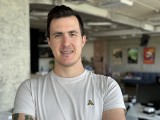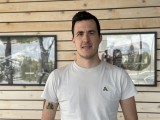 Portraits, main camera, 2x zoom
That said, the native 1x zoom level works better for context, or for those cases where you'd like wider framing than just head and shoulders. The perspective from this focal length can distort faces if used at too short subject distances.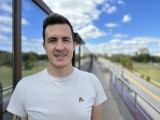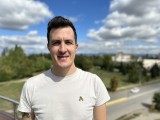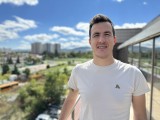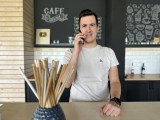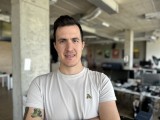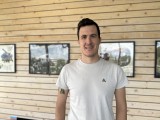 Portraits, main camera, 1x zoom
Conversely, the 3x zoom level is your best bet for true 'portrait' perspective, and it helps that subject separation remains excellent. It's best used outdoors in ample light however, because indoor scenes do end up on the noise side.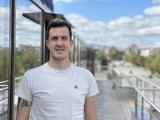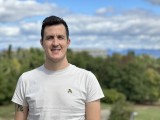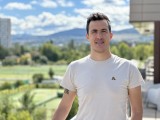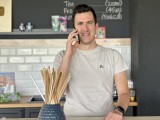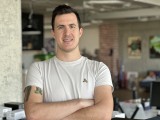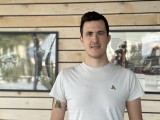 Portraits, telephoto camera, 3x zoom
Selfies
This year, Apple introduced OIS and autofocus for the selfie camera, while the sensor size and the lens field of view remained the same. The camera still offers two FoV settings in the viewfinder - the slightly zoomed-in 7MP crop that is equivalent to a 30mm field of view and the full 12MP mode, which has a 23mm equivalent FoV.
If you hold the phone in portrait orientation, selfies are cropped to 7MP to provide a tighter framing but rotate the phone horizontally, and you get more of the scene with the phone automatically switching to the wider 12MP mode. You can also switch between those two modes manually by tapping on the arrows near the shutter button.
We've always been fans of iPhone selfies, and the new hardware doesn't change that. The 14 Pro Max captures nicely detailed photos, if a little too high on the micro-contrast, with well-contained noise. The dynamic range is wide, and colors are pleasingly accurate.
You can shoot selfie portraits, and these only come out at the 7MP zoomed-in level - no full-res full-coverage option. Even so, there are great as well, with some of the most competent subject separation you can get on a selfie portrait thanks to the 3D face-scanning hardware.
Low-light image quality
Apple's Night Mode works the same as before - it triggers automatically in low-light scenes and usually chooses 1s exposure for the primary camera and 2s for the rest. You can choose between the Auto or the Max exposure for any given scene (with both predetermined for you and no in-between settings) or disable the Night Mode. Once disabled, it will stay this way until you enable it or restart the camera app.
The first set of photos we offer you below were shot on Auto, and for most, if not all of them, the algorithm chose 1s exposure time. Where it didn't, we engaged it to the Max setting, which for those cases is, again, 1s. That results in great photos - as expected, really. We're getting a spot on exposure, just a touch brighter than reality because of the Night mode. Highlights are well contained, and shadows have a just a cautious bit of brightening without going into excesses.
There won't be a major difference if you intentionally disable the Night Mode in the better-lit scenes, though dimmer surroundings will result in notably darker photos, particularly indoors.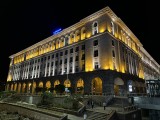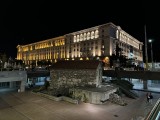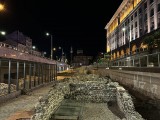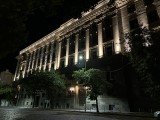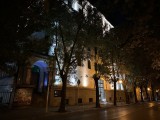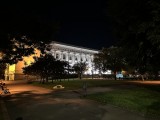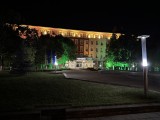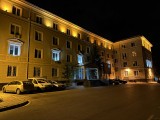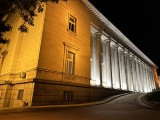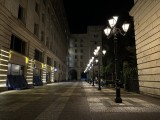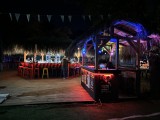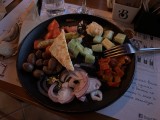 Main camera (1x), Night mode off
The 2x zoomed photos with Night Mode are great. We're seeing low noise and excellent detail that is rendered in a very organic way. Color reproduction and dynamic range are also top-notch.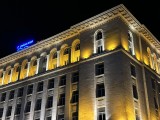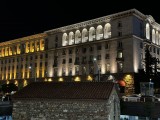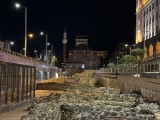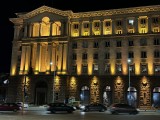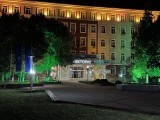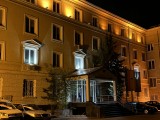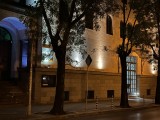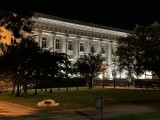 Main camera (2x zoom), Night mode
Again, with Night mode disabled, you can expect darker exposures, which could be an issue in particularly dim scenes, though the differences can be negligible in better-lit situations. The darker the scene, the deeper the shadows and the lower the detail and sharpness.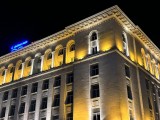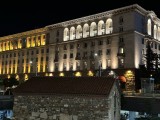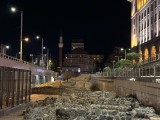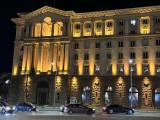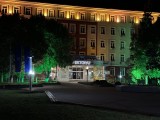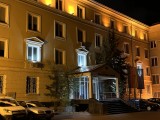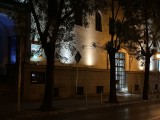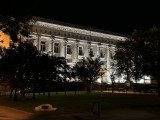 Main camera (2x zoom), Night mode off
The phone uses the 3x tele camera at night when it shoots Night Mode photos. And those turned out great, too. The photos offer impressive detail and natural sharpness; the noise is incredibly low for a tele camera, which means it has been cleaned quite proficiently.
The 3x zoomed photos offer high contrast and superb color rendition.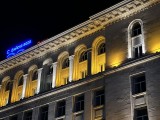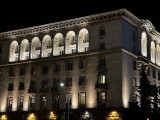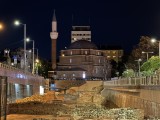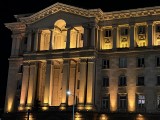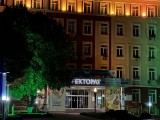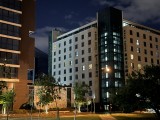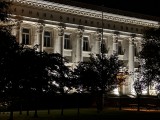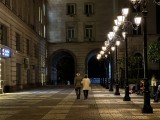 Telephoto camera (3x zoom), Night mode
If you disable Night Mode for your 3x zoom action, you may end up getting your images from the main camera, particularly in very dark scenes. We had a lot of those in our 14 Pro review, while the different selection of scenes here is apparently better suited to the tele because only the third sample below comes from the main camera. But the thing is, you probably wouldn't care because thanks to the 48MP sensor and the AI-assisted zoom, the 3x digitally zoomed photos from the main camera are excellent too. In fact, you'd be hard-pressed to tell which camera has captured your 3x zoom photo, and you're likely going to like the result either way.
There are likely differences between the Night mode and no Night mode shots, however, if not overly dramatic. We're seeing higher noise levels without Night mode and generally darker exposures.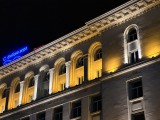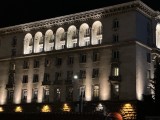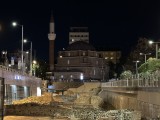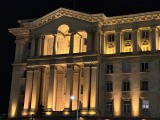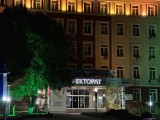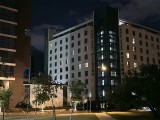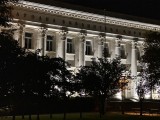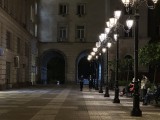 Telephoto camera (3x zoom), Night mode off
The ultrawide camera takes good low-light photos with its Night Mode. It typically chooses 2-3s exposure time, which results in good exposure and a nicely wide dynamic range, while also maintaining excellent color saturation. Depending on how well-lit the scene is, you can expect decent to good detail levels.
With no Night Mode action, you'd be looking at underexposed and noisier ultrawide photos, and color saturation will often suffer too. We'd refrain from disabling Night mode on the ultrawide and perhaps actively enable it if the phone isn't willing to on its own.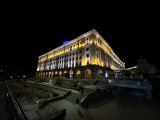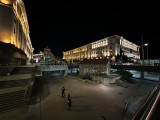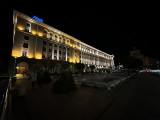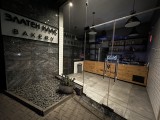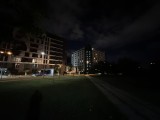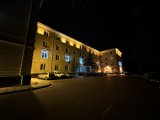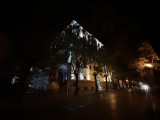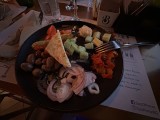 Ultrawide camera, Night mode off
Once you're done with the real-world samples, head over to our Photo compare tool to see how the Apple iPhone 14 Pro Max stacks up against the competition.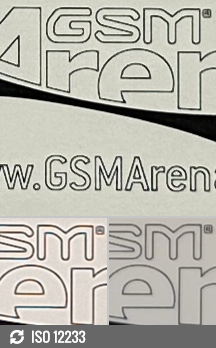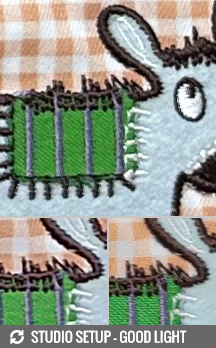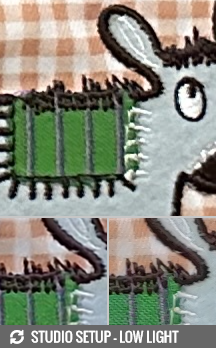 Apple iPhone 14 Pro Max against the Galaxy S22 Ultra and the Xiaomi 11 Ultra in our Photo compare tool