Apple iOS 16 on the iPhone 14 Pro Max
All new iPhones come with Apple's iOS 16 out of the box. As usual, it's not a groundbreaking update over iOS 15, but it does improve on the lockscreen, the notification management, the Messaging app, and the privacy options, among other things. And, in typical Apple fashion, some features were left for a later date.
Let's take a closer look at the iPhone 14 Pro Max's iOS 16 now. Its interface is still based on homescreens populated with apps and widgets, App Library for your less important apps, and Notification and Control Centers.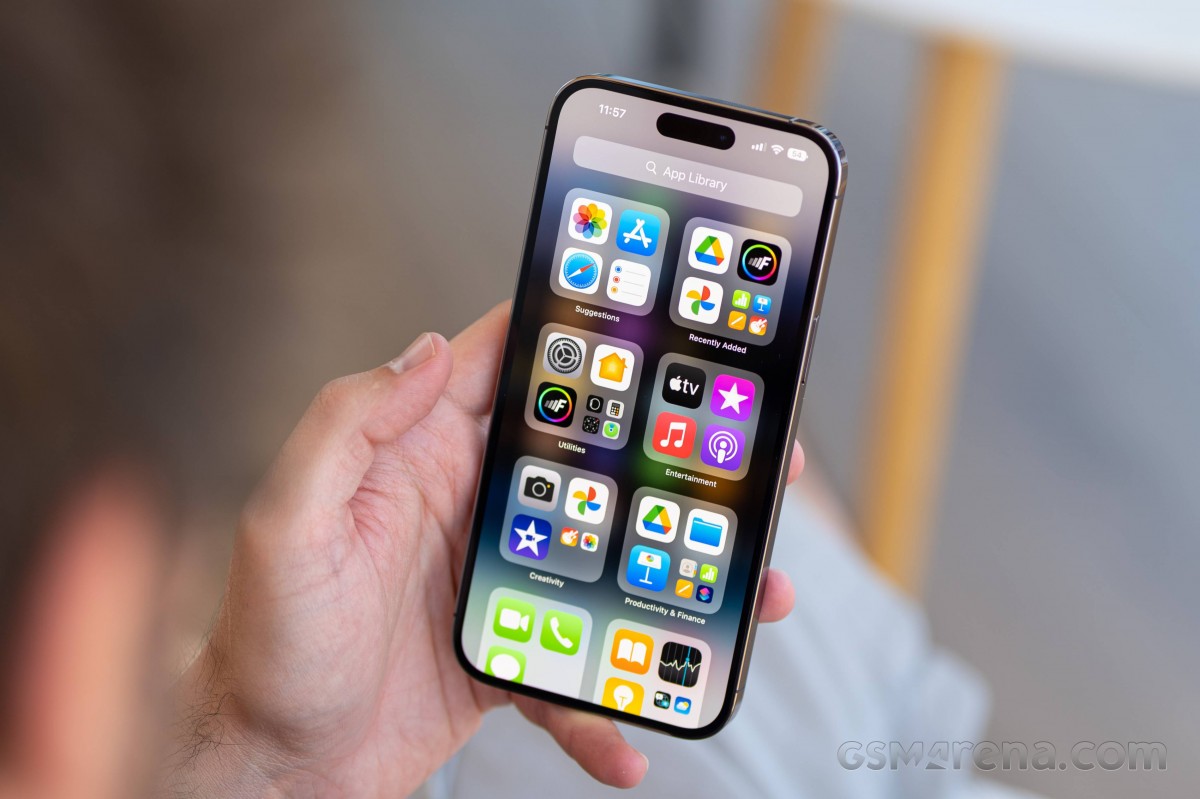 The lockscreen on iOS 16 is the first thing that's been overhauled, though it still follows the same logic - it's one with the Notification Center and houses your notifications (privacy options are available), plus shortcuts for the torch and the camera. For the first time ever, there is also an Always-on option, but it's available only on the iPhone 14 Pro and 14 Pro Max. You can get past the lockscreen via Face ID or PIN if you've opted for secure unlock.
You can customize your lockscreen by picking from some cool wallpapers and adding a row of widgets (up to four). There can't be more than one row of widgets. The neat thing is that you can build a couple of different lockscreens and switch them on the go (tap and hold, then swipe). This way, you can easily change the look of the homescreen/notification center depending on your mood, or work.
Another change here is that the notifications now roll up from the bottom of the screen. It's more convenient to browse through them. There are different notification display options as stack, list, or just a count.
You can also pair your homescreen look with the lockscreen and change both in one go.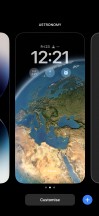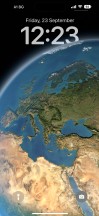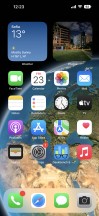 Switching lockscreen and homescreens on the go
Your apps usually populate the homescreen(s) and widgets. There are two specific screens - the leftmost is Today page, while the rightmost page - App Library.
You can hide specific homescreens - you may have a page that's full of games and hide it when at work or hide a page of work/school apps when on vacation. You can't opt out of Today and App Library, though.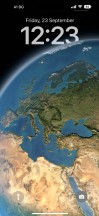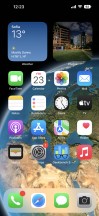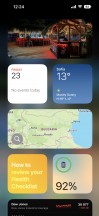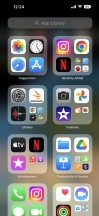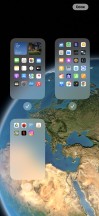 Lockscreen • Homescreen • Today • App Library • Hide homescreens
Apple iOS 16 has an improved Focus mode - now, you can assign a Focus mode on each lockscreen preset you create. And in addition to all other ways of switching between Focuses, now switching between lockscreens also changes the Focus mode.
There are different Focus modes like Work, Personal, Driving, Gaming, Do Not Disturb, among others, highly customizable at that. And you can create and automate your own, of course.
The new iOS 16 also introduces Focus filters, which can affect different apps, with a dedicated API available to developers as well. With these filters, apps like messages and mail clients can automatically filter their content as predefined by the user within the Focus mode.
Widgets can be placed on any of the homescreens and the Today page, and they can coexist with app icons. There are three widget sizes supported by iOS - 2x2, 4x2, and 4x4. You can stack widgets of the same size on top of one another, and, optionally, they can rotate automatically.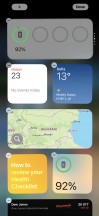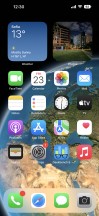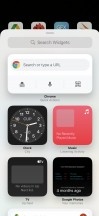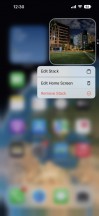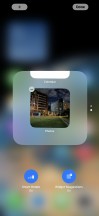 Widgets • Widgets • Widgets • Stacked Widgets
The App Library is an app drawer, which is always your rightmost homescreen pane. Apps are added automatically to the App Library upon installation. The sorting is also an automatic process, and you can't edit the categories or move apps in different categories. The app sorting depends on the App Store tags the developer has used upon uploading the apps.
The Today page is still alive. You can put the same widgets and stacks you can on your homescreens. Here you can also use the old third-party widgets that haven't been optimized yet for newer iOS versions. The old widgets come right after the new ones, should you choose to use some new ones, of course. It's a pity this Today page cannot be disabled, as we found it mostly useless.
The Notification Center is summoned with a swipe from the left horn or the pill itself. The pane was unified with the lockscreen in iOS 11, and that's why you can have different wallpapers on your homescreen and notification center.
The Control Center, which has customizable and (some) expandable toggles, is called with a swipe from the right horn. You can use haptic touch to access additional controls. And the battery percentage is also here.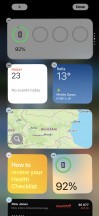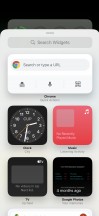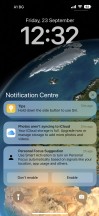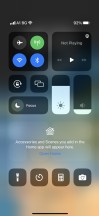 Today • Today settings • Notification Center • Control Center
Other key improvement coming with iOS 16 include an improved Mail app, options to edit and unsend messages in Messages app, a completely redesigned Home app, and a Fitness app for everybody, even those without an Apple Watch.
FaceTime has also been improved with a better hand-off feature across devices - now, it includes your wireless headphones, too.
The Photos app has an option to discover duplicate photos. Hidden and Deleted albums now require Face ID/Touch ID.
The Wallet app and functionality have been drastically expanded. In addition to all sorts of keys you can store here, the app now supports detailed receipts and tracking information.
Digital Keys and Digital ID functionality via Wallet has been expanded, too. Now various apps can use basic information from here to verify your identity or whether you are of a certain age. Sharing car and home keys is also possible between family members.
Finally, the Health app now supports medication tracking in addition to all sorts of important medical and fitness information.
The multimedia is handled by Apple's default apps - Photos, Music, TV.
The Photos app's library has four different views - Years, Months, Days, and All Photos. AI-powered search option and powerful photo and video edit modes are available, as usual.
The TV app is part of iOS 16, and it is your default video player for locally stored movies and shows you've added via iTunes. This is also the digital store for movies and TV shows, and it is also the place where you find the Apple TV+ streaming service. A bit overwhelming, but you get used to it eventually.
Music is the default player, and it relies heavily on Apple Music. But even if you decide not to use the streaming service, it can still do an excellent job if you have a few minutes to add your songs via iTunes.
Books are here for your documents, PDFs, and eBooks. Stocks and News are onboard. Safari is your default web browser, and Apple Maps is your default map client.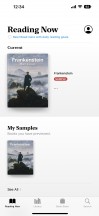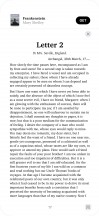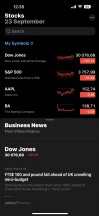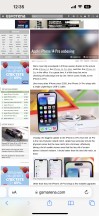 Books • Books • Stocks • Safari
Finally, Visual Lookup has been part of iOS for a year now, but it has been immensely improved in iOS 16. It now works on both photos and videos and is powered by advanced machine learning. It can easily recognize texts in photos and allows one to look them up right away. What's even cooler is that you can now choose an object from a photo/video, tap and hold onto it, and then either copy it or just drag it and use it wherever you like - photo editor, video editor, messages, emails, whatever.
The LiDAR scanner is onboard on the latest Pro models, too. It measures distances by firing laser beams and measuring their reflections with a dedicated sensor. This way, the phone can make a super accurate 3D representation of an object and later place it virtually anywhere. Thinking of new furniture? This will be perfect. Want to compare the size of objects you can't put next to each other - LiDAR will help.
The LiDAR scanner is also very accurate at measuring distances, and you can use it just for that - like a fancy digital tapeline. Or you can set a distance and see virtual walls in real-time at the predefined distance. Professionals such as interior designers may find the LiDAR scanner a handy tool. Thanks to the powerful AR capabilities that also come as a bonus with LiDAR, you can also have an amazing AR experience with compatible apps and games - there are plenty available on the App Store.
And those are the basics of Apple iOS 16 running on the latest iPhone 14 series.