MIUI 12 with Android 11
The Mi 11i runs on Android 11 with MIUI 12 on top - our global unit was on MIUI 12.0.3.2 at the time of reviewing. MIUI 12 has been around for a while, and even if it uses a newer Android 11 base, you can't really tell that as it skins everything thoroughly.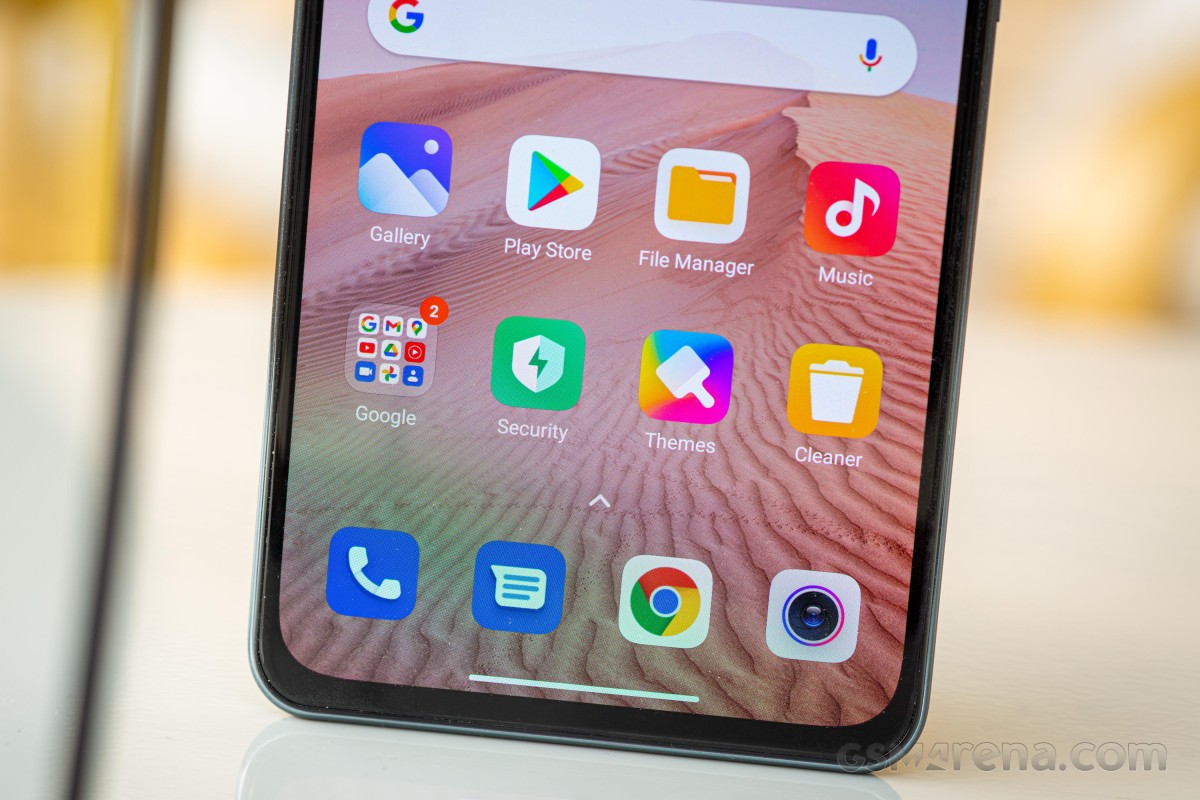 The Mi 11i supports an Always-on display, and it can be truly always on, or set to show up according to a schedule, or only show for 10s after you summon it. A ton of AOD themes are available, with further customization in many of them so you can make it your own. The Always-on display also supports breathing light - the curved edges of the display will glow with colors upon new notifications.
You unlock the Mi 11i using the side-mounted fingerprint scanner. The reader is easy to set up, and we found it to work without incident with either the left index finger or the right thumb. As we already mentioned, you can switch its behavior from the default 'Touch' to 'Press' to avoid unwanted scans at the wrong time or with the wrong parts of the hand.
Naturally, 2D Face Unlock is available too, but it is far less secure than the fingerprint option.
The homescreens are business as usual - they are populated with shortcuts, folders, and widgets. The leftmost pane, if enabled, is Google's Discover.
MIUI 12 offers an app drawer, and it automatically organizes your apps into categories. The first is All, meaning it contains all apps, and it's followed by Communication, Entertainment, Photography, Tools, News and Reading, Shopping, and Games. You can edit these categories or even disable them altogether.
You can also disable the app drawer entirely if that's not your thing.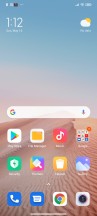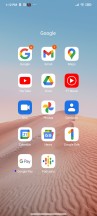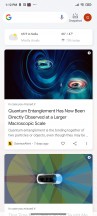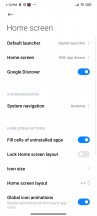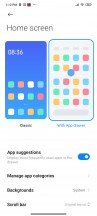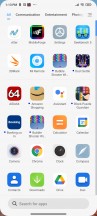 Homescreen • Folder view • Discover • Settings • App drawer
The high-end phones running on MIUI 12 support a feature called Super Wallpapers. It's a type of dynamic wallpaper that zooms each time you pass a certain screen. While not something groundbreaking, it does provide a very coherent visual experience that is a feast for the eyes and, in the meantime - connects the parts of MIUI in a subtle yet striking way.
There are four Super Wallpapers available, and you get a choice of Home (Earth), The Red Planet (Mars), Faraway rings (Saturn), and Geometry.
Another interesting feature is the Notification shade split into Notification Center and Control Center. It's clearly inspired by iOS, and you even summon them in the same fashion - pull down from the left part of the screen for the Notification Center, pull down from the right for the Control Center.
If you are not fond of this split - you can disable the Control Center, and the shade will revert to its normal looks and operation.
One thing worth noting - we couldn't find Notification history anywhere after digging through this build of MIUI. It's a native Android 11 feature, but Xiaomi appears to have hidden or disabled it.
The default task switcher has not changed much. It shows all your recent apps in two columns. Tap and hold on a card for the split-screen shortcut, or just swipe it left or right to close it. There is a new Floating Windows button on top, a new option offered by MIUI 12. You can put a compatible app in a floating state, but you only have one floating window at a time.
We also appreciate a fairly recent addition to MIUI - the ability to set a classic horizontally scrollable task switcher with a rolodex of vertical cards. We can think of at least one reviewer here who's quoted the MIUI two-column task switcher as a dealbreaker for using Xiaomi phones.
Themes are a huge part of MIUI, and they are available on MIUI 12, too. You can download new ones from the Themes store, and they can change wallpapers, ringtones, system icons, and even the always-on display style.
Xiaomi enhanced MIUI 12 with a couple of additional privacy options. Now, when sharing stuff, like photos and videos, you can opt to remove location info and/or other metadata (incl. device info) and thus protect your privacy better. It will ask you the first time you choose to share stuff, but the setting is there in the menu if you change your mind afterwards.
MIUI also offers a Security app. It can scan your phone for malware, manage your blacklist, manage or restrict your data usage, configure battery behavior, and free up some RAM. It can also manage the permissions of your installed apps, allows you to define the battery behavior of selected apps, and applies restrictions only to the apps you choose.
Proprietary Gallery, Music, and Video player are included, and in some regions, the music and video apps may include paid streaming options. Mi Remote for the IR blaster is available, too.
The Notes app has been enhanced with even more Task checklists and subtask options.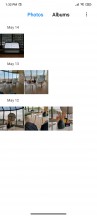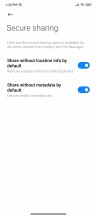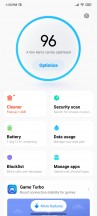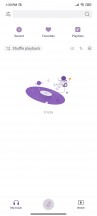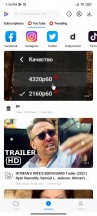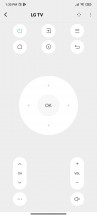 Gallery • Privacy Settings • Security • Music • Video • Mi Remote
Synthetic benchmarks
The Mi 11i is equipped with the Snapdragon 888 so it's packing the same chipset as the ultimate flagships of the day. It does so at a price point where that chip is hard to find. In Europe, you'd be looking at the Zenfone 8, or possibly the OnePlus 9 for a bit more money. In India, for the asking price of the Mi 11i's alter ego, the Mi 11X Pro, you can get the OnePlus 9R or the vivo X60, each with a Snapdragon 870 SoC - still plenty potent, but not quite SD888-level. Point being, the Mi 11i/11X Pro is one of the most affordable ways to get industry-leading performance.
On top of that, the fact that it has a 1080p display as opposed to a 1440p one is a premise for superior fps numbers in graphics benchmarks (more on that later) and generally smoother gaming experience. That's on top of the benefits we already saw in the battery endurance department.
There are two storage options on the Mi 11i 128GB or 256GB (our review unit) and each comes with 8GB of RAM.
In GeekBench, the Mi 11i proved a very strong performer, taking the top spot in the mutli-core test in a tight race with the OnePlus 9 and the Zenfone 8. Under single-core loads, the Mi 11i was similarly impressive, only here it was ever so slightly behind the OP and the Zenfone. Predictably, the SD870-equipped OnePlus 9R scores lower in both tests, though the similarly outfitted vivo X60 Pro fared notably better (we haven't tested the non-Pro, but logic points to it posting the same numbers).
GeekBench 5 (multi-core)
Higher is better
Xiaomi Mi 11i
3641
OnePlus 9
3629
Asus Zenfone 8
3604
vivo X60 Pro
3490
Xiaomi Mi 11
3489
Asus Zenfone 7 Pro
3302
Samsung Galaxy S20 FE
3296
Xiaomi Mi 11 Ultra
3191
OnePlus 9R
3117
Oppo Reno5 Pro 5G
3091
Realme X7 Pro
2997
Xiaomi Mi 11 Lite 5G
2909
Motorola Moto G100
2860
GeekBench 5 (single-core)
Higher is better
OnePlus 9
1129
Xiaomi Mi 11 Ultra
1126
Asus Zenfone 8
1118
Xiaomi Mi 11i
1114
Xiaomi Mi 11
1085
vivo X60 Pro
1034
Asus Zenfone 7 Pro
996
OnePlus 9R
969
Motorola Moto G100
950
Samsung Galaxy S20 FE
906
Xiaomi Mi 11 Lite 5G
803
Realme X7 Pro
756
Oppo Reno5 Pro 5G
712
The situation is similar in Antutu, whether it's v8 or v9 of the popular benchmark. The Mi 11i is always near the top of the chart, but is bested by the OnePlus 9 in Antutu 8 and loses to the Zenfone 8 in Antutu 9 (though we don't have a result for OP9 for this benchmark). Again, the OnePlus 9R and the vivo X60 Pro (and, by extension, the non-Pro) score significantly lower.
AnTuTu 8
Higher is better
OnePlus 9
715196
Xiaomi Mi 11i
690021
Xiaomi Mi 11 Ultra
688720
Asus Zenfone 8
676001
Xiaomi Mi 11
668722
vivo X60 Pro
639612
Poco F3
631850
OnePlus 9R
617766
Asus Zenfone 7 Pro
602934
Motorola Moto G100
556137
Samsung Galaxy S20 FE
543986
Realme X7 Pro
510317
Xiaomi Mi 11 Lite 5G
465534
Oppo Reno5 Pro 5G
435166
AnTuTu 9
Higher is better
Asus Zenfone 8
799738
Xiaomi Mi 11 Ultra
794016
Xiaomi Mi 11i
779481
vivo X60 Pro
720352
Motorola Moto G100
681559
OnePlus 9R
676913
Xiaomi Mi 11 Lite 5G
522490
Which brings us to the graphics benchmarks. Or, rather, to the fact that they are missing, because the Mi 11i we have for review wouldn't run them. Both GFXBench and 3DMark would install just fine, only to fail to connect to their servers to download the actual tests. So no graphics benchmarks out of the Mi 11i. It's not like we don't know what to expect from the SD888, but it's always better to have some actual numbers.
Another point worth mentioning is that the Mi 11i does tend to throttle under sustained load. We got about 10-15% lower scores on the 5th consecutive runs in both Antutu and Geekbench - not the worst result, but not insignificant either. Still, this remains one of the most powerful smartphones for the money.