Great 6.67-inch OLED display
The Mi 11i uses a 6.67-inch Super AMOLED display. To reflect the phone's below-flagship stature, it's got an extended 1080p resolution, in contrast to the Mi 11 proper, Pro and Ultra, which use 1440p panels. The 1080x2400 pixels in a 20:9 aspect ratio result in a 395ppi pixel density, which is still more than okay.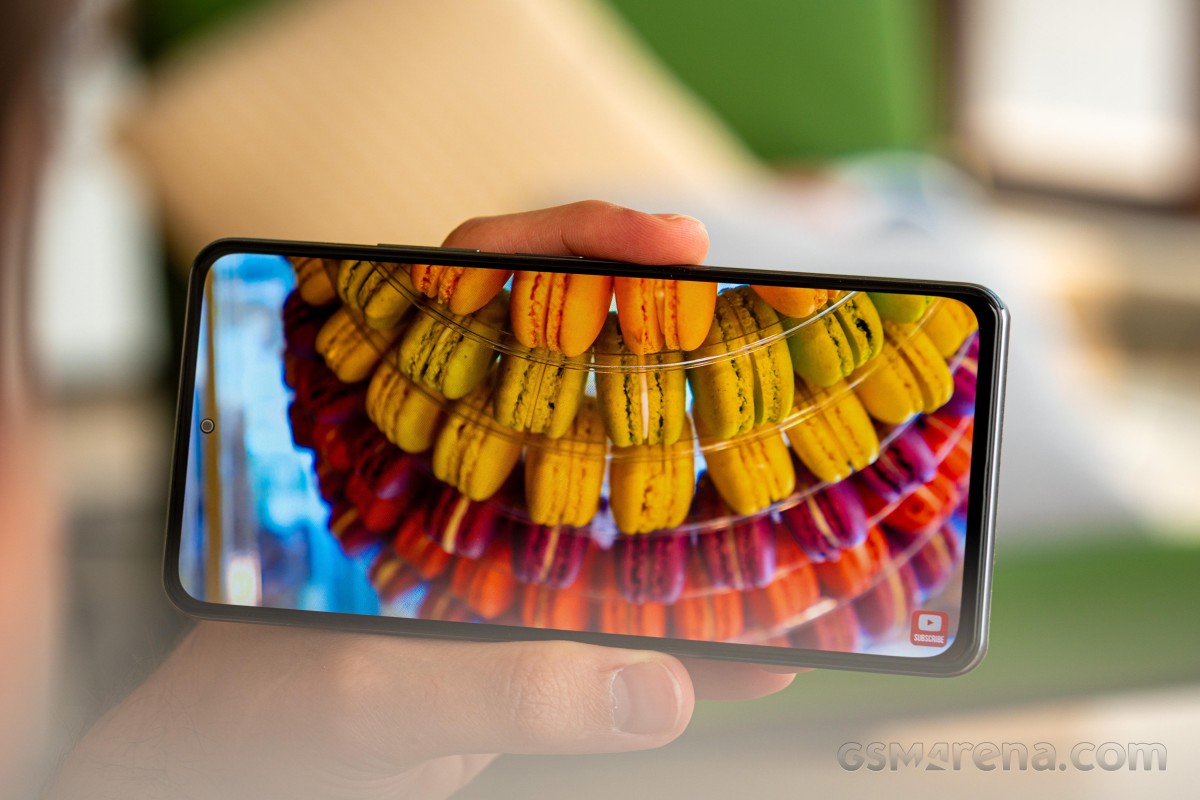 There's nothing below-flagship about the display's brightness. We measured 939nits under direct light with adaptive brightness enabled, and 514nits when operating the slider manually. These are essentially the numbers we got out of the Mi 11 and Mi 11 Ultra and are among the highest you can get this side of a Galaxy Ultra.
Display test
100% brightness
Black,cd/m2
White,cd/m2
Contrast ratio
Xiaomi Mi 11i
0
514
∞
Xiaomi Mi 11i (Max Auto)
0
939
∞
Xiaomi Mi 11
0
498
∞
Xiaomi Mi 11 (Max Auto)
0
926
∞
Xiaomi Mi 11 Lite 5G
0
514
∞
Xiaomi Mi 11 Lite 5G (Max Auto)
0
846
∞
Xiaomi Mi 11 Ultra
0
514
∞
Xiaomi Mi 11 Ultra (Max Auto)
0
943
∞
OnePlus 9
0
450
∞
OnePlus 9 (Max Auto)
0
821
∞
vivo X60 Pro
0
472
∞
vivo X60 Pro (Max Auto)
0
818
∞
Asus Zenfone 8
0
440
∞
Asus Zenfone 8 (Max Auto)
0
800
∞
Asus Zenfone 8 Flip
0
518
∞
Asus Zenfone 8 Flip (Max Auto)
0
735
∞
Samsung Galaxy S20+
0
379
∞
Samsung Galaxy S20+ (Max Auto)
0
797
∞
Samsung Galaxy S20 FE
0
404
∞
Samsung Galaxy S20 FE (Max Auto)
0
823
∞
Samsung Galaxy S21 5G
0
416
∞
Samsung Galaxy S21 5G (Max Auto)
0
856
∞
Motorola Moto G100
0.349
498
1427:1
Motorola Moto G100 (Max Auto)
0.434
613
1412:1
The refresh rate of the Mi 11i Ultra can be set to either High or Standard. Standard is your usual 60Hz mode where the phone won't attempt to adjust to content or activity and just stay locked at 60Hz.
'High' is the 120Hz capable mode and, while there isn't quite the granular switching between various refresh rates that you'd find on some higher-end phones, the Mi 11i will still switch down depending on activity or app being used.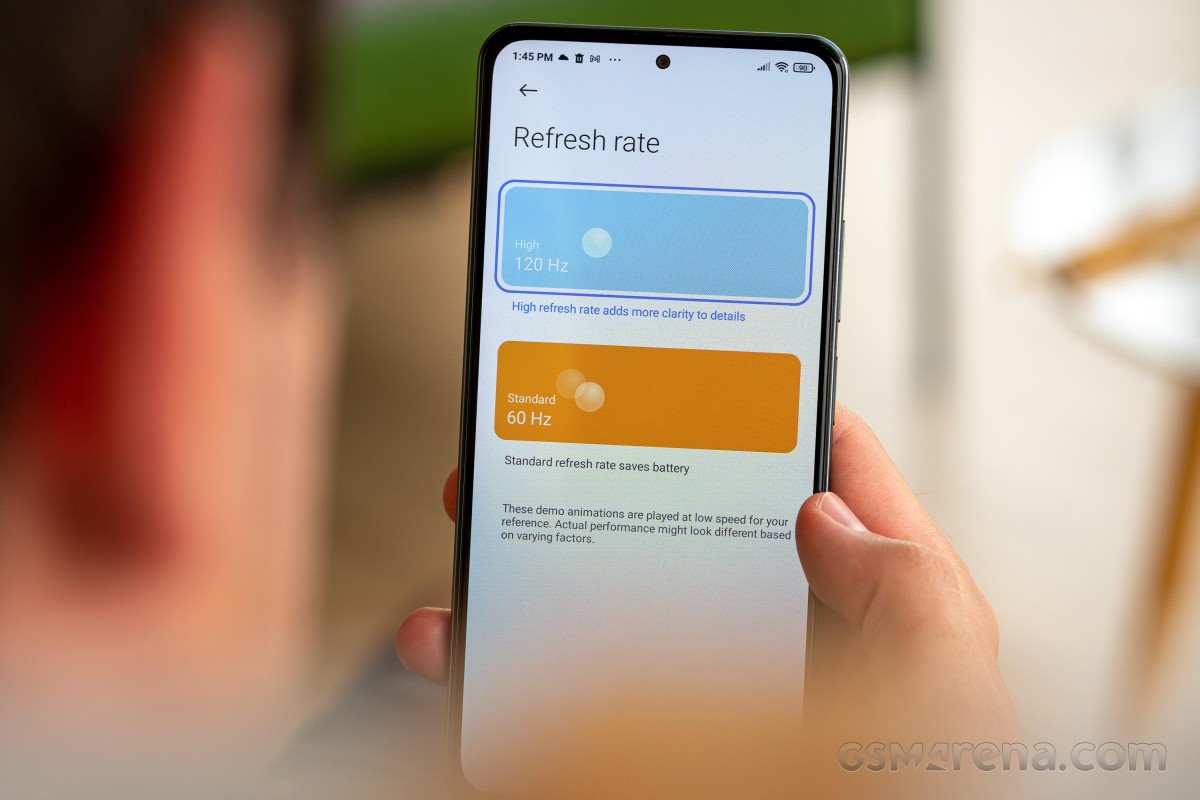 With the tools at our disposal - Android 11's native refresh rate counter and an in-house app we've had since HRR became a thing, we observed the expected behavior of switching down to 60Hz around the UI, in system apps, browsers and social apps when the phone goes static for a few seconds. A bit surprisingly, we also witnessed a switch to 90Hz in the same situations as we saw on the Mi 11 Ultra - for the task switcher and when playing back video in P-i-P mode.
Video playing apps will almost certainly default to 60Hz as soon as you open them - Prime Video, YouTube, the in-house Mi Video player - all do that. A more nuanced approach we've seen on other devices is to keep the HRR for the app's UI and only switch down to 60Hz when viewing the actual video in fullscreen mode, but that's not the case on this Mi.
The Mi 11 Ultra's display supports HDR10+ video. We got HDR streams from YouTube, but not from Amazon Prime Video, which played at a low resolution on top of being SDR. That's in addition to Netflix not running at all on the Mi 11i unit we had for review. That all sounds like a certification issue to be resolved over time, and the phone does support Widevine L1 for high-res HDR content.
Color reproduction on the Mi 11i is handled in a rather complex way, the same as on the 11 Ultra and the 11 proper. There are three predefined Color modes - Auto, Saturated, and Original color, with a temperature wheel and three temperature presets on top of that. Then there's the Advanced menu, where you get a few more presets - Enhanced, Original, P3, and sRGB, plus a handful more sliders.
In practice, the Original mode returned great results for sRGB calibration - we measured an average dE2000 of 1 for our set of swatches. That wasn't the case with the dedicated sRGB mode from the Advanced menu, a realization we no longer find surprising after already having seen the same behavior on the 11 Ultra.
In another predictable development, the Auto mode offers only average accuracy for the DCI-P3 test swatches and bluish whites, though it does cover the DCI-P3 color gamut. Again, the dedicated Advanced/P3 mode wasn't very close to target either.
Xiaomi Mi 11i battery life
A 4520mAh battery powers the Mi 11i, average capacity for the class. The Mi 11 has a slightly larger 4,600mAh cell, the OnePlus 9 and 9R stand at 4,500mAh, the vivo X60 is on the low end of the spectrum with its 4,300mAh capacity.
We clocked a full 13 hours of Wi-Fi web browsing on the Mi 11i (with the phone maintaining 120Hz throughout), that's two more than the Mi 11 and the 11 Ultra and a tie with the OnePlus 9, while the vivo X60 Pro, the closest we've had to the X60, is only good for 10hours.
In video playback, the Mi 11i lasted 16:28h in our test (this at 60Hz, the phone's default behavior for video playback), another solid result, which only the vivo manages to beat out of the above bunch. The 24-hour result on a voice call is about average, the other Mi's and the OnePlus 9 lasted us 28 hours, the vivo managed 21.
Ultimately, the Mi 11i posted an endurance rating of 96h.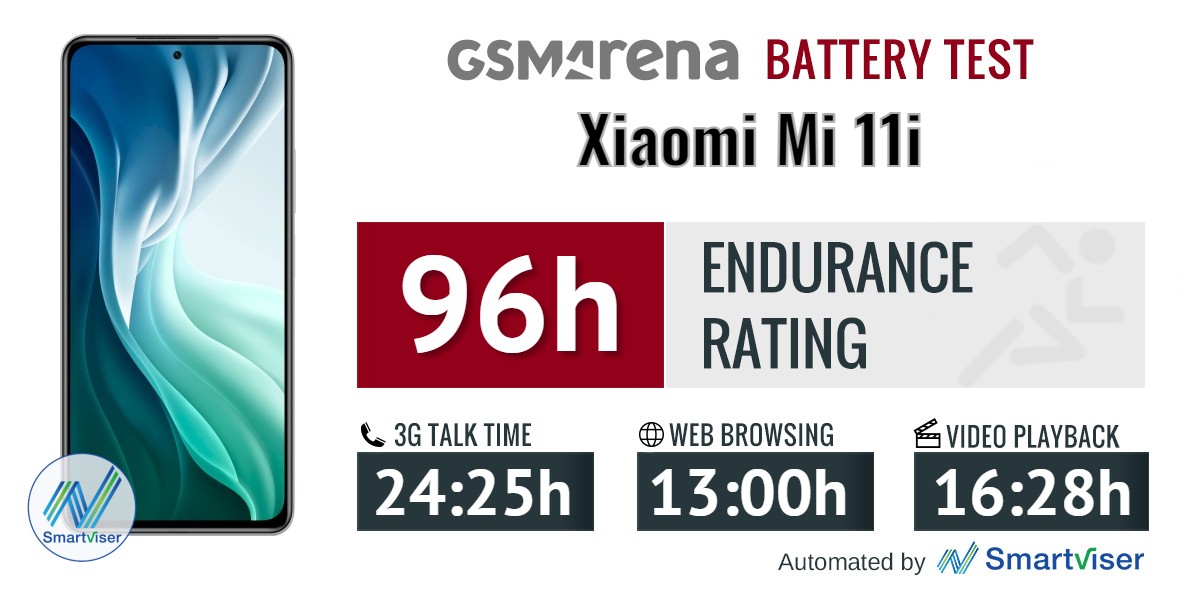 Our battery tests were automated thanks to SmartViser, using its viSerDevice app. The endurance rating denotes how long the battery charge will last you if you use the device for an hour of telephony, web browsing, and video playback daily. More details can be found here.
All test results shown are achieved under the highest screen refresh rate mode. You can adjust the endurance rating formula manually so it matches better your own usage in our all-time battery test results chart where you can also find all phones we've tested.
If you'd prefer to keep the phone at a more conservative 60Hz refresh rate, you stand to gain some extra longevity in the browser test - we clocked 14:47h. Still, we wouldn't say this 13% increase all that warranted.
Charging speed
The 33W charging support of the Mi 11i is one of the downgrades compared to what the Mi 11 (55W) and Mi 11 Ultra (67W) are capable of, and there is a noticeable drop in speed, but the numbers we got aren't half bad.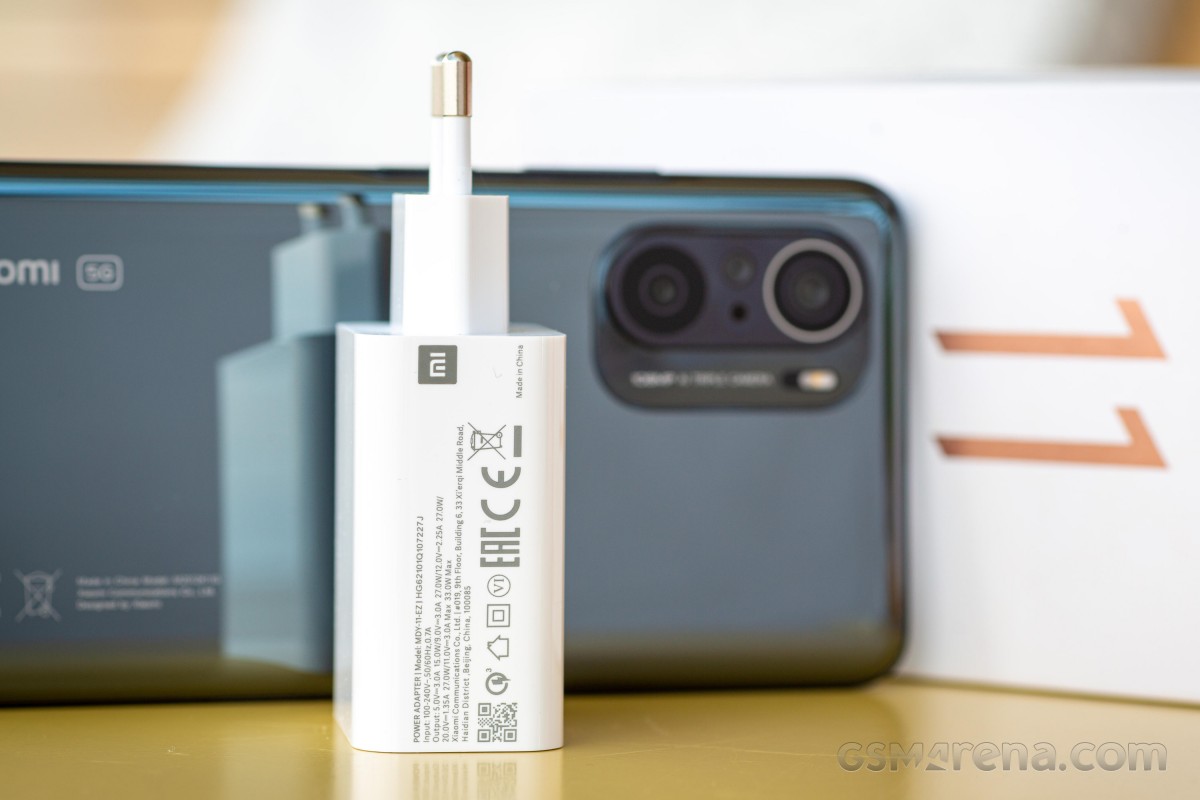 The Mi 11i reaches a full charge in 52 minutes, starting from flat, and it's at 69% half an hour into the process. That's one better than the vivo X60 Pro, but not quite as good as the OnePlus 9. The OnePlus 9R should take around 40minutes to top up, so that too is a bit better than the Mi. For what it's worth, the Galaxies you may be able to get around the Mi 11i's price point are way slower.
30min charging test (from 0%)
OnePlus 9
100%
Xiaomi Mi 11 Ultra
89%
Xiaomi Mi 11
83%
Xiaomi Mi 11i
69%
vivo X60 Pro
68%
Galaxy S20 FE (25W)
57%
Galaxy S21 5G
40%
Motorola Moto G100
37%
Galaxy S20 FE (15W bundled)
37%
Time to full charge (from 0%)
OnePlus 9
0:29h
Xiaomi Mi 11 Ultra
0:37h
Xiaomi Mi 11
0:50h
Xiaomi Mi 11i
0:52h
vivo X60 Pro
0:58h
Galaxy S20 FE (25W)
1:10h
Galaxy S21 5G
1:25h
Galaxy S20 FE (15W bundled)
1:35h
Motorola Moto G100
1:54h
Speaker test
The Mi 11i has a stereo speaker setup - you can count on Xiaomi to deliver stereo speakers in many different market segments, and at the 11i's price points, they're all but mandatory.
It's the usual arrangement where there's a 'main' speaker on the bottom, while the earpiece serves as a second channel - left in portrait, and left or right in landscape to match the phone's orientation.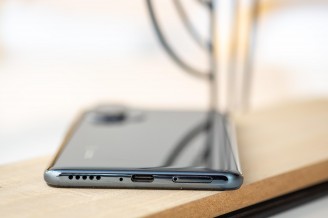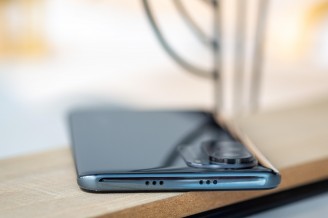 Bottom speaker • Top speaker behind the three holes on the left
The Mi 11i earned a 'Very Good' rating for loudness in our test, but just barely. Key competitors are in the same ballpark if a bit louder. The 11i's sound quality is vastly superior to the (mono) vivo X60 Pro's and about on par with the OnePlus 9 through the Mi has more sparkly highs next to a slightly boomier OP.
Use the Playback controls to listen to the phone sample recordings (best use headphones). We measure the average loudness of the speakers in LUFS. A lower absolute value means a louder sound. A look at the frequency response chart will tell you how far off the ideal "0db" flat line is the reproduction of the bass, treble, and mid frequencies. You can add more phones to compare how they differ. The scores and ratings are not comparable with our older loudspeaker test. Learn more about how we test here.