A likable triple-camera
The Xiaomi Mi 11 Lite 5G features a lite version of the Mi 11's triple-camera that's placed on a similarly-looking setup. There is a 64MP primary snapper, an 8MP ultrawide shooter, and a 5MP telemacro camera.
For comparison, the Mi 11 had a 108MP OIS primary, a 13MP ultrawide, and the same 5MP macro snapper.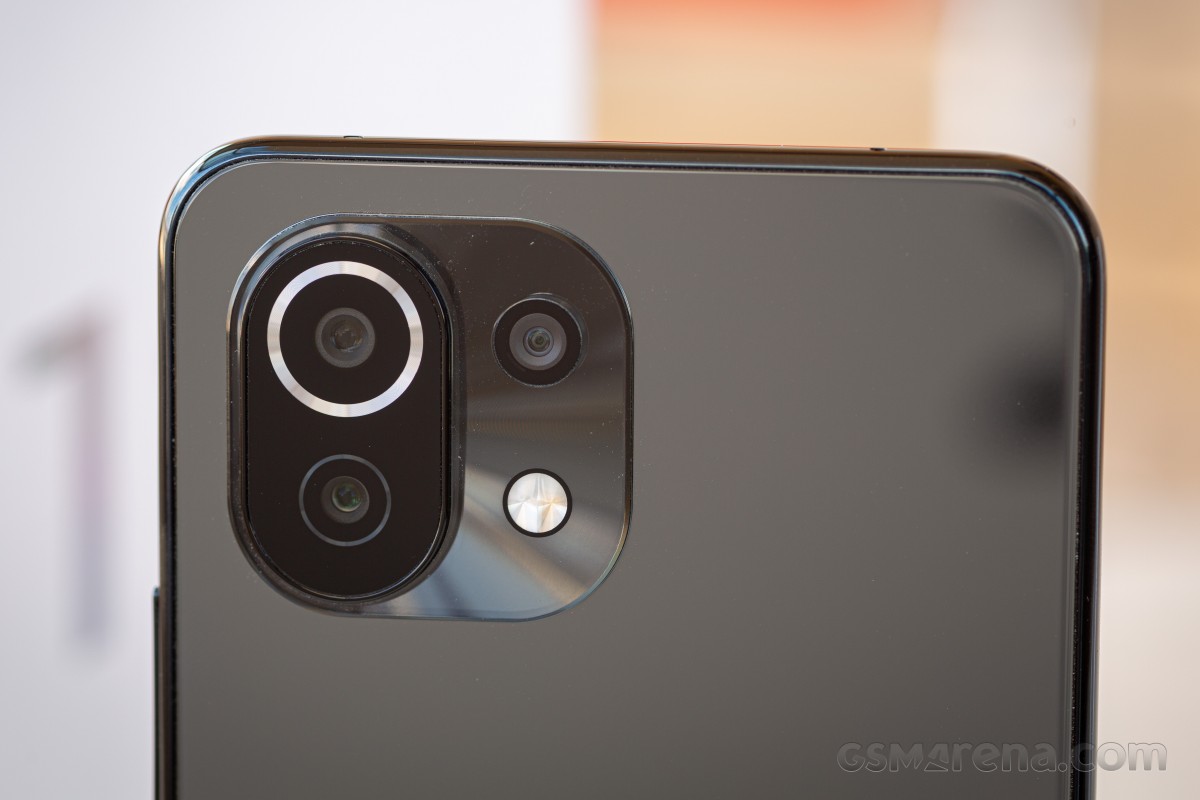 The Mi 11 Lite 5G relies on a Samsung GW3 64MP sensor (S5KGW3). It is a 1/1.97" imager with 0.7µm pixels and Tetra-cell filter (Samsung's PR word for Sony's Quad Bayer). This sensor sits behind a 25mm f/1.8 lens, it supports PDAF, but there is no OIS. This camera saves 16MP photos by default as a result of 4-in-1 binning.
Second is an 8MP 1/4" Sony IMX355 snapper with an ultrawide-angle 15mm f/2.2 lens. The focus is fixed.
The macro camera is the same as on the Mi 11 - it packs a 5MP Samsung S5K5E9 1/5" sensor with 1.12µm pixels and 49mm f/2.4 telemacro lens. Autofocus is available, and it works at distances between 3cm and 7cm or so.
The Mi 11 Lite 5G has the same selfie camera as the Mi 11 - a 20MP shooter based on Samsung's ISOCELL Slim S5K3T2 1/3.4" sensor with 0.8µm pixels and Tetra-cell color filter. It still saves images at the nominal 20MP resolution, which might compromise the quality if you examine the photos from up close. Xiaomi specifies an f/2.2 aperture, while the photo EXIF reports a 26mm focal length. Autofocus isn't available for selfies.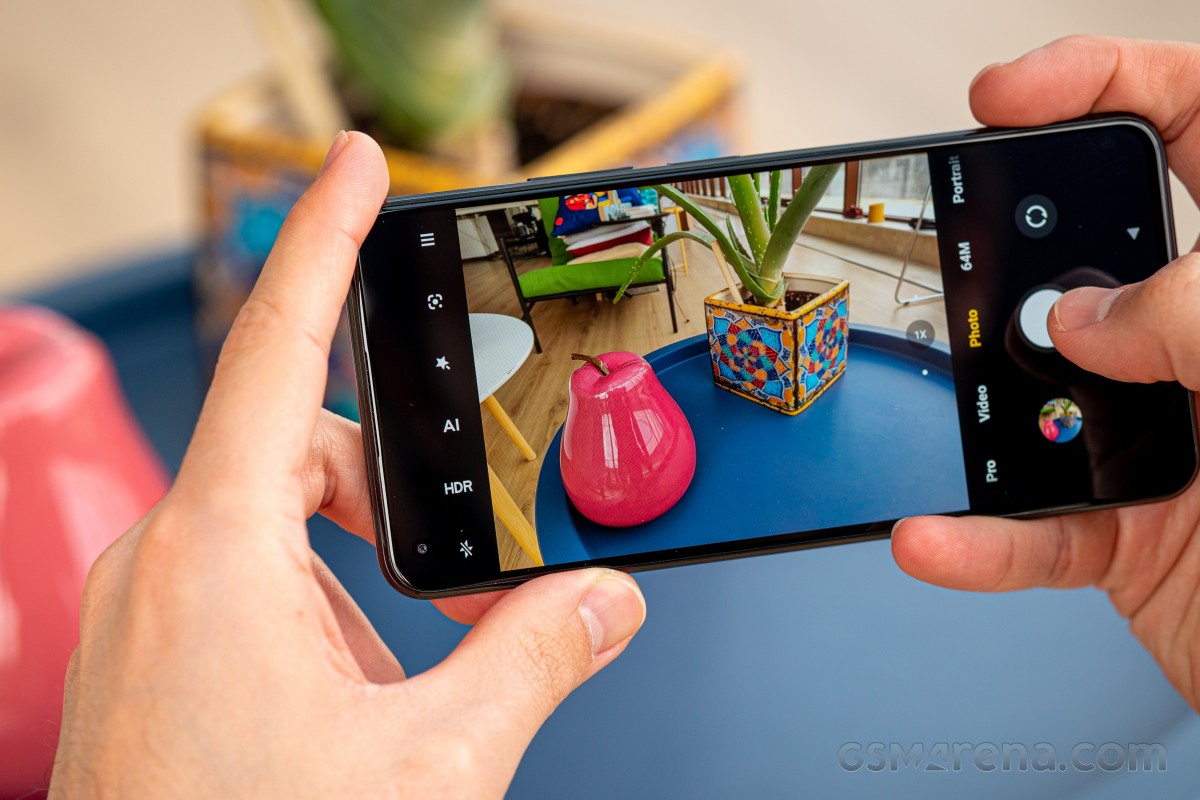 The default camera app is a typical MIUI affair - switching between modes is done by swiping left and right, and all available modes are on this rolodex except Macro. The zoom shortcut on the viewfinder switches between ultrawide, regular 1x, and 2x zoom (digital).
On the opposite end of the viewfinder, you have a flash mode switch, an HDR switch, an AI toggle, Google Lens, and a magic wand with beauty effects and filters.
Behind a hamburger menu, you'll find some more options, including the missing Macro mode, plus the shortcut to the settings. What you won't find is an option to set the output resolution for any of the cameras.
The Pro mode works with the normal camera, the ultra-wide, and the macro. Manual 64MP pictures are also an option. For the main camera, you can use up to 30s shutter speed and ISO up to 6400. For the ultrawide, the slowest shutter speed goes down to 30s, while for the macro - it's 20s.
Night Mode is available, and it works on the primary and ultrawide cameras. Auto Night Mode is a new option within settings, and it is enabled by default. It works like on the iPhones - the phone decides whether to use Night Mode or not. Xiaomi does not offer exposure settings for either Night Modes.
Long Exposure mode is available, and it has different presets - moving crowd, neon trails, oil painting, light painting, starry sky, and star trails.
Finally, the Movie Effects mode reveals the special Hollywood modes that Xiaomi is so loud about - they include Magic Zoom, Slow Shutter, Time Freeze, Night time-lapse, and Parallel world.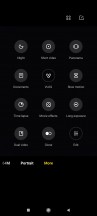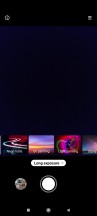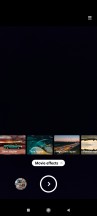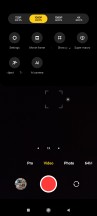 Modes • Long Exposure modes • Video Effects • Video capturing
Photo quality
The main camera saves 16MP images by default, and those are stellar for this class. The resolved detail is great, sharpness is just right, and the noise is low.
The dynamic range is how we like it, too - it is wide but not over the top, and the images look natural and balanced. The contrast is excellent.
The colors are lively and punchy, but there is this noticeable reddish tint observed in photos with more white or brown objects. It's far from a deal-breaker, but it's worth mentioning.
Xiaomi is offering an AI toggle - it's called Color booster. If you want bluer (over-the-top) skies or eye-popping green grass - that's how you get it.
There is a 2x toggle on the viewfinder, but it does not provide the lossless zoom we've seen, say, on the Realme 8 Pro. It's a simple digital zoom achieved by crop and upscale.
The 64MP photos are a mixed bag, and as it often happens - we would not recommend this 64MP mode. First - it takes a couple of seconds to capture such an image, and the file size will be huge - between 25MP and 40MB!
Then, these 64MP photos will be soft and noisy, and we tried downsizing a bunch of these to 16MP, but we did not notice more resolved detail. Sure, these are less sharpened and less processed than the default ones, but not better in quality.
The 8MP photos coming from the ultrawide-angle camera are okay, but not the best we've seen in this segment. We like the contrast in these photos, and the dynamic range is quite good. The photos are quite good looking for an 8MP camera, even when examined from up close.
The 5MP telemacro camera can get a focus lock between 3cm and 7cm. The photos we snapped are good - the colors look great, we can see some detail that's hidden for the naked eye, and the contrast is nice. The longer lens allows for shooting further away from your subjects with the same magnification, so you don't cast a shadow or scare off insects that easily. Also, the change in perspective the longer lens provides is welcome, too.
These aren't the sharpest photos around. And getting your subject well in focus still took us three or four attempts each time and we got many blurry shots.
Still - this camera will do great for the occasional flower petals, foliage, sand, bugs or money - close-ups that will surely spice up your Instagram profile.
The Xiaomi Mi Lite 11 5G can shoot great portraits provided the lighting conditions are excellent. Then you'll get detailed portrait photos with high contrast and nice colors. The subject separation isn't stellar, there is no depth sensor, but it is more than enough for this mid-range class.
If the light isn't enough, the photos may often turn up noisy and/or blurry.
Let's look through some low-light photos now. The Mi 11 Lite offers Auto Night Mode - a feature that premiered with the Mi 11, and it is enabled by default. It seems to be similar to what Apple does with its Night Mode - the camera app decides when and where to use Night Mode and its exposure time. You have no say in any of this (you don't even get a say about the exposure time even in the Manual Night Mode).
The main and ultrawide cameras are capable of both Auto and Manual Night Modes. When shooting with either of these snappers, it doesn't look like they are using Night Mode at all. It could be the camera algorithm is using short exposure times, which, combined with the phone's powerful processor, might make the Night mode instantaneous. But compare that to the Manual Night Mode that takes between 3 and 5 seconds and we're really not sure about how reliable the Auto mode works.
When comparing photos between Auto and Manual, we discovered that the main camera indeed uses Night Mode rarely and relies mostly on its standard capabilities. And those are pretty good for this class - the images are balanced with good exposure; they retain good color saturation and are true to life. The noise is low, too. The image sharpness is on par with the best of the mid-range snappers but doesn't get close to flagship levels.
Where Auto Night Mode decides to trigger (like the hotel photo), it tweaks the exposure a bit better and reveals slightly more detail in the shadows.
A word of advice - since there is no OIS on the Mi 11 Lite 5G and handshake gets in the way - you better snap 2 or 3 photos, as we often got blurry images, and one or even two photos may not be enough for saving your precious moment.
The Manual Night Mode uses about 2-3s exposure times and will save nice and bright photos nighttime photos. The images are not only brighter but also get better detail definition. Noise levels are even lower.
We do recommend using the Night Mode when you don't have moving subjects.
We disabled all enhancements for some scenes, and we got a bit darker photos. The hotel photo is incredibly sharp for some reasons (maybe we didn't flinch at all). But the other two are noisy and maybe even blurrier than the Auto ones. So, we recommend leaving the Auto Night Mode on. It may not always use long exposure times, but it seems that it applies enough enhancements to improve the photos overall.
Whatever enhancements the Auto Night Mode does for the ultrawide camera, they are either minimal or non-existent. The default photos are dark, soft and noisy, and barely usable.
The Night Mode makes the ultrawide photos somewhat acceptable. We like the exposure, color saturation, and dynamic range, and we can see a lot more stuff in the frame. Just don't zoom in because they are still quite soft overall - almost like out of focus at times.
As we said, we saw little to no improvements with Auto Night Mode when compared to the regular non-Night Mode photos. Maybe these Auto enhancements are working on the main camera only, even though this isn't suggested anywhere. Still, here are a bunch of ultrawide images taken without any sort of improvements.
And here are photos of our usual posters taken with the Xiaomi Mi 11 Lite 5G. Here's how it stacks up against the competition. Feel free to browse around and pit it against other phones from our extensive database.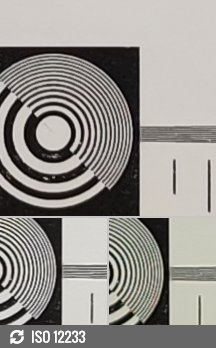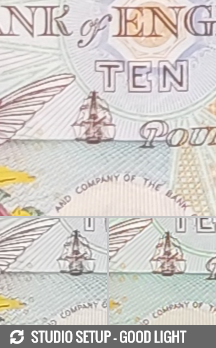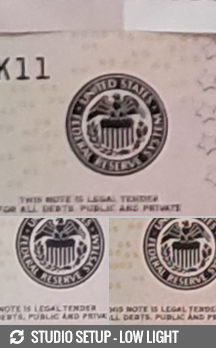 Xiaomi Mi 11 Lite 5G against the Poco F3 and the Redmi Note 10 Pro in our Photo compare tool
Selfies
We've seen Xiaomi's 20MP selfie camera on many devices, and it is one of our favorites. This shooter snaps some of the most natural-looking and balanced selfies across all fronts. The subjects are well-defined, the contrast and colors are superb, as well as the dynamic range.
This imager uses a Quad-Bayer filter, so the 20MP photos are definitely upscaled after the 4-in-1 binning. This means these aren't the sharpest selfies we've seen, but not many people zoom in their photos, so that's fine. The other image quality aspects are great. And you can also always downsize these to 5MP and get one incredibly sharp photo.
Surprise, surprise, the portrait selfies are even better when it comes to subject separation when compared to the main camera (there is no depth sensor for either). The blur is looking good, too, and overall - these are some commendable selfie portraits, especially within this mid-range segment.