Display
To be perfectly frank, many of us thought we would never see the day OLED made its way on to an Xperia phone. But it finally happened and it's a really glorious sight to behold. Just to clear the air a little bit, we're not insinuating that LCD is bad in any way. On the contrary - when done correctly, it can provide a great visual experience. It's just that OLED has quite a few extra benefits to offer that more and more traditionally LCD-friendly companies like Apple are starting to appreciate and adopt.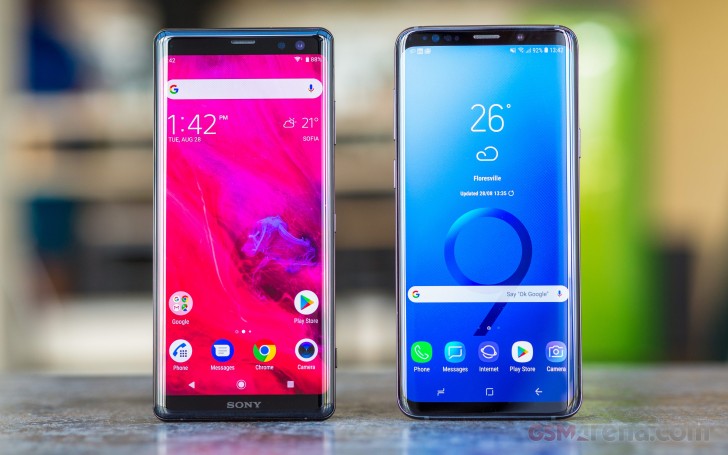 OLEDs galore: Xperia XZ3 next to the Galaxy S9+
The overall benefits of the tech are clear, but it might just be up to Sony to convince its users to take the plunge as well, considering the long years of LCD-only diet, accompanied by frequent praise for the benefits of the IPS liquid crystal technology.
Display test
100% brightness
Black, cd/m2
White, cd/m2
Contrast ratio
LG G7 ThinQ (outdoor)
0.499
920
1844
Apple iPhone X
0
679
∞
Samsung Galaxy S9 (Max Auto)
0
658
∞
Samsung Galaxy Note9 (Max Auto)
0
658
∞
Motorola Moto Z3 (Max Auto)
0
652
∞
Samsung Galaxy Note8 (Max Auto)
0
647
∞
Samsung Galaxy S9+ (Max Auto)
0
631
∞
Xiaomi Mi 8 (Max Auto)
0.002
624
312000
Huawei Mate 10 Pro (max auto vivid)
0
623
∞
Apple iPhone 8 Plus (Max Auto)
0.471
621
1318
Sony Xperia XZ3 (Max Auto)
0
620
∞
Sony Xperia XZ2
0.431
618
1434
LG V30 (Max Auto)
0.032
616
19250
Nokia 8 Sirocco (Max Auto)
0.002
600
300000
Huawei P20 Pro (Max Auto)
0
582
∞
Apple iPhone 8 Plus (Standard)
0.392
530
1352
Sony Xperia XZ2 Premium
0.367
518
1411
Motorola Moto Z3
0
464
∞
LG G7 ThinQ
0.225
460
2044
Xiaomi Mi 8
0
458
∞
vivo NEX S
0
458
∞
Meizu 15
0
444
∞
Sony Xperia XZ3
0
442
∞
Oppo Find X
0
426
∞
Huawei Mate 10 Pro (normal)
0
422
∞
Google Pixel 2 XL
0
420
∞
LG V30
0.002
414
207000
Samsung Galaxy Note8
0
412
∞
Huawei P20 Pro
0
412
∞
Nokia 8 Sirocco
0
400
∞
HTC U12+ (Max Auto)
0.214
389
1818
Samsung Galaxy S9+
0
376
∞
Samsung Galaxy S9
0
370
∞
Samsung Galaxy Note9
0
367
∞
HTC U12+
0.2
366
1830
For instance, looking at the raw test data, there is no denying the superiority of having true blacks and infinite contrast. We do have to note, however, that, compared to other Xperia devices and many directly competing flagship offers, the XZ3 lags a bit behind in the brightness department. The panel Sony chose only goes up to 440 nits or so. There is a Max Auto mode (up to 620 nits), but it works a bit odd. In order to trigger it, one of two conditions needs to be met: Either Video image enhancement is on and there is a lot of ambient light or you have auto brightness off and set the slider to maximum. Also, if you cover the proximity sensor up and trigger it, Max Auto won't turn on.
Sunlight contrast ratio
Apple iPhone X
5.013
OnePlus 5T
4.789
Samsung Galaxy S8
4.768
Samsung Galaxy S8+
4.658
Samsung Galaxy S9
4.63
Samsung Galaxy S6 edge+
4.615
Samsung Galaxy S9+
4.537
Samsung Galaxy Note9
4.531
Sony Xperia XZ3
4.502
Motorola Moto Z2 Play
4.459
Oppo R11
4.454
Samsung Galaxy S7 edge
4.439
OnePlus 3
4.424
Samsung Galaxy S7
4.376
OnePlus 6
4.321
HTC One A9
4.274
Oppo R15 Pro
4.251
Samsung Galaxy Note7
4.247
Samsung Galaxy A3
4.241
Nokia 8
4.239
Google Pixel 2 XL (pre-update)
4.234
OnePlus 3T
4.232
Google Pixel XL
4.164
ZTE Axon 7
4.154
Samsung Galaxy Note8
4.148
Meizu Pro 7 Plus
4.147
Samsung Galaxy S6 edge
4.124
Samsung Galaxy A7 (2017)
4.124
vivo V11
4.113
Huawei Mate 10 Pro (normal)
4.096
Samsung Galaxy Note5
4.09
Huawei P20 Pro
4.087
Xiaomi Mi 8
4.086
Meizu 15
4.082
Nokia 6 (2018)
4.052
Google Pixel 2 (pre-update)
4.023
LG V30
4.022
Huawei Nexus 6P
4.019
vivo NEX S
4.012
Samsung Galaxy J7 Pro
3.998
OnePlus X
3.983
Motorola Moto G6 Plus
3.865
Samsung Galaxy A8
3.859
Samsung Galaxy A8 (2018)
3.842
Samsung Galaxy A6+ (2018)
3.834
Sony Xperia XZs
3.818
Samsung Galaxy A9 (2016)
3.817
Motorola Moto X (2014)
3.816
Samsung Galaxy J7 (2017)
3.812
Samsung Galaxy A5 (2017)
3.804
Samsung Galaxy J7 (2016) outdoor mode
3.802
Xiaomi Redmi Pro
3.798
LG V20 Max auto
3.798
Sony Xperia XZ
3.795
Samsung Galaxy A5 (2016)
3.789
Apple iPhone 6s
3.783
Meizu Pro 5
3.781
Microsoft Lumia 650
3.772
Xiaomi Mi 6
3.767
Sony Xperia XZ1
3.765
Samsung Galaxy J7 (2016)
3.756
Nokia 8 Sirocco
3.745
Sony Xperia XZ1 Compact
3.729
Apple iPhone 8 Plus (True Tone)
3.725
Oppo F1 Plus
3.709
Vivo X5Pro
3.706
Samsung Galaxy A3 (2017)
3.688
Huawei P20
3.683
Apple iPhone SE
3.681
Huawei Mate 9
3.68
Samsung Galaxy A7
3.679
Sony Xperia XZ2 Compact
3.675
Meizu PRO 6
3.659
BlackBerry Priv
3.645
Sony Xperia XA1 Ultra
3.597
Apple iPhone 7 Plus
3.588
Sony Xperia XZ2
3.58
LG G6
3.556
Apple iPhone 6s Plus
3.53
Motorola Moto Z Play
3.526
Samsung Galaxy J3 (2016)
3.523
Samsung Galaxy J3 (2016) outdoor mode
3.523
Acer Jade Primo
3.521
Microsoft Lumia 950
3.512
Oppo R7 Plus
3.499
Nokia 7 plus
3.479
nubia Z11
3.466
Huawei P10 Plus
3.456
HTC U Ultra
3.453
Motorola Moto G6
3.448
Sony Xperia XA2 Ultra
3.445
Samsung Galaxy J7
3.422
Motorola Moto G6 Play
3.419
Meizu MX5
3.416
LG V20
3.402
Samsung Galaxy A6 (2018)
3.397
Xiaomi Redmi Note 5 AI Dual Camera
3.393
LG G7 ThinQ
3.39
Huawei P10
3.379
Samsung Galaxy J5 (2016)
3.378
Oppo R9s
3.352
Honor Play
3.349
Honor 8 Pro
3.341
Oppo F7
3.333
Oppo R7
3.32
Lenovo P2
3.316
Archos Diamond Omega
3.305
Honor 9
3.289
Xiaomi Mi 5s
3.276
Nokia 5
3.261
Nokia 6 (Chinese version)
3.244
Xiaomi Mi 5
3.24
Nokia 6 (Global version)
3.238
Samsung Galaxy J2
3.235
Sony Xperia X Performance
3.234
Xiaomi Mi Note 2
3.228
Oppo R11s
3.153
Lenovo Vibe Shot
3.113
HTC U11 Life
3.108
Motorola Moto X Force
3.105
LG Nexus 5X
3.092
HTC U11
3.089
Xiaomi Mi A2 Lite
3.087
HTC U12+
3.085
Xiaomi Redmi S2 (Y2)
3.077
Huawei Mate S
3.073
Oppo F9
3.069
Microsoft Lumia 640 XL
3.065
Xiaomi Mi Max 3
3.061
Xiaomi Pocophone F1
3.059
Apple iPhone 6 Plus
3.023
Asus Zenfone 4 ZE554KL
3.019
Sony Xperia XA1
3.012
Motorola Moto X4
3.012
Oppo Realme 2
3.006
Sony Xperia L1
2.994
Sony Xperia X
2.989
Sony Xperia XA2
2.938
Oppo Realme 1
2.932
Xiaomi Redmi 4
2.92
Xiaomi Redmi 3S
2.913
Xiaomi Redmi 5 Plus
2.913
Sony Xperia XA Ultra
2.906
LG G5
2.905
Huawei Honor View 10
2.896
Xiaomi Redmi 3s Prime
2.893
Xiaomi Mi 5s Plus
2.884
Sony Xperia XZ Premium (sRGB)
2.877
Sony Xperia XZ Premium
2.877
Sony Xperia Z5
2.876
Nokia 3
2.871
Sony Xperia XZ2 Premium
2.867
Microsoft Lumia 550
2.851
Nokia 3.1
2.837
Lenovo Moto M
2.813
Xiaomi Redmi 3 Pro
2.803
Sony Xperia Z5 compact
2.784
Honor 10 (Vivid)
2.757
Nokia 2
2.752
Meizu MX6
2.751
LG V10
2.744
Huawei Mate 10 (normal)
2.742
Motorola Moto G5S Plus
2.737
Xiaomi Redmi 3
2.735
Huawei Honor 7X
2.734
Xiaomi Redmi Note 4 (S625)
2.714
Meizu M5
2.71
Xiaomi Mi A2
2.696
Sony Xperia M5
2.69
Xiaomi Mi A1
2.689
Huawei P9 Lite
2.679
Xiaomi Redmi 4 Prime
2.679
vivo V7+
2.671
Vivo V3Max
2.659
Xiaomi Mi Mix
2.658
Huawei Mate 10 Lite
2.654
Oppo F5
2.653
Doogee Mix
2.642
Xiaomi Mi 4i
2.641
Xiaomi Redmi 4a
2.635
Sony Xperia Z3
2.618
Xiaomi Mi 5X (Standard)
2.616
Sony Xperia XA
2.609
Motorola Moto G4 Plus
2.582
Meizu M5 Note
2.189
Huawei Honor 6
2.169
Xiaomi Redmi Note 2
2.166
OnePlus Two
2.165
HTC One X
2.158
LG Aka
2.145
Xiaomi Redmi Note 4 (X20)
2.145
Archos 50 Diamond
2.134
Xiaomi Redmi Note
2.119
Xiaomi Mi 4S
2.095
Acer Liquid X2
2.084
Huawei P8lite
2.078
vivo V5
2.059
Moto G 3rd gen max manual
2.026
Xiaomi Mi 3
2.001
Xiaomi Mi Max
1.996
Sony Xperia E4g
1.972
Xiaomi Redmi 2
1.311
HTC Desire C
1.3
Nokia X
1.291
Sony Xperia E
1.215
These brightness concerns haven't affected sunlight legibility at all. In fact, the XZ3 is on par with recent Samsung devices, at the very top of the food chain in this respect. We can only imagine it's due to some very non-reflective surface on the handset.
The sub-optimal brightness results aren't really enough of a deterrent against OLED and the XZ3 in out book. If you find yourself in need of some extra convincing before boarding the OLED train, just go and check out the XZ3 in person. Specifically, the collection of demo videos Sony pre-loaded on the phone to showcase its shiny new panel. The vibrant colors, perfect blacks, infinite contrast, fluidity and snappy pixel response times just make for an objectively better experience than any Xperia LCD we have seen in the past.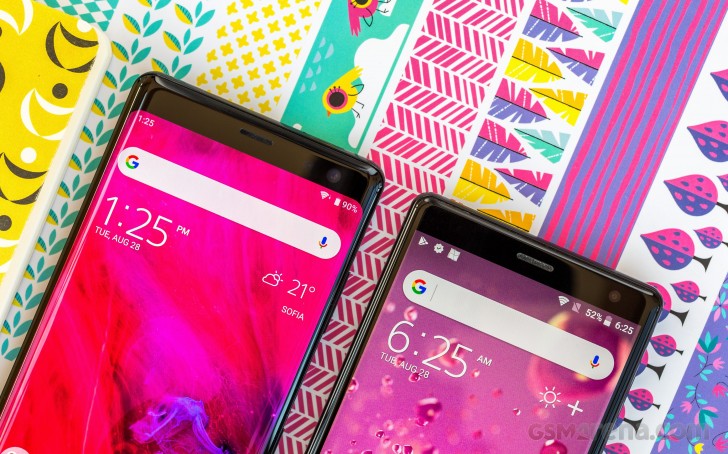 Xperia XZ3 vs. Xperia XZ2
Plus, Sony made sure to gear up the new shiny panel with its patented set of familiar display optimization tech. Namely, TRILUMINOS technology, X-REALITY, and a Dynamic Contrast Enhancer. So long-time fans don't have to feel like they are missing out. In fact, Sony claims it made quite a few AI-driven improvements to its SDR to HDR enhancer for the XZ3.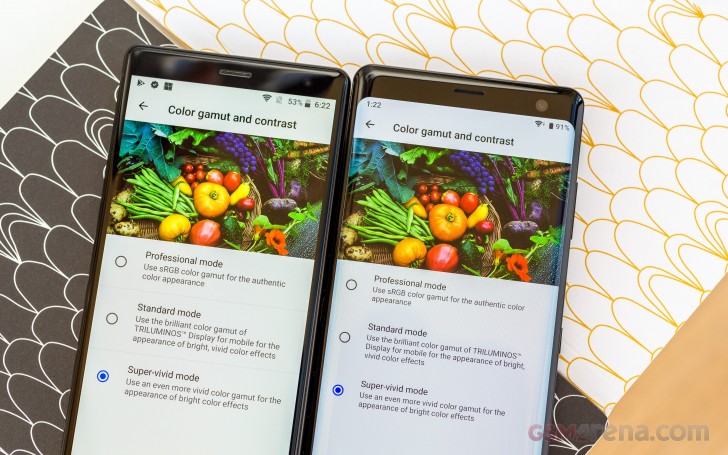 Color modes are the same on the Xperia XZ2 (left) and XZ3
Speaking of HDR, Sony gave the new display its full HDR treatment, even sprinkling a few cherries on top. Just like many of its siblings, the XZ3 supports 10-bit colors and is certified for the BT.2020 standard. The display is also certified for HDR10 playback, which is the defacto standard for HDR streaming, on platforms, such as Amazon, Netflix and YouTube.
Supporting just the right amount of HDR is somewhat of an issue in 2018, with segmentation and competing standards all throughout the tech realm. In an effort to address this, Sony is now recording HDR content in accordance with the HLG standard. This is a very flexible approach, that does not alienate SDR-only playback devices and also plays well with YouTube's format system, making for easy content sharing and delivery. Quite a major concern, when it comes to HDR video. We'll go more in depth on HLG in the video section of the camera page.
Clearly, Sony has put quite a bit of effort on the HDR front, facilitating easy capture and playback. And for most users, those two points will be more than enough. However, not all HDR-certified devices are created equal and it is worth noting that by all accounts, the panel on the XZ3 is on the lower end of that spectrum.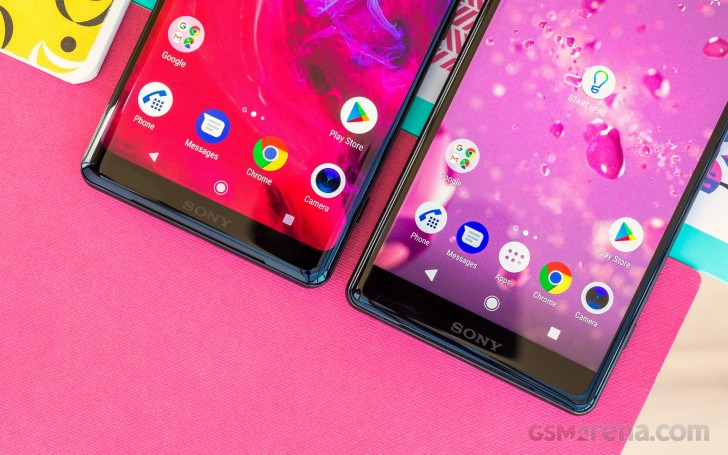 Two generations of HDR screens - Xperia XZ3 (left) and XZ2
Without getting into too much detail, let's just say, standards vary and are often bent slightly to accommodate a larger number of devices. For instance, the most widely used Ultra HD alliance HDR standard originally required a maximum brightness of 1000 cd/m2, a black level of less than 0.05 cd/m2 and a contrast of at least 20,000:1. Obviously, by nature, OLED panels have no issue with the contrast part. Which, in turn, means that even if they don't reach those eye-blinding brightness levels, they will still benefit from an HDR signal. And the reality is that for most OLED panels, even when measured in a tiny spot, 1000 cd/m2 are simply unattainable.
Hence, a more OLED-relevant standard was developed by the Ultra HD alliance, requiring 540 cd/m2, the same blacks and a contrast of at least 1,080,000:1. Now, since this lacks any additional parameters as to the size of the measured area for that peek brightness (an important aspect for testing OLED screens). Our standard tests measure brightness with the test pattern filling 75% of the area of the panel - a case in which the XZ3 fails to meet those requirements. But is should be noted that competing offers, like on recent Samsung devices do manage to cope. Shrinking the area of the test pattern, we were able to measure 540+ cd/m2 on the XZ3, so Sony is definitely not cheating.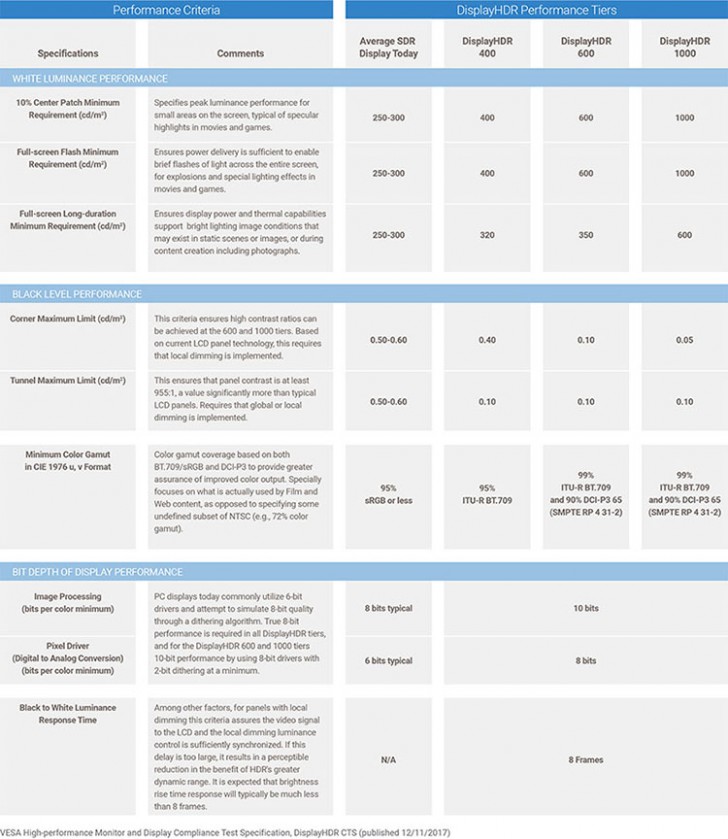 VESA has a competing and arguably more precise HDR standard, in recently released, which defines three tiers of HDR (HDR 400, HDR 600 and HDR 1000). Without digging too deep into the standard itself, we can clearly see the XZ3 only covers the first level. The point we are trying to drive across here is that, as far as HDR screens go, the XZ3 is not the end-all of mobile devices. Something we felt we had to address, after reading some of the discussions about Sony's latest flagship.
That being said, the XZ3 is not necessarily any worse off than most consumer-grade HDR tech, currently out there. Standards like HDR 600 and especially HDR 1000 are still meant for professional-grade laptops and monitors, not consumer smartphones. The only tangible benefits Sony offers with its approach to HDR are a wider compatibility for both consumption, as well as content sharing.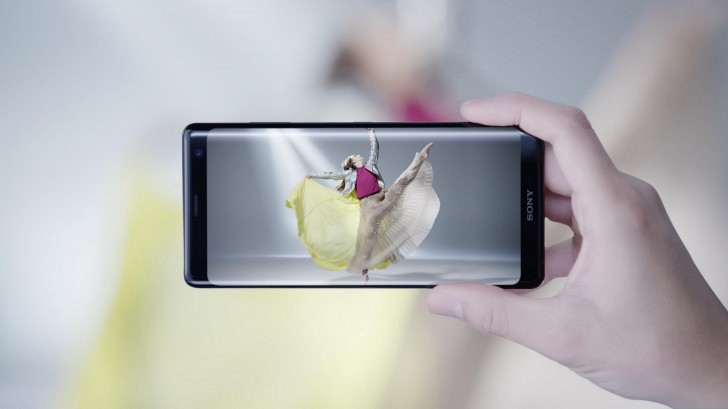 Quite frankly, even the "pro-sumers" out there, the ones willing to drop money for a beastly 2018 flagship, like the XZ3 won't likely be consuming too much HDR content, given the lack of a steady source of such material. General color accuracy, on the other hand, might be a bit more important to a wider portion of XZ3 potential buyers.
Honestly, the XZ3 didn't really blow us away in this department. With the "Standard" color mode, it ships in, our review unit managed an average deltaE of 6.2 and a maximum of 9.8. The main problem seems to be a blue tint, a cold hue, which is fairly common on mobile devices. Luckily, there are both other color profiles to try out on the XZ3, as well as a custom white point adjustment.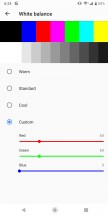 Best custom white point settings
We tried fiddling about quite a bit with the manual adjustment, measuring with the colorimeter every step of the way. The "Warm" color profile remedies the blue situation quite a bit and brings down the delta values. If you don't feel like wasting too much time, you should go with that. Otherwise, you can use the custom white point values from the screenshot, which brought our dealtaE calues down to an average of 4.6 and a maximum of 9. And that's about as color-accurate as the Xperia XZ3 can get.
All this display talk and we still haven't even mentioned resolution. With QHD+ native, the XZ3 sits nicely, in the middle ground between the FHD+ XZ2 and the insane 4K resolution of the XZ2 Premium. It's an incredibly sharp display.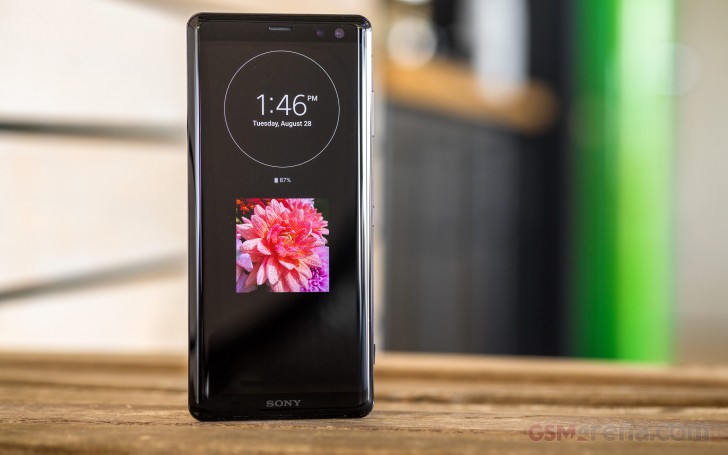 Oh, and there is one more benefit to be gained from the OLED technology as well. Sony has implemented an Always On Display option for the XZ3. It's called "Ambient display" and already comes with a selection of five different clock styles, extensive notification controls, music controls, as well as some user-customizable graphic content.
Stickers allow you to place a static image from a pre-loaded set or your gallery near the bottom of the display. There is also a Photo playback option, which surfaces around windows with your photos in random sizes and locations on your lock screen. The XZ3 typically selects the most recent shots you have taken, but if it finds shots of the place you are currently at in your gallery, it will start cycling those. Neat!
Battery Life
The Xperia XZ3 is fairly beefy, which typically leaves more space for a sizeable battery, to match. With a typical capacity rating of 3,300 mAh, the pack, inside the new flagship is pretty adequate in size. Sony obviously did their best and at least tried to cram as much juice in there as possible, compared to the Xperia XZ2 and its 3,180 mAh rating.
That's still shy from the 3,500 mAh of the Xperia XZ2 Premium, but that is an entirely different beast. One that, most notably, needs all the electricity it can get for that power-hungry 4K panel of its. In contrast, one of the many benefits of switching to OLED is a lower typical power draw from the display - likely the single biggest consumer in a modern smartphone. All this, combined with the XZ2's great 88-hour endurance rating, naturally set our expectations pretty high for the XZ3.
And we have to say, the XZ3 definitely delivers. Perhaps not quite the astonishing improvement over the XZ2, we were hoping for, but the XZ3 still won't fail to last you through an entire day. Naturally, it should be noted that our standby test was conducted with the always on display feature Off. OLED or not, it drains the battery really fast.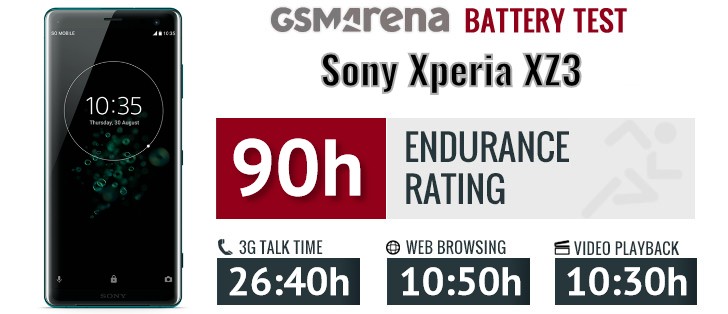 Our endurance rating denotes how long a single battery charge will last you if you use the Sony Xperia XZ3 for an hour each of telephony, web browsing, and video playback daily. We've established this usage pattern, so our battery results are comparable across devices in the most common day-to-day tasks. The battery testing procedure is described in detail in case you're interested in the nitty-gritties. You can also check out our complete battery test table, where you can see how all of the smartphones we've tested will compare under your own typical use.
We're less excited about the charging situation. You see, our review unit arrived with the UCH20 adapter rated at 5V/1.5A, which takes a lengthy 2:50 hours to get the XZ3 from flat to 100% and is only a quarter of the way to full after a half hour charging session. The much better QC3.0-compliant UCH12 adapter supplied with the XZ2 Premium that we had on hand, yields almost entirely the same numbers, and so does a third-party QC3.0 charger - not really surprising since Sony makes no QuickCharge-compliance claims in the Xperia XZ3's specs.
In fact, USB Power Delivery, which is the standard supported by the XZ3 is incompatible with Qualcomm's QuickCharge. However, you'd need a PD charger, which Sony isn't making yet - seems like a good explanation why there isn't one in the box. Anyway, we tried with the Pixel 2 charger, and oh miracle - the XZ3 does top up faster. It still takes a little less than 2:30 hours for a full charge, but a 30-minute stint leaves you with a more usable 43%, and an hour into it you'd be looking at 73%, as opposed to the 55% with either of the Sony chargers above.
Don't get us wrong here, we're all for USB Power Delivery and applaud Sony's push for this standard, but a compatible charger in the box would have made a much stronger statement.
Loudspeaker
The Xperia XZ3 practically borrows its audio setup entirely from the Xperia XZ2. That, of course, entails some great things, like the impressive stereo speaker setup and the intriguing Dynamic vibration system. But, also, some less than ideal choices, as far as most fans are concerned, namely the refusal to bring back the 3.5mm audio jack.
| | | | | |
| --- | --- | --- | --- | --- |
| Speakerphone test | Voice, dB | Pink noise/ Music, dB | Ringing phone, dB | Overall score |
| Samsung Galaxy Note8 | 67.8 | 69.5 | 71.5 | Good |
| Sony Xperia XZ2 (ClearAudio+) | 66.0 | 71.6 | 76.4 | Good |
| Google Pixel 2 XL | 66.2 | 70.4 | 78.2 | Good |
| OnePlus 6 | 70.2 | 74.7 | 70.0 | Good |
| Sony Xperia XZ2 Premium | 68.1 | 73.2 | 73.7 | Good |
| Sony Xperia XZ2 | 66.1 | 71.8 | 78.1 | Good |
| Apple iPhone X | 68.9 | 74.0 | 76.2 | Very Good |
| Sony Xperia XA2 | 68.7 | 72.7 | 78.3 | Very Good |
| Samsung Galaxy S9+ | 68.4 | 74.0 | 80.1 | Very Good |
| Xiaomi Mi 8 | 68.1 | 72.3 | 82.2 | Very Good |
| Sony Xperia XZ2 Compact | 66.7 | 73.3 | 83.3 | Very Good |
| Sony Xperia XA2 Ultra | 68.8 | 73.9 | 80.8 | Very Good |
| LG V30 | 66.9 | 72.3 | 84.5 | Very Good |
| Samsung Galaxy S9 | 68.5 | 74.3 | 81.1 | Very Good |
| Samsung Galaxy Note9 | 71.2 | 74.9 | 80.2 | Very Good |
| Oppo Find X | 70.7 | 75.2 | 81.2 | Very Good |
| Sony Xperia XZ3 (ClearAudio+) | 68.0 | 75.3 | 84.0 | Very Good |
| Huawei Mate 10 Pro | 70.1 | 73.8 | 84.2 | Excellent |
| Sony Xperia XZ3 | 71.0 | 75.4 | 82.9 | Excellent |
| Apple iPhone 8 Plus | 76.0 | 74.6 | 79.0 | Excellent |
| Huawei P20 Pro | 71.8 | 69.2 | 91.0 | Excellent |
| Meizu 15 | 77.6 | 74.5 | 80.7 | Excellent |
| vivo NEX S | 71.3 | 74.5 | 91.0 | Excellent |
| LG G7 ThinQ | 78.3 | 76.4 | 82.3 | Excellent |
| HTC U12+ (Music) | 76.0 | 73.6 | 88.5 | Excellent |
| Motorola Moto Z3 | 80.1 | 73.2 | 85.0 | Excellent |
| Nokia 8 Sirocco | 83.6 | 76.4 | 80.7 | Excellent |
| HTC U12+ (Theatre) | 77.0 | 73.8 | 91.1 | Excellent |
Interestingly enough, the XZ3 appears to have slightly better acoustic properties than the XZ2. Perhaps, the taller body helped clear out bigger chambers for the speakers. Then again, it might come down to tuning. Regardless, the XZ3 managed an Excellent loudspeaker score.
As expected, turning on Sony's ClearAudio+ enhancement does take away some of the loudness. However, the hit isn't all that big on the XZ3, even though the overall loudness score dropped worn to "Very Good". In any case, ClearAudio+ gives back more than enough in a richer sound stage to compensate for a few decibels less in the volume department.
Audio quality
The Sony Xperia XZ3 delivered perfectly accurate output with an active external amplifier, while its performance with headphones was good to very good. Stereo crosstalk rose a moderate amount with our standard set, while the kind of intermodulation distortion that appeared is hard to detect outside a lab.
Much like most of its predecessors, though, the Xperia XZ3 failed to match its rivals when it comes to volume levels. It was below average in both tests, suggesting that its loudness might be problematic with high-impedance headphones.
| | | | | | | |
| --- | --- | --- | --- | --- | --- | --- |
| Test | Frequency response | Noise level | Dynamic range | THD | IMD + Noise | Stereo crosstalk |
| Sony Xperia XZ3 | +0.01, -0.02 | -91.2 | 93.2 | 0.0024 | 0.0080 | -88.7 |
| Sony Xperia XZ3 (headphones) | +0.38, -0.21 | -93.1 | 92.5 | 0.0049 | 0.233 | -61.7 |
| Sony Xperia XZ2 Premium | +0.01, -0.02 | -91.0 | 93.4 | 0.0026 | 0.0082 | -87.6 |
| Sony Xperia XZ2 Premium (headphones) | +0.40, -0.20 | -92.9 | 91.2 | 0.0049 | 0.236 | -61.7 |
| Samsung Galaxy Note9 | +0.01, -0.03 | -93.7 | 93.7 | 0.0017 | 0.0074 | -94.1 |
| Samsung Galaxy Note9 (headphones) | +0.03, -0.02 | -93.6 | 93.5 | 0.0033 | 0.046 | -93.2 |
| Oppo Find X | +0.03, -0.07 | -93.4 | 93.9 | 0.0012 | 0.0063 | -89.3 |
| Oppo Find X (headphones) | +0.01, -0.58 | -92.2 | 93.5 | 0.0088 | 0.330 | -55.7 |
| HTC U12+ | +0.02, -0.15 | -94.3 | 94.3 | 0.0021 | 0.0069 | -94.3 |
| HTC U12+ (headphones) | +0.18, -0.13 | -93.7 | 93.6 | 0.0024 | 0.104 | -52.7 |
| LG V30 | +0.02, -0.01 | -93.2 | 93.1 | 0.0008 | 0.0069 | -94.2 |
| LG V30 (headphones) | +0.03, -0.02 | -92.9 | 92.9 | 0.0057 | 0.051 | -68.1 |