Xperia launcher, with a side of Pie
Regardless of your particular feelings towards the XZ3, it undeniably represents a major new step in Sony mobile design. Contrasting that, however, the the Xperia launcher and the general UX, which exhibit a formidable level of continuity. Especially considering the XZ3 ships running Android 9 Pie, instantly joining the still quite exclusive club of smartphones reaping benefits from Google's latest and greatest in mobile OS tech.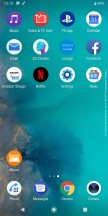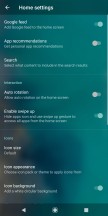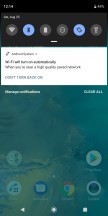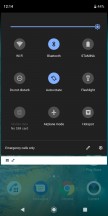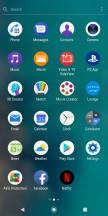 Xperia launcher • Settings • Notifications • Quick toggles • App drawer
Sony has really been cleaning things up in recent iterations of its Xperia launcher. Putting in the effort to keep things clean, orderly and as "Vanilla" as possible and it shows. Sans a few of its less universally applicable apps, like the PS App, Sketch the Xperia Lounge and a few good, but not necessarily essential third-party apps, like AVG Protection, Facebook and Netflix, there is no real bloat to speak of. Menus are well organized, with attached convenient search boxes. Even the feed page is optional.
Familiar as it might be, there are some aspects of Android 9 that shine through the Xperia UI we remember. If you look close enough, the signs of Pie are clearly there, only scattered about. Like, the new and improved volume controls and the slider placement, on the side of the UI. Of course, Sony's own Dynamic Vibration adds and extra layer of settings on top.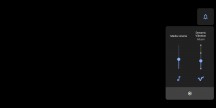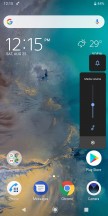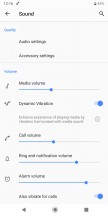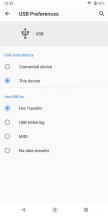 Volume slider • Volume slider • Volume controls • USB Preferences
Some other small additions are present and accounted for, as well. Like the in-depth USB Preferences menu.
Speaking of advanced settings, there is no shortage of those for the display of the XZ3. Sony left no stone unturned in its transition to OLED, implementing an extensive always on display feature. This one, in particular is dubbed "Ambient display" and already features a selection of five different clock stiles, extensive notification controls, music controls, as well as some user-customizable graphic content.
Stickers allow you to place a static image from a pre-loaded set or your gallery near the bottom of the display. There is also a Photo playback option, which surfaces round windows with your photos in random sizes and locations on your lock screen. The XZ3 typically selects the most recent shots you have taken, but if it finds shots of the place you are currently at in your gallery, it will start cycling those. Neat!
Besides the always on interface, we already mentioned, color and contrast are subject to tweaking. There is even a custom white point adjustment. These might just come in handy in easing long-term fan transition from LCD to the particular feel of an OLED panel.
Side sense is a particularly interesting addition to the Xperia launcher experience. It is a custom drawer-like interface that can be triggered by tapping twice anywhere along the curved display edge of the XZ3. The detection seems to be done via the display digitizer, as opposed to certain similar solutions, that utilize specialized hardware in the frame of the phone.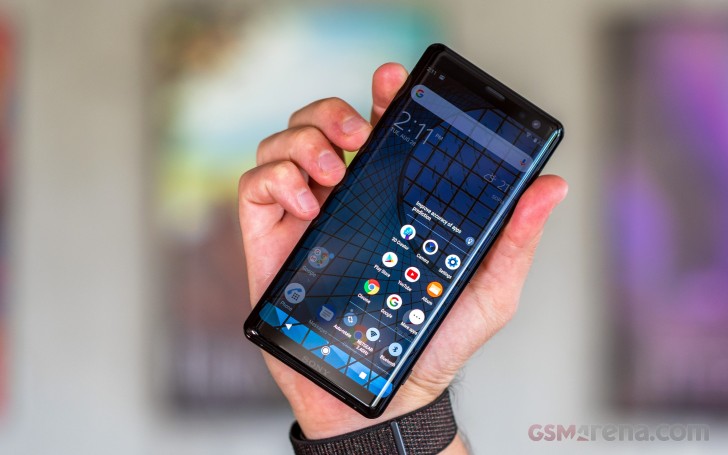 The menu itself is sort of a take on the Android Pie recent apps interface, which is notably missing from its intended location, as a roll in the app drawer. The Side sense menu handles these AI-infused features, surfacing a list of recent apps, mixed in with user-customizable shortcuts and quick toggles.
In its current shape, the menu is convenient enough, but it does lack depth and polish. You can manually add apps, though, which is nice.
The Side sense platform actually extends beyond this double tap gesture as well. For one, while inside the camera app, double tapping anywhere on the edges acts like a shutter key. This, however, seems like a gimmick, more than anything else, since you really want to be holding you phone steady while shooting, not tapping it. Sony has solved this self-inflicted issue by introducing a shutter delay, making the whole endeavor look a bit pointless. The edges can also recognize swipes - a gesture currently mapped to the back button across the entire XZ3 UI.
Sony is still keeping up its own software effort when it comes to certain parts of the Android experience. Some of these in-house apps include standard things, like Messages, Phone, Contacts and a custom Email client. There are also News, Clock and a Weather app.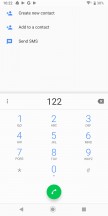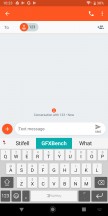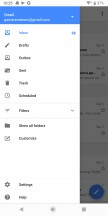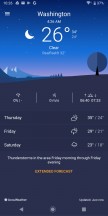 Phone • Messages • Email • Weather
Then there are what we would call Sony ecosystem apps, like the PS App and the Xperia Lounge.
Sony also notably handles its own multimedia playback. Album features both photo and video support, can connect to cloud and local network services and is pretty good at organizing galleries and doing the occasional light edit on a shot.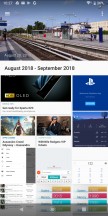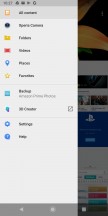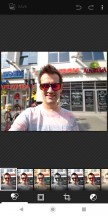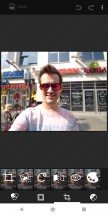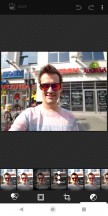 Album app • More album app • Photo Editor
The Music app is simple and well organized, without lacking any important features. All the while, it looks very appealing with large format album art (and automatic art download) and a flat design. It also features Google cloud integration.
In keeping with tradition and to go with the excellent stereo speaker setup, Sony has a number of advanced audio options to tweak and play around with. Some, like the DSEE HX up-scaler and the Automatic optimization require the use of headphones. Others, like aptX HD, compatible Bluetooth devices.
However, there is also the general purpose ClearAudio+ optimizer, which widens the soundstage and enhances most audio experiences automatically, at the cost of a few decibels of loudness. Naturally, an extensive manual equalizer is also part of the mix, complete with convenient presets.
Interestingly enough, the Xperia Assistant seems to be absent. At least in our review unit. In case you are not in the know, it is more of an interactive manual, arranged by topics and a centralized location for various battery, storage and connection optimization tools and some light automation. Even though its name suggests otherwise, there is no real AI or voice assistance going on. Perhaps Sony didn't have the time to properly port it over to Android 9 and is currently working on it?