Display
The Sony Xperia 5 IV has a familiar display - it's a compact 6.1-inch OLED with a 21:9 aspect ratio and 120Hz refresh rate. The Xperia 5 II and Xperia 5 III both feature similar panels, but for the Xperia 5 IV, Sony is promising up to 50% in brightness and real-time HDR video drive support.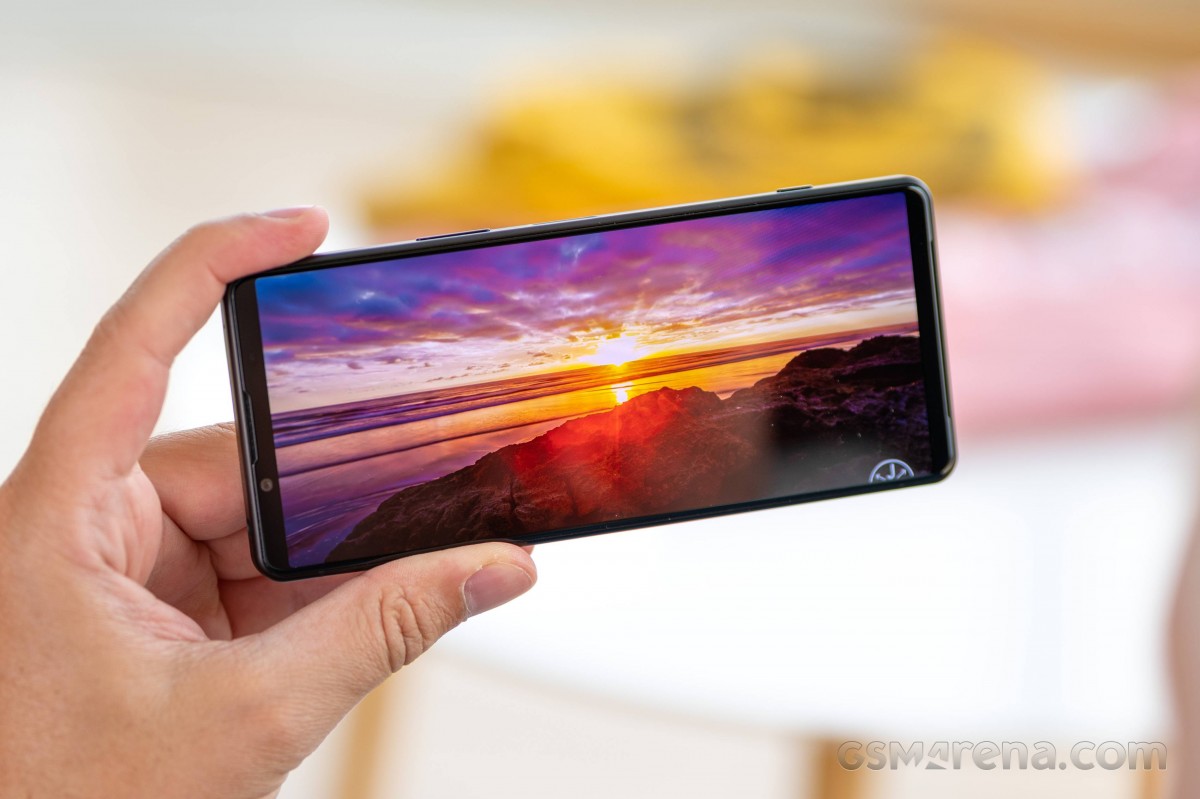 So, the Xperia 5 IV has a notch-less OLED screen of 2,560 x 1,080 pixels (449ppi). It supports dynamic 120Hz refresh rate, and it can display over 1 billion colors as it has native 10-bit color support. The panel is HDR10-certified and fully covers BT.2020 color space, there is even a dedicated Creator mode like on the Xperia 1 IV.
In addition to the promised brightness boost, the Xperia 5 IV also comes with a real-time HDR video drive, a feature that uplifts SDR content to HDR.
The display settings offer two Image Quality models - Standard and Creator (with auto Creator mode available). You can tweak the White Balance in each of those manually or choose from three different presets (Warm, Medium, Cool). Cool White balance is the default setting in Standard mode, while Medium is used in Creator with D65 as white point.
We measured the maximum possible brightness of 663 nits, when using the Standard display mode with the Medium White Balance setting. The Cool WB yielded 600 nits, whereas Warm resulted in 624nits.
The Auto brightness boost brought this up to 930 nits - again, with the Medium White balance setting. When using Creator mode and Medium White Balance, we got 661nits in manual and 979nits for maximum auto brightness.
Again, we observed a small difference in this measurement with the different white balance presets. The Cool WB got us 870 nits, and the Warm WB - 860 nits.
The numbers are a major improvement over the Xperia 5 III's 327nits in manual and 590nits for auto-brightness mode, and it's safe to say that Sony has indeed delivered a tangible improvement in the display department.
Finally, the minimum brightness at point white was just 1.8 nits for Standard and 1.9 nits for Creator modes.
Display test
100% brightness
Black,cd/m2
White,cd/m2
Contrast ratio
Sony Xperia 5 IV (Medium WB)
0
663
∞
Sony Xperia 5 IV Creator (Medium WB)
0
661
∞
Sony Xperia 5 IV Max Auto (Medium WB)
0
930
∞
Sony Xperia 5 IV Creator Max Auto (Medium WB)
0
979
∞
Sony Xperia 5 II
0
336
∞
Sony Xperia 5 II (Max Auto, Creator mode)
0
600
∞
Sony Xperia 5 III
0
327
∞
Sony Xperia 5 III (Max Auto, Creator mode)
0
590
∞
Sony Xperia 1 IV
0
602
∞
Sony Xperia 1 IV (Medium WB)
0
668
∞
Samsung Galaxy S22
0
465
∞
Samsung Galaxy S22 (Extra brightness)
0
757
∞
Samsung Galaxy S22 (Max Auto)
0
982
∞
Apple iPhone 13 Pro
0
856
∞
Apple iPhone 13 Pro (Max Auto)
0
1063
∞
Asus Zenfone 9
0
449
∞
Asus Zenfone 9 (Max Auto)
0
831
∞
Asus Zenfone 8
0
440
∞
Asus Zenfone 8 (Max Auto)
0
800
∞
Xiaomi 12
0
494
∞
Xiaomi 12 (Max Auto)
0
896
∞
Xiaomi 12S Ultra
0
512
∞
Xiaomi 12S Ultra (Max Auto)
0
1065
∞
Color accuracy
The Xperia 5 IV offers the same color settings as on the 1 IV and all other high-end Xperias in recent years. The setting for 'Image quality' lets you pick between Creator and Standard modes, while further tweaking is possible in the 'White balance' section - options include Warm/Medium/Cool presets, as well as RGB sliders for extra granular tweaking.
Creator mode can adjust the display's colors according to the content the phone is being served - so, in theory, it should auto switch between sRGB and DCI-P3 as needed. Its quirk is that it doesn't do it for our testing software, though, so we couldn't get representative readings for DCI-P3 content. You should be alright using with any application where color accuracy is essential.
When it comes to sRGB, however, we got very accurate results with the White point set to D65 and the White Balance set to Warm - average deltaE of 1.6. We got a similar average deltaE of 1.8 when using Standard (DCI-P3) and Warm White Balance.
The default Creator Medium White Balance and the Standard Cool White Balance offer slightly bluish white and grays, which is to be expected.
Refresh rate
The Sony Xperia 5 IV screen supports 120Hz refresh rate and it's handled the same way as on previous Xperia phones - there is a toggle to enable/disable the mode, and that's it.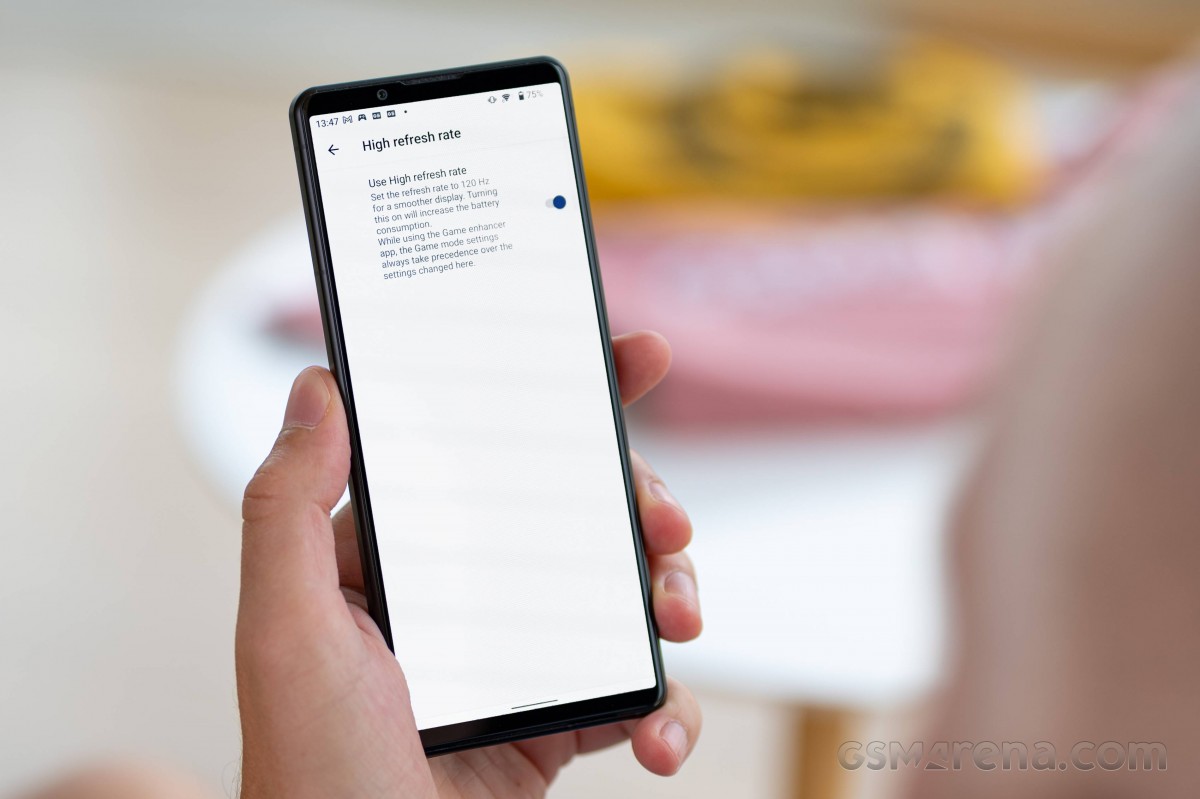 With most makers shifting to more and more adaptive refresh rates, Sony's way of doing HRR has been behind the curve for quite some time. For example - the Android interface and all compatible non-game apps always use 120Hz.
Games, on the other hand, have their own strange way of handling the refresh rate. Sony has this app called Game Enhancer, and within its settings, you can switch the refresh rate for the display to 120Hz for titles that can go above 60fps - it's at 60Hz by default. There is also 40Hz/40fps limiter for battery-saving purposes.
You can force it to 120Hz regardless of whether you know for a fact that the game itself supports a higher frame rate - just to be sure. That's done on a per-game basis and is buried several levels in the Game Enhancer, which is incredibly inconvenient.
While using Game Enhancer, you may notice there is a 240Hz option, too. Sony calls this blur reduction, and it uses frame interpolation to reduce blur when using 120Hz mode.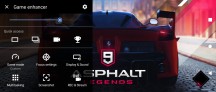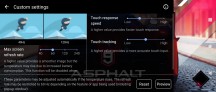 Game Enhancer refresh rate settings
Unfortunately, just like the Sony Xperia 1 IV, the Sony Xperia 5 IV often drops the screen refresh rate down to 60Hz. The 120Hz mode is automatically disabled when the phone reaches a certain temperature, and it happened to us a few times while using the phone in a room with an ambient temp of 24C. While the drops weren't as often as on the Xperia 1 IV, where the phone stayed warm for more than 15mins because of more intense chipset usage, the 120Hz was automatically disabled and enabled after about a 5-min break.
HDR
The Sony Xperia 5 IV OLED screen supports HDR10 and is recognized as such by all popular streaming services - YouTube, Netflix, Prime Video support 1080p HDR10 streaming right out of the box.
There is no support for Dolby Vision, unfortunately.
There is also this option in Image Quality Settings called Video Image Enhancement (X1 for Mobile). This is enabled by default, and it improves the quality of videos via Sony's proprietary X1 engine. It also supports a real-time HDR drive, which analyzes HDR videos frame by frame and allegedly applies a proper tone curve.
Haptic feedback
The Sony Xperia 5 IV, just like other high-end Xperia phones, offers an outstanding haptic feedback experience, one of the industry's best. There are some nice haptic vibrations that you can feel at the exact spot where you've tapped.
Sony's Dynamic Vibration is supported as well, which syncs with your audio/video.
Battery life
The Sony Xperia 5 IV is powered by a 5,000mAh battery - 11% increase over the 4,500mAH cell within the Xperia 5 III. In addition to the 30W wired charging, the Xperia 5 IV now supports wireless charging, too.
We've completed out battery life test and the Xperia 5 IV simply aced it. It scored a 116h endurance rating, up from 100h on the Xperia 5 III and Xperia 1 IV.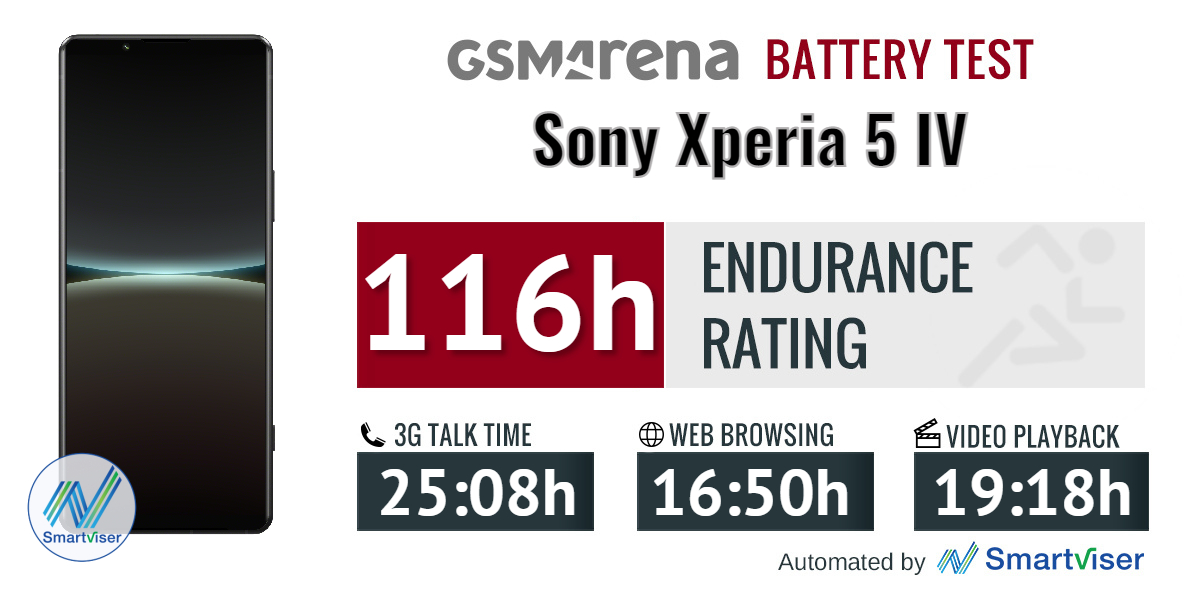 Our battery tests were automated thanks to SmartViser, using its viSerDevice app. The endurance rating denotes how long the battery charge will last you if you use the device for an hour of telephony, web browsing, and video playback daily. More details can be found here.
The new Xperia 5 IV also clocked outstanding times on our on-screen tests.
Video test carried out in 60Hz refresh rate mode. Web browsing test done at the display's highest refresh rate whenever possible. Refer to the respective reviews for specifics. To adjust the endurance rating formula to match your own usage - check out our all-time battery test results chart.
Charging speed
The Xperia 5 IV comes with a 5,000mAh battery - an upgrade over the Xperia 5 III's 4,500mAh cell - but it should offer the same charging speed as before.
The new model supports 30W USB-PD fast charging, but ships without a charger and a cable. This means you need to get an extra charging set - Sony's own XQZ-UC1 would set you back €50 if you go that route.
In addition to the increased battery capacity, the Xperia 5 IV also offers wireless charging over the Xperia 5 III. In fact, this is the first Xperia 5 smartphone to come with this option. Until now, it was only available on the Xperia 1 series.
So, we had a 30W standard USB-PD charger, and it clocked 45% of charge in 30 minutes. That's about the same we got on the Xperia 1 IV with the same battery, chipset, and charger.
30min charging test (from 0%)
Higher is better
Xiaomi 12
87%
Samsung Galaxy S22+ (45W)
64%
Samsung Galaxy S22
63%
Apple iPhone 13 Pro (20W Apple)
60%
Asus Zenfone 9
57%
Sony Xperia 5 III
49%
Sony Xperia 1 IV
47%
Sony Xperia 5 II
45%
Sony Xperia 5 IV
45%
A full charge required one hour and 45 minutes - on par with the Xperia 1 IV and other top-tier flagship smartphones.
Time to full charge (from 0%)
Lower is better
Xiaomi 12
0:46h
Samsung Galaxy S22+ (45W)
1:01h
Samsung Galaxy S22
1:03h
Asus Zenfone 9
1:15h
Apple iPhone 13 Pro (20W Apple)
1:38h
Sony Xperia 1 IV
1:42h
Sony Xperia 5 IV
1:45h
Sony Xperia 5 II
1:49h
Sony Xperia 5 III
1:50h
Speakers
The Xperia 5 IV is a high-end Sony smartphone, which means it packs a full-fledged stereo setup. There are two symmetrically placed front-facing speakers above and below the screen.
Sony has taken extra care in designing the speakers with self-contained enclosures this time around, so they don't cause any vibrations of the back panel - which was somewhat of a fault of the past Xperia 5 models.
The audio balance is excellent - it seems that both speakers are of equal size and loudness. The only caveat we found is that the top speaker always plays the left channel, while the bottom one - the right channel. This means for the stereo effect to work properly in landscape orientation, you need to hold the Xperia 5 IV in a specific way.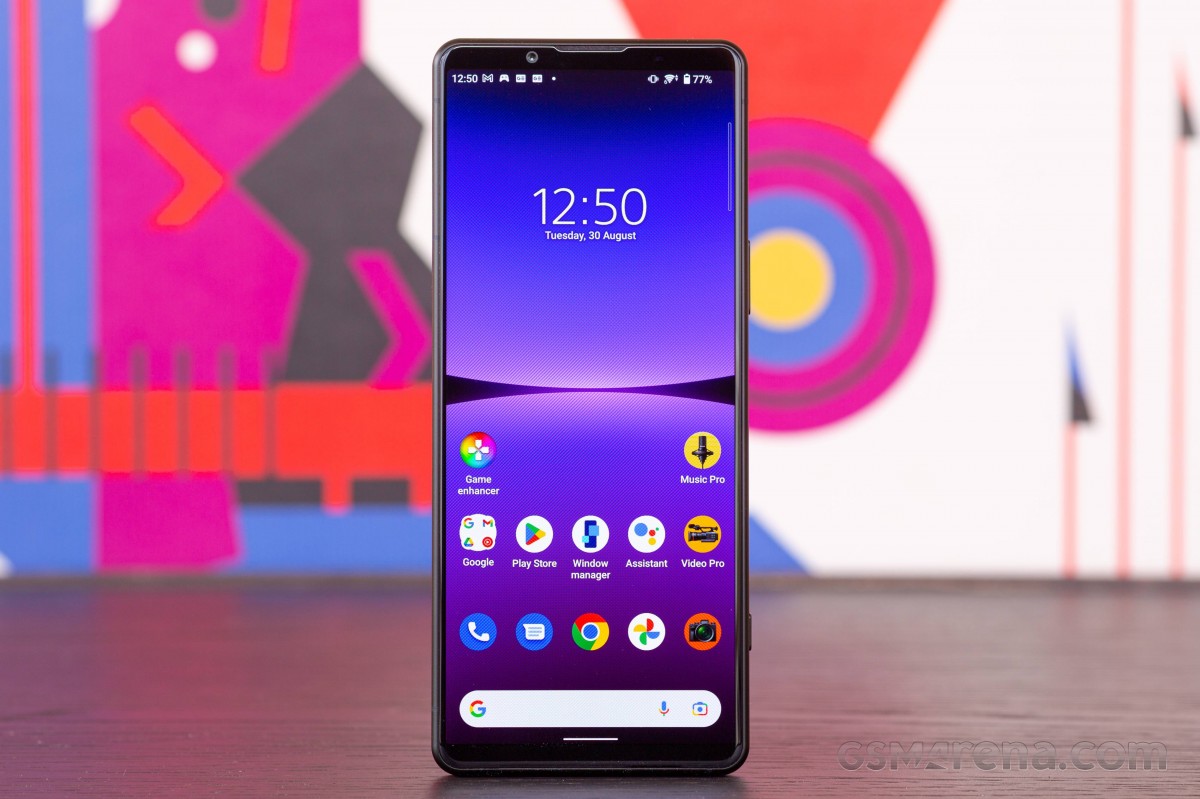 The speakers on the Xperia 5 IV scored a Good mark on our loudness test. The quality has improved since the Xperia 5 III and deserves a Very Good mark - there is noticeably more bass, and the output is deeper and richer. Vocals and high-pitch tones are well-presented, too.
Use the Playback controls to listen to the phone sample recordings (best use headphones). We measure the average loudness of the speakers in LUFS. A lower absolute value means a louder sound. A look at the frequency response chart will tell you how far off the ideal "0db" flat line is the reproduction of the bass, treble, and mid frequencies. You can add more phones to compare how they differ. The scores and ratings are not comparable with our older loudspeaker test. Learn more about how we test here.