Android 12 with Xperia UI
The Sony Xperia 5 IV boots Android 12 skinned with the most recent version of the Xperia UI, which got a very stock Android feel, though there are in-house bits if you look deep enough.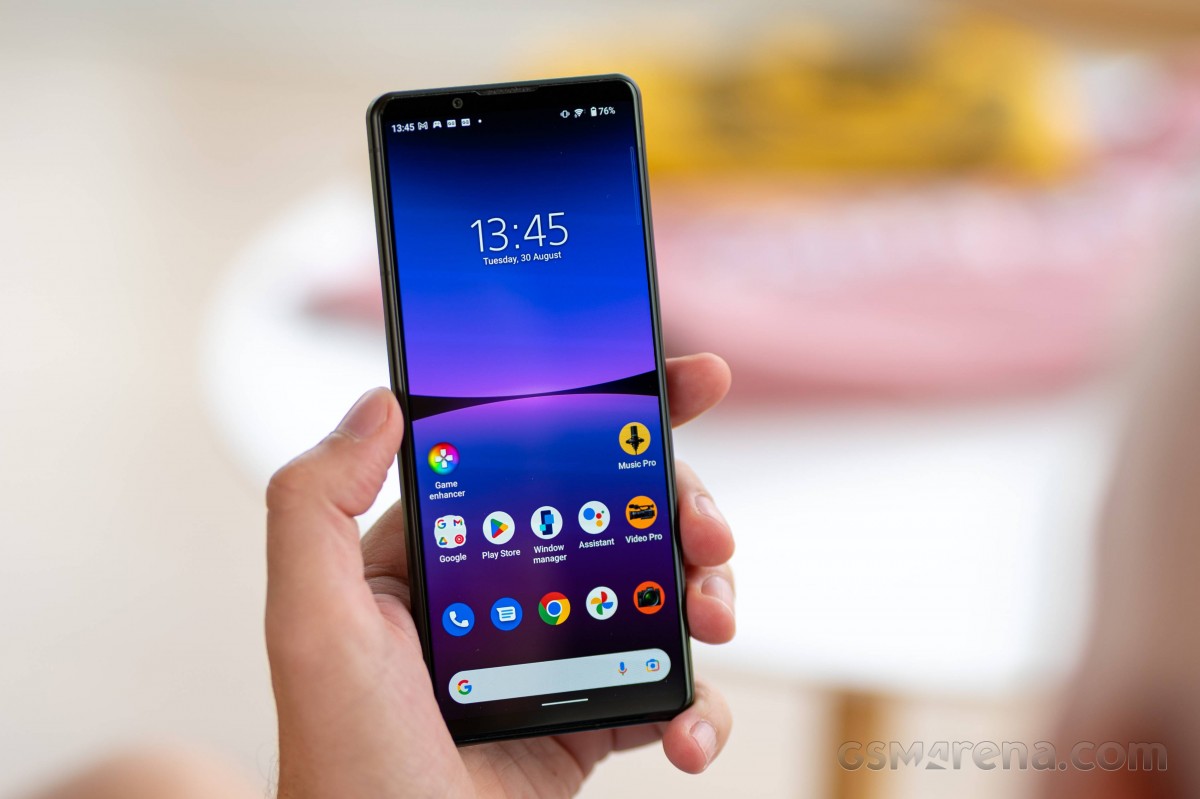 Starting with some of the basics, there's an always-on display feature (AOD) that goes by Google's Ambient display name and has a fairly limited set of customization options.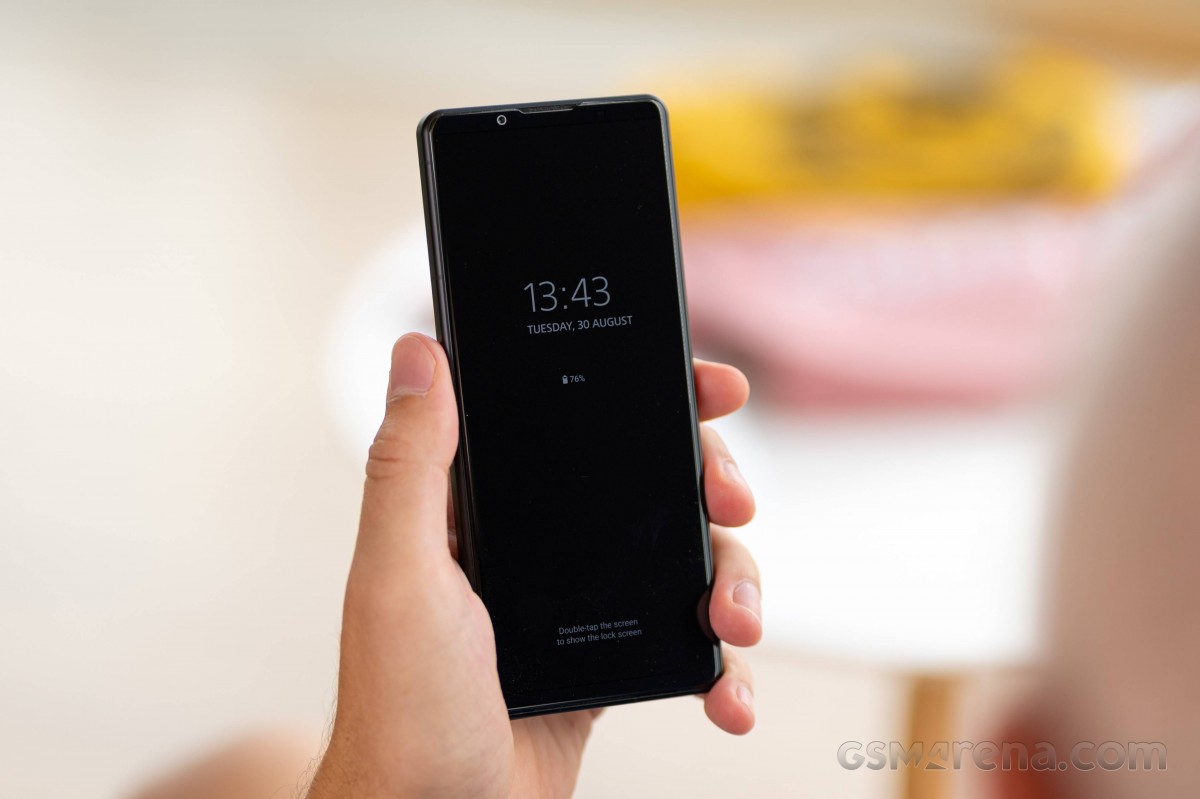 The lockscreen is business as usual with a clock (that you can customize), a shortcut to the camera and another one for Google Assistant.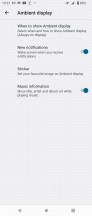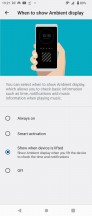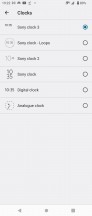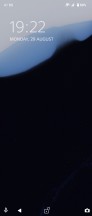 Always on display • Always on display • Always on display • Lockscreen
The homescreen, too, is as standard as they come. The Google feed is the leftmost pane, but you can disable it if it's not your thing. The quick toggles/notification area is Google's stock too. With this version of Android, you get Notification history and the Bubbles shortcuts as part of the Conversations features - both available on the Xperia, unlike some more heavily customized UIs.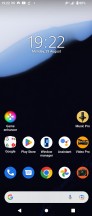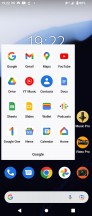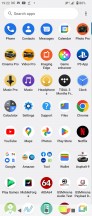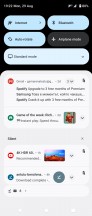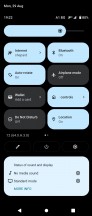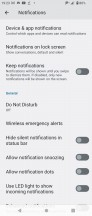 Homescreen • Folder view • App drawer • Notification shade • Quick toggles • Notification settings
This brings us to one of the Sony exclusives, which deserves a mention even though it's not new - Multi-window switch. You can access it from the task switcher or from the dedicated shortcut icon on the homescreen, and you get sort of like two stacked task switcher rolodexes with your currently opened apps to pick one for the top half and one for the bottom half of the screen. The rightmost pane in each half lets you launch another app, not just pick from the already running ones.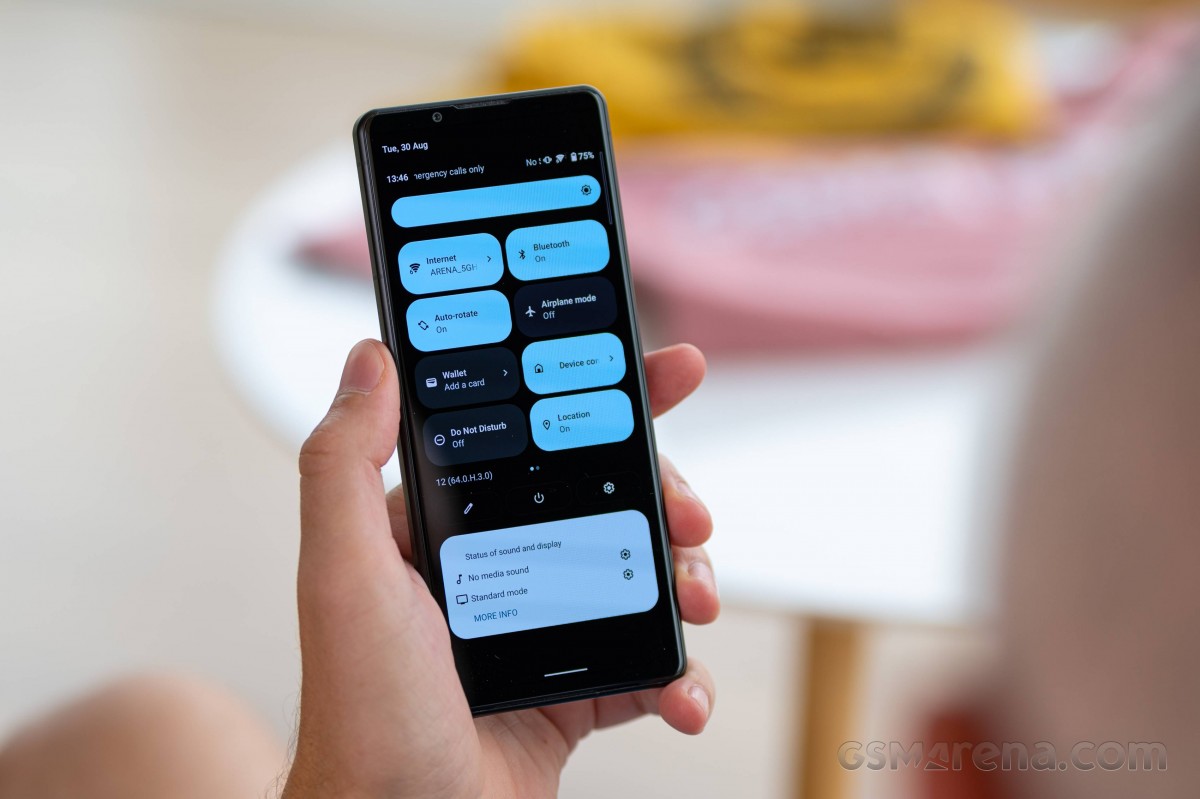 The phone remembers three previously used pairs so you can access them directly, though we couldn't find a way to save custom app pair presets. It's worth mentioning that the window split can be done in almost any arbitrary ratio, not just 50/50.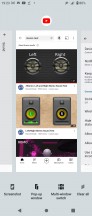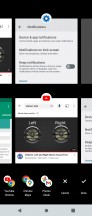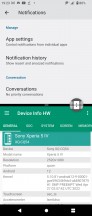 Task switcher • Multi-window switcher
Side sense is another of the in-house Sony features. A handle on the side of the phone opens up a menu of shortcuts to apps and features, most of them user-configurable. The 21:9 multi-window pairs can be customized here, but they don't go into the three pair shortcuts in the regular task switcher. A recent addition to the menu is a widget to control the Sony headphones app - handy if you have a set of those.
There's a fairly standard set of gestures for call handling, as well as a one-handed mode and smart backlight control. It's in this menu that you'll find the navigation options with the two basic types available - gestures or a navbar.
Pros can enjoy the occasional game too, so the Xperia has Sony's Game Enhancer as part of its software package. It's a comprehensive utility with two main interfaces - a game hub/launcher, and an overlay you pull out from the side while in a game.
Performance profiles (or Game Mode) can be set on a per-game basis, and it's in here that you get to set the screen refresh rate and lock it at 120Hz regardless of whether the game supports it (though, obviously, it would make sense on the games that do). Additional sliders let you select Touch response speed and touch tracking accuracy.
There is also a 240Hz setting, which inserts a black frame between each 120Hz frame. This reduces the blur, and Sony recommends using this option in games that support 120fps.
There is also H.S. power control - a setting that deals with power management. When the feature is enabled (look for it in Settings while in-game), and the phone is plugged in, it won't actually charge the battery but will only essentially meet your current power consumption so as to avoid unnecessary heat generation - H.S. stands for Heat Suppression.
The Focus settings is an array of toggles that let you disable pesky notifications, turn off adaptive brightness, disable the camera button and the side sense functionality - limit distractions.
There are also screenshot and video capture features.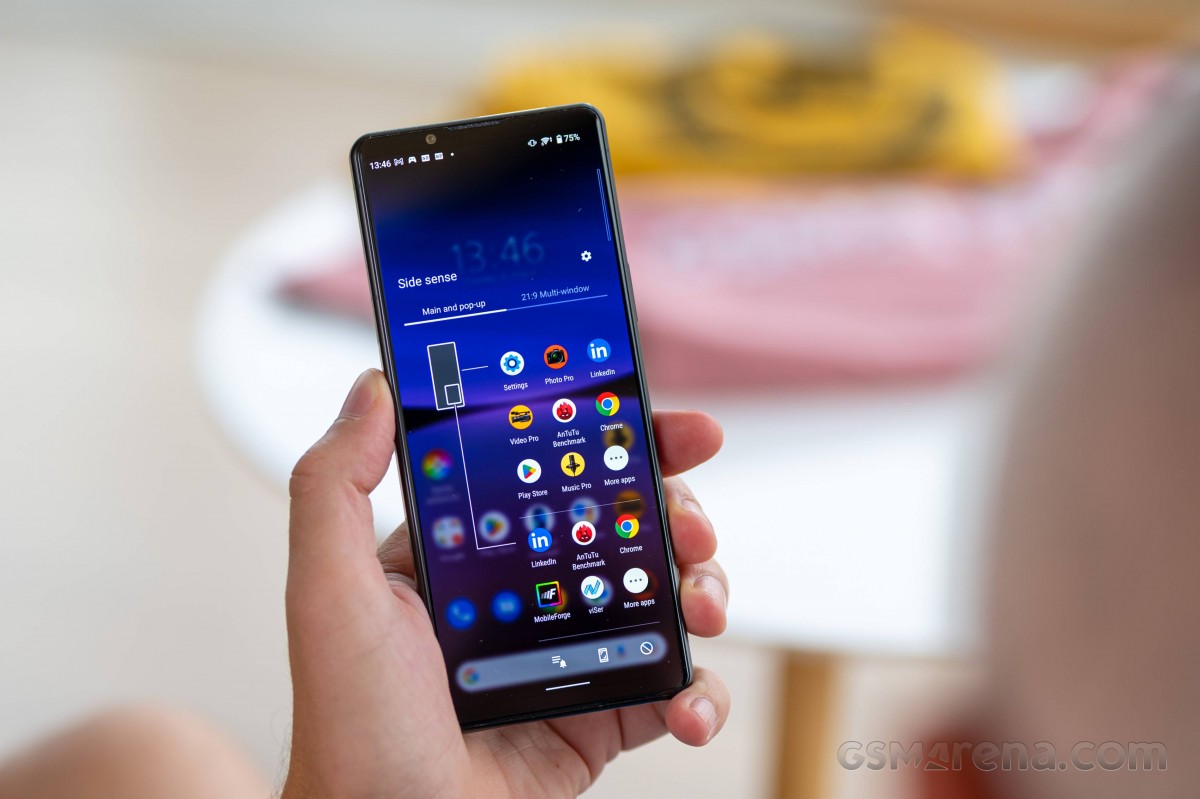 The phone uses Google's own Photos and Files for gallery and file management purposes. It does come with Sony's own Music player, though.
Bravia Core has been exclusive to Bravia TVs up until this Xperia model. It offers a rich Sony Classics movie catalog, and you can also watch a few of the blockbuster titles for free on a trial basis. The service offers movies up to 4K60 quality and some titles even have MAX enhanced audio. And the best part is that you get 1-year free access to Bravia Core with your new Xperia 5 IV.
Sony's Music Pro is a paid service that allows you to record singing and instruments and upload this recording to the cloud for processing. The audio will then get processed as if you've used a high-quality condenser mic in the acoustic environment of a professional studio.
Performance and benchmarks
The Sony Xperia 5 IV runs on the Snapdragon 8 Gen 1 chipset, an upgrade from the SD888 within the Xperia 5 III but not the latest on the market as there is already a Snapdragon 8+ Gen 1 model.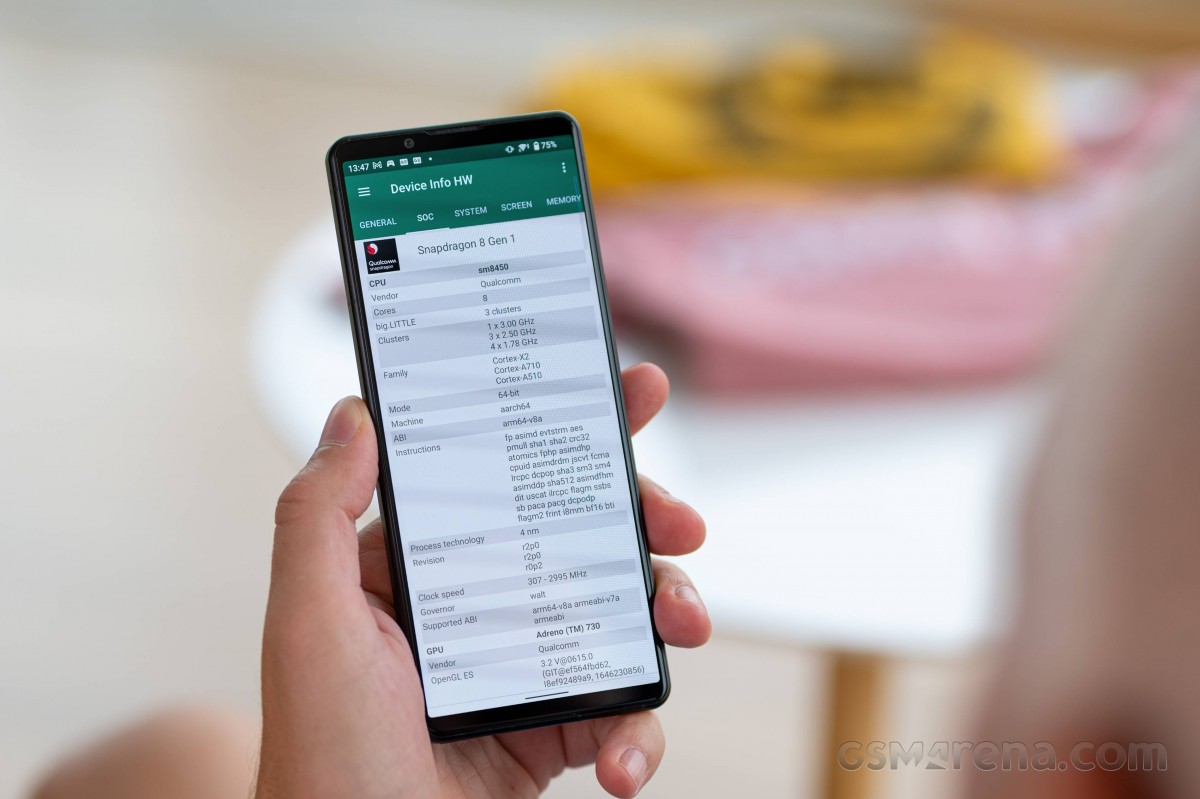 We've already tested a number of SD 8 Gen 1 and 8+ Gen 1 devices, so the performance won't be a surprise to anyone.
The Snapdragon 8 Gen 1 processor is one of the fastest available for the Android flagship crop.
GeekBench 5 (multi-core)
Higher is better
Xiaomi 12S Ultra
4300
Sony Xperia 5 III
3549
Sony Xperia 5 IV
3448
OnePlus 10 Pro
3447
Oppo Find X5 Pro
3433
Sony Xperia 1 IV
3403
OnePlus 10T
3401
Sony Xperia 5 II
3301
Google Pixel 6 Pro
2831
GeekBench 5 (single-core)
Higher is better
Xiaomi 12S Ultra
1324
Sony Xperia 5 IV
1233
Sony Xperia 1 IV
1160
Sony Xperia 5 III
1117
OnePlus 10T
1043
Google Pixel 6 Pro
1042
Oppo Find X5 Pro
1002
OnePlus 10 Pro
975
Sony Xperia 5 II
890
The Adreno 730 is easily one of the best GPUs right now and it's working excellent on the Xperia 5 IV.
GFX Aztek Vulkan High (onscreen)
Higher is better
OnePlus 10T
60
Sony Xperia 5 IV
55
Samsung Galaxy S22 Ultra (1080p)
46
OnePlus 10 Pro
41
Xiaomi 12S Ultra
39
Oppo Find X5 Pro
36
Sony Xperia 1 IV
31
Sony Xperia 5 III
29
Google Pixel 6 Pro
26
Sony Xperia 5 II
23
GFX Car Chase ES 3.1 (onscreen)
Higher is better
Sony Xperia 1 IV
74
Samsung Galaxy S22 Ultra (1080p)
69
Sony Xperia 5 IV
63
OnePlus 10T
60
Sony Xperia 5 III
53
Xiaomi 12S Ultra
51
OnePlus 10 Pro
48
Oppo Find X5 Pro
44
Sony Xperia 5 II
41
Google Pixel 6 Pro
39
GFX Manhattan ES 3.1 (onscreen)
Higher is better
Sony Xperia 5 IV
114
Samsung Galaxy S22 Ultra (1080p)
103
Sony Xperia 5 III
92
Xiaomi 12S Ultra
91
OnePlus 10 Pro
89
Sony Xperia 1 IV
72
Sony Xperia 5 II
71
Google Pixel 6 Pro
65
OnePlus 10T
60
The Xperia 5 IV AnTuTu score is not among the best in the chart and that's probably because of thermal constraints. But we will talk about these in a bit.
AnTuTu 9
Higher is better
Xiaomi 12S Ultra
1039412
Oppo Find X5 Pro
1012896
Samsung Galaxy S22 Ultra (1080p)
940400
OnePlus 10 Pro
886248
Sony Xperia 1 IV
838832
Sony Xperia 5 IV
835038
OnePlus 10T
786238
Google Pixel 6 Pro
719815
Sony Xperia 5 III
708394
The raw performance of the Xperia 5 IV is excellent - it's obviously flagship-grade, and theoretically, the phone should handle everything without a sweat.
But we must consider the sustained performance as well, which is affected by the cooling solution and overall design of the Xperia 5 IV. Sony hasn't invested in sophisticated cooling solutions so far, and usually, the flagship Xperia phones are throttling quite fast because of poor heat dissipation.
And the Xperia 5 IV is no different, unfortunately.
The Xperia 5 IV kept 58% of its maximum CPU performance when running at peak processor performance for an hour. The Xperia throttled in the first 5 minutes down to about 60% and kept this limitation until the end of the one-hour test.
The GPU stability is even worse. The Xperia 5 IV scored 49% graphics stability - its GPU performance is halved after 8 minutes of running at peak performance.
And our observation we found while inspecting the refresh rate behavior stands - the screen often dropped the refresh rate down to 60Hz when playing games or when multi-tasking or editing photos/videos, something we've rarely seen on other phones.
The camera may and will heat up the phone, too, but it has more leeway. The phone displays this icon and will keep shooting for a long time. If it's hot outside, though, it may overheat and kill services, or even the camera app. It did not happen to us, though.
Overall, the Xperia 5 IV is a powerful phone, but it throttles in about 20-30mins of gaming. Then again, the Xperia is quite powerful, so you won't probably notice this right now, but it will surely become evident eventually.