Xperia 5 IV borrows a lot from Xperia 1 IV
The Sony Xperia 5 IV has four 12MP cameras - one selfie and three over at the back with wire, ultrawide, and telephoto lens. All but the zoom camera are identical with the imagers on the top-tier Xperia 1 IV.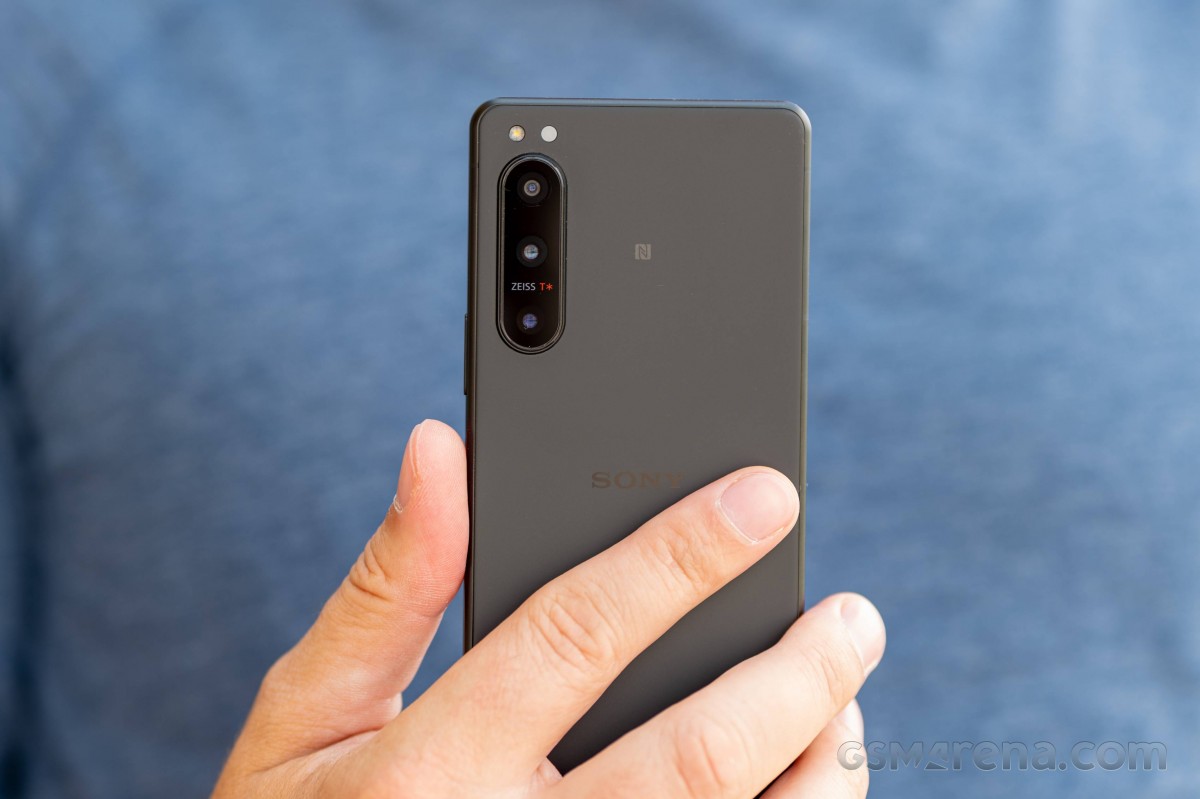 So, there is a triple-camera setup on the back with three 12MP sensors. A single LED flash and a color RGB sit outside the setup.
The main camera relies on a 12MP Sony IMX 557 1/1.7" sensor with 1.8µm pixels that sits behind an optically stabilized 24mm f/1.7 lens. Dual Pixel PDAF is supported, too.
The ultrawide camera relies on a 12MP Sony IMX 563 1/2.55" sensor with 1.4µm pixels that sits behind a 16mm f/2.2 lens. This camera also supports Dual Pixel AF.
The telephoto camera is reported to use a Sony IMX 650 sensor - the same as on the Xperia 1 IV's tele. Both Sony Xperia phones use a 12MP 1/3.5" sensor with 1.0µm pixels and PDAF.
The zoom lens on this Xperia 5 IV is a stabilized 60mm f/2.4 lens, which offers 2.5x optical magnification over the primary camera.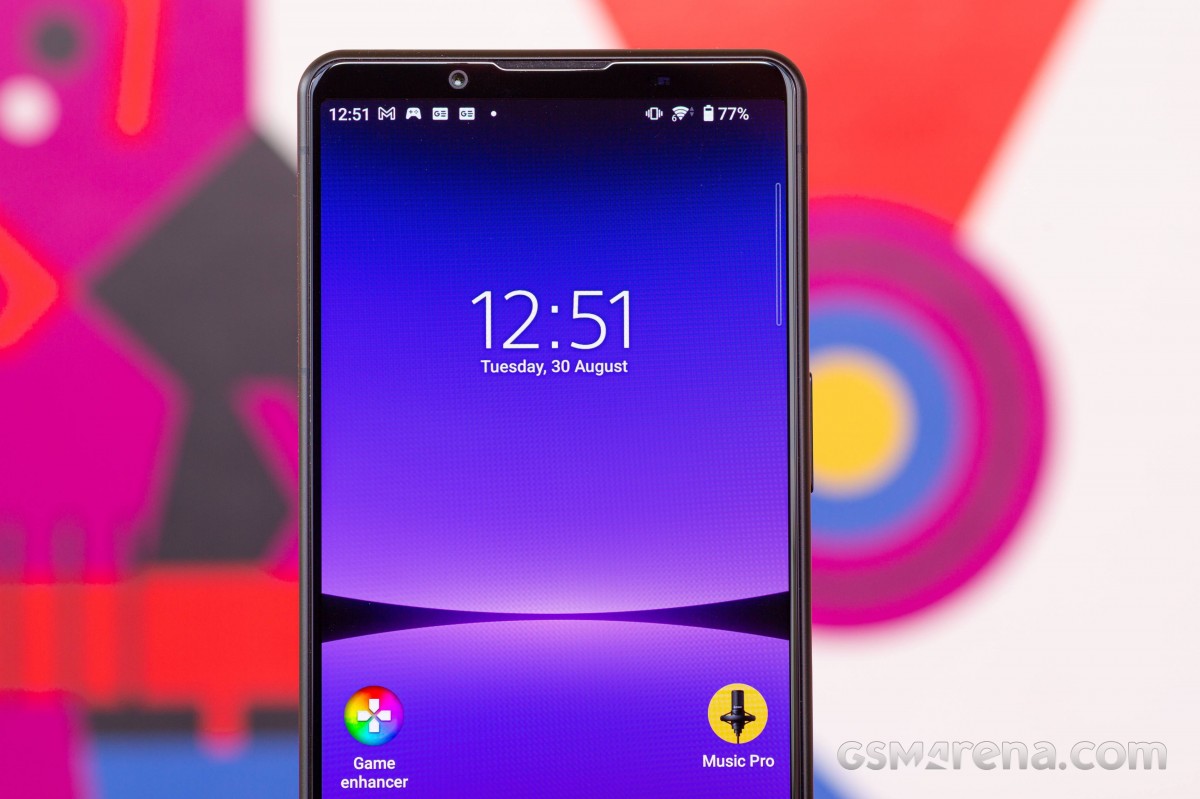 Finally, the new selfie camera is identical to the one on the Xperia 1 IV - a 12MP shooter based on a Sony IMX 663 1/2.9" sensor with 1.25µm pitch behind a 24mm f/2.0 lens and a fixed focus at infinity. This camera supports 4K video capturing, just like the others.
The cameras have learned a few new tricks since the Sony Xperia 5 III. On this new Xperia 5 IV, the main and tele cameras now support Optical SteadyShot - OIS + EIS - and FlawlessEye - that's improved stability in low-light conditions. The ultrawide and selfie cameras support regular SteadyShot (EIS), of course.
Eye AF and Real-Time Object Tracking are available across all cameras.
Another thing that has made it to all cameras is the 4K video capturing at 120fps - this mode is now available to all cameras via the Cinema Pro app.
The Xperia 5 IV also supports Wide Dynamic Range for videos, a feature that premiered on the Xperia 1 IV and works independently from HDR video capturing - meaning it can be on/off in both SDR and HDR modes. The wide dynamic range option, if enabled, shoots video by combining multiple frames to increase the perceived dynamic range. Videos here don't support stabilization, whereas the standard dynamic range mode still brings enhanced processing of each frame separately, and it's can be stabilized.
Wind detection is also available for videos - it essentially isolates and removes the noise caused by wind while shooting videos.
And now, let's take a quick look at the camera apps Sony is providing with this Xperia.
Photo Pro (default app)
The default camera app on the Xperia 5 IV is Sony's Photo Pro. Its Basic mode is where you'll spend most of your point-and-shooting time when you don't much care about creative control. The sliders for (implied) white balance and exposure compensation, bokeh mode, drive mode, flash and aspect ratio are placed immediately next to the shutter release. The zoom selector is nearby, too, so pretty much everything can be operated with a single thumb without having to use your other hand. And you can use either the hardware or the virtual shutter keys.
We are particularly not fans of the zoom selectors - once you select 0.6x, 2.5x becomes unreachable, and vice versa. There is literally no need for this selector disappearance, and it leads to incredibly unpleasant camera switching and finger stretching.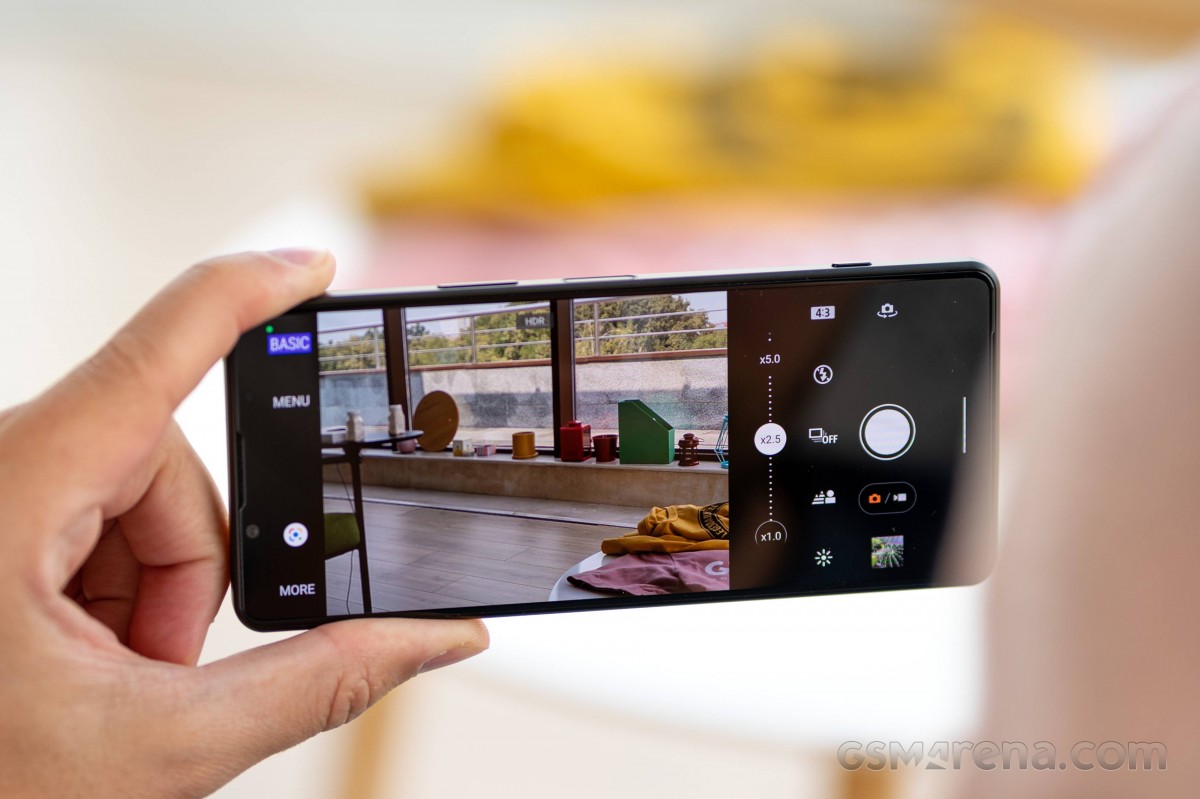 At the opposite end of the viewfinder, and for these you'll need your other hand, you'll find a More button, a shortcut to Google Lens, a Menu button to access the (rather lengthy) Settings menu, and the button that lets you switch between this Basic mode/app and its Pro alter ego.
And here are the settings for the Basic version.
When in the Pro section of Photography Pro, you get an Auto mode, as well as the classic Program, Shutter priority and Manual modes, plus a Memory Recall option where you can store a pre-set state of settings to be able to come back to quickly.
The Photo Pro interface is reminiscent of a dedicated Sony Alpha camera, only adapted for smartphone use. On the right, you get to change photographic settings like focus mode and area, white balance and ISO, but it's exposure compensation that's apparently the most important control since it gets about a third of the screen area. There is no virtual shutter here; you'd need to use the mechanical one.
Cinema Pro
Cinema Pro is the most advanced app that Sony has and offers nuanced control over all aspects of the shooting process. It unlocks frame rates and resolutions not available in the basic app, including 4K up to 120fps, albeit in a 21:9 aspect ratio - that's really the only ratio in this app. You get the final say on the shutter speed (which you pick by shutter angle), ISO and f-stop (where applicable), as well as white balance and 'look' - sort of like a color profile of which there are a bunch (Venice CS, Opaque/BU60YE60, Bright/BU20YE60, and so on). A -2 to +2EV indicator scale in the bottom left of the viewfinder will tell you how far off you are from the metered exposure level.
One of Cinema Pro's most useful features is the ability to rack focus between pre-set focus distances (A-B) with control over the duration of the transition. There's also tap to focus functionality, but there's no tracking, so if your subject moves within the frame, the phone won't follow it - instead, it will focus on whatever is in the box where you tapped.
One major omission when it comes to focusing aids, and it's a persisting one, is focus peaking. Manual focus would benefit greatly from it, but it's a hit-and-miss affair as it stands.
There's no change in the availability of Eye AF in Cinema Pro either - it's limited to the other two apps.
Video Pro
The Video Pro app is also available on the Xperia 5 IV. Similar to Cinema Pro, this app offers granular exposure controls and extra frame rates on top of the basic app but saves you the hassle of color-grading the footage afterwards. That makes it more suitable for direct out-of-camera(phone) uploads to your favorite video-sharing platforms.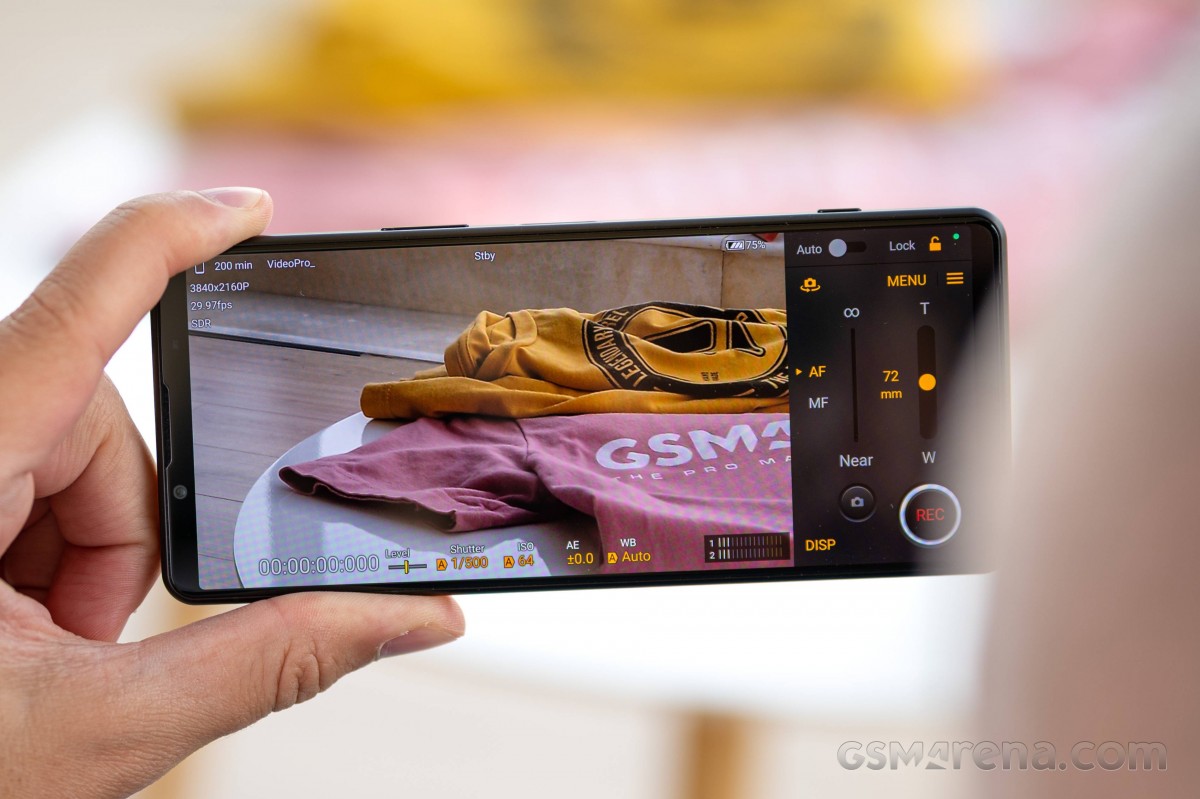 Live streaming on YouTube is available via this app - a new feature that's coming with the Xperia 5 IV but premiered on the Xperia 1 IV. You log in with your account, set the name, quality, and just hit Rec, and you are live. You don't even need to meet the YouTube requirements for subscribers count, Sony has made a deal with YouTube eliminating those.
Other than that, the interface of Video Pro features a similar split with a large viewfinder on the left and controls on the right. Always available are two sliders, one for focus and another one for zoom. There's an Auto switch up top, which frees the phone to take care of everything for you, and a lock button to disable all controls so you don't accidentally press something.
The exposure controls and other shooting parameters are accessed from the Menu button. Mind you, it's a separate button from the hamburger [menu] button - a bit of a confusing UI choice, which took us a while to figure out.
The first tab of the Menu is where you pick the lens (camera), resolution, frame rate, SDR/HDR, Stabilization, flash. You can record up to 4K120 here, and it's the regular 16:9 4K too, so 3840x2160px as opposed to the 3840x1644px in Cinema Pro. A small caveat is that it's encoded at 120fps, so it plays back at real-life speed and not in slow motion, though if it's slow-mo that you're after, you can slow it down to 1/4 or 1/5 in post. There's a 'slow motion' setting too, but that's only up to 60fps, and those clips playback at 30fps, so half-speed.
The second tab has the white balance, shutter speed and ISO settings.
The hamburger menu, on the other hand, holds less immediately used settings like ISO limits, codecs, mic mode and controls.