The Olympic performer
Samsung Galaxy S7 Active: The Olympic performer
Final words
The Galaxy S7 active takes everything great about the Galaxy S7 and puts it in a tougher and beefier body for outdoors enthusiasts or for the consumer that demands more from a smartphone than looks. Whether you are in construction, or you are a hiker, or you're just a clumsy person, the added grip and durability will surely give you that extra peace of mind.
The Galaxy S7 active is about never having to worry about putting your phone in a case. Never having to worry about your screen shattering from sliding off a table. And there's the bigger battery as well.
The Galaxy S7 active is a worthy successor to the Galaxy S6 active. You get all the benefits of the newer hardware that the vanilla S7 introduced including the fingerprint scanner this time around.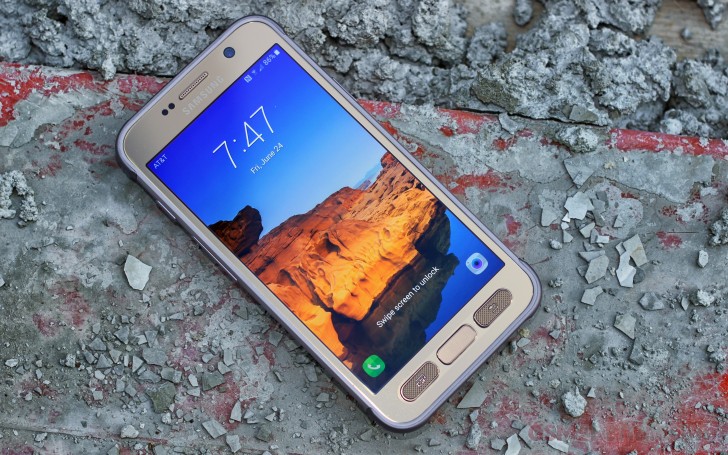 That being said, Samsung is the only major phone maker out in the US market, selling through a major carrier with flagship level hardware AND military-spec build quality, easily making it the most accessible rugged device in the US by the average consumer. That leaves customers who really want this phone only one option - you need to buy the phone through AT&T.
Still, if you really wanted to, you could probably find a way to purchase the phone outright and use it on your own GSM network, though we don't recommend it. Even so, it will probably burn a hole in your wallet for the price that it's currently going for. AT&T and Samsung are asking for $795 to buy this guy outright.
Key Test findings
Design is much like the Galaxy S6 active but more refined. The angled corners are gone and replaced with rounded corners. If they didn't know any better, someone might think you just had a really nice case.
Water, dust, shock and shatter protection along with the military MIL-STD-810G certification should give you the peace of mind, whether you are a klutz or an extreme camper, regardless of your type of lifestyle. There's also a barometer and the Galaxy S7 active also features a programmable Active key which launches the Activity Zone app, exclusive to the Galaxy Active models.
The AMOLED display is just as bright and beautiful as the S7's. As an added plus, the extra polycarbonate coating on the Gorilla Glass 4 ensures your screen won't break from drops of up to 5 feet high onto flat surfaces.
The Always On feature is useful and the AMOLED screen takes perfect advantage of battery life by keeping only the white pixels lit. It does take a toll on battery life though. But that could be off-set a bit by scheduling when to active the Always On feature.
FM Radio capabilities are included with the Galaxy S7 active, however there is no pre-installed app to tune the radio. You must rely on third-party apps like NextRadio and you will need a physical pair of headphones to be plugged into the headphone jack.
Battery life is excellent at 96h overall thanks to the 4,000mAh integrated battery. Keeping Always on display knocks the score down to 70h, while still decent, this is a significant drop in score.
TouchWiz is feature-rich as we're used to but this particular phone comes with a handful of obtrusive AT&T bloatware apps, which you cannot uninstall;
The Snapdragon 820 CPU and 4GB of RAM ensure you'll be future-proof well into your AT&T's service term.
The loudspeaker isn't the loudest one around with a "good" score but you shouldn't be missing any calls.
Clean audio output with external amp. Only minor degradation with headphones and above average volume.
The 12MP camera is quick and delivers crisp photos with lightning fast autofocus. Images provide great detail and textures are exemplified well. Dynamic range is great and colors are well represented.
The 5MP selfie camera is good enough and the wide-angle lens captures more of what's around you, but Samsung needs to opt for a higher resolution sensor in its next iteration. The front-facing camera is also not very good at high dynamic ranges.
4K video is amazingly detailed. 1080p 60fps video is smooth and crisp, though we still wished 4K video was digitally stabilized like 1080p modes are.
Here are some worthy alternatives to the Galaxy S7 active, we are sticking to devices available in the US as this is an AT&T exclusive device and would only be available as such. Sadly, none of the other alternatives are available with MIL-spec'd certification.
The Galaxy S7 is the most obvious alternative to the Galaxy S7 active. There is a $100 premium for the active model if purchasing through AT&T. Those extra $100 could be worthwhile, especially with the same exact internal hardware, the larger battery, military-spec toughness, and overall sturdier build when compared to the glass and metal slab of the Galaxy S7.
The next logical alternative to the S7 active is the S6 active. You would be able to score one for a much lower price than the S7 active. Given that it's already a year old, you'll be able to find one for about half the price if you opt for a new one. Just remember you won't get expandable storage or a fingerprint scanner, but you'd get a reasonably performing device with excellent battery life for about half the cost of a new S7 active.
Because the S7 active is still a flagship device, we have to toss the other flagships of the year into the mix. The LG G5 offers the same CPU/GPU combo and yields comparable performance to the Galaxy S7 active. But the G5 offers a hot-swappable battery, although it is a smaller 2,800mAH battery. On software, though, Samsung's TouchWiz offers more value-added features. The LG G5 does offer a dual camera setup, one of which is a wide-angle camera.
The HTC 10 offers the best of HTC's hardware design, minimally obtrusive software experience, identical silicon setup, and competitive camera experience. Again, it's hard to compare the two when the S7 active offers the ultra-rugged hardware designed to take a beating. Otherwise, the HTC 10 gets you an immersive audio experience sure to wow your friends thanks to its Boom Sound speakers and an impressive listening experience through its 24-bit audio jack.
Another competitor would be the Samsung Galaxy S7 edge. Seeing as both devices carry the same $100 premium over the S7, you could find yourself deciding between the sleek and attractive look of the dual-edged displays with a large 3,600mAh battery and larger 5.5-inch display, or the uber-strong Galaxy S7 active with an even larger 4,000mAh battery, and never needing to get a case. If you go with the S7 edge, the first thing you'll want to do is throw it in a case.
The Sony Xperia X Performance is a new contender in the US, next to the Z5, this is the first time Sony is officially selling a North American variant for the US market, although it's only available unlocked so you can rule out paying for it in installments through a carrier. While they offer similar performance, unfortunately, the price tag of $750 along with the lack of fingerprint scanner and 4K video recording capability doesn't justify the price compared to what the Galaxy S7 active offers for just about $100 more.
Finally, we had to include the Droid Turbo 2 here. Both phones offer a shatterproof display so you don't have to worry about breaking yours accidentally. Unfortunately, the Turbo 2 is exclusive to another carrier, Verizon. Still, it has last year's Snapdragon 810 and it likely won't be a device captivating enough to get you to switch to Verizon.
The Galaxy S7 active is a refined version of the Galaxy S6 active in every aspect possible: performance, ergonomics, aesthetics, camera, and design - all without sacrificing any of the features found in the standard S7 model (with the exception of Gear VR as this phone is not compatible, and it doesn't even fit in the viewer).
We truly wished that Samsung would release the Galaxy S7 active to a proper audience outside of the US and in other markets worldwide as it's such a perfect balance of raw performance, aesthetic, and durability. Unfortunately, it looks like whatever exclusive deal AT&T has with Samsung for the Active series isn't going to end anytime soon.