The Olympic performer
Samsung Galaxy S7 Active: The Olympic performer
Display
The Galaxy S7 active has the same Super AMOLED 5.1 inch 1440p (1440 x 2560px @~577ppi) as the standard Galaxy S7 does. Colors are vibrant and lines are crisp. Samsung claims the Galaxy S7 active is shatter proof for drops of up to 5 feet high onto flat surface, and it looks like Samsung was able to do it without sacrificing screen quality.
We've performed the same display tests as on the Galaxy S7 to see if the Active version's display performs just as well as the standard model it originates from.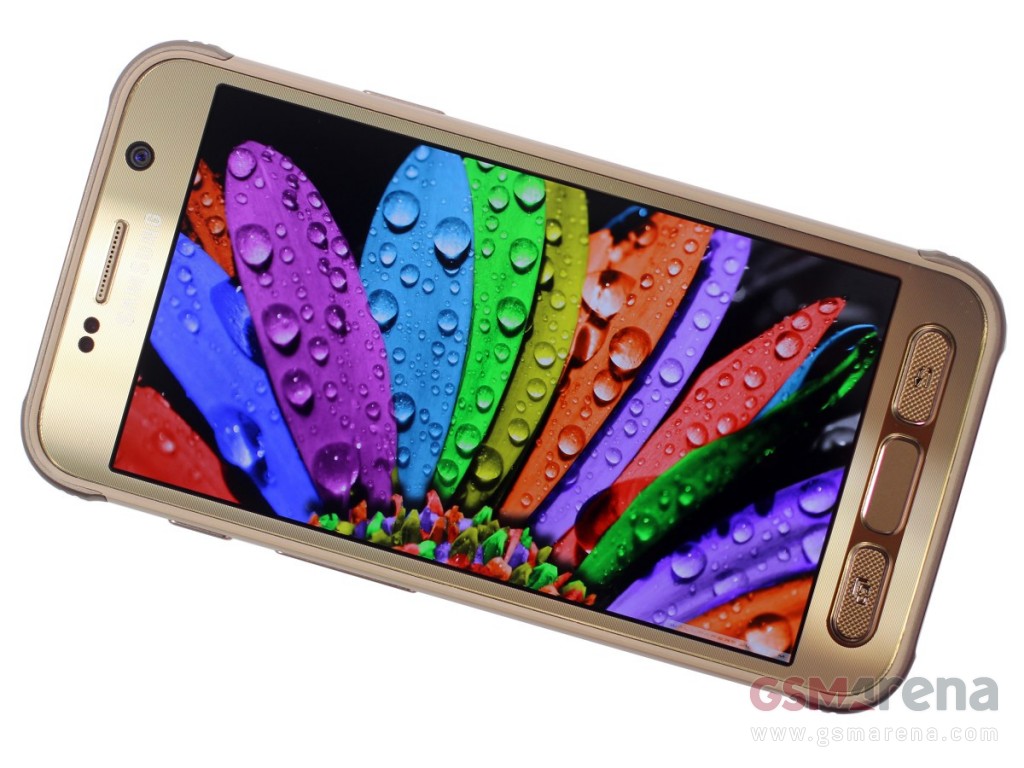 We're happy to see the Galaxy S7 active exceeds our expectations for a display of this kind. The display's assembly uses the same Gorilla Glass 4 as the S7 proper, but the S7 active has a layer of polycarbonate that is invisible to users. This is what provides that extra level of shatter protection that has been proven to work and can be seen in various videos on the interwebs.
We are happy to report that this display is even brighter than the S7's panel. On top of that, the screen goes into overdrive when exposed to even brighter sunlight as long as you have the Auto brightness ticked ON.
The same S7 active panel goes just about as dim as the Galaxy S7 at 2.3 nits. Night owls who like to do some late night activity will be happy to know they won't be blinded by the screen at night.
Display test
100% brightness
Black, cd/m2
White, cd/m2
Contrast ratio
Samsung Galaxy S7 active
0.00
424
∞
Samsung Galaxy S7 active max auto
0.00
602
∞
Samsung Galaxy S7
0.00
391
∞
Samsung Galaxy S7 max auto
0.00
563
∞
Samsung Galaxy S6
0.00
363
∞
Samsung Galaxy S6 max auto
0.00
619
∞
HTC 10
0.29
428
1543
LG G5
0.17
306
1855
LG G5 max auto
0.20
378
1881
Apple iPhone 6s
0.36
536
1481
Sony Xperia X Performance (max auto)
0.39
595
1526
Sony Xperia X Performance
0.33
482
1461
As far as color accuracy goes, the GalaxyS7 active (much like the S7) is most accurate when using the Basic profile under the display settings. While these colors look more washed out than the default Adaptive profile, they are better representative of real-life colors. The Average Delta E comes out to just 1.2 where the Adaptive profile produces an average Delta E of 5.
Connectivity
Just because the Galaxy S7 active is an AT&T excusive device, doesn't mean it's missing too many LTE bands. The device runs on AT&T's LTE network and is compatible with its VoLTE network. It supports LTE bands: 1(2100), 2(1900), 3(1800), 4(1700/2100), 5(850), 7(2600), 8(900), 12(700), 20(800), 29(700), 30(2300), 38(2600), 39(1900), 40(2300), 41(2500). AT&T's bands are shown in bold.
GSM 850, 900, 1800, and 1900 are supported while the S7 active's 3G bands are HSDPA 850, 1900, and 2100. HSPA speeds reach theoretical 42.2Mbps download speeds and 5.76Mbps upload speeds. LTE speeds are Cat9 @ 450Mbps down and 50 Mbps up.
The SIM card tray accepts one nano-SIM card and one microSD card up to 256GB. To save space, the SIM/SD slot was designed with two sides and caught us off guard at first. Pulling the tray out, we expected it to be a long one with two spaces, rather, the tray is like a coin. Two-sided, the microSD card goes on the front side of the tray and the nano-SIM on the rear side.
Other connections include Bluetooth 4.2 (A2DP, LE, aptX), Wi-Fi 802.11 a/b/g/n/ac dual-band, Wi-Fi Direct, hotspot, GPS with A-GPS GLONASS, NFC, FM Radio, and uses a microUSB 2.0 QuickCharge 2.0, and OTG support.
Battery life
The Galaxy S7 active has a whopping 33% larger battery over the vanilla S7 model (4,000mAh vs 3,000mAh). The Galaxy S active models have traditionally had larger batteries over their regular models which Samsung believes is necessary for the active consumer. The Galaxy S7 active is surely going to last you, a long time.
Samsung didn't skip out on quick-wireless charging for the active model, and it also features Quick charge 2.0. From a completely depleted battery, the Galaxy S7 charged up from 0% to 37% in 30 minutes. Keep in mind this is a larger capacity battery, so older claims of half battery in half an hour are further out of reality's reach.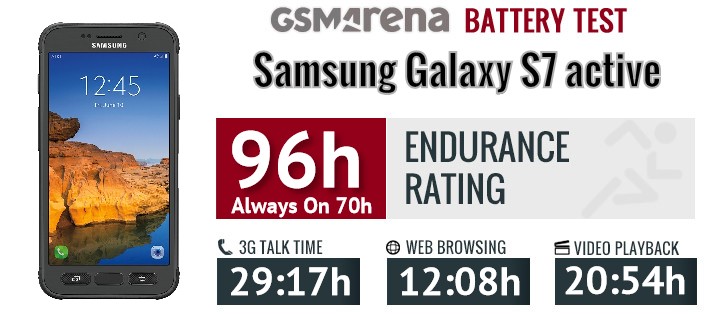 While the Galaxy S6 active broke the 100h mark in our battery scores last year, this isn't necessarily the case with the S7 active this year despite the bigger battery. If Samsung chose to opt for the Exynos 8890 CPU all across the board (as North American variants of the S7 are all powered by the Snapdragon 820), it may have been able to beat last year's S6 active score of a whopping 109h overall.
The Galaxy S7 active scored 96h overall, which is still quite impressive. By contrast, the Galaxy S7 (Exynos 8890 variant) scored 80h overall in the same battery tests. Always-On Display is enabled by default, which knocks the score down to 70h overall. Since its launch, the AOD setting has been optimized and now allows you to schedule times to activate it. Of course, your mileage will vary depending on how long you keep the phone out of your pocket and whether you have the feature on to begin with.
Like the S7, our browsing test scored significantly lower than the video test. While the 12:08h score of the web browser was not up to par, the video playback test scored an impressive 20:54h! The S7 active merely sipped juice when playing a locally stored video from its storage.
In our calling test, the Galaxy S7 active scored 29:17h, the highest phone call endurance of any of the other S7 variants across both Exynos and Snapdragon variants.
Our proprietary rating denotes the number of hours the phone will be operational if you are to make an hour of 3G talks, web browsing and video playback per day. Such usage pattern may not apply to you directly, but we've established it so our battery results are comparable across devices.
The proprietary score also includes a standby battery draw test, which is not featured in our battery test scorecard but is calculated in the total endurance rating. Our battery testing procedure is described in detail in case you want to learn more about it. You can also check out our complete battery test table, where you can see how all of the smartphones we've tested will compare under your own typical use.