The Olympic performer
Samsung Galaxy S7 Active: The Olympic performer
User Interface
Besides the extra Activity button and the Activity Zone app, the software experience is otherwise the same as the Galaxy S7. Samsung's popular and feature-rich TouchWiz UI skin on top of Android 6.0.1 is here as well with a few minor differences such as the paginated settings app and pre-installed apps, which can be found a couple of pages ahead.
The Galaxy S7 active separates itself from the other S7 models with an extra Activity button found right over the volume rocker. A single press of the button will take you to the Activity Zone app, a dashboard of useful information and tools for hiking enthusiasts.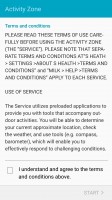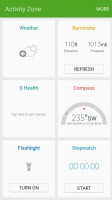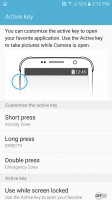 Activity Zone Disclaimer • Activity Zone App • Activity button options
There are tiles for weather, the step count from S Health, a compass, stopwatch, flashlight, and barometer/altimeter for measuring atmospheric pressure and altitude. Spotting sudden changes in atmospheric pressure can help predict weather changes when hiking (the more you know). These tiles can be dragged around in any order you please.
You can change the app that opens with the Activity button to anyone of your choosing. Set it to Ingress to hack portals nearby, or set it to Snapchat if you're a Snap addict. You can also set an app to open with a long press of the same button. The default app is set to the DirecTV remote app. If you set the key to open the Camera app, this button becomes a shutter key.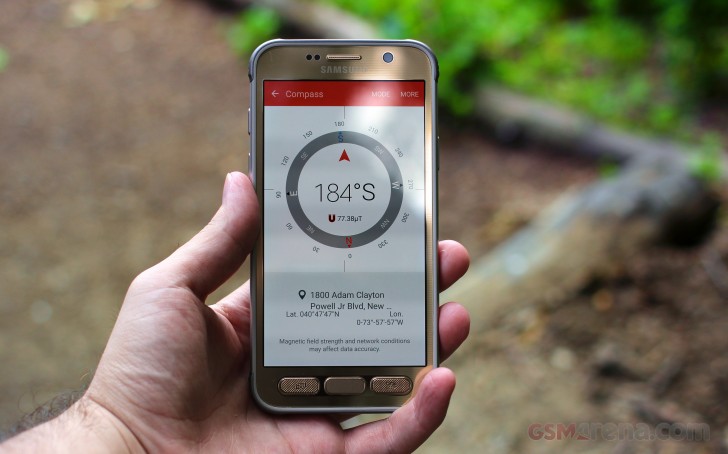 The lockscreen typically holds a clock and date with two shortcuts in the bottom corners for Camera and Dialer. You're likely going to be launching the camera with a double-press on the home button if you need the absolute quickest access, so that makes one of the shortcuts redundant. Good thing then that each of them can be changed to any app you have installed.
Fingerprint unlock is a must-have feature and Samsung has been sticking with the press-and-hold variety since the S6. Or wake-and-tap, should you decide to wake up the phone with the power button. Either way, you first need to wake it up because the sensor isn't always on, which wastes precious milliseconds.
Overall, it works quite well, and if for some reason it can't recognize a finger in 3 tries, it lets you input the backup password. Ignore it and unsuccessfully try with a finger twice more and you'd be locked out of your device for 30 seconds giving you time to come up with a different tactic.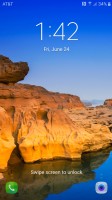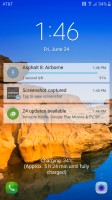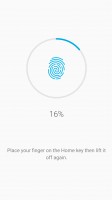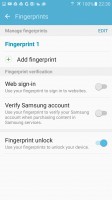 Default lockscreen view • Notifications on lockscreen • Setting up a fingerprint
The screen features the same Always-On function as the other S7 models. Besides the time and date, the screen can be set to show a subtle wallpaper to make things a little fancier. You can download additional always-on themes from the store.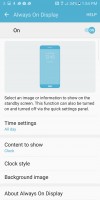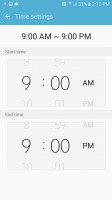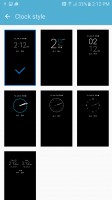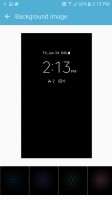 AOD settings • Set time range for AOD to activate • Choose or download more clock styles • Subtle backgrounds for accenting the clock
The homescreen is identical to the TouchWiz home of other Samsung phones. However, Samsung has chosen a four-in-a-row default setup, with large, easy to tap icons. The dock can fit five, and so can the homescreen - grid size can be 4x4, 4x5, or 5x5.
The user interface has theming support. We only had the default theme pre-installed, but the Theme store has a vast selection available to download.
The Flipboard-powered Briefing Homescreen is not enabled by default but still lives in the TouchWiz launcher here. Though, unlike in previous iterations, you're no longer able to add a social media feed to your Flipboard briefing panel. Only news can be seen on the Flipboard panel once it's been manually enabled.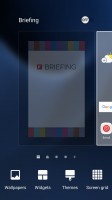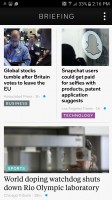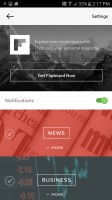 Flipboard Briefing: disabled by default • Only news can be viewed on the Briefing • Settings
The app drawer can be arranged alphabetically, or in a custom order, and a search function is provided. You can alternatively disable the app drawer altogether, making for a single-tiered interface. That last feature is part of Galaxy Labs and is still experimental, so we may or may not see it in as part of the standard TouchWiz in the future.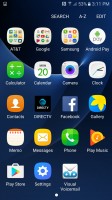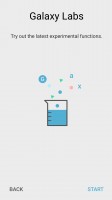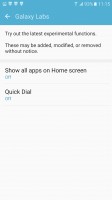 All app fit in one app drawer page • Galaxy Labs lets you disable the app drawer if you wish
The Notification area is pretty busy by default. Especially with that DirecTV notification that cannot be swiped away until you enter its settings and turn it off. There's also a notification that reminds you about the Active key and takes you to the setting to configure it as you please.
One row of quick settings is seen at the top of the notification shade with a brightness slider. Swiping down again from the top reveals all your quick toggles which are customizable to your liking via the "Edit" button.
Split-screen multitasking is supported on the S7 active, even if the 5.1-inch display doesn't appear to offer all that much room to maneuver. As always, only supported apps can work in split-screen, but Samsung's implementation is perhaps the most widely supported at the moment. Floating app windows are available for some apps, too.
The same gestures as the Galaxy S7 are here - you can flip the phone for mute, swipe your palm to make a screenshot, double-press the Home key for quick camera access, quick call, among others.
Oh, by the way, Samsung has followed other manufacturers and implemented a scrolling screenshot feature, which works well when having to capture long web pages or lists. Too bad that some apps such as YouTube or Facebook would keep adding new results to the feed the more you scroll and that list can go on forever.
Everything about the TouchWiz experience has been wonderful, but seasoned users may be baffled by the phone automatically setting the default app for every task based on the app you use first. Unlike other Android phones, here there is no "Just once" or "Always" prompt.
Say you want to call an overseas hotel and you want to call them using Skype or another VoIP app to avoid the international call charges. Once you dial the hotel's phone number from their website, from this point forward, all phone number links from the internet will be dialed using that specific VoIP app.
As experienced users, we found that to be a mere nuisance but for someone inexperienced, it may as well backfire as they wouldn't know how to change the default app. Then again, we understand how Samsung came up with this. Some novice users never set their default apps and are constantly bothered by the Just once/Always prompt long after they've established their app preferences. It's the equivalent of Windows OS always asking you which player you would like to use to playback your videos, so we understand why they come up with this feature but we still wish there was a way to opt out of it for more advanced users.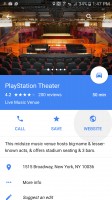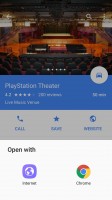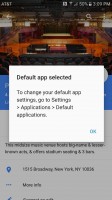 Opening a website from Google Maps... • when you choose an app... • it automatically becomes the default.