One spectacular example of OLED goodness
The Galaxy S22 Ultra is equipped with the pinnacle of Samsung smartphone display technology available to the public, short of the foldables (though one could argue this is simply a different branch). Eye-searing brightness, adaptive refresh rate, QHD resolution, S Pen compatibility, all that coupled with OLED's true black blacks, make for a package that's practically unrivaled - the Dynamic AMOLED 2X name doesn't quite convey that.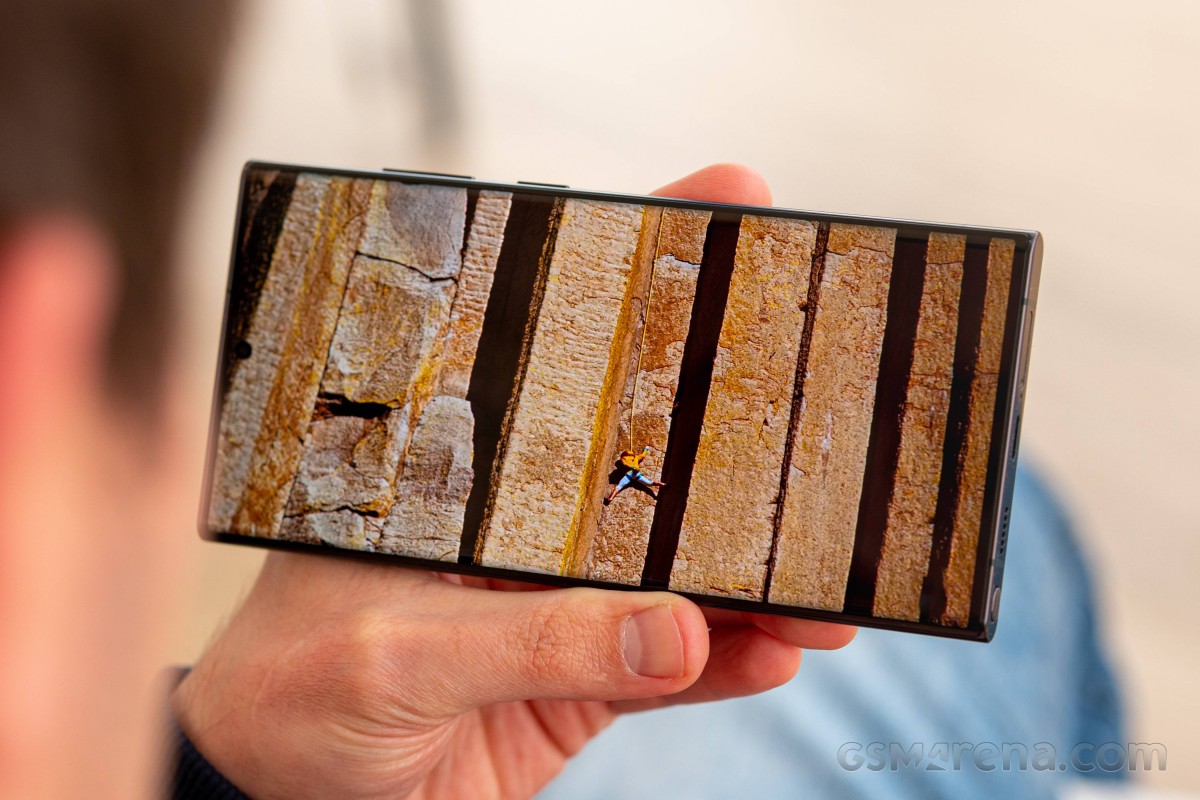 The 6.8-inch panel is curved towards the sides, as befits Samsung's true flagship, even if opposition is vocal in pointing out its usability shortcomings. The punch hole for the selfie camera, meanwhile, has turned from an eye-sore to a non-issue.
Samsung claims 1750nits of peak brightness (for small patches of lit-up area, which is not explicitly stated) and 1200nits in 'high brightness mode', another name for the ambient light sensor-controlled maximum in bright conditions.
Under bright light, with adaptive brightness enabled, we measured 1266nits on our S22 Ultra under the standard 75% APL that we test and compare between phones, which is more than 200nits brighter than the closest competitor, the iPhone 13 Pro Max. It's quite the generational improvement over the S21 Ultra or the Note20 Ultra, both putting out just over 1000nits under the same circumstances.
In less adverse conditions and with you in control of brightness, you'd be looking at 494nits with the slider all the way to the right. There's a bit more to that this time around, as there's a brand new 'Extra brightness' toggle in the display settings that appears if you disable the 'Adaptive' toggle. That unlocks an extra 300nits, give or take, manually attainable regardless of ambient light, bringing the number up to 829nits.
The Ultra does have a minor advantage over the S22+ in all of these tests, which, marginal as it may be, does leave a warm feeling in Ultra owners that they are getting the absolute best there is.
Display test
100% brightness
Black,cd/m2
White,cd/m2
Contrast ratio
Samsung Galaxy S22 Ultra
0
494
∞
Samsung Galaxy S22 Ultra (Extra brightness)
0
829
∞
Samsung Galaxy S22 Ultra (Max Auto)
0
1266
∞
Samsung Galaxy S22+
0
468
∞
Samsung Galaxy S22+ (Extra brightness)
0
782
∞
Samsung Galaxy S22+ (Max Auto)
0
1214
∞
Samsung Galaxy S21 Ultra 5G
0
458
∞
Samsung Galaxy S21 Ultra 5G (Max Auto)
0
1023
∞
Samsung Galaxy Note20 Ultra 5G
0
504
∞
Samsung Galaxy Note20 Ultra 5G (Max Auto)
0
1024
∞
Apple iPhone 13 Pro Max
0
852
∞
Apple iPhone 13 Pro Max (Max Auto)
0
1050
∞
Huawei P50 Pro
0
609
∞
Huawei P50 Pro (Max Auto)
0
754
∞
Xiaomi Mi 11 Ultra
0
514
∞
Xiaomi Mi 11 Ultra (Max Auto)
0
943
∞
Oppo Find X3 Pro
0
493
∞
Oppo Find X3 Pro (Max Auto)
0
774
∞
OnePlus 9 Pro
0
525
∞
OnePlus 9 Pro (Max Auto)
0.038
871
22921:1
Samsung Galaxy Z Fold3 5G
0
489
∞
Samsung Galaxy Z Fold3 5G (Max Auto)
0
922
∞
Samsung was keen to advertise its new Vision Booster feature, which helps makes the display handle bright ambient light better. The phone analyzes the images being displayed and, based on the amount of light hitting the display, it applies different tone mapping to boost shadows and color. We're perhaps a bit spoiled by already great displays, so the Vision Boosted Ultra didn't seem all that big of an improvement from the old one. Properly great in sunlight, of course, just not a night and day difference.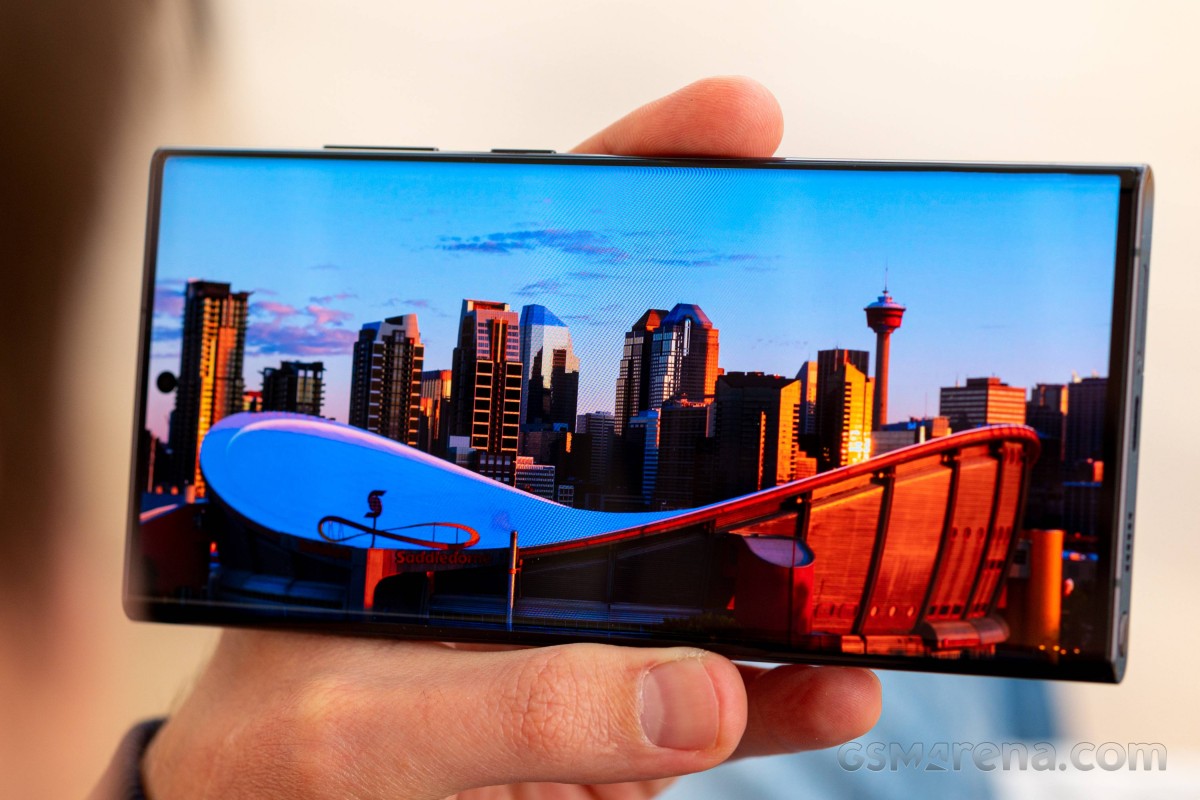 Nothing's changed with the way Galaxies handle color. There are two modes on the Ultra, Vivid and Natural, and they have very different color output and priorities. The default is Vivid, it does what it says and covers a wide color gamut, while being reasonably accurate when presented with our DCI-P3 color swatches (average dE2000 of 3.3). It's slightly cold and a nudge of the temperature slider to the mid-warm position makes things more neutral, while the warm setting takes them into yellowish territory. There are RGB sliders in addition to the five-position temperature slider, if you're into manual adjustment.
Natural mode is more dull to the eyes, but very accurate to the testing equipment when the phone is served with sRGB test swatches (average dE2000 of 1.4). No further tweaking is available in this mode.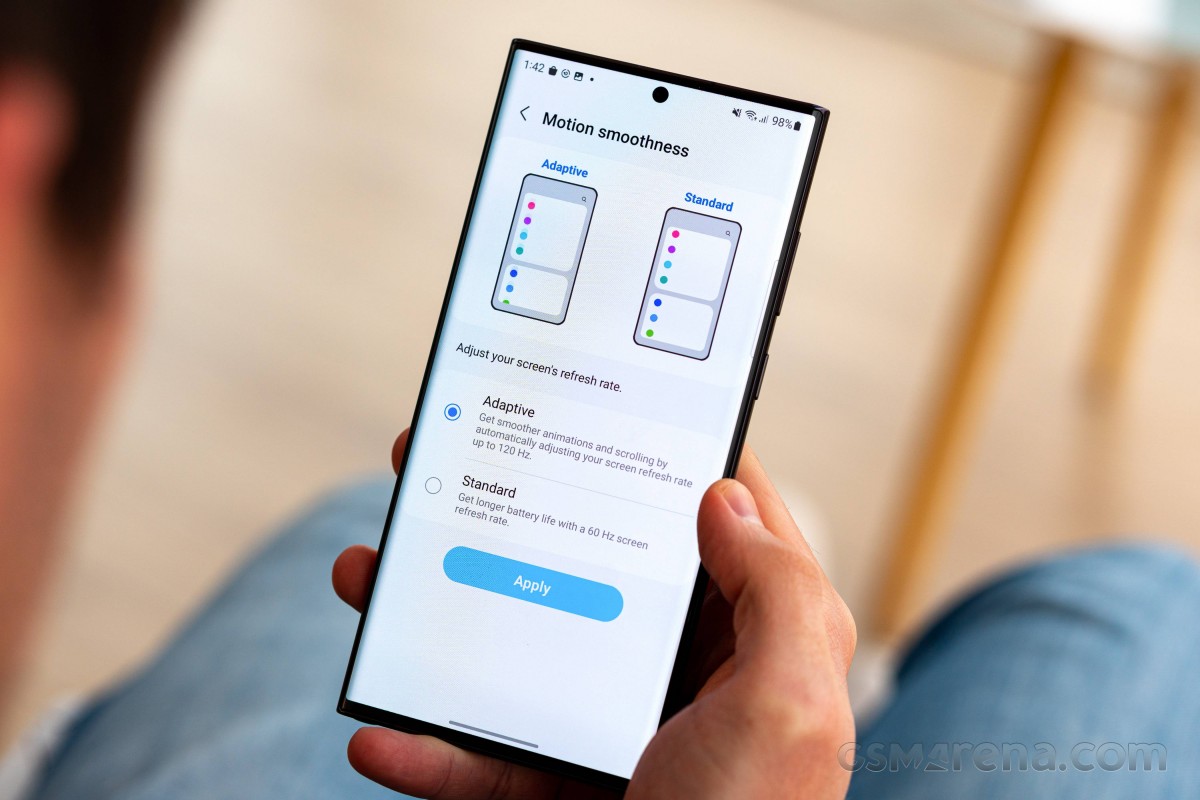 On to the topic of refresh rate. We covered it at length in a separate article as we explored it during the review process, at least to the level of understanding we could gain with the tools at our disposal - head over there for the details.
To summarize it here, the S22 Ultra is, indeed, able to dynamically switch between refresh rates to deliver the appropriate mode for the content being shown. Across the board, you get 120Hz when touching the display, which drops to 24Hz when the phone is idling. Browsers get an intermediate 60Hz step for when there's dynamic content being shown while you're not touching the screen. Games that support a high frame rate get 120Hz. For video playback, the phone will match the refresh rate to the frame rate of clip - 24Hz for 24fps, 30Hz for 30fps, and so on, and that will be the case in HDR playback too (one of the few use cases where the S22+ behaved differently and maintained 120Hz).
The Android 12 support APIs on the Galaxy S22+ and S22 Ultra list that their panels can refresh in one of the following modes: 10Hz, 24Hz, 30Hz, 48Hz, 60Hz, 96Hz and 120Hz. That's neither here nor there, since Samsung claims that the Ultra can do 1-120Hz, while the other two should vary between 48 and 120Hz.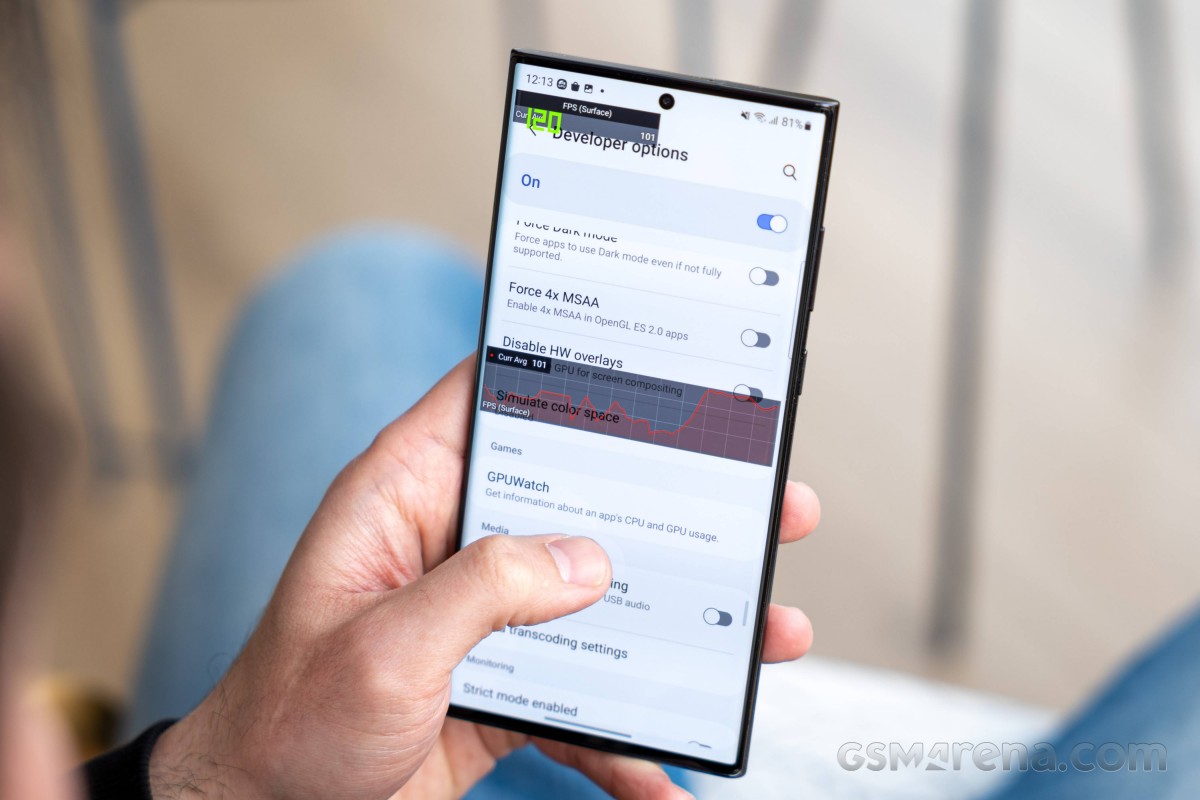 That led us to discovering the GPU Watch tool in developer options which revealed that the refresh rate of the display and the frame rate at which the GPU outputs new frames aren't necessarily the same thing and the phone varies both according to content and activity.
With that distinction pointed out, we never saw the Ultra display a refresh rate lower than 24Hz, but we did catch it drop to 1fps. That's the same observation we got when examining the S22+'s behavior. Mind you, the Hz and fps counters available to us may or may not tell the full story and there could be other layers of sophistication and adaptive logic that we can't see.
Samsung Galaxy S22 Ultra battery life
The Galaxy S22 Ultra is powered by a 5,000mAh battery, an increase over the 4,500mAh capacity the Note20 Ultra and same as the S21 Ultra's. So those leaning on the S-side of the S/Note balance should be happy that the capacity hasn't suffered from the inclusion of the S Pen, while Note fans will be pleased to get a bump.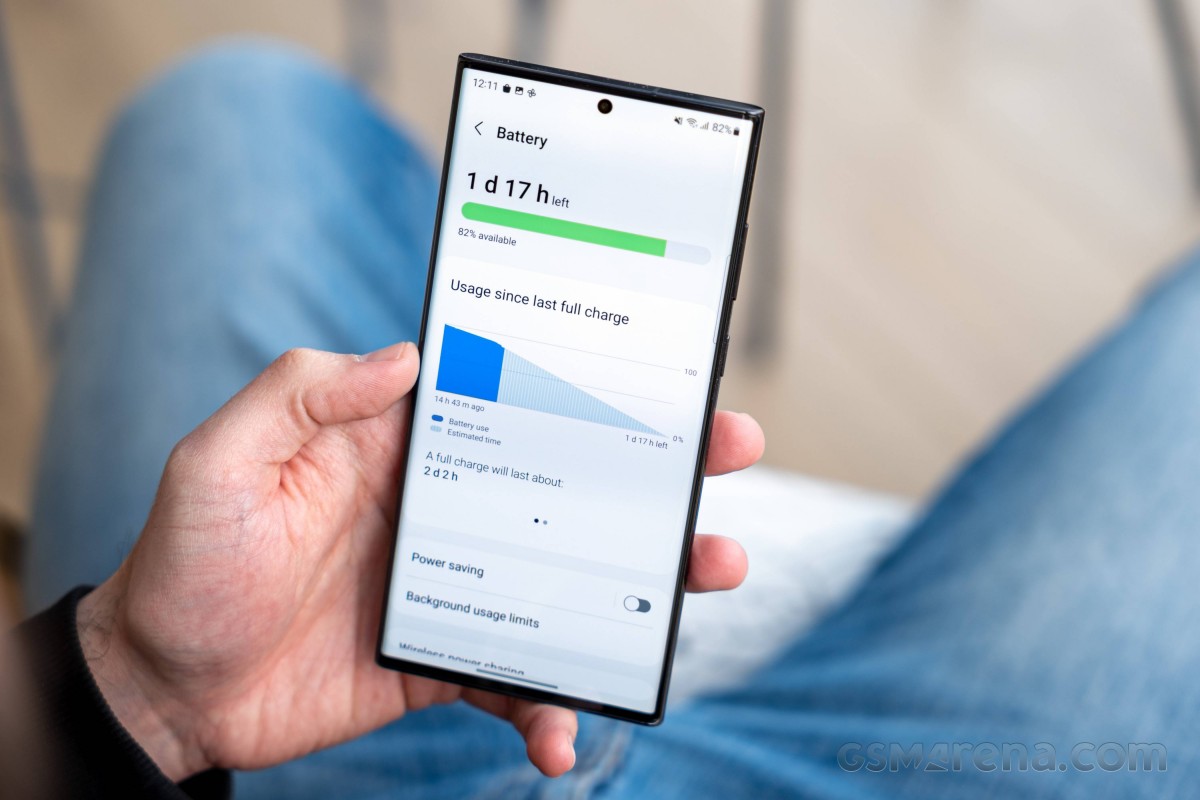 The latest Ultra did pretty well in our testing. We got 18 full hours of video playback with the display locked at 60Hz (as is our standardized procedure) while switching it to Adaptive didn't prove beneficial even though it made the phone run at 24Hz for our test video.
In web browsing over Wi-Fi, the S22 Ultra was good for 17 hours in Adaptive mode where we got momentary spikes to 120Hz every 10s for new page loads while it maintained 24Hz in between those instances. Standard mode with its 60Hz refresh rate brought a two-hour increase to this time (18:55h).
Voice call longevity was very good and we clocked 32 hours of talk time, while standby performance is best described as average - high-end SoCs have hardly excelled at that lately.
Ultimately, the Galaxy S22 Ultra posted an Endurance rating of 108h.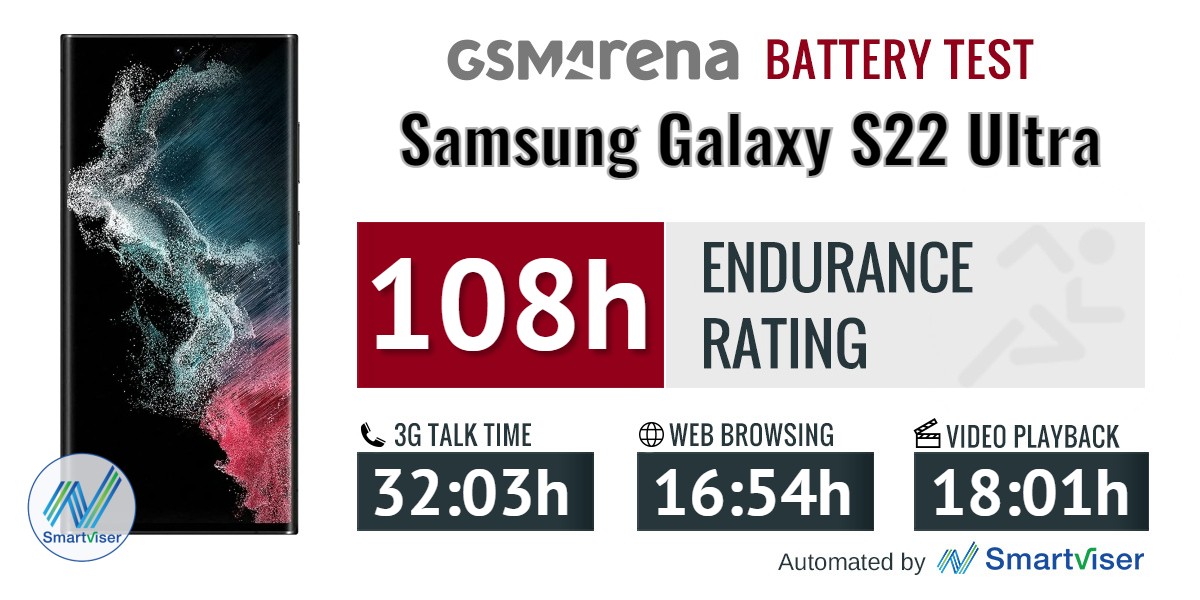 Our battery tests were automated thanks to SmartViser, using its viSerDevice app. The endurance rating denotes how long the battery charge will last you if you use the device for an hour of telephony, web browsing, and video playback daily. More details can be found here.
Video test carried out in 60Hz refresh rate mode. Web browsing test done at the display's highest refresh rate whenever possible. Refer to the respective reviews for specifics. To adjust the endurance rating formula to match your own usage - check out our all-time battery test results chart.
All of the above tests were carried out at the full resolution display setting (1440x3088px). We have historically been unable to observe a meaningful advantage of switching to 1080p, but we nevertheless ran the two screen on tests at the lower resolution. We got an extra hour in web browsing (17:59h, Adaptive, 120-24Hz) and half an hour of video playback (18:32h, Standard, 60Hz). Make what you will out of these numbers, but if this is the magnitude of savings possible, we'd rather keep the screen at 1440p.
Charging speed
Industry leading fast charging has never been a thing that Samsung does. They dabbed into the field of high-power charging with the Note10+ and the S20 Ultra and their 45W support, which made next to no difference in actual charging speed compared to the regular 25W adapters. Subsequent models abandoned it, but here it is, making a return on the S22+ and S22 Ultra.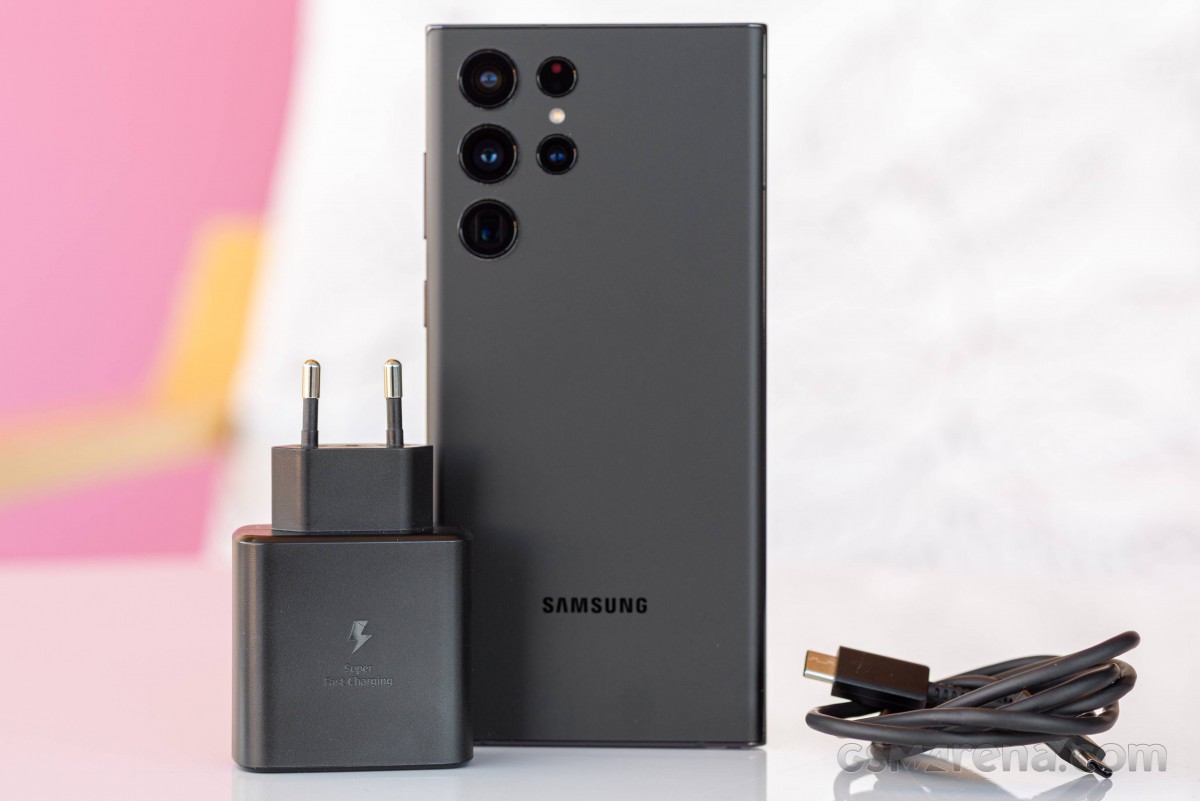 We were hoping for some sort of a magic change that would make a significant difference, but as it stands right now, that is not the case. With the existing 45W Samsung adapter (EP-TA845) we got essentially the same numbers for both the first 30 minutes and for a full charge as with the 'standard' 25W unit (in quotes because it's also a separate purchase).
There is a new 45W adapter in the works (EP-T4510), which isn't available for purchase yet. We have little doubt in our minds that it'll bring nothing other than a slightly more compact body (it's got the same specs for voltage and current modes as the existing model). We'd be happy to be proven wrong, though, and get actually quicker charging.
Having said that, 60-ish percent in half an hour and zero to full in about an hour isn't totally bad. Context makes it look even okay-er, particularly if you pick your context right - the S22 Ultra is way faster to charge than an iPhone 13 Pro Max or a Pixel 6 Pro. There's also a minor bump in speed compared to last year's model, and that's despite the increase in capacity.
Most other comparisons aren't as flattering, of course, with a lot of phones getting to 100% charge in roughly half the time it takes the Galaxy.
But in the end, it's not so much the actual charging speed that we have a problem with (though that too could use a bump, sure). It's more the bad taste in our mouths from the advertised 45W charging that doesn't really do anything, much like it didn't on the Note10+.
30min charging test (from 0%)
Higher is better
Oppo Find X3 Pro
100%
OnePlus 9 Pro
99%
Xiaomi Mi 11 Ultra
89%
Galaxy S22 Ultra (65W PD, no PPS)
65%
Galaxy S22+ (45W)
64%
Galaxy S22+ (25W)
62%
Galaxy S22 Ultra (25W)
61%
Galaxy S22 Ultra (45W)
60%
Apple iPhone 13 Pro Max (65W PD)
55%
Galaxy S21 Ultra 5G
54%
Google Pixel 6 Pro
48%
Galaxy Note20 Ultra 5G
43%
Apple iPhone 13 Pro Max (20W Apple)
42%
Galaxy Z Fold3 5G
33%
Time to full charge (from 0%)
Lower is better
Oppo Find X3 Pro
0:28h
OnePlus 9 Pro
0:32h
Xiaomi Mi 11 Ultra
0:37h
Galaxy S22 Ultra (45W)
0:59h
Galaxy S22+ (45W)
1:01h
Galaxy S22 Ultra (65W PD, no PPS)
1:02h
Galaxy S22+ (25W)
1:02h
Galaxy S22 Ultra (25W)
1:04h
Galaxy S21 Ultra 5G
1:11h
Galaxy Note20 Ultra 5G
1:23h
Apple iPhone 13 Pro Max (20W Apple)
1:46h
Galaxy Z Fold3 5G
1:46h
Google Pixel 6 Pro
1:52h
Apple iPhone 13 Pro Max (65W PD)
1:54h
The S22 Ultra supports wireless charging and according to the listing in the WPC's database, it's certified for the Basic Power Profile and up to 4.4 watts of power. The phone can actually take up to 15 watts if you use Samsung's own Super Fast Wireless Charger and Super Fast Wireless Charger Duo, and some third-party charging pads may deliver more than the 4.4 number. The wireless charging standards are a bit fluid like that.
Wireless PowerShare is also supported, letting you charge other Qi-compatible devices off of the S22 Ultra's back.
Speaker test
The Galaxy S22 Ultra has a stereo speaker setup with one unit on the bottom firing down and another above the display that's facing you and also serves earpiece duty. The top speaker gets the left channel in portrait orientation and when in landscape the phone switches them based on the accelerometer input so sound comes out from where it should. The two are also entirely separate - the bottom one isn't helping out the top one one bit. It's not that surprising though, given that the two sound very much alike.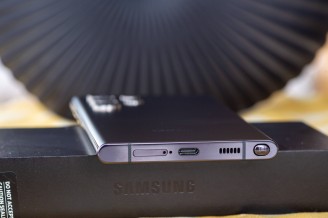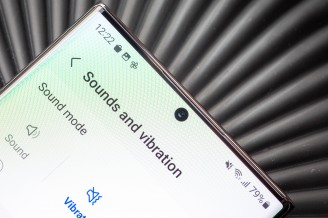 Bottom speaker • Earpiece/Top speaker
We're not ecstatic about the S22 Ultra's speaker output. It's quieter than both the S21 Ultra and S22+, enough to drop into the lower 'Good' category (the others are 'Very Good'). The iPhone 13 Pro Max and the Xiaomi Mi 11 Ultra are notably louder and have a lot more presence in the low end. The Galaxy is merely okay.
Use the Playback controls to listen to the phone sample recordings (best use headphones). We measure the average loudness of the speakers in LUFS. A lower absolute value means a louder sound. A look at the frequency response chart will tell you how far off the ideal "0db" flat line is the reproduction of the bass, treble, and mid frequencies. You can add more phones to compare how they differ. The scores and ratings are not comparable with our older loudspeaker test. Learn more about how we test here.