Thinking Big
Samsung Galaxy Note7 review: Thinking Big
Display
After the innovative side-curve on the Galaxy Note Edge, Samsung put its main focus on the Galaxy S line and the Note5 was looked over. This year, the Note is the one getting special treatment and it now comes with a dual curved screen. If rumors are to be believed, Samsung wants to go curved-only with its flagships going forward, so let's gaze into the (potential) future.
The matrix still measures 5.7" in diagonal, but its left and right sides are curled down. This, essentially, reserves the sides of the screen for special functions (we explore them on the next page - yes, we filled half a page with just the features based on the screen curve).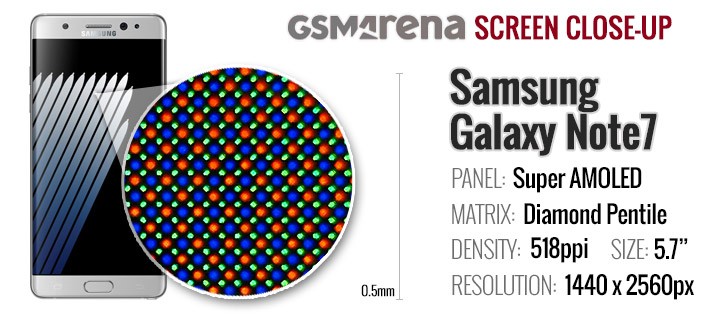 The Galaxy Note7 is the first phone to wear Gorilla Glass 5. Corning claims that the glass will survive "shoulder-height drops" (1.6m/5" 3in) 80% of the time. So not "shatterproof" but 4x better than other kinds of glass.
Behind it all, sits Samsung's flagship AMOLED matrix with QHD (1,440 x 2,560px) resolution though it seems some tweaking has occurred since the S7 edge.
The screen reaches a higher maximal brightness of around 430nits when in manual mode. Auto mode (at its discretion) can drive the brightness even higher; 650nits is the highest we observed.
Display test
100% brightness
Black, cd/m2
White, cd/m2
Contrast ratio
Samsung Galaxy Note7
0.00
428
∞
Samsung Galaxy Note7 (Max auto)
0.00
647
∞
Samsung Galaxy Note5
-
439
∞
Samsung Galaxy Note5 max auto
-
620
-
Samsung Galaxy S7 edge
0.00
392
∞
Samsung Galaxy S7 edge max auto
0.00
610
∞
Apple iPhone 6s Plus
0.43
590
1382
OnePlus 3
0.00
433
∞
Lenovo Moto Z Droid
0.00
371
∞
Lenovo Moto Z Droid max auto
0.00
506
∞
Huawei P9 Plus
0.00
400
∞
Samsung Galaxy A9 (2016)
0.00
427
∞
Samsung Galaxy A9 (2016) max auto
0.00
609
∞
The color rendering has shifted a bit too - in Basic mode, the one designed for accuracy, it reaches the very good 2.7 average deltaE and 4.4 max. Still, the S7 edge did 0.8 and 1.5 respectively, even last year's Note5 did 1.1 and 2.2.
Basic can look a bit plain to the casual users and unless you can name one color profile, we recommend you stick to one of the other three options.
Adaptive display is the default, and it tweaks the settings based on screen content. The Red channel gets oversaturated and pushes the max deltaE to 12.3. The Green channel is off too and the white balance shifts slightly towards blue (a common trick to make white appear extra white).
AMOLED photo is the next step, which oversaturates colors and increases contrast, but to a lesser degree than Adaptive display. Then AMOLED Cinema pushes things even closer to the accurate Basic mode. It's a trade-off - these modes are fairly accurate, but still make the image pop.
There's no color shift when you tilt the display, not even on the curved sides (they do reflect light from a different angle, but the color remains the same). We've seen some 2.5D displays (flat screen, curved glass on top) create some prismatic effects, but there's none of that here (an advantage of the curved display).
Sunlight contrast ratio
Samsung Galaxy S6 edge+
4.615
Samsung Galaxy S7 edge
4.439
OnePlus 3
4.424
Samsung Galaxy S7
4.376
HTC One A9
4.274
Samsung Galaxy Note7
4.247
Samsung Galaxy A3
4.241
Samsung Galaxy S6 edge
4.124
Samsung Galaxy Note5
4.09
Huawei Nexus 6P
4.019
OnePlus X
3.983
Vivo Xplay5 Elite
3.983
Oppo R7s
3.964
Huawei P9 Plus
3.956
Samsung Galaxy A7 (2016)
3.918
Samsung Galaxy A5
3.895
Samsung Galaxy J7 outdoor
3.879
Samsung Galaxy J2 outdoor
3.873
Samsung Galaxy A8
3.859
Apple iPhone 6
3.838
Samsung Galaxy A9 (2016)
3.817
Motorola Moto X (2014)
3.816
Samsung Galaxy J7 (2016) outdoor mode
3.802
Samsung Galaxy A5 (2016)
3.789
Apple iPhone 6s
3.783
Meizu Pro 5
3.781
Microsoft Lumia 650
3.772
Samsung Galaxy J7 (2016)
3.756
Oppo F1 Plus
3.709
Vivo X5Pro
3.706
Apple iPhone SE
3.681
Samsung Galaxy A7
3.679
Meizu PRO 6
3.659
BlackBerry Priv
3.645
Apple iPhone 6s Plus
3.53
Samsung Galaxy J3 (2016) outdoor mode
3.523
Samsung Galaxy J3 (2016)
3.523
Acer Jade Primo
3.521
Microsoft Lumia 950
3.512
Oppo R7 Plus
3.499
Samsung Galaxy J7
3.422
Meizu MX5
3.416
Oppo R7
3.32
Samsung Galaxy J2
3.235
Sony Xperia X Performance
3.234
Motorola Moto X Play
3.222
Huawei P9
3.195
Lenovo Vibe Shot
3.113
Motorola Moto X Force
3.105
LG Nexus 5X
3.092
Huawei Mate S
3.073
Microsoft Lumia 640 XL
3.065
Apple iPhone 6 Plus
3.023
Sony Xperia X
2.989
Samsung Galaxy Note
2.97
Huawei Mate 8
2.949
Sony Xperia XA Ultra
2.906
LG G5
2.905
HTC One S
2.901
Sony Xperia Z5
2.876
Microsoft Lumia 550
2.851
Xiaomi Redmi 3 Pro
2.803
Sony Xperia Z5 compact
2.784
LG V10
2.744
Xiaomi Redmi 3
2.735
Sony Xperia M5
2.69
Huawei P9 Lite
2.679
Vivo V3Max
2.659
Xiaomi Mi 4i
2.641
Sony Xperia XA
2.609
Xiaomi Mi 4c
2.574
LeEco Le Max 2
2.567
Microsoft Lumia 640
2.563
Lenovo Moto G4
2.544
Oppo F1
2.528
Sony Xperia Z5 Premium
2.525
Huawei Honor 7 Lite / Honor 5c
2.506
Sony Xperia M4 Aqua
2.503
Oppo F1s
2.481
Motorola Moto G
2.477
Lenovo Vibe K5 Plus
2.473
Huawei G8
2.471
Sony Xperia Z
2.462
Lenovo Vibe K5
2.459
Huawei Honor 7
2.406
Sony Xperia E5
2.386
ZUK Z1 by Lenovo
2.382
Samsung Galaxy J5 (2016)
2.378
HTC 10
2.378
HTC One E9+
2.305
Alcatel One Touch Hero
2.272
Lenovo Vibe K4 Note
2.254
Sony Xperia C5 Ultra
2.253
Xiaomi Redmi Note 3 (MediaTek)
2.249
Sony Xperia C4 Dual
2.235
Motorola Moto G (2014)
2.233
LG Nexus 5
2.228
Huawei P8
2.196
Xiaomi Redmi Note 2
2.166
OnePlus Two
2.165
HTC One X
2.158
LG Aka
2.145
Archos 50 Diamond
2.134
Xiaomi Redmi Note
2.119
Acer Liquid X2
2.084
Huawei P8lite
2.078
Moto G 3rd gen max manual
2.026
Xiaomi Mi Max
1.996
Sony Xperia E4g
1.972
OnePlus One
1.961
Meizu m3 note
1.923
Meizu m2 note
1.892
BlackBerry Leap
1.892
HTC Butterfly
1.873
ZTE Nubia Z9 mini
1.759
Sony Xperia U
1.758
Asus Zenfone Selfie
1.68
Motorola Moto E (2nd Gen)
1.675
ZTE Nubia Z9
1.659
Jolla Jolla
1.605
Motorola Moto E
1.545
Sony Xperia M
1.473
Xiaomi Redmi 2
1.311
Sony Xperia C
1.283
Meizu MX
1.221
Sony Xperia E
1.215
The Samsung Galaxy Note7 is one of the first mobile devices to support HDR video. It's not HDR like in the camera. This one has 10-bit color instead of 8-bit, that's four times the number of shades. This prevents color banding and enables detailed scenes that feature both very bright and very dark areas.
HDR video content is fairly limited at the moment, but Amazon Video and Netflix do have some. Also, the Xbox One S launched recently with HDR video as one of its key selling points, which should help drive demand.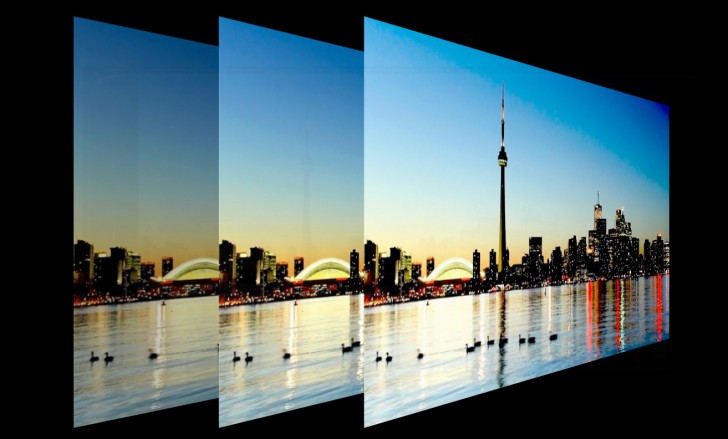 The Note7 brings another picture-enhancing toggle - Video Enhancer. This one works in all video apps (even third-party ones) and brightens the image and makes colors more vivid (it simulates HDR video). Note that this option also enhances audio.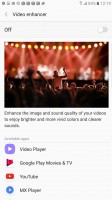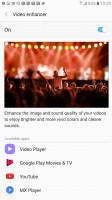 Video enhancer creates HDR video out of regular video
Another novelty is the Blue light filter, which we've seen it before on other Androids before (but is new to the Galaxy line). The idea is that natural light is blue during the day and fades to yellow in the evening. Looking at blue light, even from a small screen, can mess up your body's internal clock and make it think it's daytime. The filter can be toggled manually, but it's best scheduled to turn on in the evening and turn off at dawn.
Connectivity, an ode to USB Type-C
The Galaxy Note7 is the first Samsung phone with a reversible USB Type-C port. Even so, the company is unwilling to break away from USB 2.0 and has included two adapters - one Type-C to full-size USB 2.0 and one to microUSB 2.0.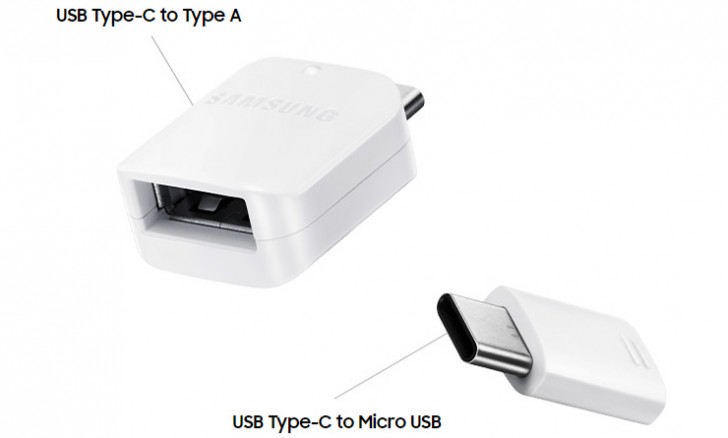 The big adapter lets you connect any USB accessory with the ubiquitous port. You can even connect your old phone and have the Galaxy NOte7 transfer all information when you set it up.
The microUSB adapter is more for convenience - it allows you to use a regular microUSB cable or charger with the Note 7. It doesn't have USB host functionality unlike thebigger adapter.
Note that both adapters work at (relatively) slow USB 2.0 speeds (even the big one).
Unlike older USB standards, Type-C has an official TV-out standard - DisplayPort. So you are only a cable away from hooking the Note7 to an HDMI port on your TV or external monitor. But in the times of wireless casting, this option is starting to look well over its due date.
The wired connection can also be used in your car as long as the head unit supports MirrorLink. This standard mirrors the phone's screen (including touch input) onto the head unit. From the settings, you'll easily find an alternative launcher with big, easy to hit icons (the CarmodeStub we saw on the Galaxy Note5 too).
Wired connections aside, the Samsung Galaxy Note7 offers blazing wireless Internet speeds. It varies by region, but you may get LTE Cat. 12 (or Cat. 10 or 9). Honestly, your carrier's network is probably not even as fast as needed to support it.
Wi-Fi is fast too - with 2x2 MIMO and 802.11ac it can reach speeds up to 620Mbps. Again, it may turn out that your router is slowing down the Note. The latest Bluetooth 4.2 with LE and ANT+ are available as well. Global positioning is handled by GPS, GLONASS, and BeiDou.
Samsung Pay using either NFC based contactless payment terminals NFC or by emulating old-school MST technology - essentially the older cards, which only rely on magnetic strips (more common in the US than Europe).
Battery
The Samsung Galaxy Note7 has a sealed 3,500mAh battery. That's a 500mAh upgrade over the old Note5, but 100mAh short of the Galaxy S7 edge.
We've seen excellent performance from Samsung's screen and chipset (Qualcomm's Snapdragon too), so we expect solid results.
Samsung has designed a new Power saving system too, which is powerful and flexible. It has two modes - Mid and Max - and each shows an estimate on how long the phone will last.
They are fully customizable. You can limit brightness and performance, also prevent background Internet usage (both mobile data and Wi-Fi). You can also reduce the resolution to 1080p or even 720p to reduce the load on the chipset. This way you can have the best of both worlds - the sharpness of a QHD screen and the power efficiency of a low-res screen.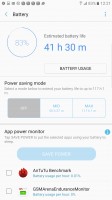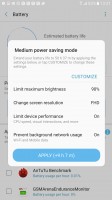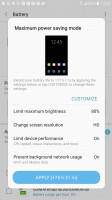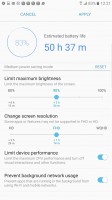 Power saver: Options • Mid • High • Customizations
The Game tools have a separate Power saving feature. When it's off, games get the full resolution and target 60fps. The 'Save power' mode drops the resolution (to 1080p, we guess). The 'Save maximum power' drops the resolution further (720p? it's not explicitly stated) and caps the frame rate at 30fps.
We're very impressed by Samsung's new power saving features. They have good defaults, but their customizability gives Power users the chance to optimize battery life completely. Even third-party tools that require root access aren't this extensive in their feature set and they certainly don't come with such a nice and easy to understand interface.
Note that we tried an old fast charger, one with a microUSB 2.0 cable, and the small Type-C to microUSB 2.0 adapter from Galaxy Note7's box didn't interfere with its work in any way.
Even without resorting to power saving features, the Galaxy Note7 is a great performer. We measured 90h Endurance for the Exynos 8890 version and 81h for the Snapdragon 820 one (the two S7 edge models showed similar scores). The Always On screen cuts off about 30% of the total Endurance time on both versions.
Note that Always On adjusts its brightness based on ambient light, so it will use a lot less power at night than it will sitting on your desk. Also, if you want to save power while you're sleeping, you can enable Night clock, which displays a tiny window with the time and disables the big AOD view.
The scores are slightly worse than what the Galaxy S7 edge managed. The bigger screen is probably to blame, the 100mAh difference in battery size couldn't have changed much.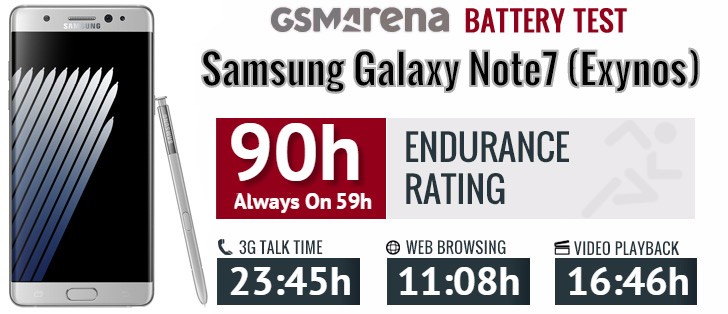 The Exynos model proves more efficient, beating the Snapdragon model by about an hour and a half in the Web and Video tests and by three hours in the Talk time test.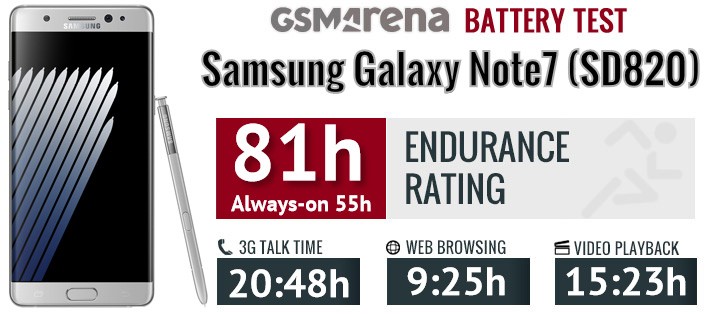 We measured the charging speed of the Galaxy Note7 using the provided Adaptive Fast charger (9V x 1.67A = 15W). Starting with a flat battery, the Note7 had 38% charge after half an hour (the phone was on but idling, Always On screen enabled). It took a total of 1 hour and 35 minutes to reach 100% charge, fast indeed.
The battery testing procedure is described in detail in case you're interested in the nitty-gritties. You can also check out our complete battery test table, where you can see how all of the smartphones we've tested will compare under your own typical use.